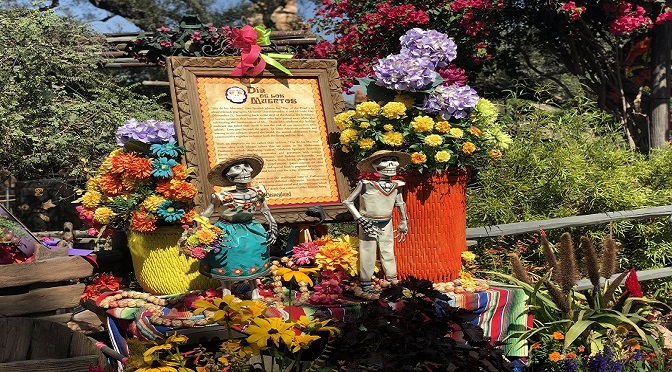 Happy Halloween! Did you know that in countries such as Mexico, trick-or-treating is not the custom for children? Instead, you may be familiar with hearing the words  "Dia de los Muertos" or "Day of the Dead."  I'm here to share a little bit of history and background of this three-day celebration and how you can partake in the festivities at the Disney Parks this year.
Dia de los Muertos begins on October 31 and ends on November 2nd of each year. The three-day celebration originated in Mexico, even though the celebrations are practiced in other Latin American countries, the United States, and throughout Asia and Europe. It derives from ancient pre-Columbian cultures and civilizations in remembering ancestors and those that have passed before us.
[the_ad id='41482′]
By the late 20th century in most regions of Mexico, practices had developed to honor deceased children and infants on November 1 and honoring deceased adults on November 2.  In Catholicism, November 1 is All Saints Day and November 2 is All Souls Day.
Honoring our loved ones that have left earth is done in many different ways during Dia de los Muertos.  On the eve of October 31st, families come together at the cemetery and begin by cleaning and decorating the graves. They also make ofrendas (altars), which can include pictures, relics, favorite foods or goods of loved ones. Vibrant-colored banners are made from papel picado (pecked paper which is a decorative banner of elaborate designs into tissue paper).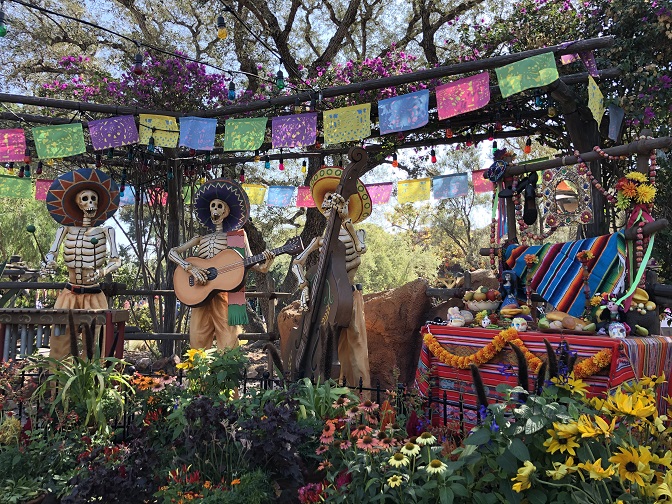 Ofrendas also include Mexican marigolds. (cempasúchil)  It is believed that the petals of these flowers reach the ancestors and deceased loved ones and serve as a guide for their journey back home to earth for the festivities.
Pan de muerto and calaveras are also used to celebrate the holiday. Pan de muerto is a sweet roll that is shaped like a bun and is topped with sugar.  Calaveras, also known as sugar skulls, adorn the altars.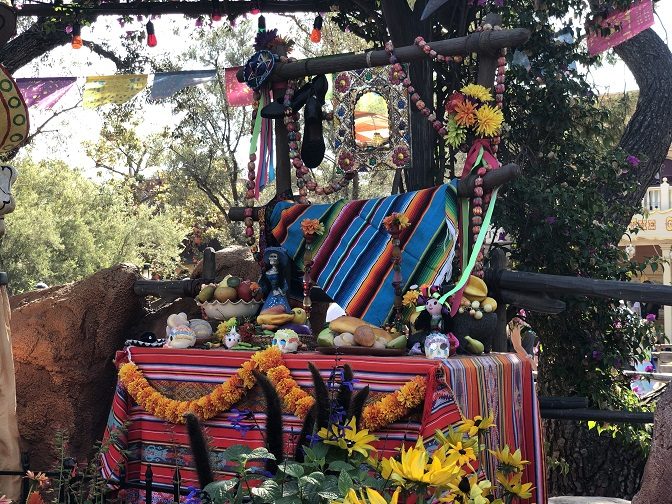 There is a myriad of ways that the celebration of Dia de los Muertos is practiced throughout Mexico.   Each region can be very different in customs and traditions. For some areas, it is traditional to spend all day at the cemetery for the three days enjoying Mariachi music, dancing, and feasting on tamales.  In other regions, families attend church services while others spend the night at the cemetery or have picnics.  Many families who are not able to visit the cemetery build their ofrendas in their homes.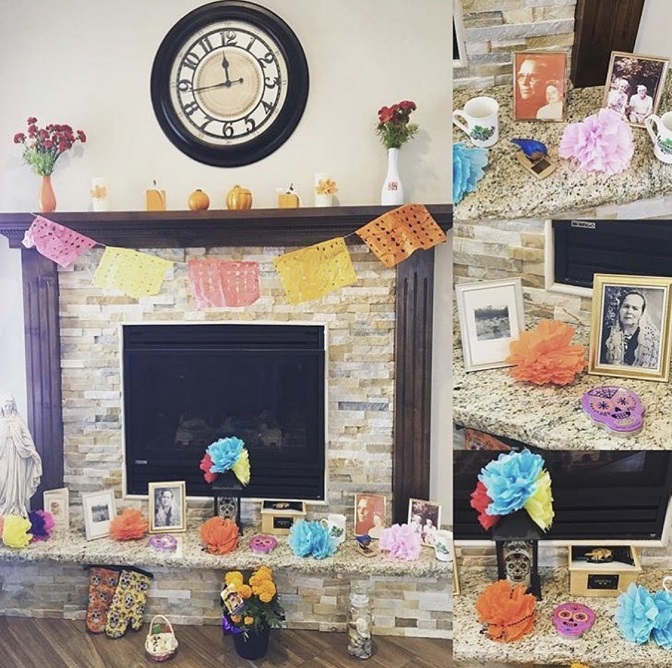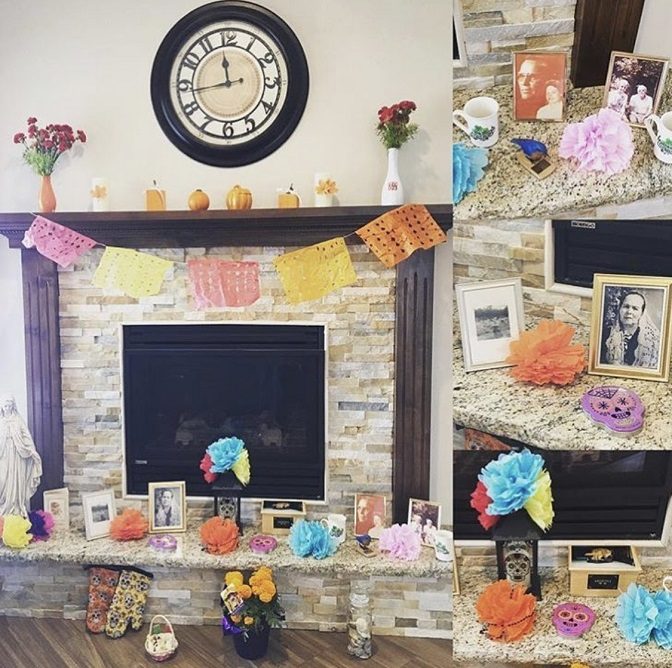 As a sociologist, I love learning and teaching about new cultures and traditions. Within my immediate family, we have introduced new and continuing yearly traditions as our family is biracial.  Ever since our daughters were young, we have made ofrendas within our own home complete with pictures and an item that reminds us of our family and friends or a treat that they enjoyed.  We even remember our family pets who have passed.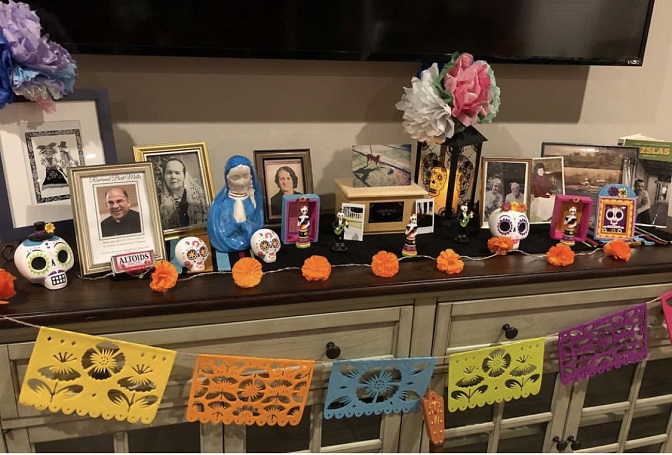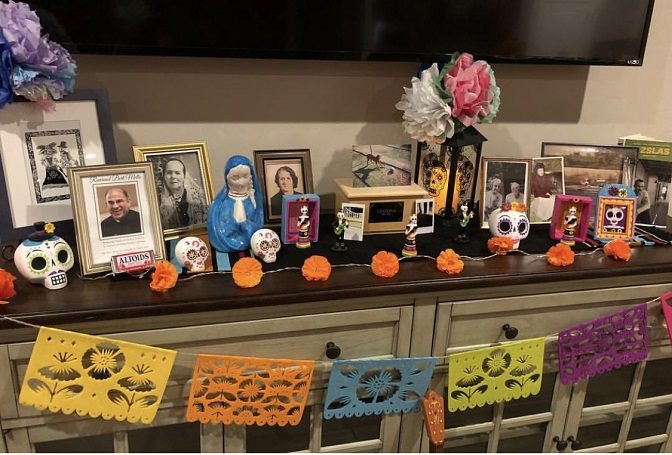 In November of 2017, Pixar released the film Coco, which takes place during Dia de los Muertos.  Guests can now participate in the celebration at The Disneyland Resort and the Mexican Pavilion in Epcot.
Disneyland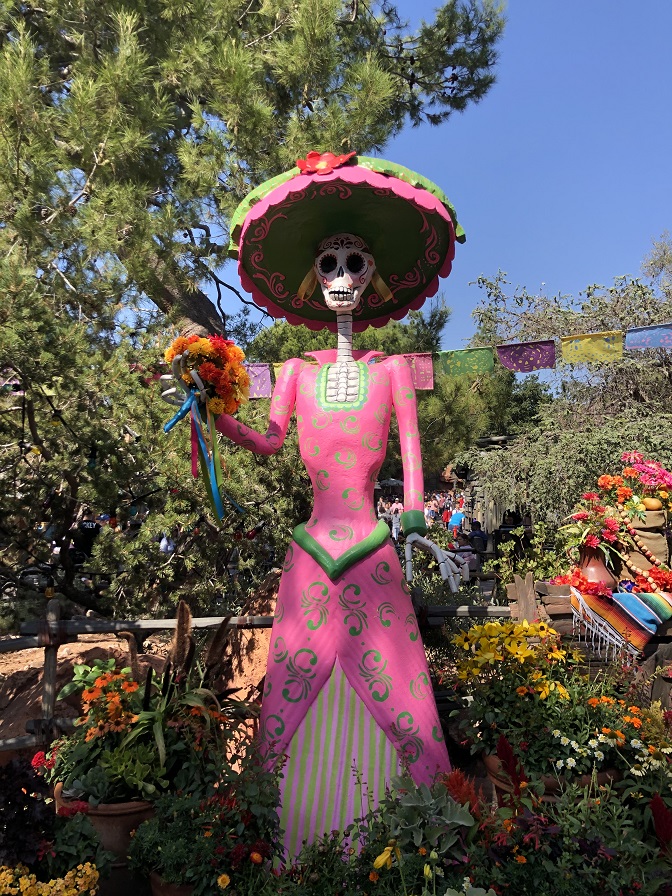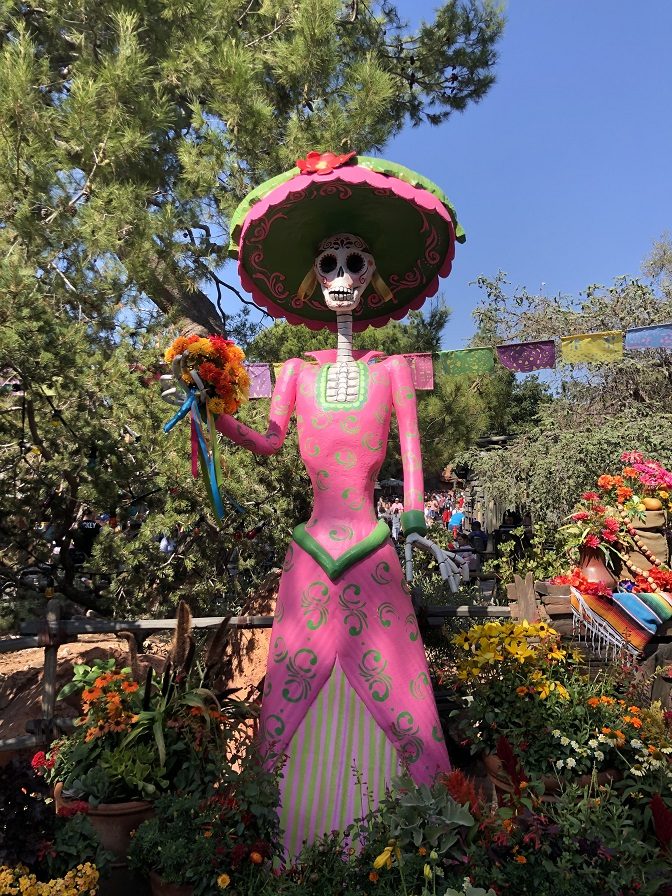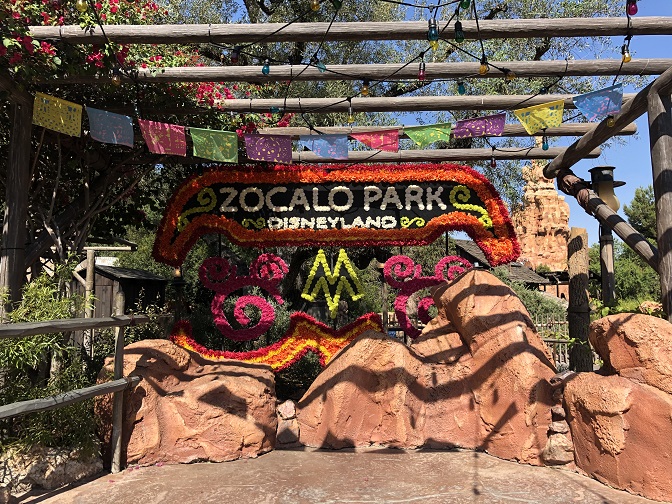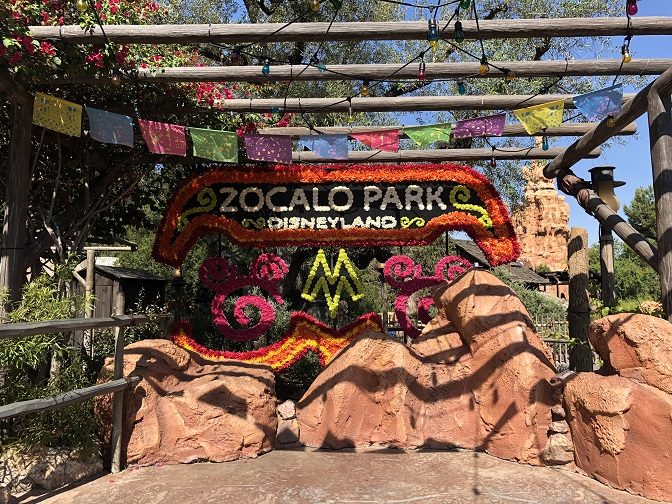 For the last few years, Zócalo Park in Disneyland has displayed a beautiful homage to Dia de los Muertos that includes activities and information regarding the tradition. Zocalo Park is located in front of Rancho del Zócalo Restaurante in Frontierland.  The display is available from September 6-November 3rd.
California Adventures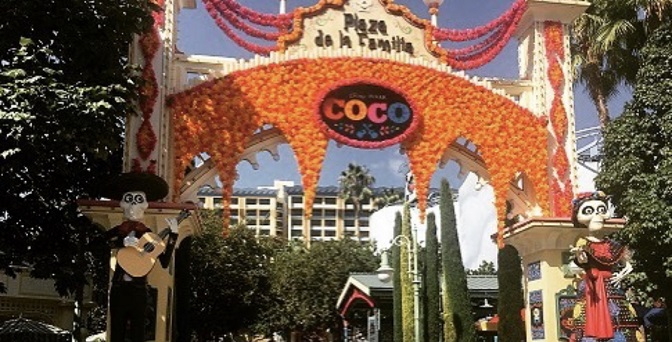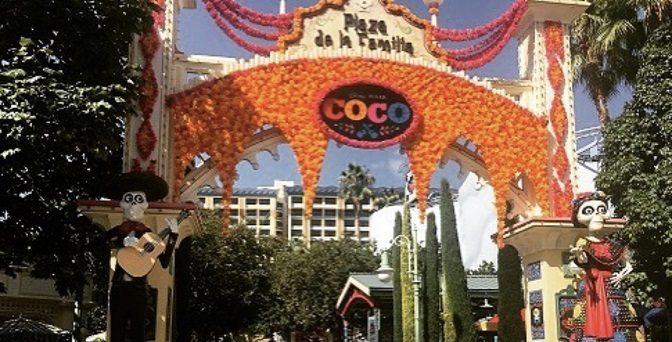 Also from September 6 through November 3, Disney California Adventure Park is transformed into an immersive event at Paradise Gardens Park that features live Mariachi music, a special photo opportunity with Miguel from Coco, a meet and greet with Miguel between performances, and the Árbol de la Vida or Tree of Life experience where guests are invited to write a memory and/or remembrance of a passed loved one to display on the nearby walls and tree.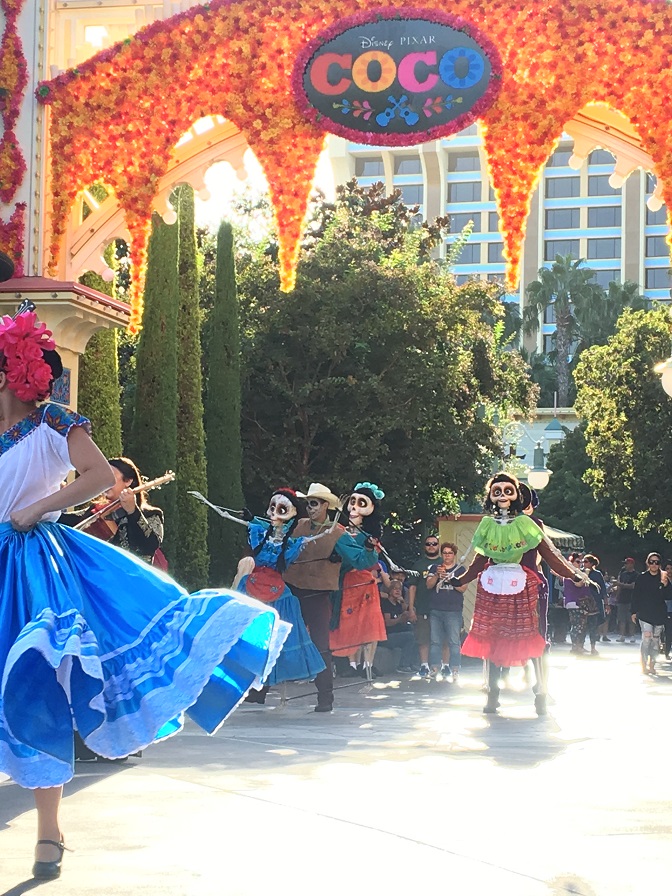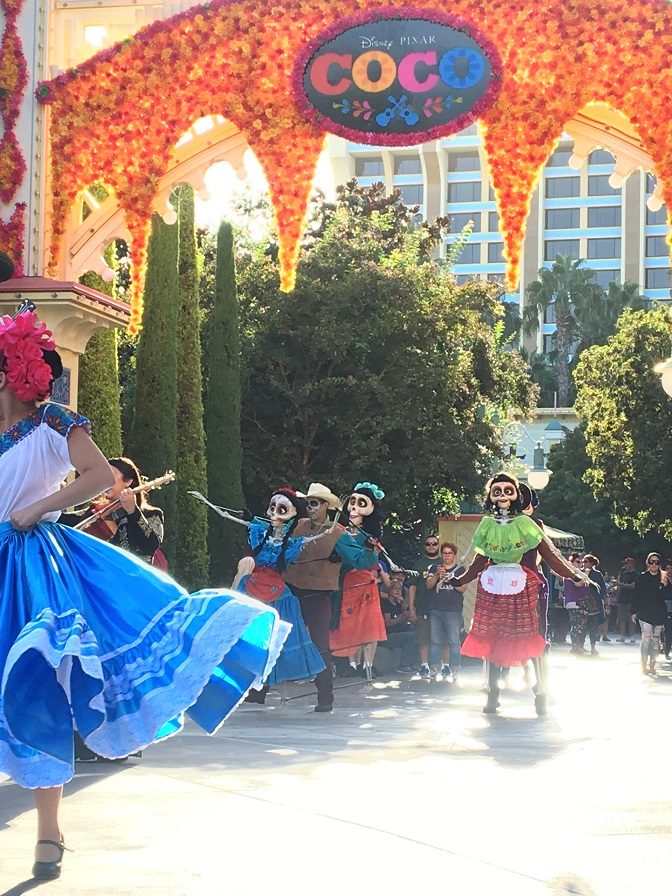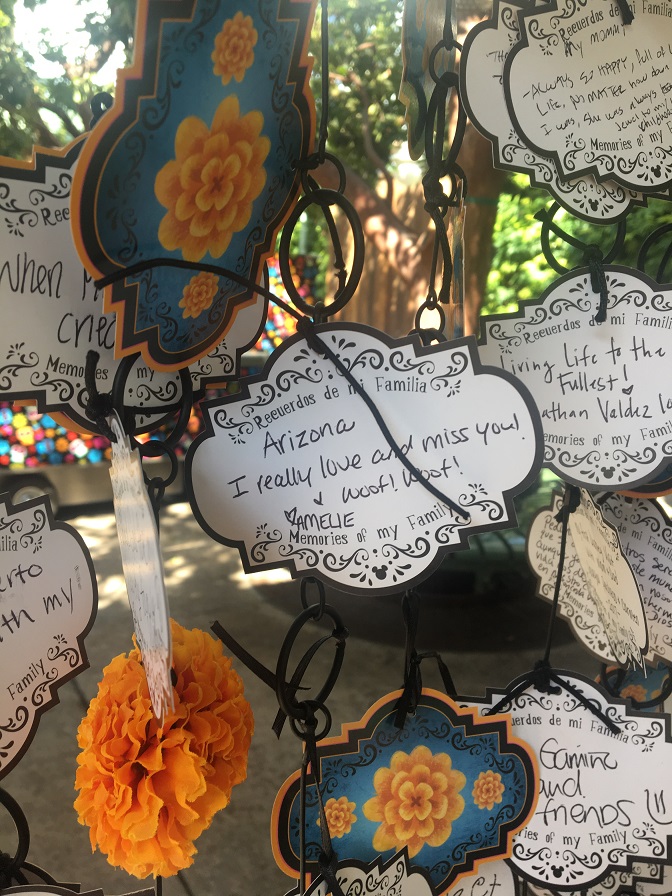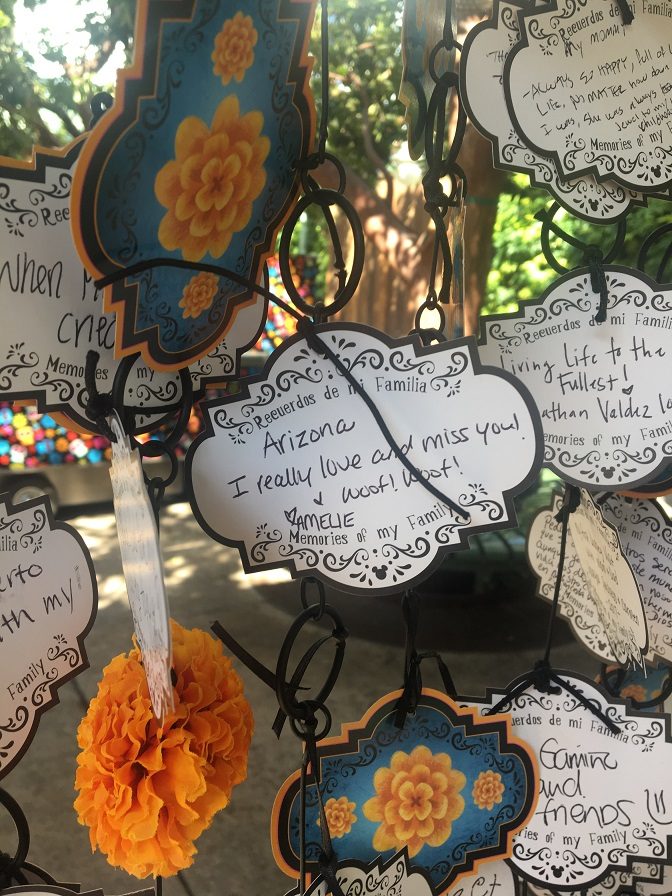 Per the Disneyland website, throughout the day Disney and Pixar's Coco comes to life through enchanting performances by the Storytellers of Plaza de la Familia, singer/storyteller Mateo, a folklórico dance ensemble, the GRAMMY® Award-winning Mariachi Divas and traditional tunes sure to touch the heart during this moving salute to family. Miguel even makes a whimsical cameo in an appearance inspired by Mexican folk art.
Downtown Disney at Disneyland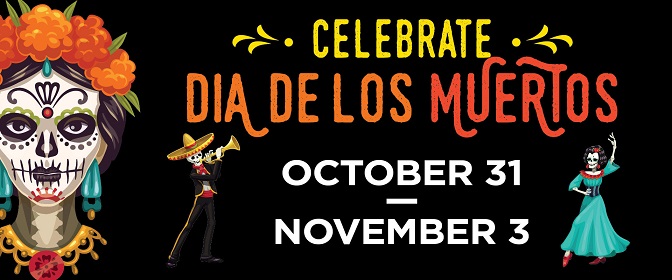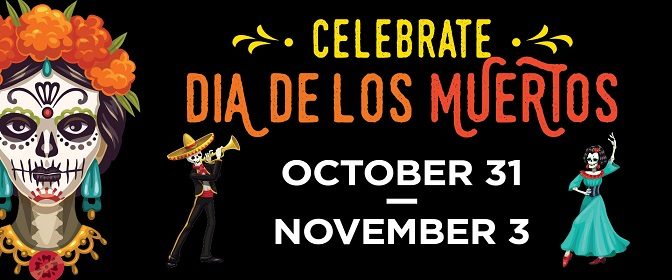 The Día de los Muertos celebration at Downtown Disney's Tortilla Jo's Mexican Restaurant will take place Friday, November 2 and Saturday, November 3 from 2-8 PM. More information can be found at Tortilla Jo's website. 
Tortilla Jo's Dia de los Muertos Festivities:
Saturday: Kids arts and crafts, cookie decorating, & pumpkin painting 12-5 pm | Face painting 12-4 pm | Tequila & Bacanora tasting 4-7 pm | Mariachi Divas 12-5 pm
Sunday: Kids arts and crafts, cookie decorating, & pumpkin painting 12-5 pm | Face painting 12-4 pm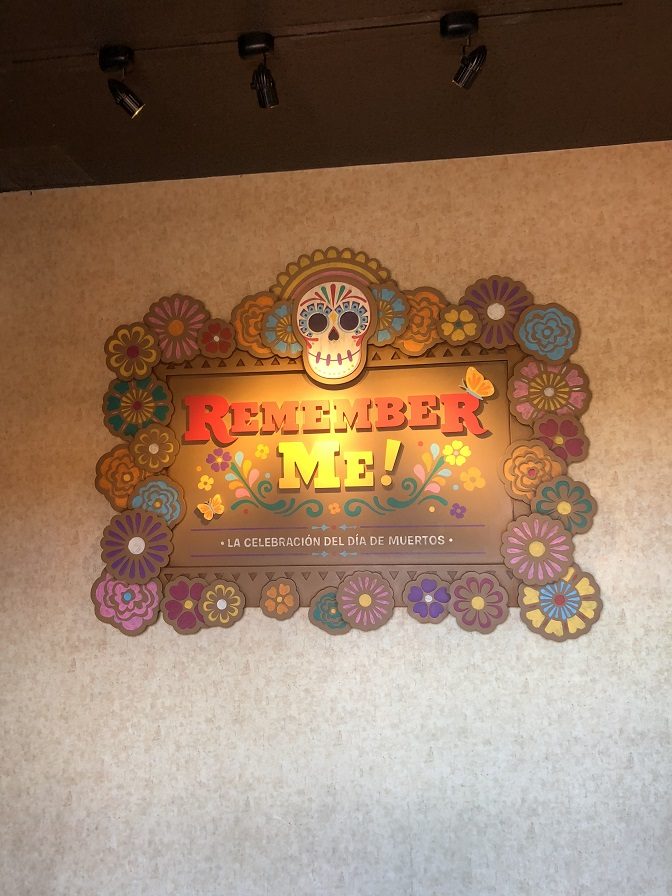 The Mexico Pavilion at Epcot is a wonderful place to celebrate Mexican culture during Día de los Muertos at Walt Disney World. The Mexico Pavilion offers the "Remember Me!" La Celebración del Día de los Muertos, a display of Día de los Muertos cultural décor and Mexican folk art year-round so guests do not have to only visit during the three-day celebration in October!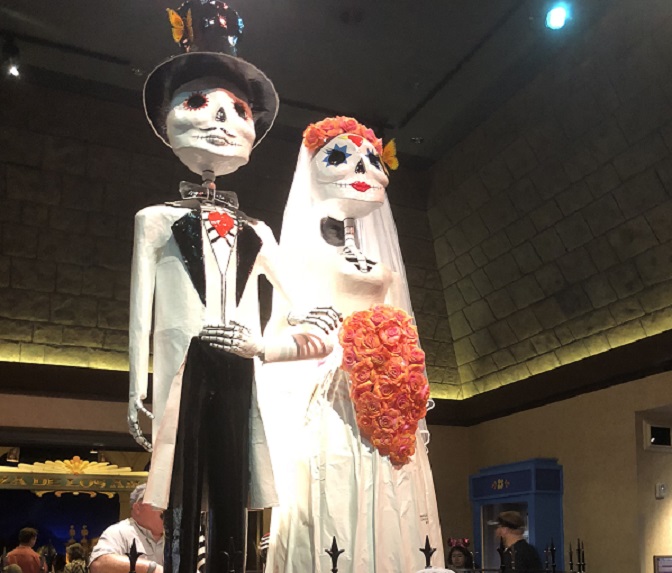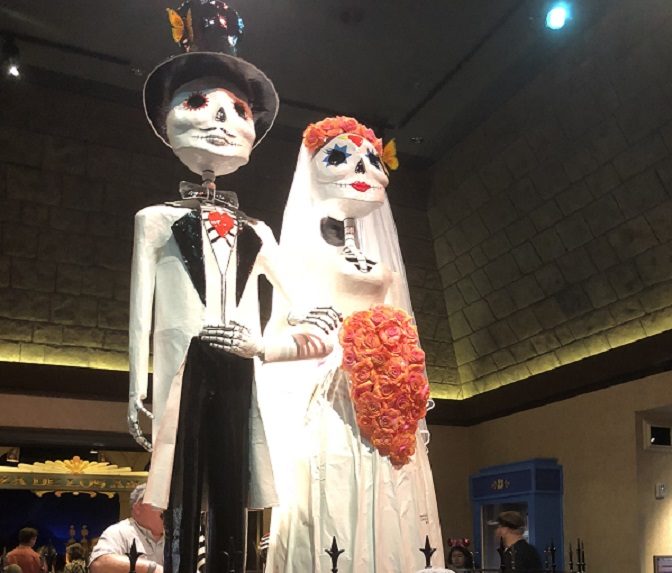 Within the Día de los Muertos displays, guests can view images from characters from "Coco" visiting the graves of loved ones well as a large display of Miguel visiting his family's ofrenda.  There is also an interactive activity for guests to create their own Coco-inspired character, and the great part is that it can also be linked to Disney Photopass!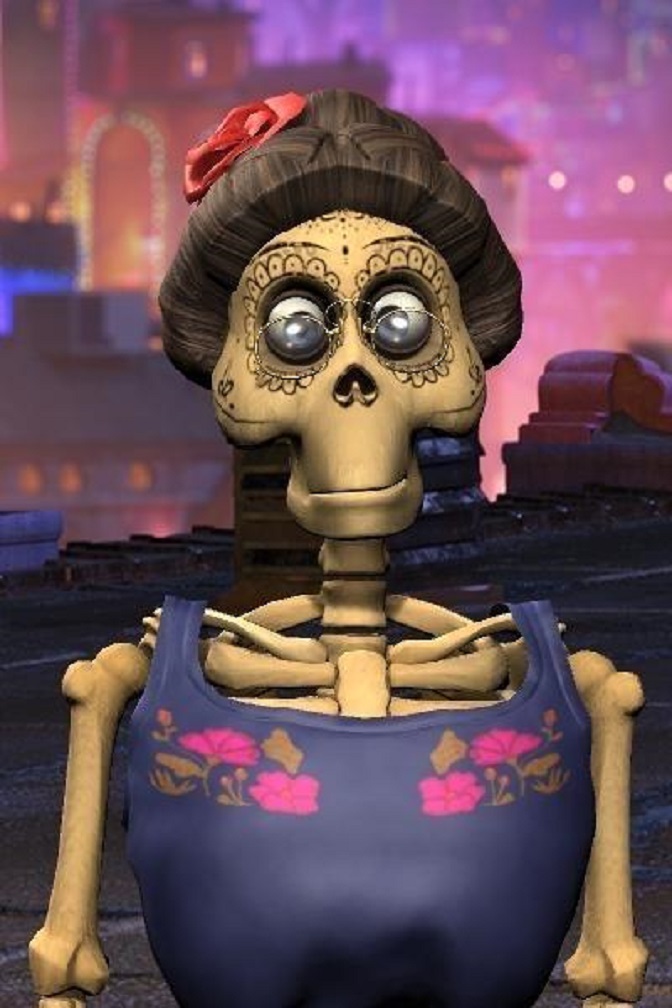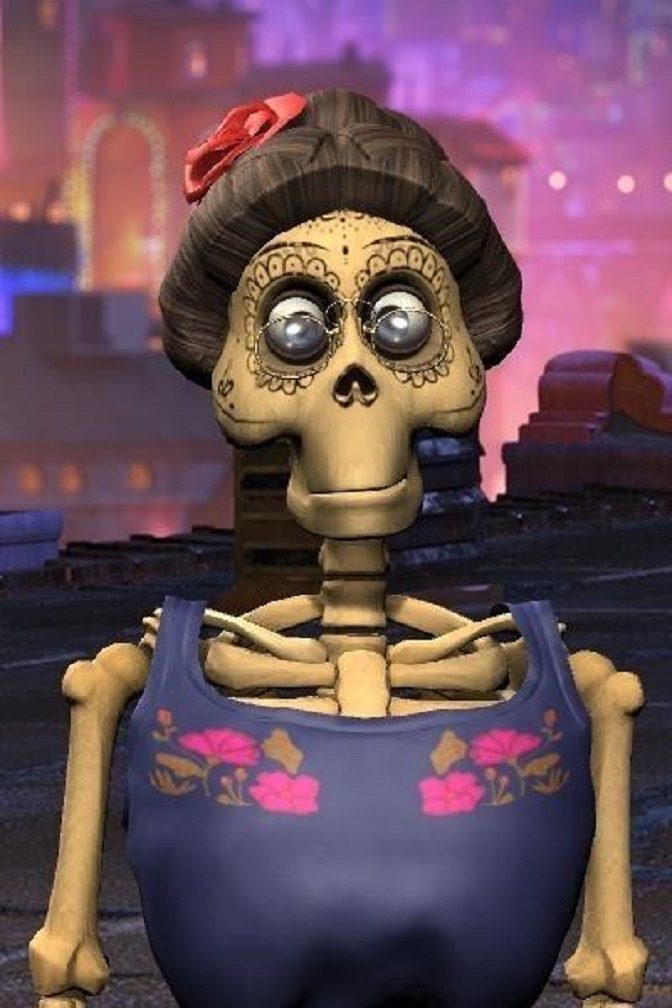 Another great way to get into the Mexican spirit of Dia de los Muertos at Epcot is by paying a visit to the Mexican Pavilion during Epcot's International Food and Wine Festival through November 23rd.
Last week it was announced that the fan-favorite, "Mariachi Cobre Presents…The Story of Coco" will be returning for three days specifically for the Dia de los Muertos celebration at EPCOT.  You can read all about this news here. 
Dia De los Muertos Merchandise
In August of 2019, Mouse Gear at EPCOT began to sell a variety of Dia de los Muertos merchandise such as Skull Ear Hats, Minnie Ears, and t-shirts.  Fortunately for those not able to visit the parks directly, Dia de los Muertos merchandise can be purchased on the shopDisney website.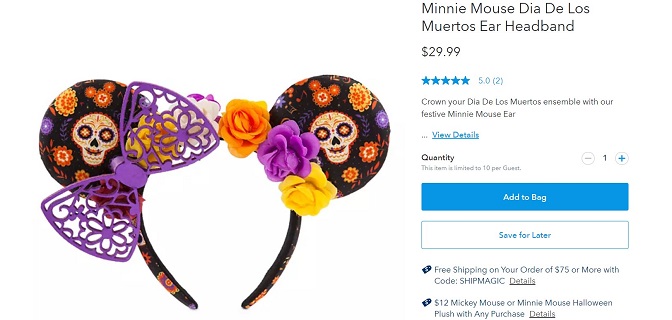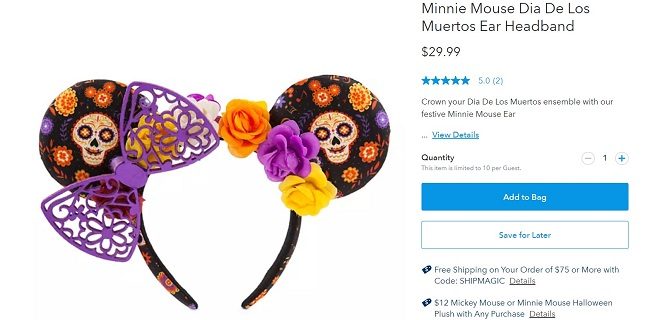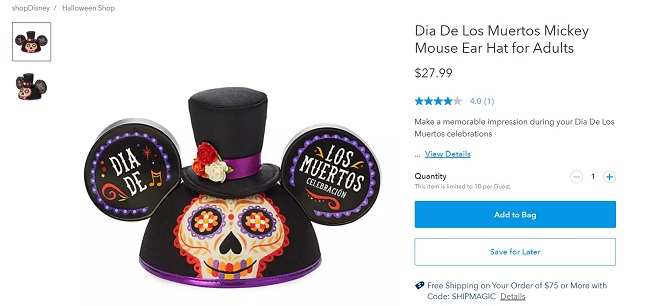 There is also new merchandise now available at the Mexico Pavilion in EPCOT.  I will be adding the calavera mug, the concha ears, tumbler, tote and t-shirts to my collection! Not to mention Mariachi Mickey, Donald, and Goofy… Si, por favor!  (yes, please!)  Last but not least, you can even purchase a papel picado banner to bring into your own home! Take my dinero, Disney!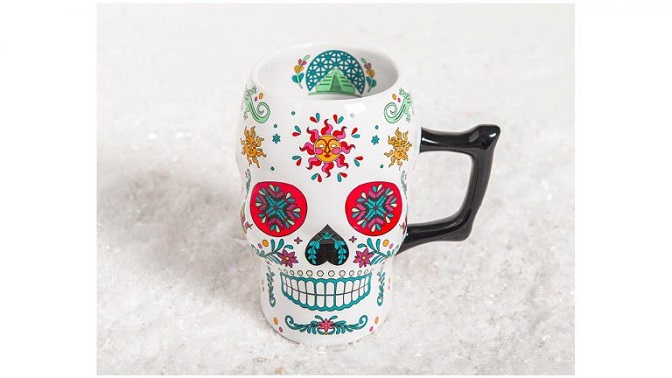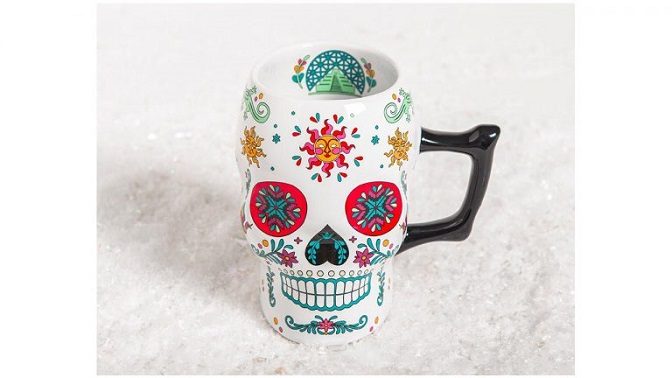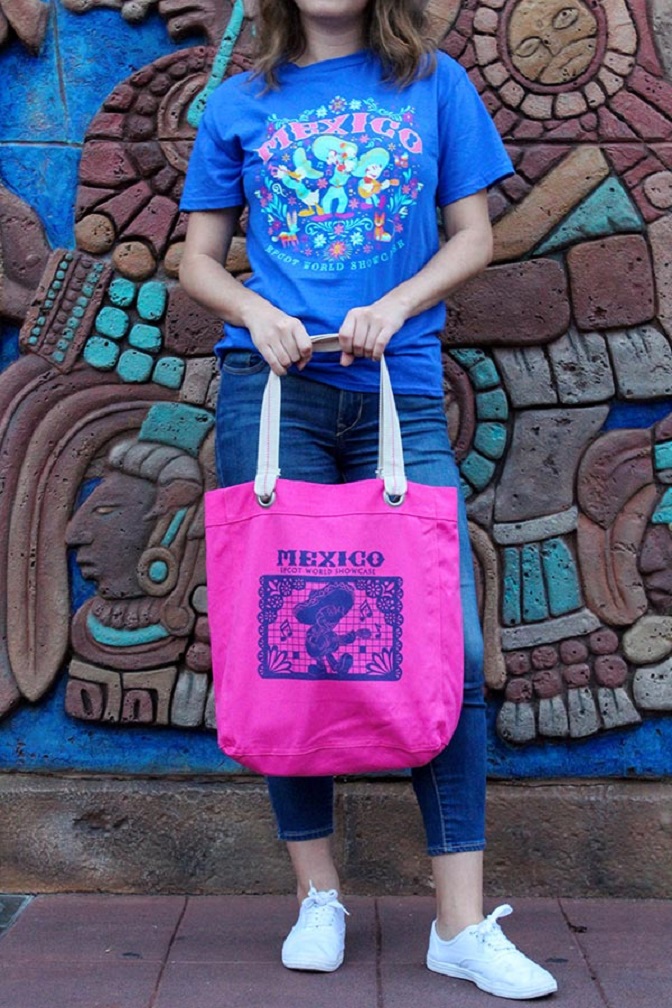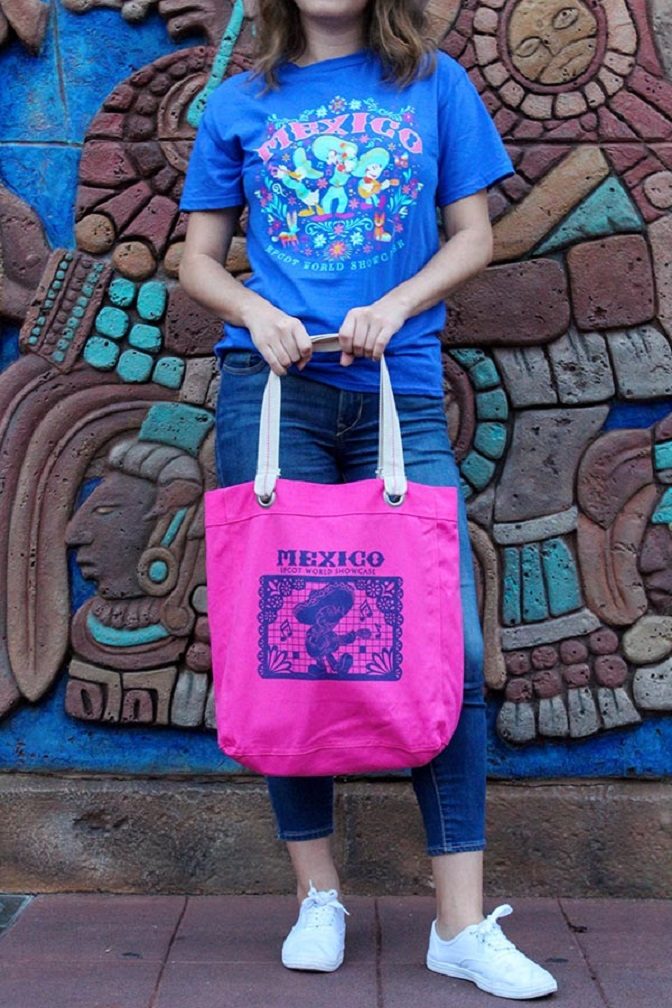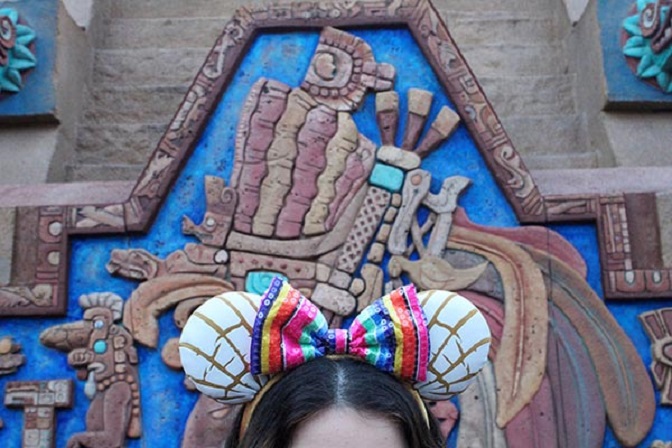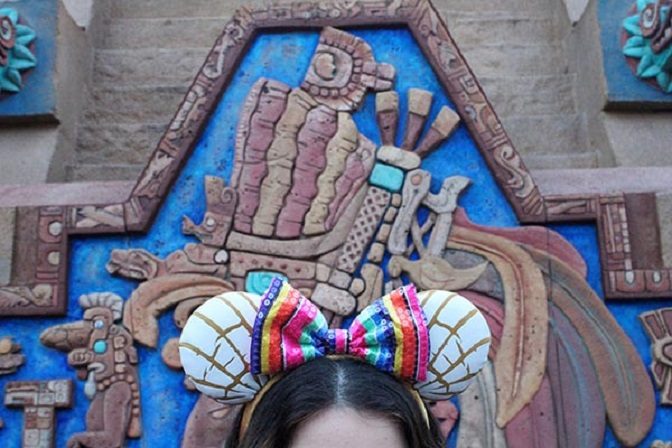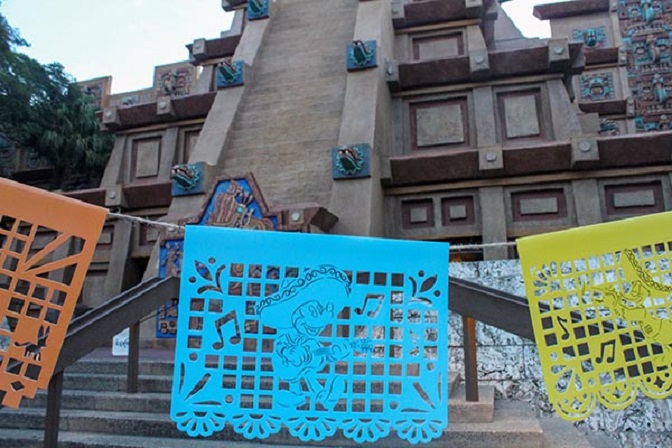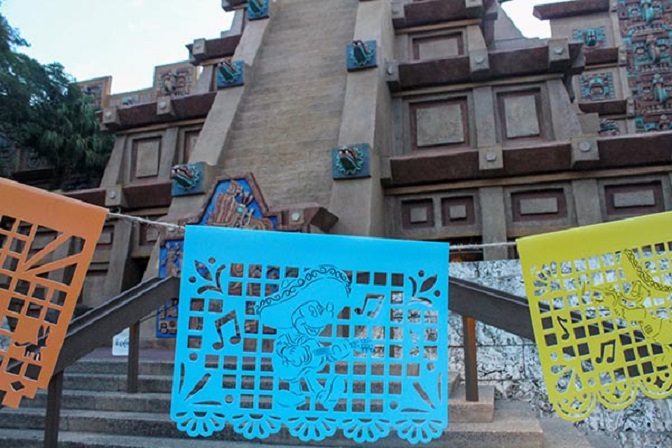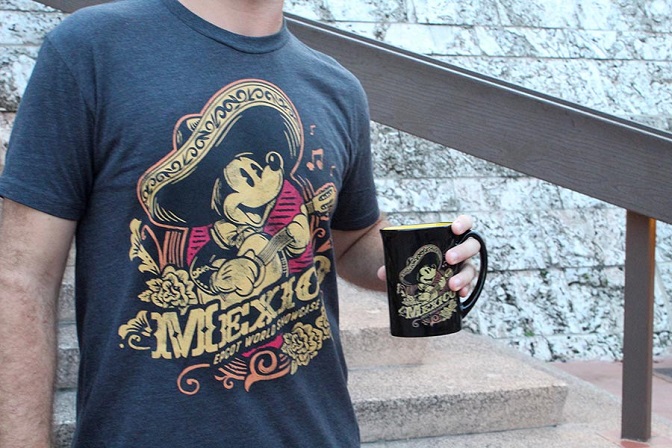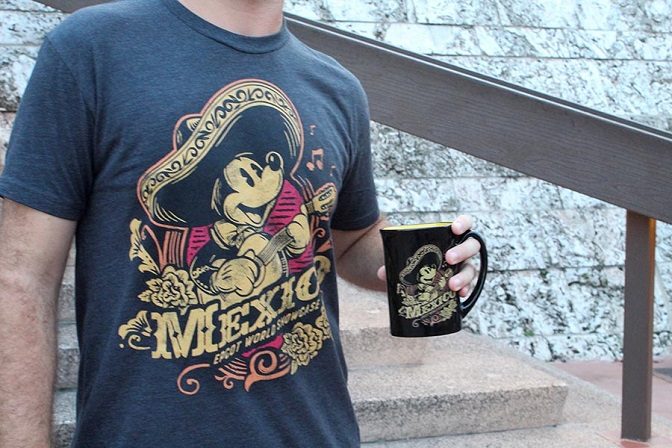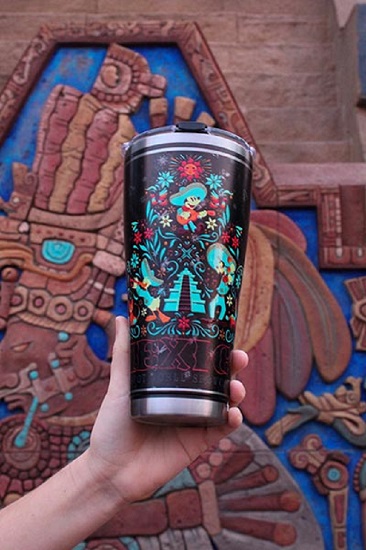 I invite you and your family to partake in the festivities of Dia de los Muertos at the Disney parks, your community, or within your own home by making an ofrenda to your loved ones that have passed.  It is a beautiful way to remember those who left this earth, but that have not been forgotten. Feliz Dia de los Muertos!
How will your family be celebrating Dia de los Muertos this year?
-Marisol White