Tervis introduces Disney Villain Tumblers, and these are not just for Halloween! The attention to detail is amazing. I've got all the info and styles here.
Tervis has just released vibrant graphic Disney Halloween tumblers featuring our favorite villains!  Each tumbler is stainless steel with a hammer lid and holds 20 ounces.  The stainless (and plastic) tumblers have an outside sleeve that the graphic is wrapped around and placed in so the design encompasses the entire width of the tumbler. Why do I want to call these mugs?  Maybe since I tend to put coffee in my stainless "mugs."
Ursula Design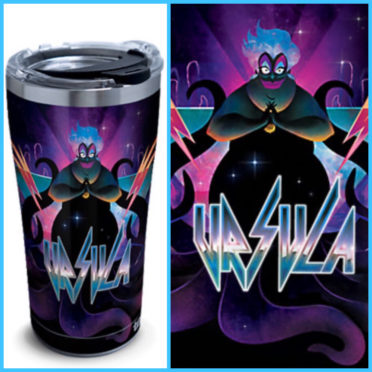 Love the pink lightning bolts, and blue hair! She's gonna' make someone "sing" – lol.
Maleficent Design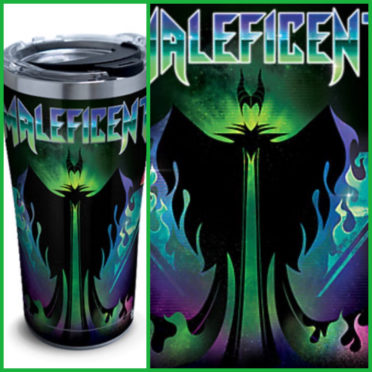 The varying colors and shades of the flames make this design stand apart from the rest.
Hades Design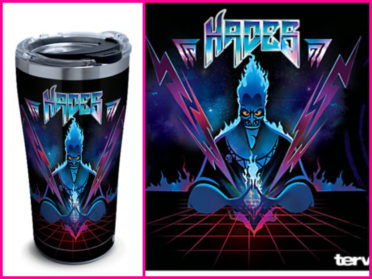 Flames and lightning bolts all centered around Hades hands in this design.  Oh my – love it! Now only if we could score a meet and greet with this scoundrel!
Evil Queen Design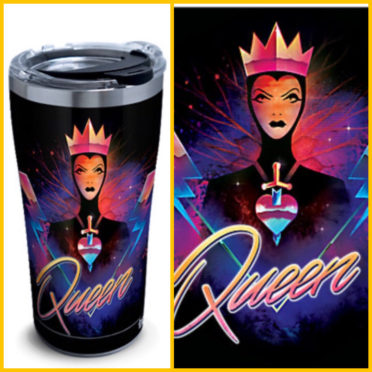 Gotta' love the iconic stoic face of the Evil Queen.  Maybe one day she'll smile… :).  And is that a giant heart beating behind her??
Where Can I Find These Amazing Tumblers?
As of now, these fabulous tumblers are exclusively available on tervis.com, and possibly at Tervis stores. Each tumbler retails for $34.99, but Tervis.com runs promotions refularly. Tervis.com is also offering free shipping over $50.
Hammer Lid
In case you're wondering what in the world a hammer lid is, please see the picture below for a closeup. Instead of a traditional sliding lid, a hammer lid opens by lifting and resting on the other side of the lid.
Warranty On Tervis Stainless Tumblers
Per tervis.com, Tervis stainless steel products will only be replaced if Tervis confirms a lack of thermal performance up to Tervis standards. This guarantee shall apply for a period of five (5) years from the date of manufacture. Stainless items damaged due to improper care, abuse, and normal wear and tear such as chips, dents, fading or peeling, will not be replaced. This Limited Guarantee Policy shall not apply to stainless lids and accessories.

Stainless steel products that Tervis confirms a lack of thermal performance will be replaced with a tumbler of the same size and design.
Returns
Per tervis.com, you may return products with a receipt or packing slip within 30 days from the date of purchase for a refund of the sale price and tax. After receiving returned products, it may take up to 10 days to be processed. A refund will be credited to you 5-7 days after the return is processed.
I prefer Stainless tumblers over plastic for better insulation, but haven't tried Tervis stainless tumblers or hammer lids.  What have your experiences been using these?  I adore all of these bold graphic designs.  Hades is my favorite design of the bunch, but Maleficent is my favorite villain though.  Having a difficult time choosing a favorite, what about you?  Please share your thoughts…
-Susan