Hollywood Studios isn't just for the "big kids!"  This park offers many great experiences for the youngest (and shortest) guests. I've included the top three character meets, shows, and meals for toddlers.
Disney's Hollywood Studios is a park filled with height restricted rides and attractions.  At first glance, it may seem that Hollywood Studios is a park best left for the "big kids."  However, quite the opposite is true.  Hollywood Studios has exceptional offerings even for the youngest (and shortest!) of guests.
[the_ad id='41474′]
Top Three Character Interactions
Oftentimes, character interactions are the best part of a Disney World vacation with a toddler.  Children this age believe in the magic of the character interaction and are fully immersed in the overall experience.  While there are many character experiences at Hollywood Studios, these three are the best for the toddler set:
1. Disney Junior Courtyard Meet and Greets
If your child loves Disney Junior, Hollywood Studios is definitely a park that you must plan to visit.  In the Disney Junior Courtyard area, right by the Disney Junior Dance Party and the Voyage of the Little Mermaid Show, your child can meet:
Doc McStuffins
Fancy Nancy
Pluto
Vampirina
Each character has his or her individual line, but wait times are typically pretty short for each character.  Fancy Nancy and Vampirina are the newest additions to the character meet lineup so I would recommend getting in their lines first.
2.  Toy Story Meet and Greets
Toy Story Land currently offers three different meet and greets with four total characters from the Toy Story franchise.  These characters include:
Buzz Lightyear
Jesse
Woody and Bo Peep
Toy Story Land is perfect for toddlers because it is such an immersive experience. You are meeting the beloved toys in Andy's backyard! Also, you might get a chance to catch a Green Army Men popup show as they walk through Toy Story Land, which is an experience that is definitely a hit with toddlers!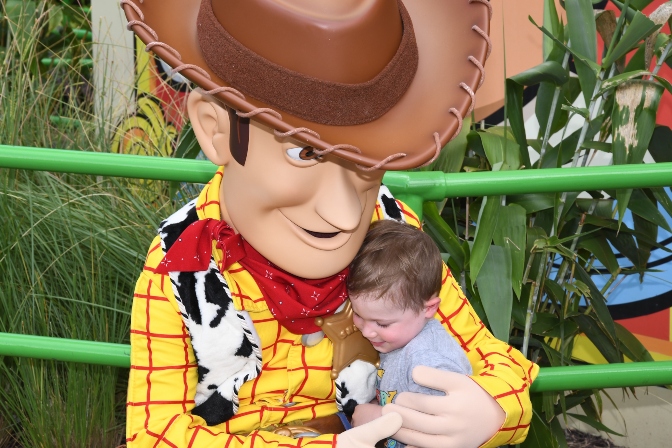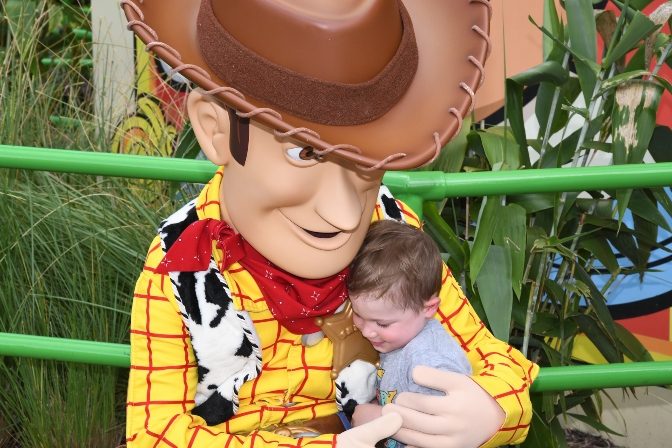 3.  Mickey and Minnie at Commissary Lane
While there are many great places to meet Mickey and Minnie throughout the Disney World resort, my favorite is at Hollywood Studios.  Here guests have the opportunity to meet Mickey and Minnie "on set."  Mickey is in his Sorcerer Mickey outfit from Fantasia and Minnie is in her red carpet best.  There is one line to meet both characters, but this line can get busy as the day goes on.  If this character meet is a priority for your group, I'd suggest adding it to your plan for your first hour or last hour in the park.
Top Three Shows
Hollywood Studios packs the most punch when it comes to shows and entertainment.  There are so many great shows that will grab a toddler's attention and allow them to experience the worlds of their favorite movies.  These three, however, stand above the rest in their engagement and appeal for the youngest set.
1.  Disney Junior Dance Party
The Disney Junior Dance Party is probably the number one show that is tailored specifically for toddlers and preschoolers.  Guests are invited into an open room with a stage and are asked to take a seat on the floor.  During this 25-minute show, your child can sing and dance along with Doc McStuffins, Timon, Vampirina, and Mickey Mouse in his Roadster Racers attire.  Keep in mind that, unlike dance parties at special ticketed events like Mickey's Not So Scary Halloween Party, characters do not come down into the audience to dance and instead remain on stage.  Fastpasses are not needed for this show!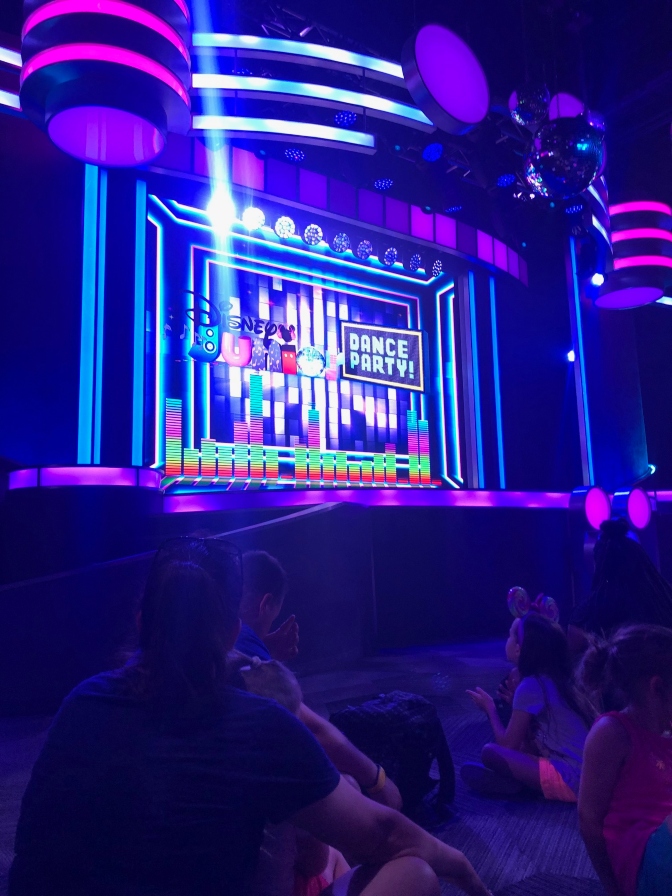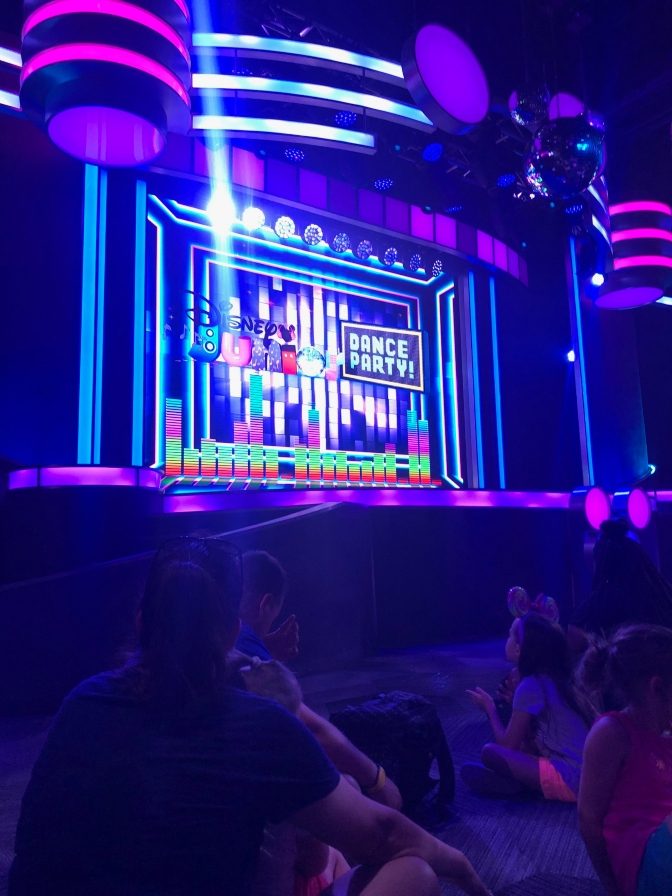 2.  Lightning McQueen Racing Academy
This 10-minute show is sure to be a hit with your Cars loving toddler.  Guests are invited to learn racing skills from only the best:  Lightning McQueen himself.  An amazing animatronic Lightning McQueen will demonstrate his best racing skills through the simulator with video appearances from other favorite characters from the franchise like Cruz Ramirez, Tow Mater, Chick Hicks, and others.
There are no fastpasses available for this attraction.  Shows run frequently and the seating area is large, so there is no need to arrive early.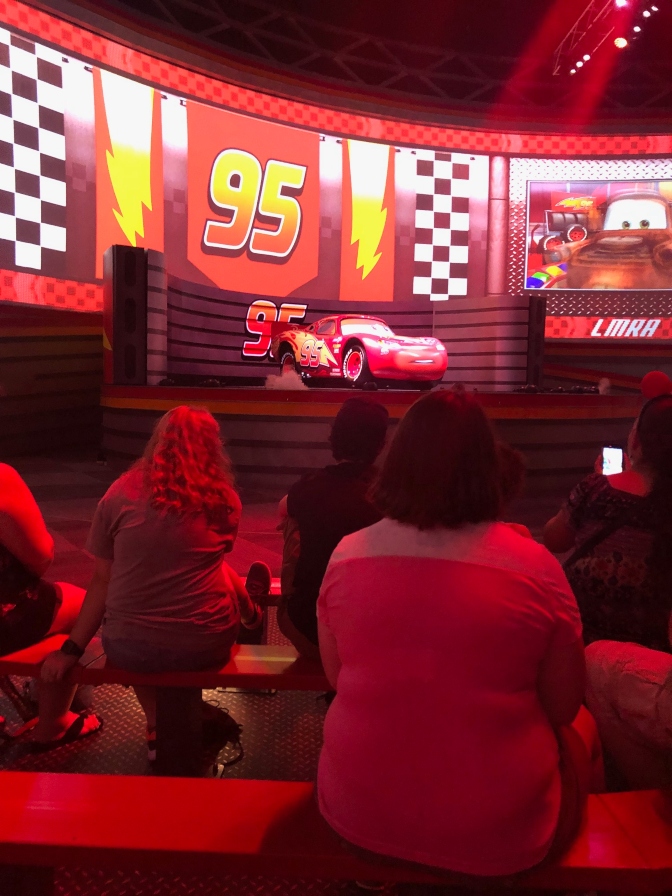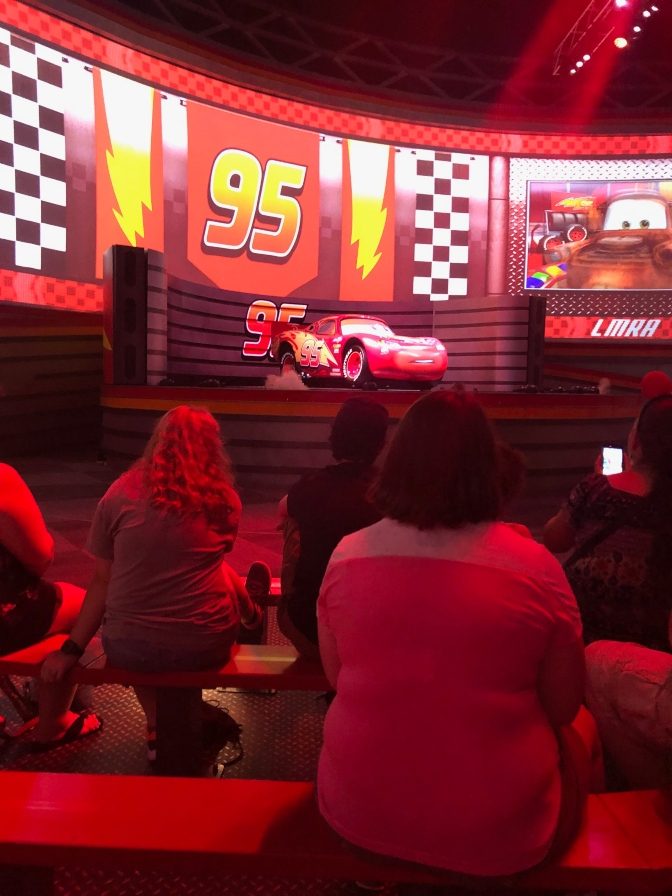 3.  For the First Time in Forever- A Frozen Sing-Along Celebration
If your child loves Frozen, this show cannot be missed!  This 30-minute show invites guests to experience the retelling of the history of Arendelle by the Royal Historians with special visits from Princess Anna and Queen Elsa.
There are many opportunities for singing and even more opportunities for laughter…this show is hilarious!  Fastpasses are not needed and shows run every hour from 10:30-7:30, but this would be a good use of a Tier 2 fastpass.  Arrive 10-15 minutes early to guarantee a seat for your group!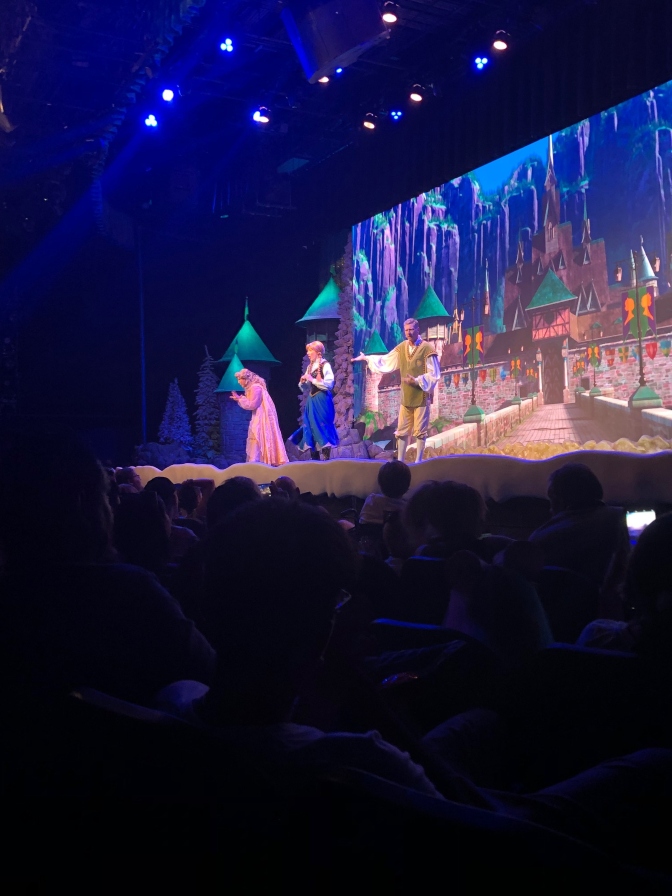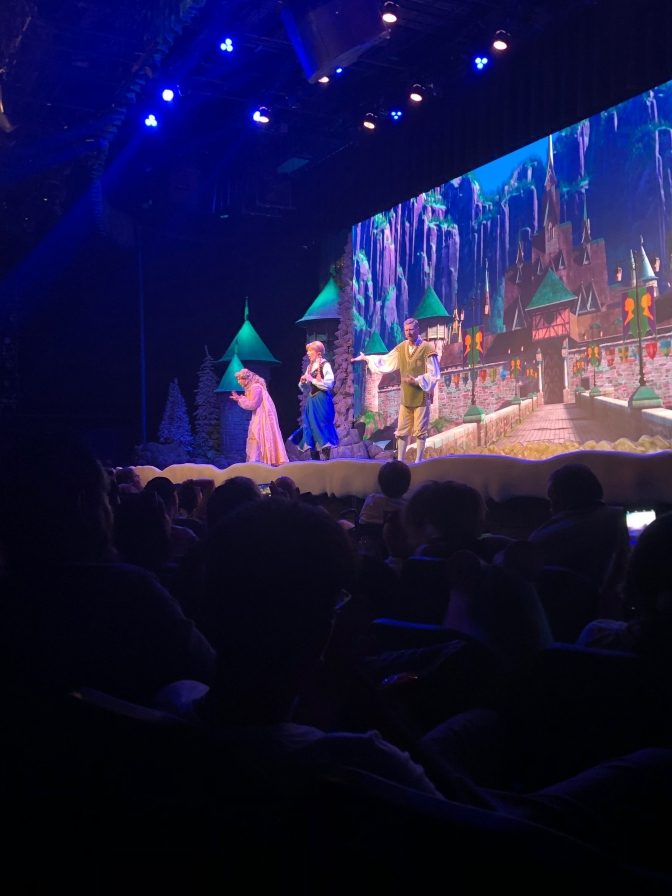 Top Three Rides
1.  Toy Story Mania
Toy Story Mania is an arcade-style ride that allows guests to play various shooter games while interacting with Toy Story characters.  Points are collected for shooting accuracy and a winner for each ride vehicle is determined.
This ride is great for toddlers because it is a 3D ride with light spinning that allows them to see some of their favorite Toy Story characters up close.  Younger toddlers might not have the dexterity to actually play the arcade games, but they will enjoy the ride none-the-less!
There is no height requirement for this ride, making it perfect for everyone.  A fastpass is suggested, as this is a very popular ride.  This ride requires a Tier 1 Fastpass, so you will need to plan accordingly for the rest of your day.  If you choose to use your Tier 1 fastpass on another attraction, I would recommend doing Toy Story Mania during rope drop.  Kenny the Pirate's Character Locator also has great tips for how to grab a fastpass for this attraction!
2.  Alien Swirling Saucers (32 inch height requirement)
This swiveling and swirling ride allows guests who are at least 32 inches tall to ride with the aliens from Toy Story in a two-minute ride experience.  This attraction is great for toddlers who aren't quite tall enough for Slinky Dog Dash but want to experience a ride in Toy Story Land.
This attraction requires a Tier 1 fastpass.  I would recommend completing this ride during rope drop or using the tips on Character Locator to grab an additional fastpass for this ride.  I'd save your initial Tier 1 fastpass for another attraction.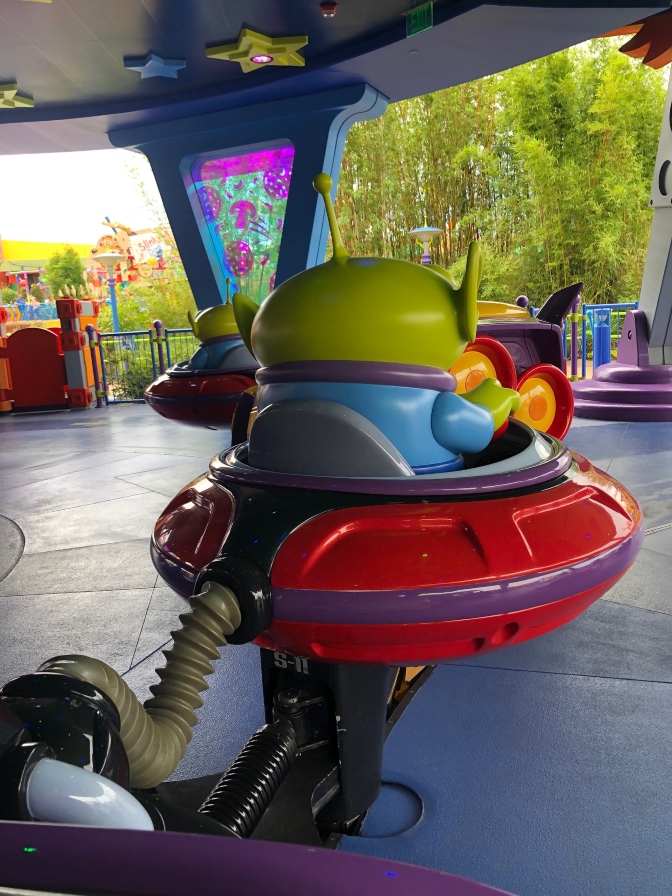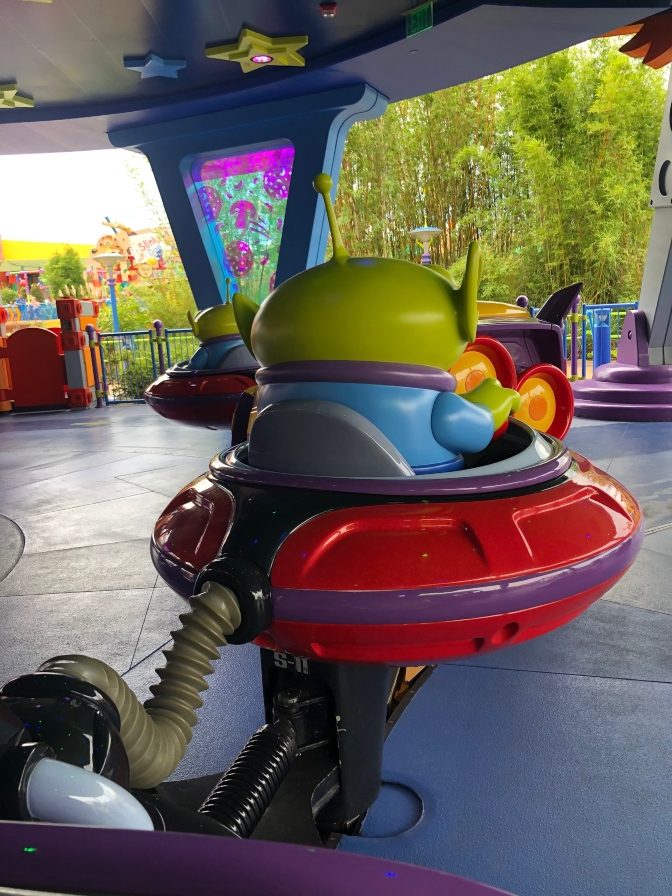 3.  Muppet Vision 3D
Muppet Vision 3D is a three-dimensional viewing attraction located in the Muppet Courtyard that allows guests to immerse themselves into the world of the Muppets.  This attraction includes a highly entertaining pre-show that is not to be missed!  Toddlers and preschoolers, especially those familiar with the Muppet characters, will enjoy this attraction.
This experience rarely has a wait and does not require a fastpass.  It is a great way to get out of the heat and the elements for 30 minutes while enjoying some entertainment!
Top Three Meals
1.  Hollywood and Vine- Breakfast
Want to meet Disney Junior characters without waiting in line?  This is the dining experience for you!  Hollywood and Vine's breakfast is a breakfast buffet (1 table service credit on the Disney Dining Plan) that allows guests to meet Roadster Racer Goofy (the only place in the parks you can meet him!), Fancy Nancy, Vampirina, and Doc McStuffins.  Food is standard breakfast buffet fare including Mickey Waffles, Pancakes, Potato Tots, breakfast meats and potatoes, pastries, fresh fruit, and an omelet station.  Even the pickiest of eaters can find something delicious here!  Breakfast is served starting at 8 a.m. with the last breakfast seating starting at 10:20 a.m. each day.
2.  Hollywood and Vine- Lunch/Dinner
At lunchtime, Hollywood and Vine transforms to Minnie's seasonal dine.  At this dining experience, guests can eat their meals with Minnie, Mickey, Donald, Daisy, and Goofy in their seasonal attire (spring, summer, fall, or winter).  This is a great opportunity to see classic characters in costumes you won't find anywhere else!  This one-credit table service buffet includes foods such as salads, soups, various breads, carved meats, fish, peel-n-eat shrimp, chicken, vegetables, desserts, and soft-serve ice cream.  Once again, the variety of foods offered guarantees that there will be something for everyone to enjoy!
3.  Woody's Lunch Box
If you are looking for a family-friendly quick-service restaurant with mass appeal, Woody's Lunch Box is a great place to check out.  Located in the heart of Toy Story Land, this restaurant offers various options for breakfast, lunch, and dinner.  The kids' meals here are especially appealing to toddlers.  Breakfast options on the kids' meal list include a delicious s'more French toast sandwich served with a Cuties mandarin and potato barrels with a choice of drink and lunch and dinner options include a grilled cheese sandwich served with a Cuties mandarin, potato barrels, and a choice of drink for $6.19 each.
Mobile ordering is available for this quick service restaurant.  Seating, however, is limited with limited shade, so plan accordingly.
Have you taken a toddler to Hollywood Studios that doesn't quite meet the height requirements for many rides?  What were your experiences?  What would you like to see added to Hollywood Studios for the toddler set?
-Jaelyn Winkle