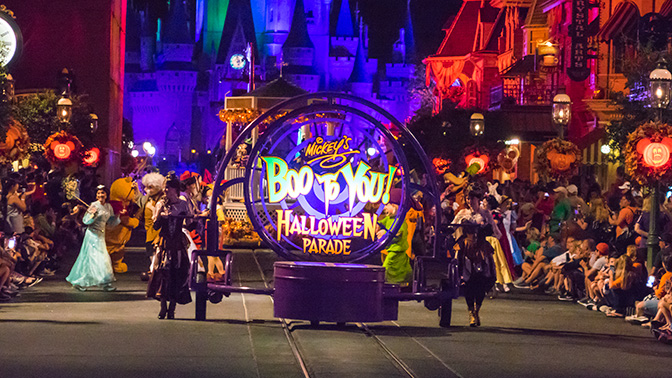 I was lucky enough to attend Mickey's Not So Scary Halloween party on the night of the first event-August 16, 2019. What an experience! It has long been a dream of mine to see this fantastic event, so I scheduled a late summer trip and made it happen!
If you haven't caught part 1 of this post yet, check it out here!  In our first chapter, I shared about our first few hours at the party-the time before the party truly started!  We hit lots of rides and a few trick or treat trails, but the real fun started after 7-the true "start" of the party!
After riding ride after ride with little wait, we  headed over to Frontierland  to get ready for the first "Boo to You" parade . We hit up Splash Mountain and Big Thunder Railroad Mountain, and the Trick or Treat trails on the way. I had planned on trying several of the special party snacks that were offered, but we were so stacked with candy I just couldn't bring myself to stop for more! We waited about 10 minutes for each ride, and then went over to stake out a parade spot. We got a fantastic spot right by the start of the parade.  A few minutes before the parade, the spooky music and lights started, and the headless horseman rode past us! It was absolutely amazing to see.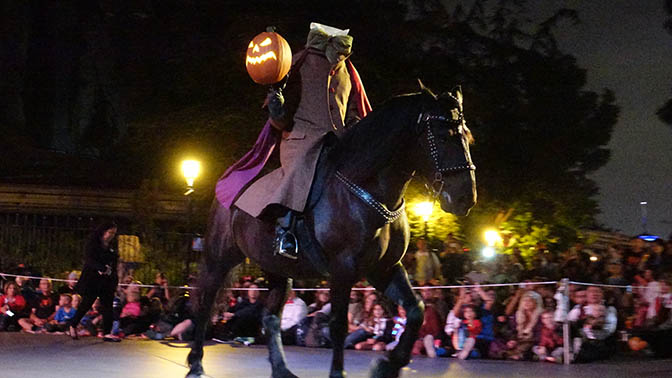 The parade started a few minutes later, and we were blown away. The "Boo to You" music that plays is certainly an ear worm, but we loved it nonetheless. We saw character after character that we loved, and many fun dancers on the way. One of my favorites was watching the gravediggers dance with their shovels-as they dragged them across the pavement, the sparks shot out creating quite an effect.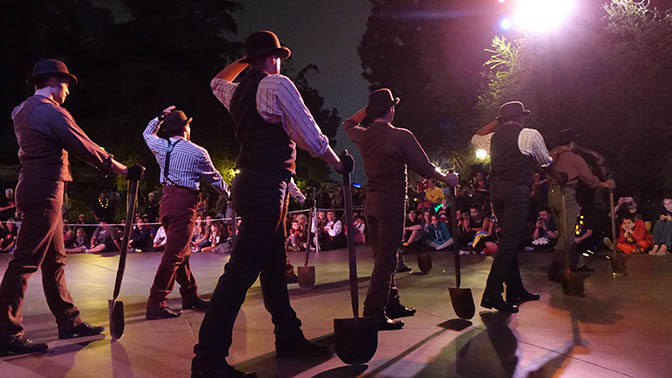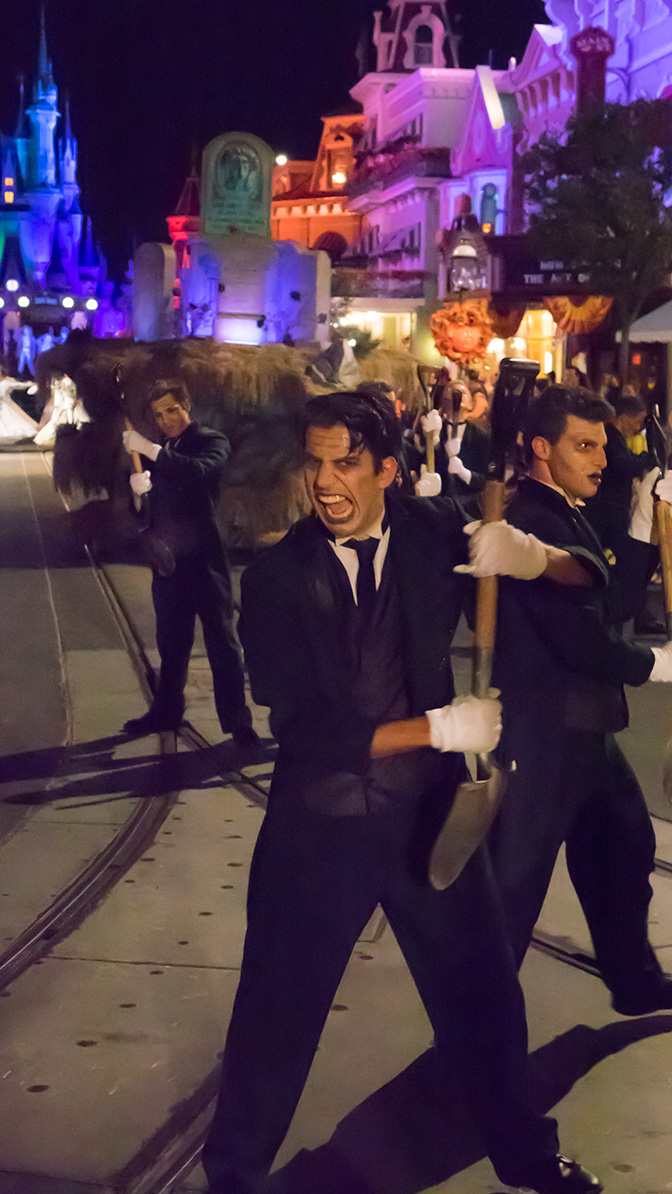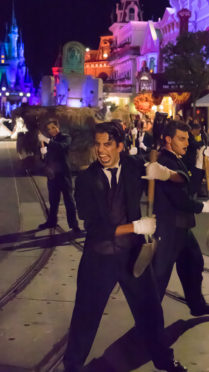 A Boo-to-You  highlight for our family was Vanellope Von Schweetz riding by on her float, which pumped out a sickeningly sweet candy smell. My daughter, dressed as Vanellope, waved and jumped around-when Vanellope saw her and waved, it made her eyes light up-these are those "moments of magic" you book your trip in anticipation for.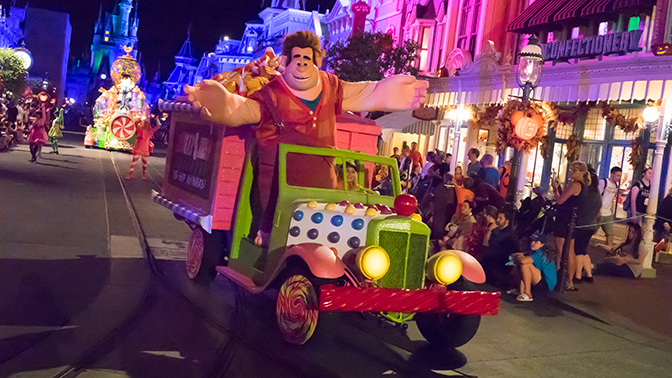 After the parade, we headed to Main Street to get a spot for fireworks viewing.  Main Street was packed, it appeared, many people got a spot for the parade and then stayed for fireworks. We ended up watching from Casey's Corner, and our view was somewhat skewed-I would not recommend it as a viewing spot.  (Use the tips I include on the Mickey's Not So Scary Halloween Party on Character Locator!)  The Not-So-Spooky Spectacular Fireworks did not disappoint though. Between the castle projections and the candy shaped fireworks, we were enthralled.
Our next priority was to meet Moana. I had read her wait tops 60-80 minutes regularly at the party, and I was not at all interested in waiting that long! Moana is not a regular meet anywhere in Disney World, but she is much loved by my girls, so I knew this was our one shot.
Using Kenny's tips on Character Locator allowed us to wait only 15 minutes!  Moana was fantastic-she took the time to teach the girls how to "wayfind," and we got some fun pictures.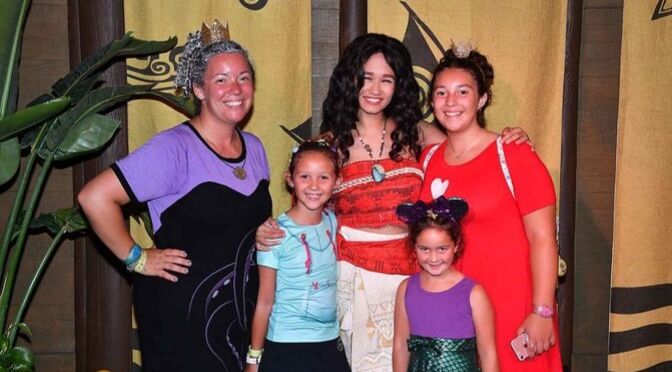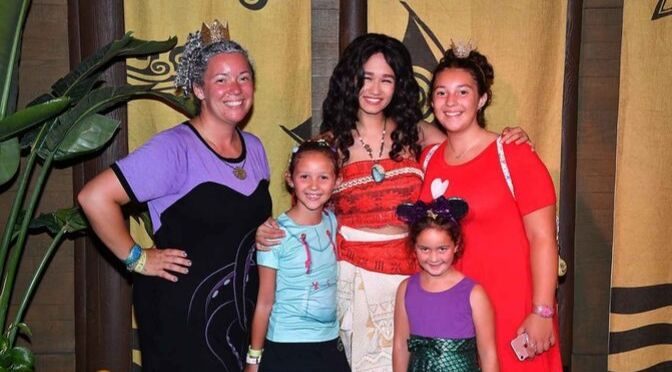 After meeting Moana, the girls were getting tired, but we weren't done yet! We headed back into Frontierland and hit some of our favorite rides again, Splash and Big Thunder, both rides we literally walked through the queue without stopping and got right on. By this time, the crowds had really disappeared.
We went through the trick or treat lines and at this point, we were the only ones in line! We had left our bags in our stroller, but figured we could just use our hands. If we thought they had given us a lot of candy earlier, we were so wrong, because this time, they gave us each a new bag and completely filled each one!
As we neared our goal of making it until midnight, we realized we had not yet ridden Seven Dwarfs Mine Train, so we decided to get in line and hopefully make it to the castle stage for the midnight Hocus Pocus Villain Spectacular. The line for Mine Train was the longest we encountered all night-about 30 minutes. It was worth it, of course!
We headed over to the castle stage at 12am exactly, knowing we likely had missed some of it. We were in luck though, the show started late and we arrived just as the show was beginning. There was a large crowd, but we walked down through Tomorrowland and over the bridge, and walked right up to the stage. The show was phenomenal, the best I've seen in Disney World.
The Sanderson sisters took the stage and told us they had been awakened again. They brought out some of our favorite villains, danced and sang, and closed with "I put a spell on you." It is a must see for any fan of Hocus Pocus or the Villains in general.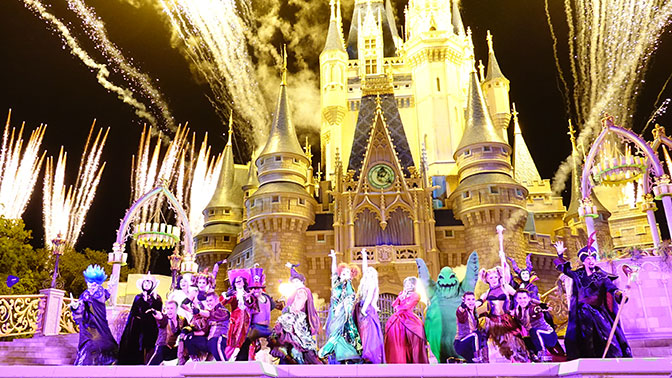 The show ended at 12:30 and we made our way back down Main Street, tired but excited about the amazing evening we had just had.  We achieved our goal of making it to midnight and hitting all of the special shows, trick or treating, and lots of rides.  We will definitely be making a return visit to Mickey's Not So Scary Halloween Party!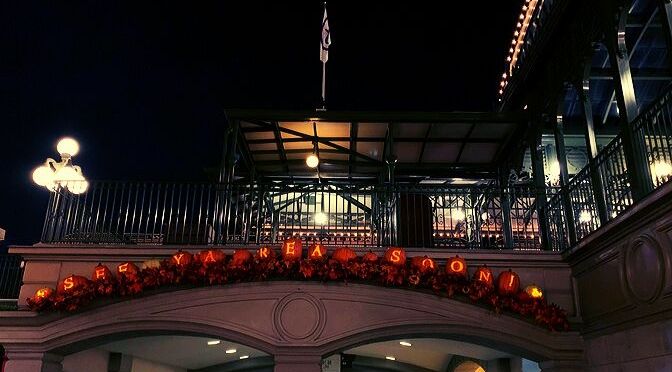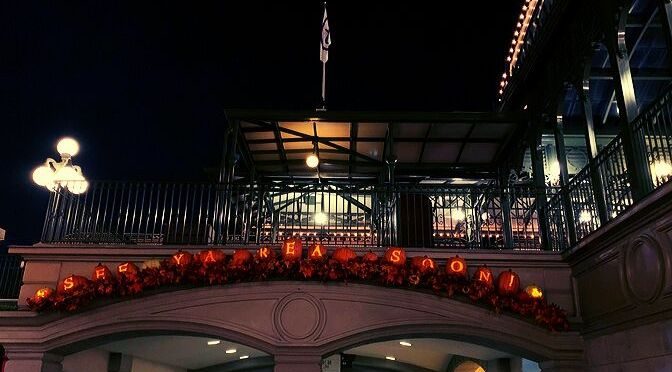 What are YOU most excited for seeing at Mickey's Not So Scary Halloween Party?  Leave a comment below or on the Facebook page and let me know!
Jamie Fonseca
"All our dreams can come true, if we have the courage to pursue them."-Walt Disney