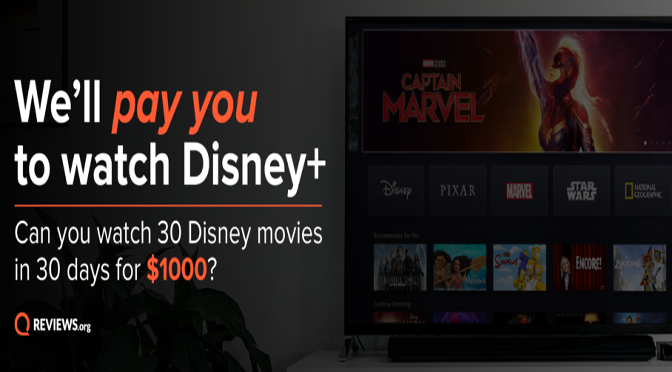 I promise what you are about to read is not clickbait or a scam. Yes, you might watch Disney+ and get PAID $1,000.
Reviews.org is giving Disney+ subscribers the opportunity to watch 30 Disney+ titles in 30 days and get paid $1,000! There is a little leg work that has to go into this if you want to be chosen for this dream job.
[the_ad id='41484′]
The company is so excited about the launch of Disney+ that they are selecting one Disney fanatic to take on this job. All you have to do is head over to the contest page, fill out the application, and add a video of yourself being a super Disney fan – whether that's singing, performing a skit, or whatever creative idea you can come up with to prove your love of Disney. Don't let this scare you…our favorite Pirate got his start by entering a video contest!
So what exactly will you win? Well, there's the $1,000 I already mentioned BUT you will also receive 11 more months of FREE Disney+ subscription service and a Disney-themed movie watching kit, which includes a cozy Mickey Mouse blanket, 4 cups, and a Pixar popcorn popper (complete with kernels to make popcorn).
Here's a video they shared giving information about the contest:
You must be 18 years old to enter, a US citizen or permanent resident, and most importantly you "must be swift as a coursing river, with all the force of a great typhoon" (they say they're joking about that last one, but I think it should be required).
You have until Thursday, November 7, 2019 at 11:59 pm to get your application in, and there is also a bunch of other legal talk at the bottom so make you read all of it!
Are you planning to sign up for this Dsiney+ Dream Job contest? Let us know so we can cheer you on!
-Monica S.