Have you heard of the secret menu that Starbucks is offering over the Halloween season around your local Starbucks and at The Disneyland Resort?   If you are a huge "Nightmare Before Christmas" fan you'll want to order the Jack  Skellington, the Sally or the Oogie Boogie frappuccino drink.  If you're a villian fan you'll want to order either the Maleficient Frappuccino or the Dr. Facilier's Elixir drink which is the result of the partnership between Disney and Starbucks during the holiday season.  Here is my personal review.
A couple weeks ago, my oldest daughter had informed me of the various types of drinks that she had seen on different social platforms and asked if we could try all three on our next trip to Disneyland. I mean… how could I say no… when we could be the offical experimental KTP taste testers!
[the_ad id='41482′]
I can guarantee you that a lot of training was done inleading up to this moment.. I'm just joking… but all joking aside, we defintely were up for the adventure.  Before entering the Starbucks inside Disney's California Adventure, my two daughter's and I had made a pact that each one of us would order a different drink so that we could taste one another's drink.
When we approached the barista, I noticed that there was a sign offering a Maleficient frappuccino.  My attention was diverted from the trio of the "Nightmare" characters and on a spontaneous whim decided against the Ooogie Boogie frappuccino and opted for the Maleficent frappuccino instead.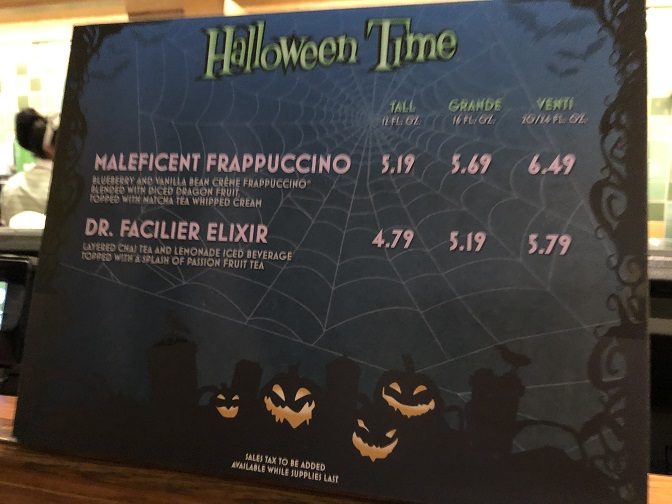 It was finally my turn to order and I looked the barista straight in the eyes and asked for the super secret, Jack  Skellington and Sally Frappuccino. I even ordered it in a whispering fashion to set the tone.  No joke, he looked at me with a blank face as if I were speaking to him in a foreign language.  I informed him that both drinks were on the secret menu and he then turned around to consult his other baristas who were quick to nod and agree that they definitely were able to make them for us. Whewww… that was a close one!  I told him that our mission in taking pictures and conducting our taste testing experiment was very vital and that our findings were to be reported to a pirate crew!
The moment had finally come and my daughter's and I decided which one would claim which drink.  My youngest chose the Maleficent, my oldest selected the Sally and I, chose the Jack Skellington, "the pumpkin king."
Here is our review.
The Maleficent Frappaccino
The drink is made with a vanilla bean créme base blended with blueberry juice and diced dragonfruit and topped off with a matcha green whipped cream.
We were informed that one can ask for this drink at any Starbucks outside the parks, however, they will not be able to add the matcha green whipped cream as this is a Disney exclusive.
Surprisingly enough, this was a very refreshing drink overall especially for a warm day and while walking around the park.  You can really taste the fruit within this drink and the matcha green whipped cream is pretty good.  My daughter told me that she would order this drink again, but maybe not with the matcha green whip cream as she was not really a fan of the taste.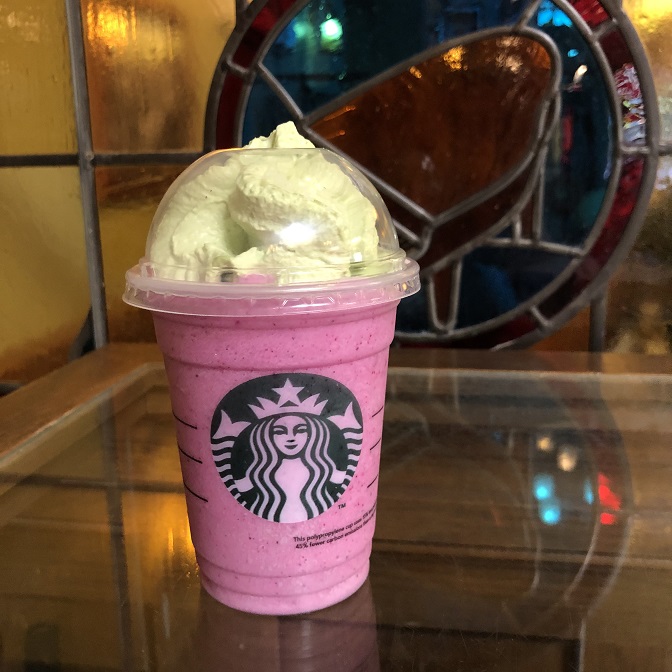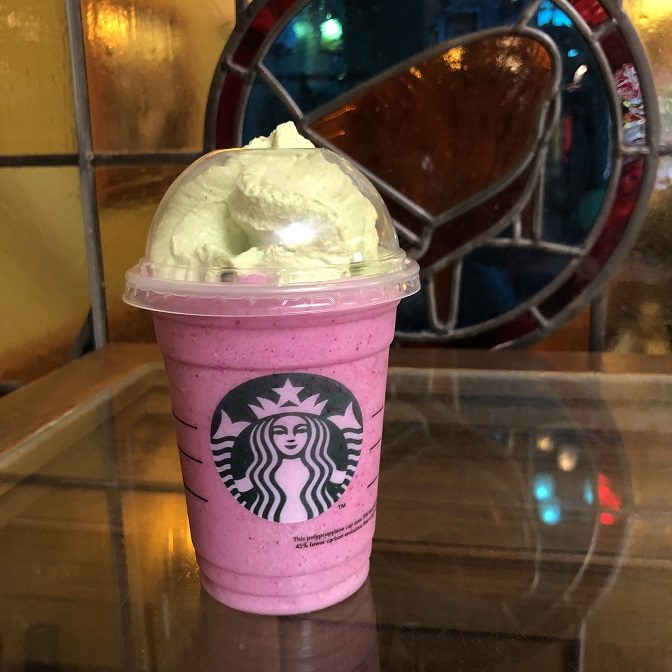 Dr. Facilier's Elixer
The second seasonal drink, which we did not order on this trip, is Dr. Facilier's Elixir.  It's described as a layered chai tea and lemonade iced beverage topped with a splash of passion fruit tea.
Both drinks can be purchased at the Market House on Main Street U.S.A. and at the Fiddler, Fifer & Practical Cafe on Buena Vista Street in California Adventure and are available until October 31st.
The Jack  Skellington and Sally Frappuccino
The Sally frappuccino is a bright green, red and white drink  that resembles the rag doll character. The base of the frappuccino itself is vanilla bean, combined with matcha powder, a caramel drizzle and it is topped off with whipped cream, strawberry purée, and freeze-dried strawberries.
The Jack Skellington's creation includes Pumpkin Spice Frappuccino with Chai syrup, a shot of espresso, mocha drizzle on sides of cup complete with whipped cream on top with java chips.  Intriguing, right?
The awesome part about ordering these two drinks is that you can order them at any Starbucks as long as you provide them with the ingredients that are needed for each of the drinks.  Sounds like a great way to watch the movie at home with a frappuccino in hand! It's simply meant to be!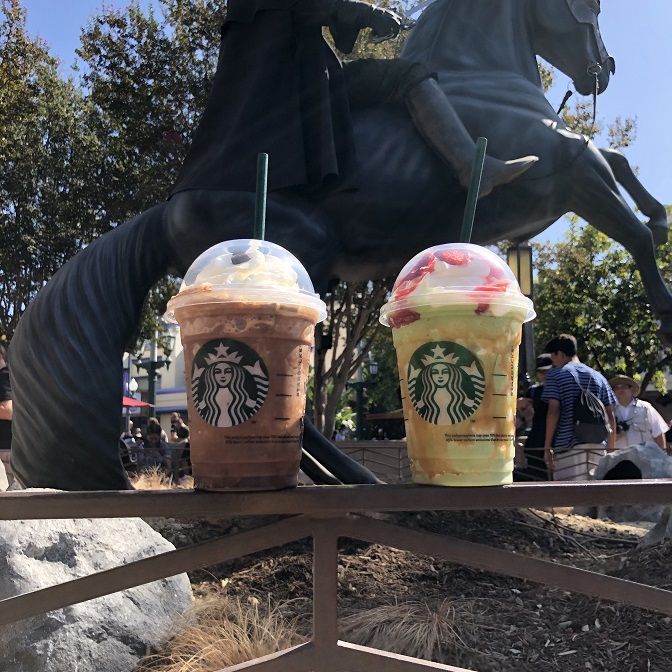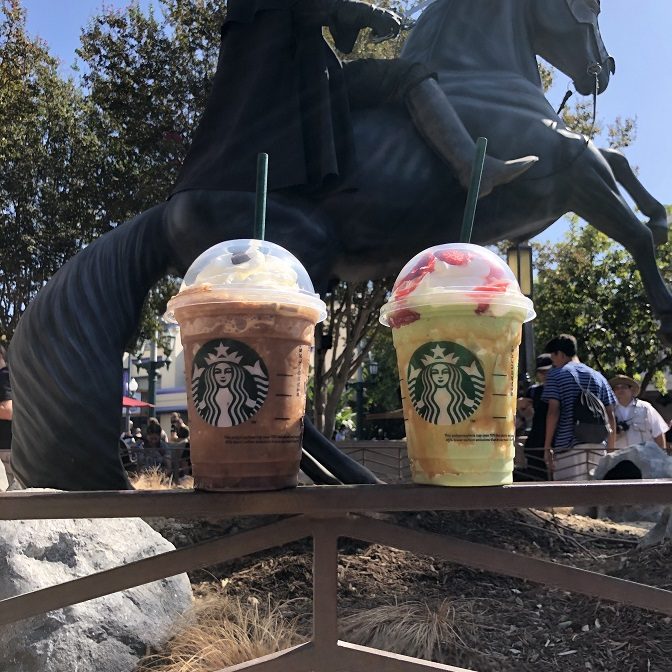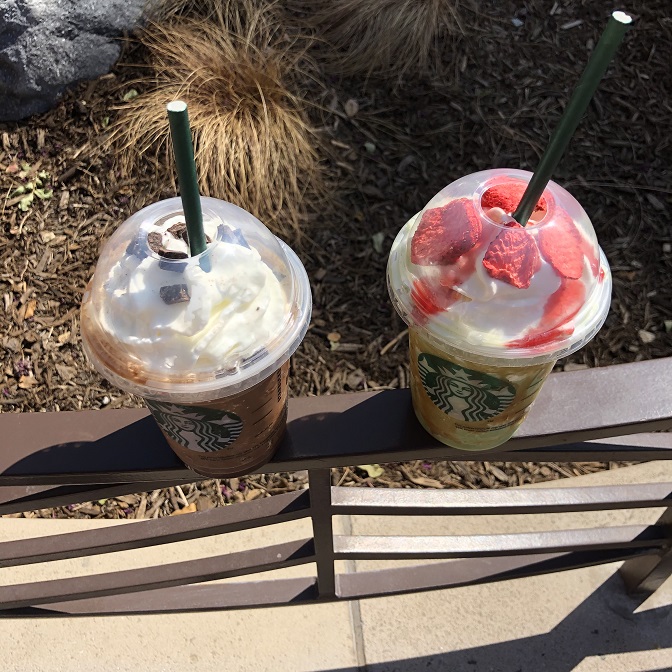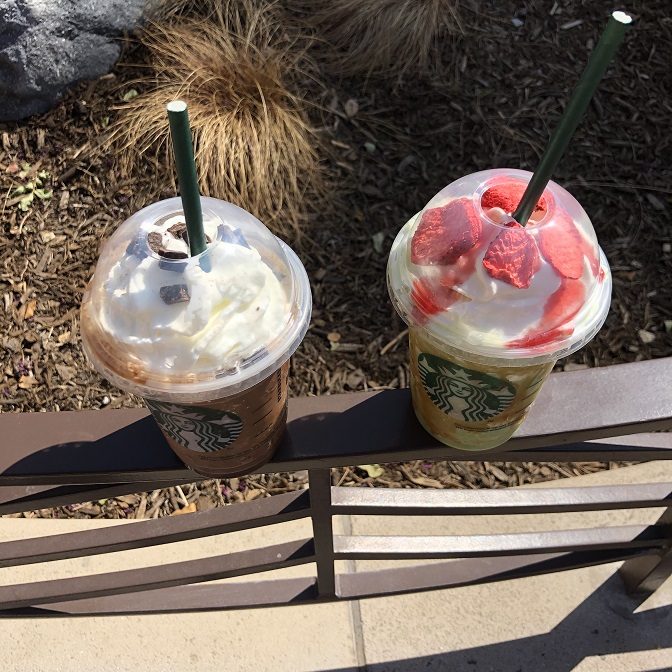 Oddly enough, both frappuccino drinks compliment one another as harmoniously and perfectly in every way just as both of the characters do within the film itself.
Each one of us were quite content with the drinks that we had selected. I enjoyed my drink of the pumpkin spice base with the taste of chai and the java chips on top of the whipped cream while my oldest daughter found the Sally drink to be sweet tasting with its vanilla bean base with her favorite part being the touch of caramel sauce with the freeze dried strawberries on top of the whipped cream.
Final verdict: Jack and Sally were right on point when they sang,"for it is plain as anyone can see, we're simply meant to be."  We would be very happy to try these drinks again!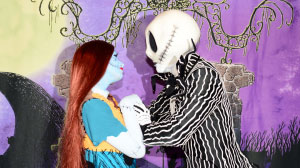 Are you feeling adventurous in taste testing either the Jack  Skellington or Sally Frappuccino at Starbucks or the other drinks or yummy Halloween treats offered at The Disneyland Resort? 
Written by: Marisol White
Follow me on Instagram @marisolsmouseketools