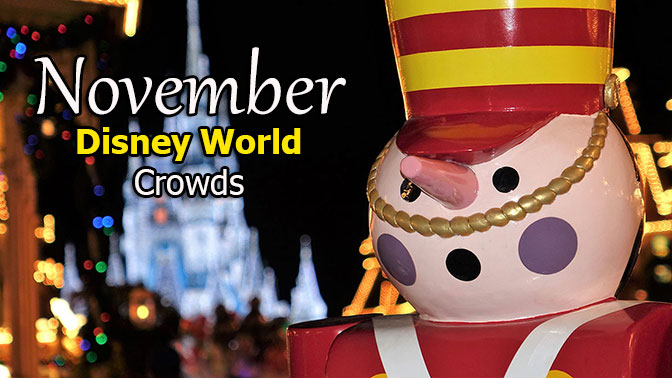 Walt Disney World just posted another round of park hour updates for November and December 2019.  Here's an overview of what parks received updates.
You'll notice, when you visit my Crowd Calendar, that the busy Thanksgiving break now offers Morning Extra Magic Hour at Hollywood Studios daily.  That's a great benefit for those wanting to experience Toy Story Land and Millenium Falcon with a minimal wait.
[the_ad id="38585″]
I would expect that we will see more Christmas week updates as we get into mid-November.  We typically see the Magic Kingdom open earlier and usually offers Morning Extra Magic Hour daily during that insanely busy time of the year.  Here's the dates and parks that received updates.  Check my Crowd Calendar for the full details!
TIP:  If you were unable to book a great Fastpass at some of these parks, try again over the next day or two and you may see some appear that weren't previously available!
November 9
Magic Kingdom
November 10
Magic Kingdom
November 13
Magic Kingdom
November 16
Magic Kingdom
November 18
Magic Kingdom
November 23
Magic Kingdom
November 24
Hollywood Studios
November 25
Magic Kingdom
Hollywood Studios
Animal Kingdom
November 26
Magic Kingdom
Hollywood Studios
Animal Kingdom
November 27
Magic Kingdom
Hollywood Studios
Animal Kingdom
November 28
Magic Kingdom
Hollywood Studios
November 29
Magic Kingdom
Hollywood Studios
Animal Kingdom
November 30
Magic Kingdom
Hollywood Studios
December 1
Hollywood Studios
December 4
Magic Kingdom
December 7
Magic Kingdom
December 20
Hollywood Studios
December 21
Hollywood Studios
December 22
Hollywood Studios
December 23
Hollywood Studios
December 24
Hollywood Studios
December 25
Hollywood Studios
December 26
Hollywood Studios
December 27
Hollywood Studios
December 28
Hollywood Studios
December 29
Hollywood Studios
December 30
Hollywood Studios