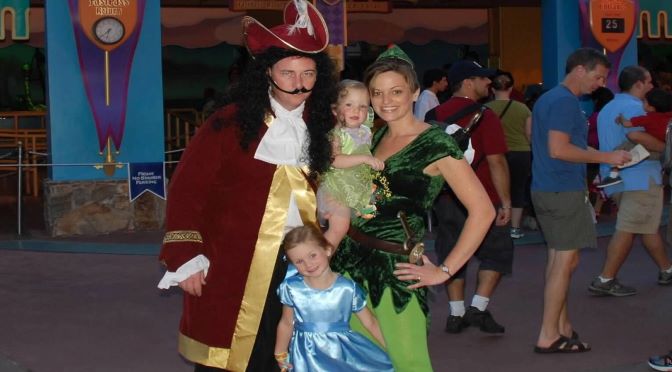 By Haley Clark – Want to have an unforgettable time at Mickey's Not So Scary Halloween Party?  It's all about the costumes!  One of the most popular events at Walt Disney World these days is Mickey's Not So Scary Halloween Party. The event that started with just one night back in 1995 has grown to spread over 35+ dates per year! That's a lot of candy!
The first party my family ever attended was in 2011, when my girls were just 4 and 1 year old. My 4 year old (who is now an expert DisneyBounder) has always loved a good costume, and this was the year our family costume tradition was born. That year, she was pretty much obsessed with all things Peter Pan, and she wanted nothing more than to dress like Wendy. Problem was, back in 2011, Wendy costumes were pretty much nonexistent. Etsy was a fairly new concept, and I was able to order a Wendy dress from a wonderful seamstress (I don't sew!)
[the_ad id='41521′]
She attempted to talk her daddy into dressing like Peter, but since tights aren't really his thing, I stepped in as the leader of the Lost Boys. It took a bit of explaining to my then 4 year old that Peter is always played by a grown woman on stage. Dad settled on who else but the nefarious Captain Hook, which left baby sister to fly as none other than the beloved Tinker Bell.
Back then, most people didn't really even come to the party in costume. Check out the folks walking by in the background of this pic—not one costume to be seen. We stood out. A LOT. Which probably contributed to the ridiculous amount of Pixie Dust we received that night.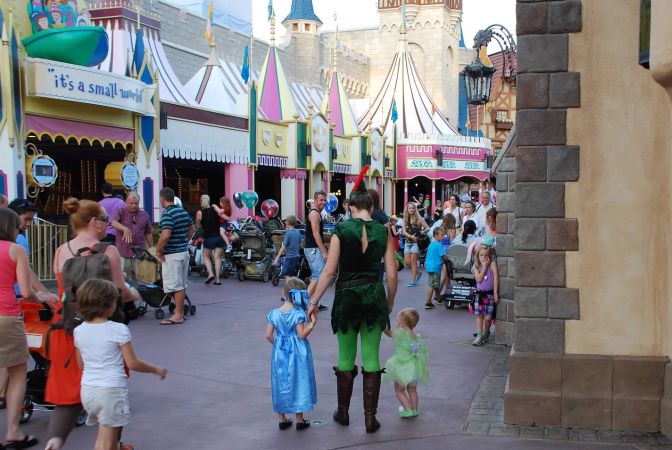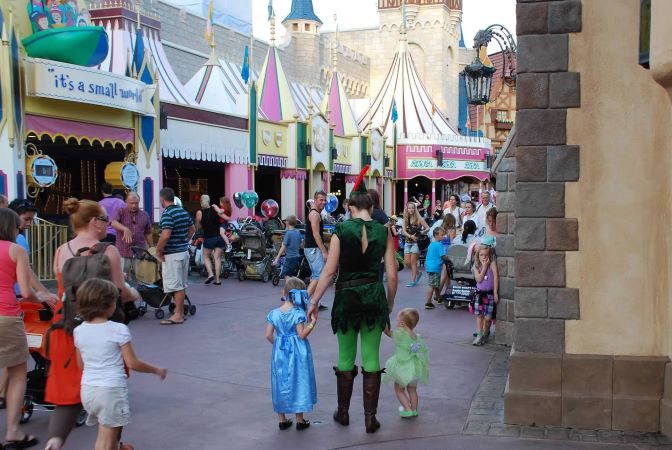 First, as we were taking a photo outside Peter Pan's Flight, the Cast Member working the ride came running up to us, gushing over how much she loved our costumes. She then asked if we wanted to ride (we were planning to hop in line after our photo), and she escorted us to the handicapped entrance and allowed us to skip the line completely! If you have ever waited in line for the popular Peter Pan's Flight, then you know what a treat that was!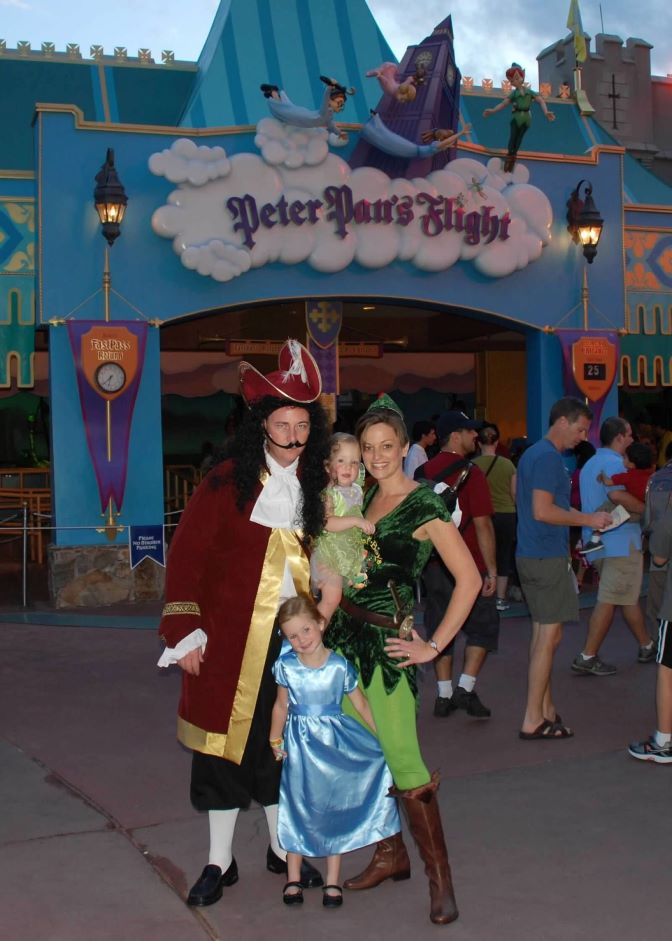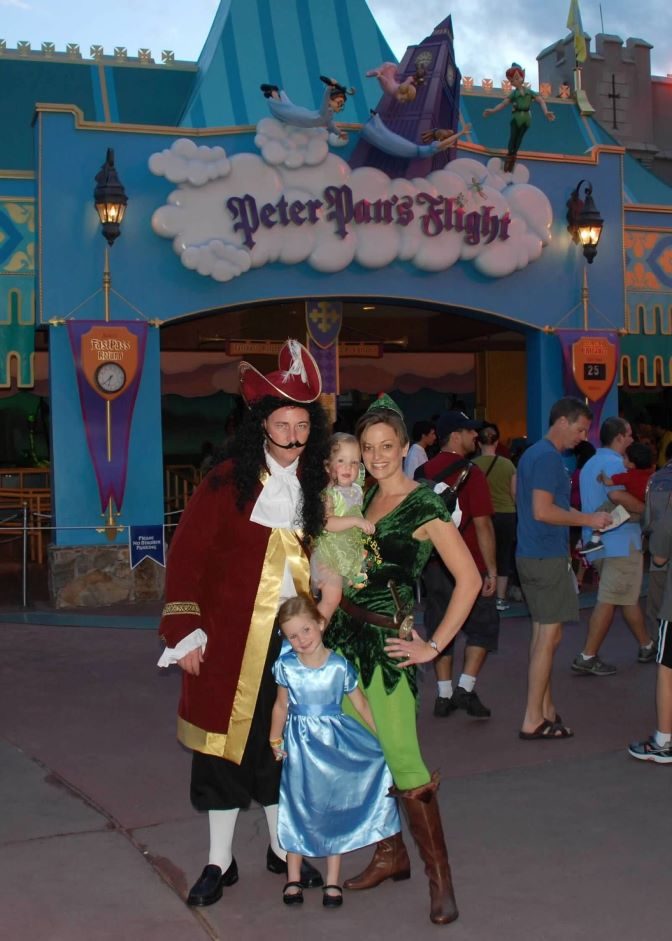 Our second magical moment of the night came during the parade. We made sure to find a spot where our girls were right up on the rope. Back then, Wendy was not a available anywhere on Character Locator— our daughter desperately wanted to meet her, and we did our best to explain. That wasn't going to happen. Well, Wendy was on foot in the parade, and my husband and I yelled for her as loud as we could. We are not shy people! She spotted our girls and came running over, grabbed our 4 year old by both hands, and leaned down nose-to-nose with her. She exclaimed how much she loved her dress and that they must have the same tailor. Our daughter was over the moon!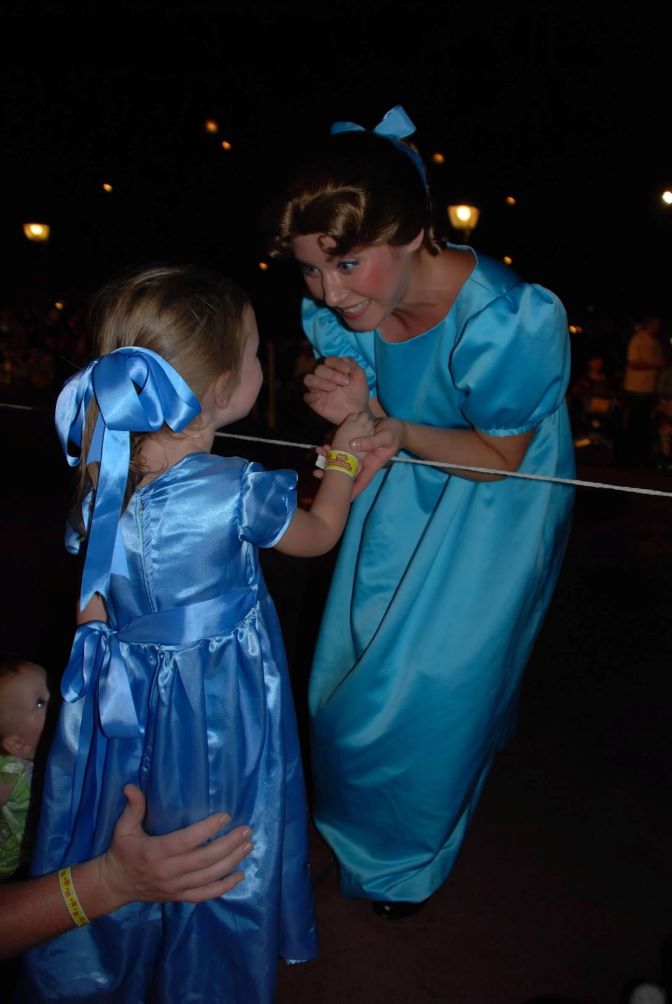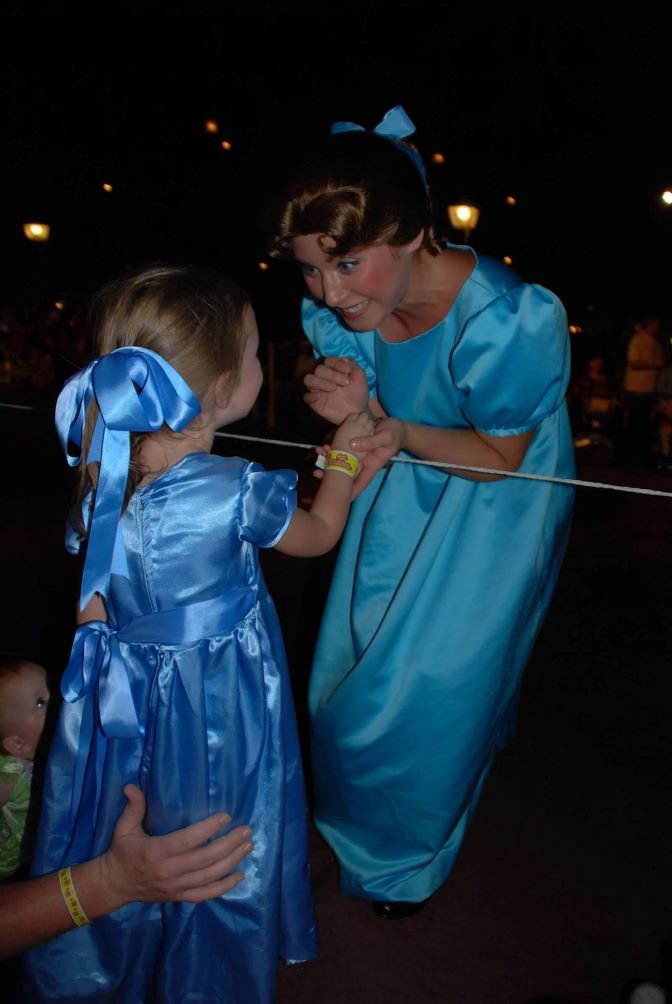 Our final memorable moment that night was just after the stage show featuring the Disney Villains. At the end of the show, every of them came off stage for impromptu meet-and-greets. I literally grabbed my daughter as fast as I could and sprinted to where we saw Captain Hook. (Again, we are not shy people!) He saw us and immediately thumbed his nose at me. I called him a codfish, of course, and we were the first people in line for a photo with him!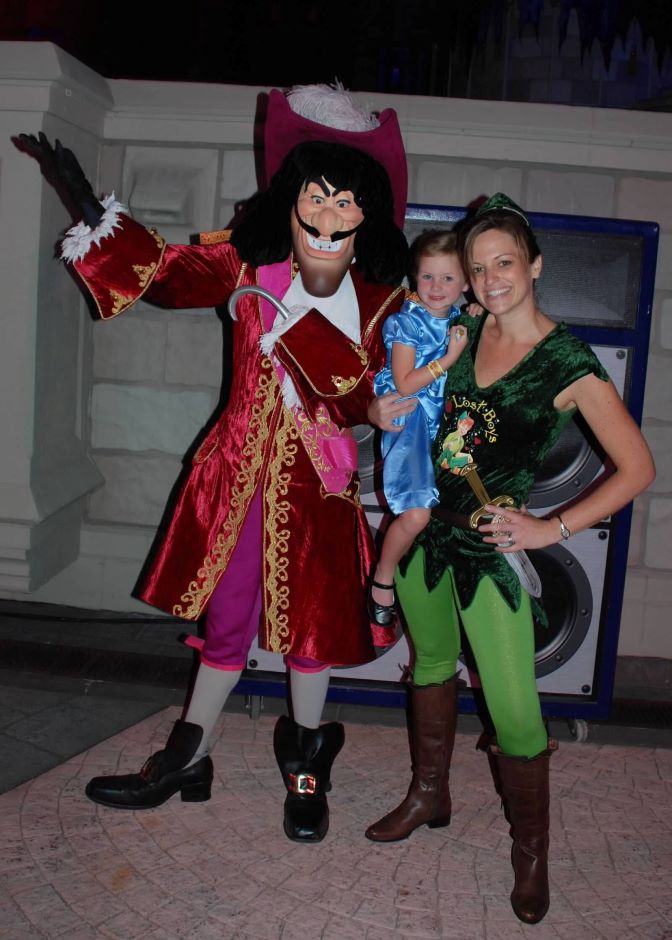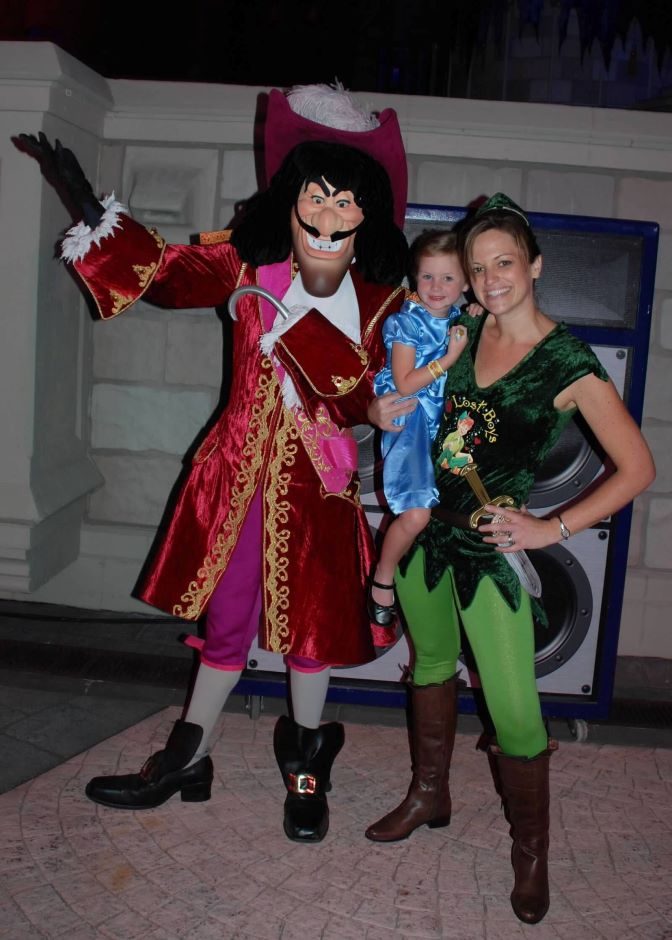 The moral of the story, I suppose, is if you want to get noticed, make an effort. Don't be afraid to rock the crazy costumes, and seek out your favorite characters. Chances are, they are just as happy to see you, and the effort you made, as you are to see them.  Our other best memory ever also happens to be costume related.  Stay tuned for a follow-up, this time featuring my younger daughter as Alice.  Until then, Happy Pixie Dusting!!
by Haley Clark