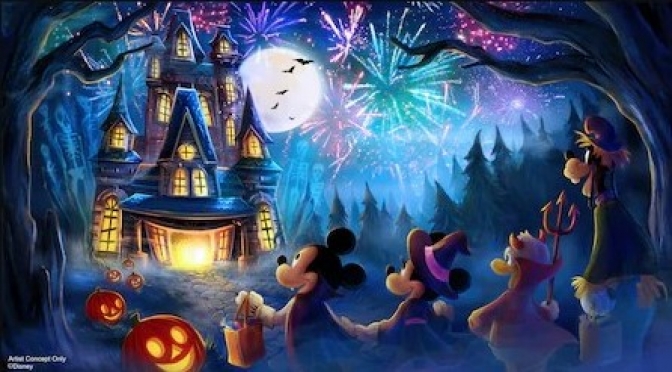 Fans of Mickey's Not So Scary Halloween party have noticed an increase in crowds recently. Whether it's selling more tickets or the pass offered this year that is good for all parties (except Oct 31), the parties have gotten more popular. But you don't have to let that spoil your night! Those in the know can help you accomplish your goals, and with these tips you'll be a pro in no time!
Halloween is my favorite holiday. It hits all the right notes for me: candy, scary movies, seeing people in costume and zero awkward family dinners. From our first time attending a Halloween Party in the Magic Kingdom back in 2012, I was hooked! I've definitely seen an increase in party crowds over the years, that much is true. But, after I discovered Kenny the Pirate and Character locator, I truly was able to maximize my time. Which brings me to my first tip:
Go in with a plan. As a long time moderator of the Kenny the Pirate Crew Facebook group, I can tell you this is our Halloween party mantra. What do we mean by it, though? Well, on Character Locator there is a wealth of detailed information on the Halloween party. Subscribers can go to Disney World ->Halloween Party to see a list of the exclusive characters and when and where they meet during the party. While other guests have to rely on the limited information Disney gives you or hope to stumble upon Moana or Jack and Sally, Character Locator takes the guess work out of the equation. There's also information on the shows, dance parties, party exclusive foods and magic shots!
Kenny has also compiled 6 (6!) different pre-made party plans to choose from, depending on your priorities. These include one for focusing on parade and shows, one for doing the party with little children, a Villains plan, and something called the "Extreme Plan", which I'm just going to leave to ya'll because I'm too laid back (read: lazy) for that. Don't see one that fits your needs, or have specific goals in mind? Kenny can create a custom plan for you and your group for $25. We did this one year and it was great because we minimized walking and waiting. Kenny added in magic shots I wasn't even aware of, but since I love those I was glad to do them!
Arrive as close to 4 as you can. Party tickets allow guests to enter at 4pm, but the party does not begin until 6. While there are no Fastpass+ offerings during party time, guests can utilize at least 2 fastpasses prior to the party beginning. I always make one for Haunted Mansion. I agree with everyone else that Haunted Mansion is a must on Halloween Party nights, but I prefer to knock it out with a Fastpass+ as it consistently has the highest wait time of any attraction during Mickey's Not So Scary Halloween Party, usually at least 40 minutes.
Make it a late night. So, you have a plan. But now you're there and you're feeling a little overwhelmed. Keep in mind the crowds tend to thin out as the night goes on. I've never made it to the second parade in all my years. But, if you and your group can hang late, you'll find that watching the second parade and the later Hocus Pocus show allows guests more elbow room. Even trick-or-treating is better later at night because the cast members are supposed to completely empty their buckets! So, just like trick-or-treating back home, we are cautious handing it out early on because we don't want to run out, but by the end of the evening the goal is to unload as much candy as possible!
Go off the beaten path. Some of my family's favorite things to do at the Halloween party are things that are exclusive to the party but don't draw in large crowds. My husband says his favorite thing is to trick or treat in the Philharmagic theater and stop to enjoy the Silly Symphony Skeleton Dance and The Adventures of Ichabod and Mr. Toad they show on the screen. This year, we also enjoyed dancing with the characters from Monster's inc in Tomorrowland and stopping into the "overlay" they had for Monster's inc Laugh Floor. If your child has been bummed that they haven't been called on or put on the screen during the laugh floor show, this is their chance! It was fun to experience the monster comedians riffing off the cuff with guests instead of telling the same old jokes.
Take time to people watch. Probably my favorite thing about the party is seeing all of the guests in costumes. People get really creative and it's awesome to see because normally adult guests aren't permitted to walk around in costume. Grab a party exclusive treat, like the Amuck cupcake or a Caramel stuffed pretzel and have a seat somewhere lively, such as the outdoor seating at Pecos Bill or Tortuga Tavern.
And finally, keep your expectations reasonable. You won't be able to meet every character or ride every ride. There are a lot of unique offerings during the party and just not enough time to cover it all. Crowds are certainly lower than a standard evening at Magic Kingdom, but the rides are generally not walk on. Think of it like Thanos snapped and half the crowd disappeared from the Magic Kingdom (Don't worry they will be back in the morning!)
It isn't really comparable to an After Hours event where there's lots of empty space and you walk right up to most rides and get on immediately. Seven Dwarfs Mine Train will still have a 25 min+ wait. If you're feeling claustrophobic, follow the above advice to do things off the beaten path or attractions you enjoy that don't have long waits on any days. Tea Cups, People Mover, Tomorrowland Speedway, Dumbo, Goofy's Barnstormer (and more) are all open and you'll experience low wait times. If you want to do everything on the map, consider the advice to attend multiple parties.
What do you think? Still freaking out about party crowds? Or just ready to see costumes, trick or treat and enjoy the parade? The party is what you make of it.