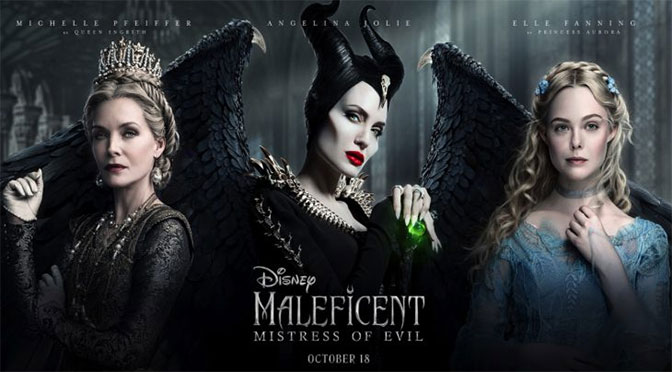 The new Maleficent: Mistress of Evil preview film is coming to Disney Parks just in time for Halloween season.  The film features Angelina Jolie in the featured role of the scored villain who was driven to place a curse on Princess Aurora.  Here's the details including a trailer video:
Beginning September 27, for a limited time, a sneak peak of Disney's new  "Maleficent: Mistress of Evil" will be offered at Disney Parks and Disney Cruise Line.  Disney's Hollywood Studios guests may see the short preview at Walt Disney Presents.  Disney California Adventure guests will view it at the Sunset Showcase Theater in Hollywoodland after Mickey's Philharmagic concludes for the day.
[the_ad id="38585″]
Guests on board one of the Disney Cruise Line ships will have this special opportunity.  Beginning September 28 the preview will be offered in Walt Disney Studios in Disneyland Paris.
The film is set to pick up where the first "Maleficent" left off as it is "exploring the complex relationship between the horned fairy and the soon to be Queen as they form new alliances and face new adversaries in their struggle to protect the moors and the magical creatures that reside within."
Here's the latest trailer for Disney's "Maleficent: Mistress of Evil," which arrives in theaters on October 18, 2019.
Advance tickets for Disney's "Maleficent: Mistress of Evil" are available today, Friday the 13th for purchase.