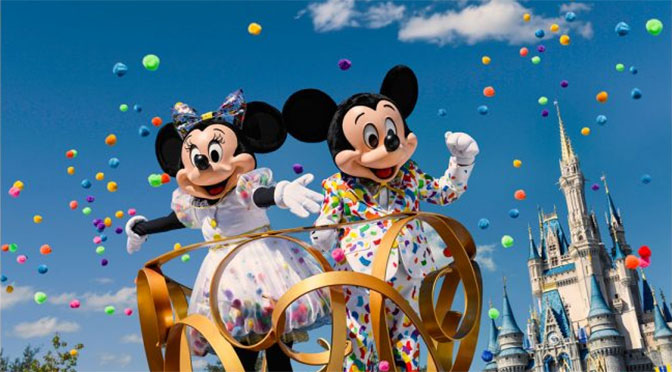 Aren't Mickey and Minnie's new costumes adorable?  They will premiere for the Move It! Shake It! MousekeDance It! Street Party in the Magic Kingdom next year as other destinations mentioned here in this article.
Disney – "Mickey Mouse's crisp white suit will feature a shower of colorful confetti, while fashion icon Minnie Mouse will don a puff-sleeve dress adorned with pompons and a buoyant bubble skirt for the celebration at some of our parks.

According to Senior Costume Designer Joe Kucharski, their outfits will reflect the party spirit of the celebration."
These new outfits will premiere on January 18 at the Magic Kingdom in Walt Disney World.  I'll be on hand to check out the new Mickey & Minnie's Surprise Celebration.  The celebration will include new merchandise, new entertainment as well as custom cupcakes and other food items.
Guests at other Disney Parks will see these same costumes on the following dates:
Hong Kong Disneyland beginning November 18
Shanghai Disneyland on November 18 only
Disneyland Resort beginning January 2019
Disney Cruise Line summer 2019