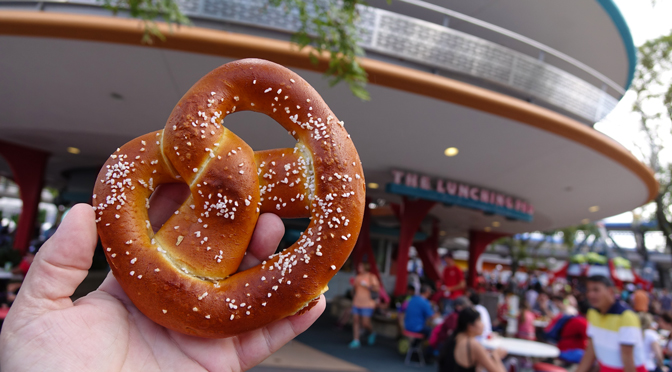 The Lunching Pad in Tomorrowland inside the Magic Kingdom just added a delicious new pretzel option.  Here's the details:
It's a Salted Caramel Warm Stuffed Pretzel.    I'm not sure how something can be warm stuffed, but I think they meant Caramel Stuffed.  The cost is $4.79 each and it is available as a Mobile Order option.  The line was fairly long when I visited, so the Mobile Order option saved me a ton of time.  The Mobile Order pickup window is on the far left, closer to Astro Orbiter.
I found the pretzel to be a terrific holiday option and the pretzel was oozing with warm, gooey caramel.  As a pre-packaged pretzel that is warmed on site, the amount of salt can vary from one pretzel to another.  Mine had a bit too much salt for my liking, so I knocked some of it off.
When you're in Tomorrowland, stop by and try this new treat!