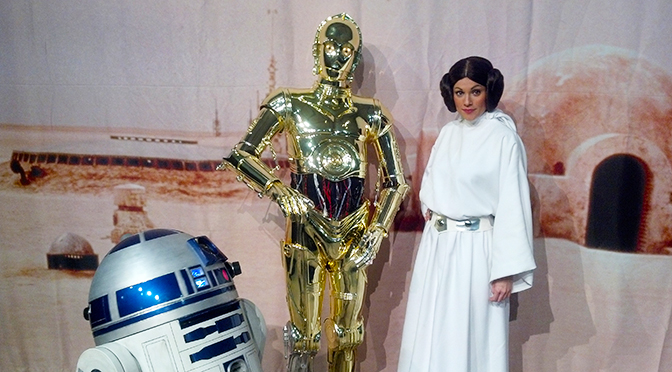 Over the last couple of years the Disney Cruise line has offered reserved times to meet popular characters like Anna & Elsa and Disney Princesses.  They will now use the same technology system to allow guests to pre-reserve their meet and greet with select Star Wars characters during Star Wars Day at Sea.
When Star Wars Day at Sea returns on 15 special sailings aboard the Disney Fantasy this January through April, you'll have more opportunities than ever to meet your favorite Star Wars characters on a Disney cruise.
New in 2018, you are guaranteed a time to meet and take photographs with C-3PO and R2-D2, Chewbacca and Darth Vader. Before you even step onboard, you have the chance to reserve time with these character experiences online under the My Disney Cruise section of disneycruise.com.
These encounters are just some of the ways you can celebrate the legendary adventures and iconic characters from the Star Wars galaxy. The event features a full day of fun, including Star Wars-themed family and youth activities, plus a deck party spectacular with an extraordinary fireworks display.
For a glimpse at the day's epic fun and some of the other Star Wars characters you may encounter, take a look at this video…
During my Disney Cruises the last couple of years, I found the reserved times to be a terrific way to plan those meets into my trip.  I recommend that you login as soon as your account allows and reserve these meet and greets!