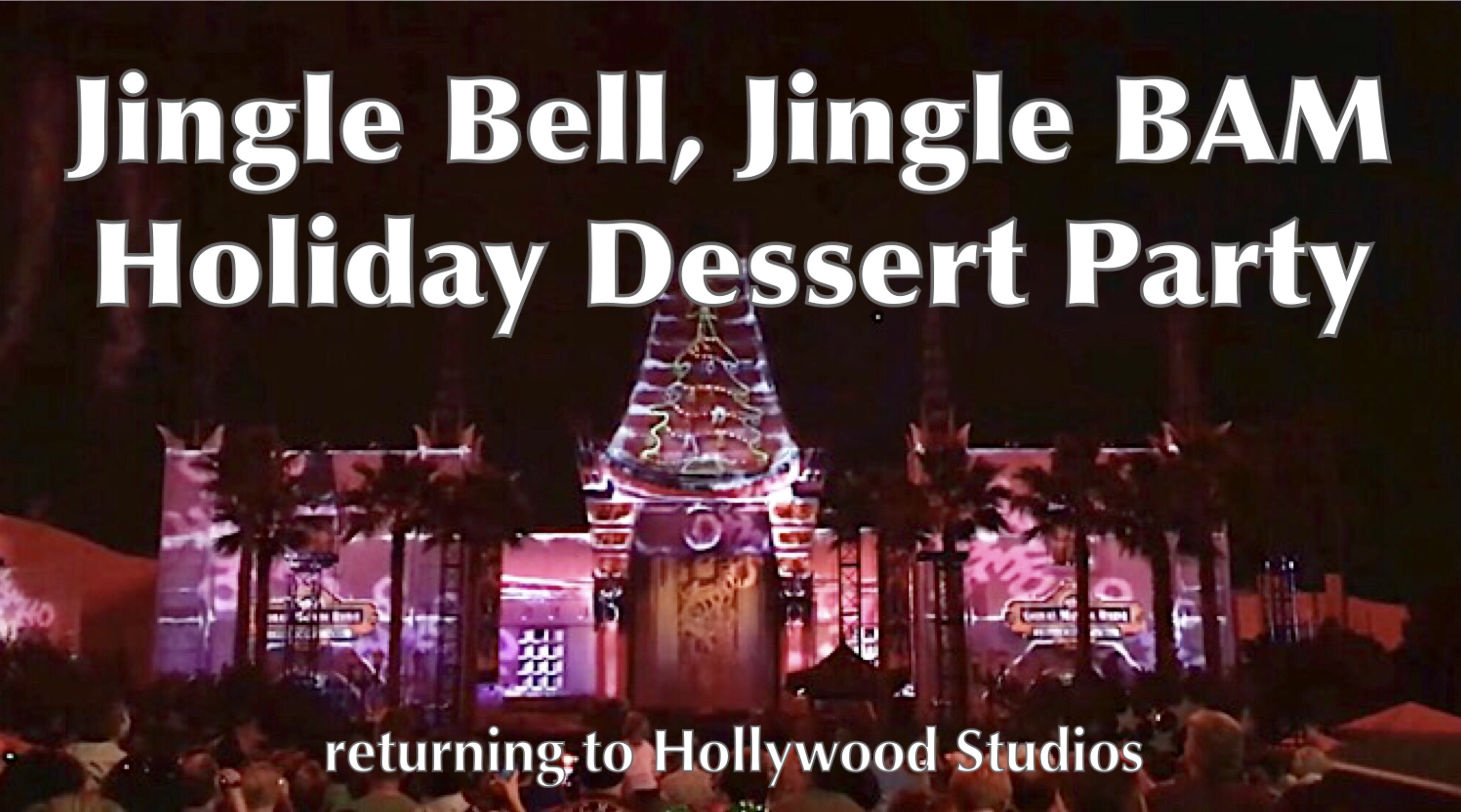 Disney has announced the return of their "Jingle Bell, Jingle BAM!" Holiday Dessert Party to Hollywood Studios! This holiday party and its matching show replaces the Star Wars themed show and party during the holiday season.
Jingle Bell, Jingle BAM Holiday Dessert Party guests enjoy the festivities in the courtyard of the Grauman's Chinese Theatre. The menu will include multiple food stations with holiday inspired sweet and savory options like warm cheese fondue with pretzel bread and flatbread, warm pumpkin pie and spiced-bread pudding with vanilla ice cream. There will also be a Liquid Nitro Station with frozen chocolate mousse that comes with a choice of topping that will include caramel sauce.
For those guests over the age of 21, there will be beer, wine, and specialty cocktails. For younger guests, there will be non-alcoholic options including hot cocoa.
Disney promises a yet unnamed "VIP Character" who will mingle with guests. Guests of the party receive a pairof 3D HoloSpex glasses to watch the Jingle Bell, Jingle BAM light show. These glasses will change the lights into holographic forms of the holiday kind like gingerbread men and candy canes.
Book Your Holiday Dessert Party Reservations Now
The Jingle Bell, Jingle Bam! Holiday Dessert Party occurs from November 9-December 15. The cost for this party for those dates is $79 for each adult and $45 for each child ages 3-9. This cost includes tax and gratuity. If you attend the party on December 17-31, the cost will increase to $89 for each adult and $49 for each child ages 3-9.
To make your reservation, call 407-WDW-DINE, or by visiting DisneyWorld.com/dining.
– Chris Edwards