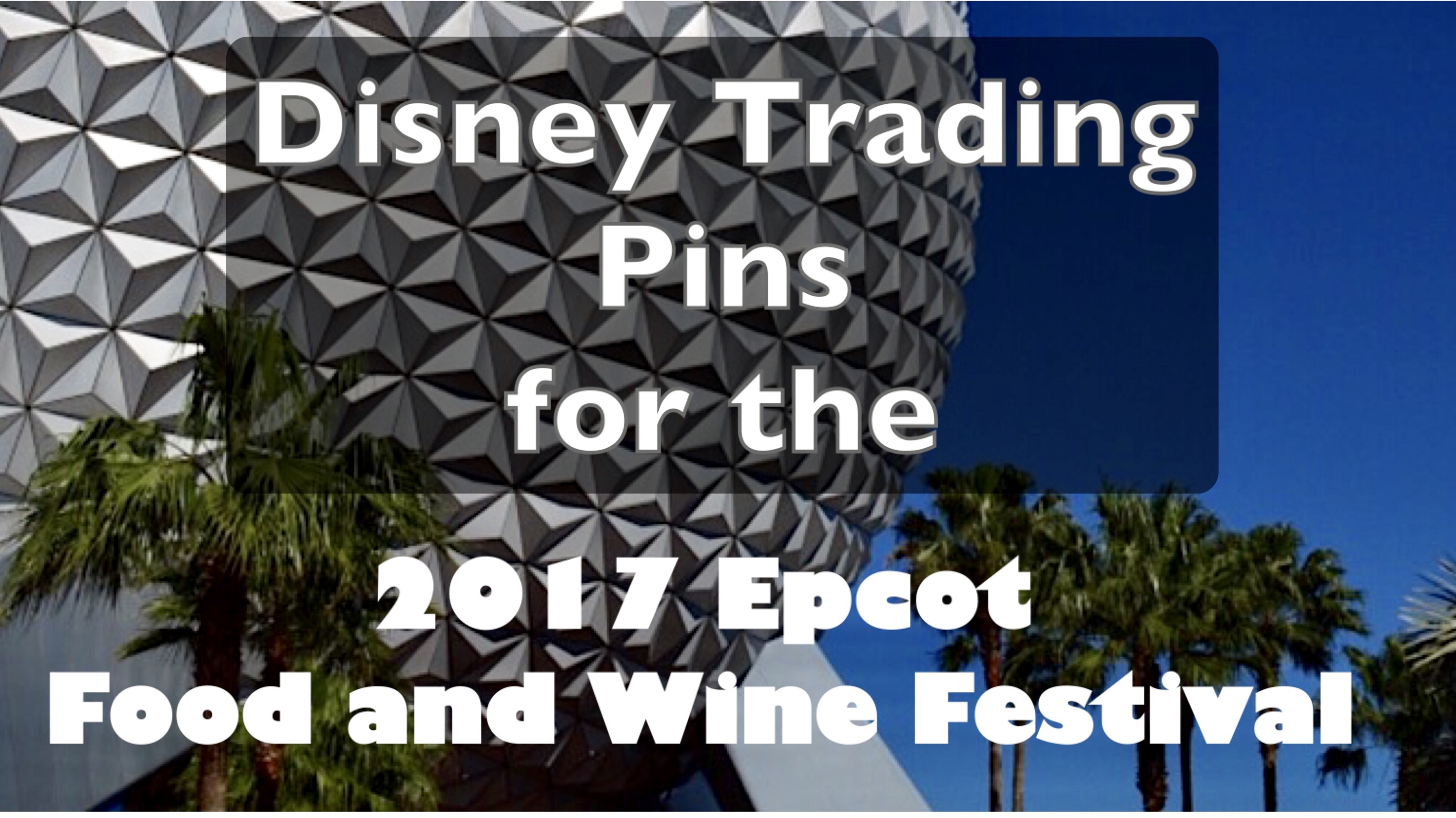 The first day of the 2017 Epcot International Food and Wine Festival will be Thursday August 31st. This year's festival will run through November 13th, which means that Food and Wine fans will have two and half months to flock to Epcot in order to enjoy it. Like all Epcot festivals, there is a little something for everyone to enjoy. This includes Disney trading pin collectors as well. Let's take a peek at what we can expect for this year's Food and Wine trading pins.
Figment and the Food and Wine Festival go hand in hand.
The main trading pin for the Food and Wine festival this year once again features our favorite purple dragon, Figment. Actually, it features three of him! Three Figments surround the "2017 Epcot International Food and Wine Festival" logo. Also, there is a buffet of culinary delights, and in the logo is a hidden bottle of wine.  The Figment logo pin is a limited release item.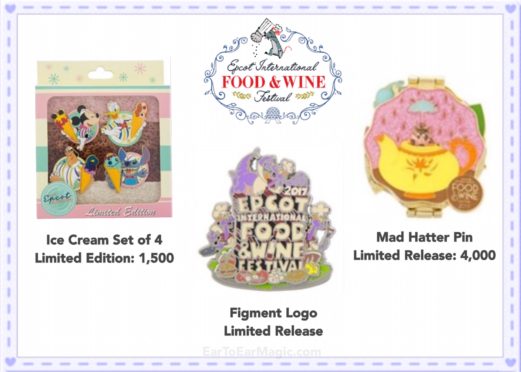 Last year's Food and Wine had a limited edition set of pins with Mickey and pals showing off their sushi making skills. This year's selection offers a similar set, with four Disney friends showing off their scooping skills. The Ice Cream set includes four pins, each with a character proudly displaying an ice cream cone filled with a treat that is just right for the character. The characters include Mickey, Donald, Kronk and Stitch.  This limited edition run has 1,500 sets in it.
Another limited edition item is the Mad Hatter pin. This is a double hinged pin which can fold down into three different connected pins featuring our friends from Wonderland. When folded, the top pin has a nice pot of tea with a dormouse in it, of course. The pin has the formal circle Festival logo.  Limited Edition: 4,000
Beauty and the Beast and Lilo and Stitch Limited Edition Pins
The Lumiere and Belle limited edition pin is perfect for the Food and Wine Festival.  Straight from "Be Our Guest", this pin has Lumiere revealing tonight's dinner to Belle. Lumiere is able to lift the silver cloche (on a pivot). Underneath the dome, the service tray is full of delights for Belle to enjoy. Let's hope that there is some grey stuff. This edition is limited to 4,000 pins.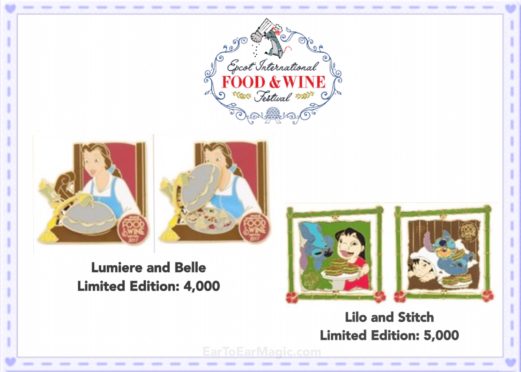 Lilo and Stitch have their own fun motion pin for the Food and Wine festival as well. This two-sided pin is on a swivel pivot showing a common "before and after" with our favorite troublesome alien. One side shows Lilo arriving with snacks to share with Sttitch. Flip to the other side to see that, while Stitch appreciates the food, he has no intention of sharing. This pin's edition size is limited to 5.000.
It's good to be an Annual Passholder
Disney World Annual Passholders will find two individual pins and one pin set for this year's Food and Wine festival that is just for them to own. The first pin just for Passholders is a limited release pin. It is a slight variation of the previously mentioned Figment logo pin. It is different in that while the regular pin has three smaller Figments on the pin, the AP one has only one much larger Figment with the Festival logo. Added to this is the all capital "PASSHOLDER" line under the logo. This is also a limited release pin available throughout the festival's run.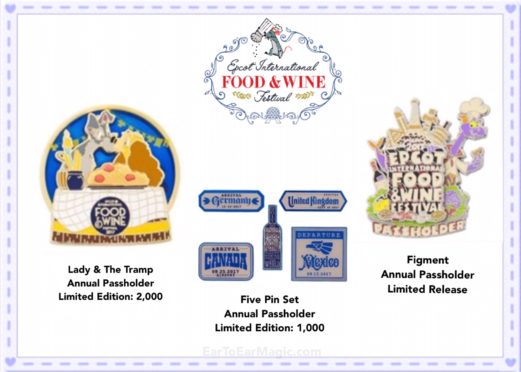 The second AP pin has the infamous Lady and the Tramp dinner scene where it shows that good food is great for bringing people, or dogs, together. This romantic limited pin has an edition size of only 2,000 pieces.
Finally, Annual Passholders can also purchase the five pin limited edition set just for Passholders.  The set includes four pins fashioned after travel signs, each containing a different country from the World Showcase. Germany, United Kingdom, Canada and Mexico have their own pins.  The fifth pin is in the shape of a wine bottle. Inside the bottle's shape are the words "2017 Epcot International Food and Wine Festival – Taste Around the World". The pins have a white background with blue lettering and borders. This limited edition set has the smallest edition size of only 1,000 sets.
The 2017 Epcot International Food and Wine Festival will be an exciting one.  And with this October being Epcot's 35 Anniversary month, exciting things will be happening in Epcot this fall. Now that you know what trading pins are expected when the festival starts on August 31st, you can at least start thinking about which ones you must have for your Disney Pin Trading collection now.
– Chris Edwards
EarToEarMagic.com