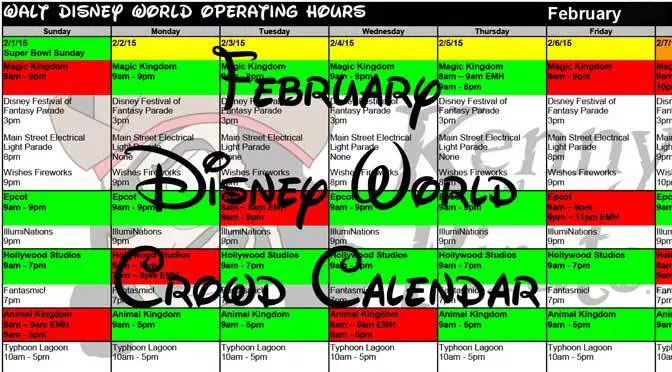 I've completed my February 2018 Walt Disney World Park Hours, Extra Magic Hours and Crowd Calendar with the initial park hours.  It contains the Extra Magic Hours for each day and some of the parade and fireworks information.  Click to read more!
What you'll find about my February 2018 Disney World Crowd Calendar
 It contains all the initial Extra Magic Hours.
Fireworks and Parade times aren't complete for the month.  We'll know more about those things as we get closer.   I'll update the Crowd Calendar as we go along.
Park hours will change, a lot.  Over the next 6 months, I'll post a number of times about the park hours changing.    Don't be too obsessed about closing times right now for Magic Kingdom or Animal Kingdom especially.
Epcot will offer the International Festival of the Arts again from mid-January through February again in 2018.  It proved to be a very popular offering, despite little time between announcement and execution.  Kids loved the art demonstrations and special food items.
Feel free to share the post on Facebook and Pinterest to let your friends know that the park hours are now available.