I'm sure you've already heard about Disney's new Minnie Van service that will be used in Walt Disney World but, there is more you might find interesting.
Walt Disney World has begun testing the new Minnie van service at Disney's BoardWalk and Disney's Yacht & Beach Club Resorts. Although, the Minnie Mouse-themed service will not be a van but, a Chevrolet Traverse mid-size SUV.
The vehicle should accommodate up to 7 passengers, including the driver and there will be two car seats available, in each vehicle, for young children.
Disney's Minnie Mouse-themed ride service should begin full operation on July 26, 2017, using the Lyft app. Yes, you read that correctly, to access the Minnie vans guests will be able to push a few buttons on the Lyft app to order the car.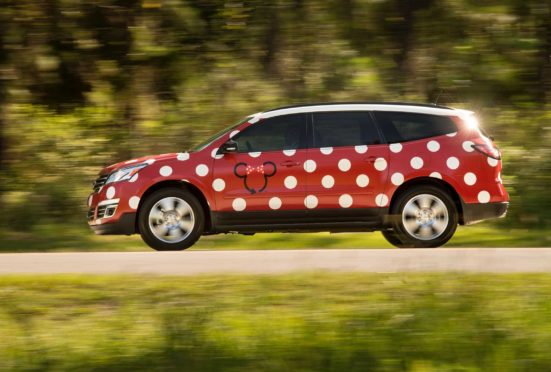 Guests will be able gain access to the Minnie Van service from anywhere in Walt Disney World. All you will need to do is open the Lyft app on your smartphone, request a ride, and pay through the Lyft app.
The service costs a $20 flat fee per one-way trip but, the fee is subject to change. If you need assistance cast members at the Bell Service desk of your resort can help you navigate the Lyft application and payment.
Official Walt Disney World cast members will be driving the Minnie vans for guest safety. The current operational hours for the Minnie van service are 6:30 AM to 12:30 AM.
Will you be using the Minnie van service to travel around Walt Disney World?