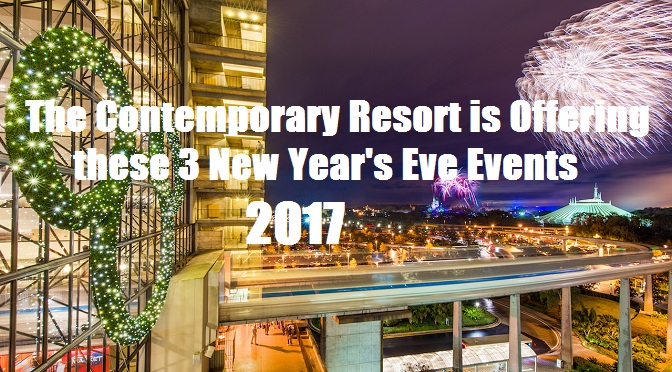 Beginning July 11, the Contemporary Resort began accepting reservations for these three events on New Year's Eve this year.
From 8 PM on December 31, 2017 to 1 AM on January 1, 2018, in the Fantasia Ballroom, guests 18 and older can participate in Disney Countdown to Midnight.
This five-hour event will include dining, live music, dancing, a DJ, and more. Guests age 21 and older are welcome to indulge in adult beverages throughout the evening.
The dinner provided will include dishes from Disney's California Grill, Flying Fish Cafe, Cítricos and Narcoossee's. The Contemporary Resort will be also providing entertainment by the group Alter Ego and a live DJ to incorporate live music into the celebration of the New Year. There is a possibility that guests may even catch a glimpse of Mickey and Minnie throughout the evening's events.
You can ring in the New Year by viewing the Magic Kingdom's New Year's Eve "Fantasy in the Sky" Fireworks Spectacular. The price of this event is $250 per guest (tax and gratuity included).
Not everyone in your party is 18 and over? Check out the Pixar Party: A New Year's Eve Celebration. There is no age requirement for this family friendly dinner party.
Head over to the Ballroom of the Americas to be greeted by Sarge at 8 PM on December 31, 2017. This event will last until 12:15 Am on January 1, 2018, after guests meet characters, participate in Boot Camp with Sarge, face paint, and more.
Guests will be able to enjoy a buffet-style dinner as a live DJ plays music inspired by Pixar movies. Everyone is then invited to view the Magic Kingdom New Year's Eve fireworks from Porte Cochére.
This event is priced as $175 per guest (tax and gratuity included) and is limited to 300 guests.
Looking for a more sophisticated dining experience for adults aged 21 and over? You will want to check out Down in New Orleans: A Disney New Year's Eve Dining Experience.
This event takes place in the Grand Republic Ballroom at 7 PM on December 31, 2017, and lasts until 12:15 AM on January 1, 2018.
You will be immersed in a French Quarter, Big Easy style atmosphere. Different stations will allow you to taste unique flavors such as: smoked salmon mousse scones, Kobe beef tartar, sheep's milk ricotta gnocchi, oyster beignets, and more.
At dinner time, guests will be escorted into the dining hall as a classic jazz band fills the room with the sounds of the French Quarter. Among the dinner options of the evening is herb-crusted Louisiana redfish, Black Angus beef, and roast fillet of beef with truffled celery root silk.
After listening to the sounds of The Princess and the Frog sung by a professional vocalist, guests will be provided with a private-viewing are neat the Porte Cochére to view the Magic Kingdom fireworks. The price of this event is $450 per guest (tax and gratuity included) and is limited to 200 guests.
For reservations, call 407-WDW-DINE.