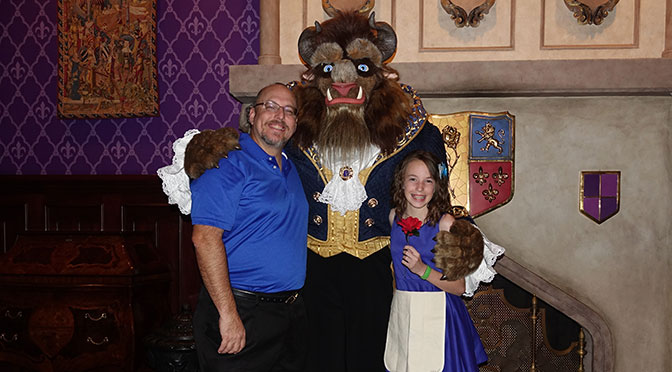 Recently, Debbie and I were touring around the Magic Kingdom when we passed Be Our Guest Restaurant on the way to the Little Mermaid ride.  She commented that she'd love to have dinner in there.  I didn't realize she hadn't eaten the restaurant with me, so I told her I'd get her in soon.I stalked the reservation on the Disney World website and found one on a Thursday for a Saturday evening visit.   I immediately grabbed it.  Then later was able to adjust it to an earlier time.  The restaurant usually books solid for Dinner 180 days in advance, but in the day or two before you hope to visit, some availability may pop up due to cancellations.
We checked in at the location out front and were notified that we'd receive a text when it was time to enter.  We only waited a few minutes before the text came through and we were told to progress down to the entry area and wait until our name was called.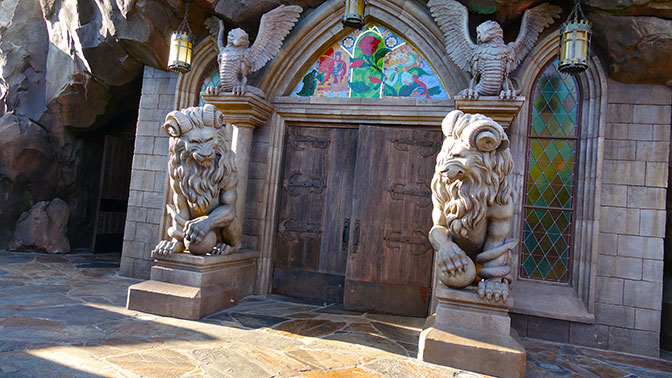 We waited a few more minutes and the hostess arrived with Lumiere to help guide us to our table.  Debbie loved seeing Lumiere and wanted a couple of photos with him because he is "too cute."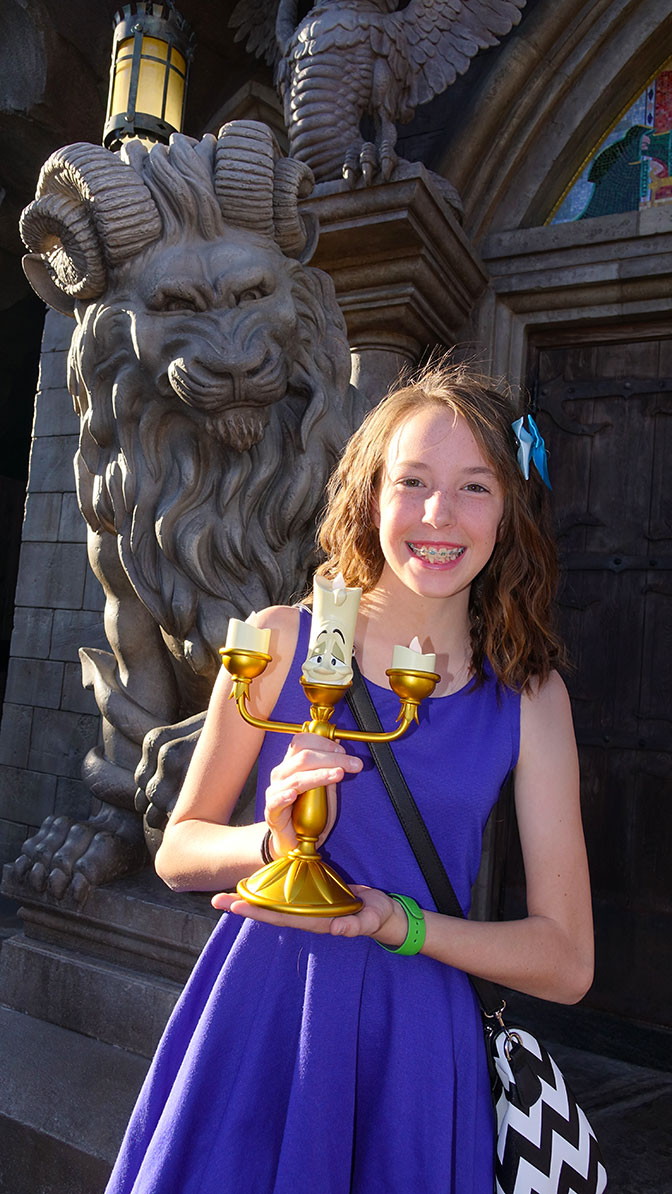 As we stepped into the grand entrance.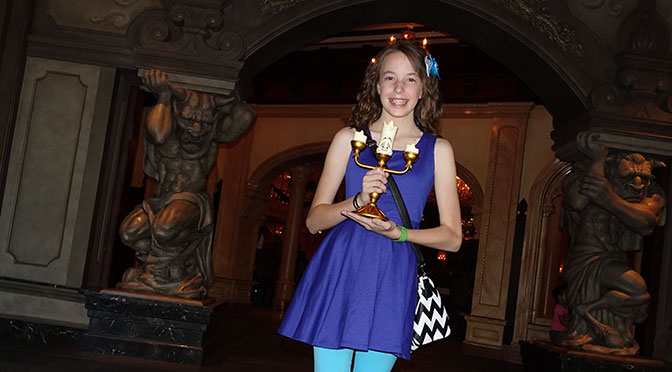 As we entered the ballroom, all she could say was "Wow, this is awesome!"  After surveying the three rooms, she said this is the loudest room and has the least to look at.  It does have the snowfall in the back windows.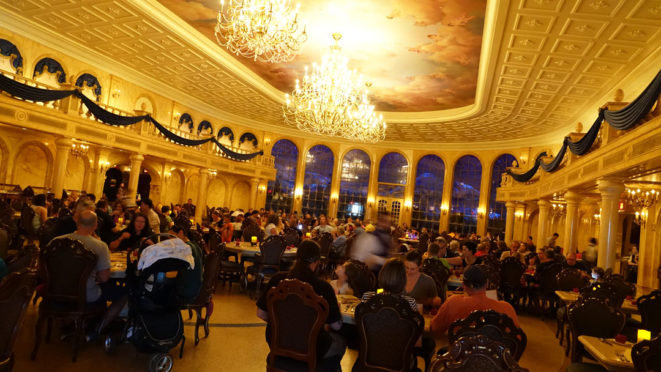 Of course we had to have another Lumiere photo :)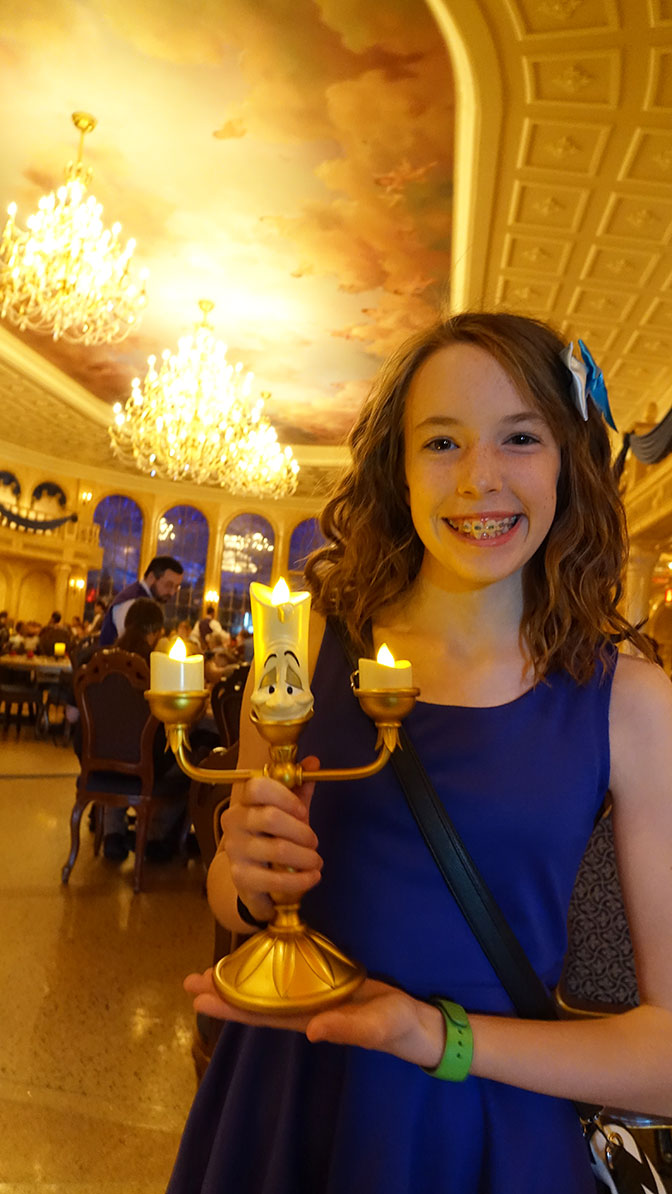 We were seated in Belle's room of memories on the right side.  We enjoyed the Belle and Beast music box that plays various songs from the movie as they dance.  The artwork from all their special memories from the movie were fun to keep us engaged as we awaited out food as well.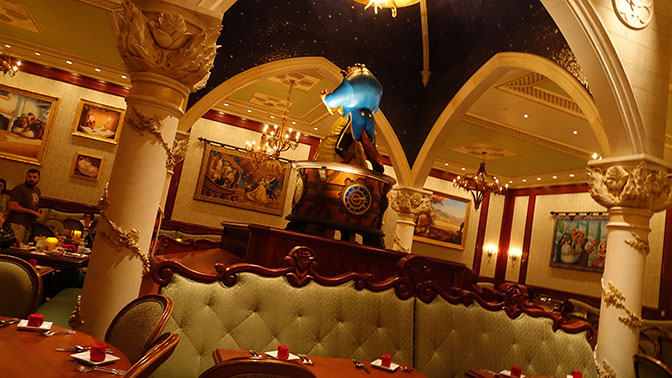 The server presented us with the menu and took our drink order.  Only Dinner is considered Table Service.  Breakfast and Lunch are Counter Service and you can use those DDP Counter Service credits.  Dinner is only ONE Table Service credit and is a decent value for several items.
Speaking of decent value.  I'm now marking items that are a great Disney Dining Plan value on Character Locator menus to help you get the most bang for your buck!  5 of the regular menu items for Dinner here are considered a good value, plus you get the great ambiance and the ONLY opportunity to meet the BEAST after Dinner.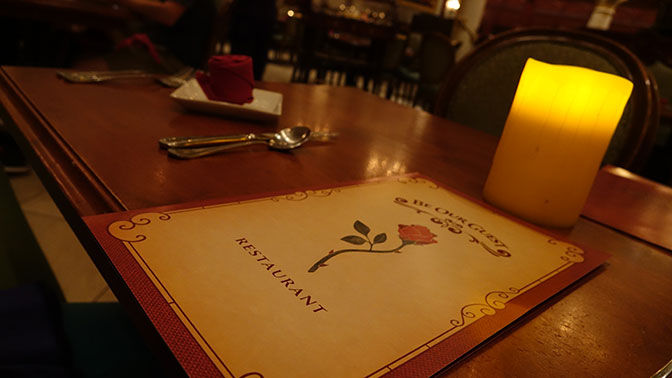 Debbie was excited to see the dessert options before we even ordered dinner and had to snap a photo.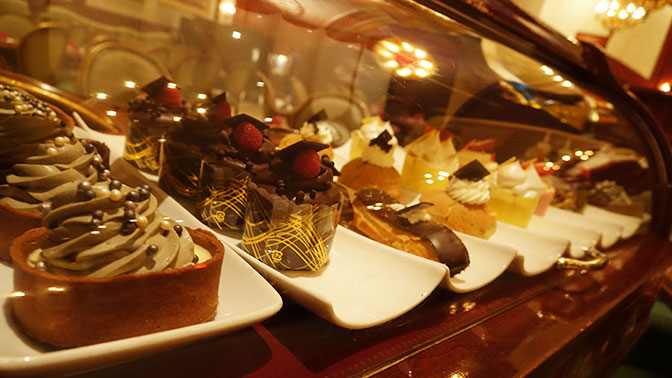 Each of us ordered the Grilled Strip Steak.  I ordered the adult portion.  It comes with Pomme Frites (French Fries) and green beans.  I ordered it medium and it was cooked to perfection.  It had good flavor, but being a strip, is a tad chewy.  It's not a Shula's steak, but it's pretty good for theme park food.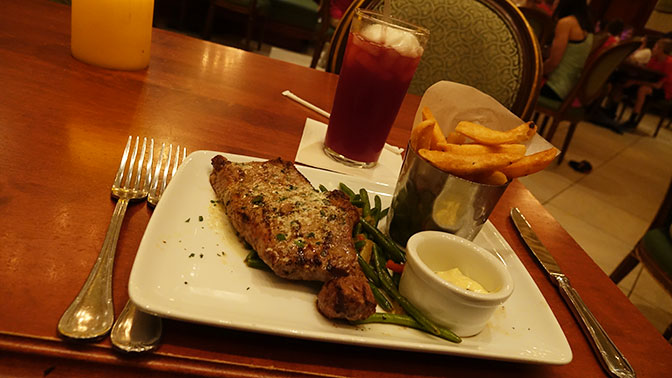 Debbie wanted to do an artsy photo with her food.  She said the steak was "delicious" as we talked about the Beauty and the Beast movie and how she is excited to see the new live-action version.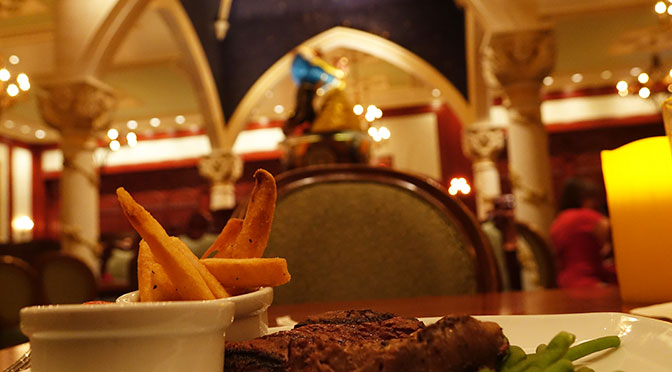 For dessert I chose the chocolate cupcake, as I hadn't tried it before.  It was tasty and moist, but it's a LOT of chocolate.  I ended up eating about 3/4 of it.  My wife loves this cupcake.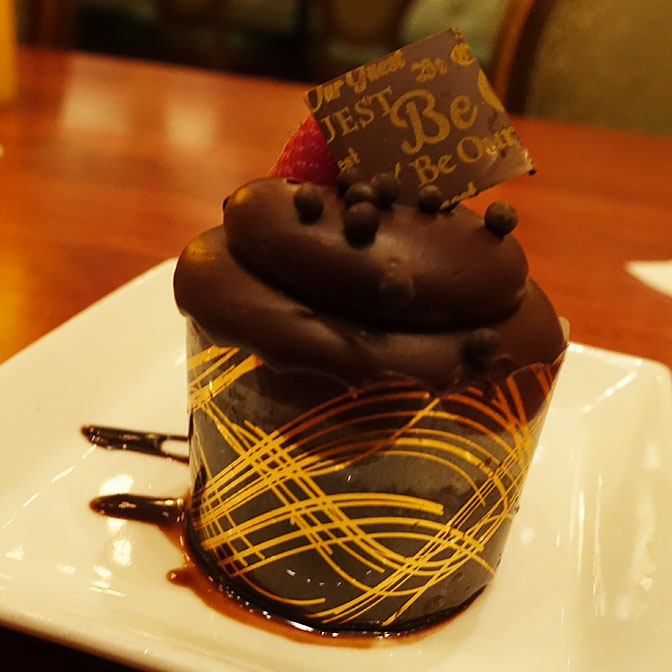 You can't visit Be Our Guest for Dinner without trying "The Grey Stuff."  Magic Kingdom has done a good job improving this dish since the restaurant first opened.  When it opened, it was only the frosting on the top.  Now it has a nice soft cookie shell with cookie creme filling and the Grey Stuff on top.  We both enjoyed this light, yet sweet dessert.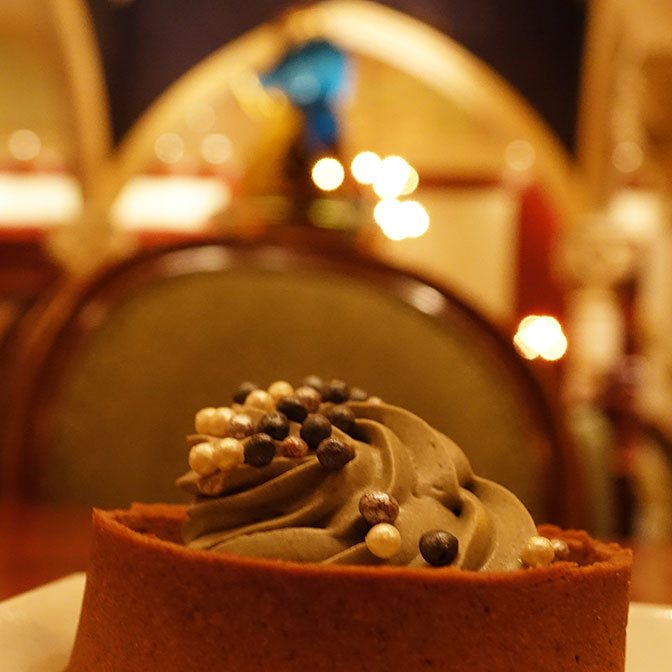 Another former rendition of the Grey Stuff had it on a brownie.
She wanted to take a look at the West Wing and declared it the most fun room in the Castle.  She said she wished that she had been seated in this room.  The West Wing is much darker than the other rooms, but it has some fun touches like the falling rose.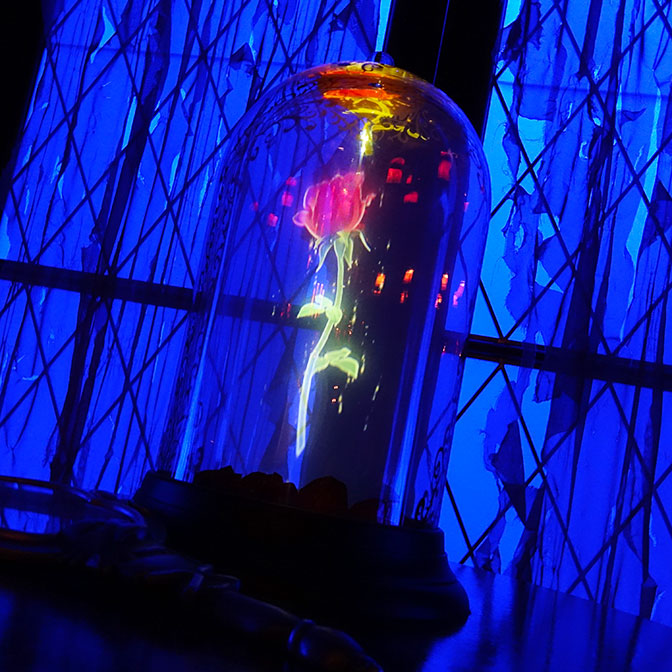 The Beast (or Adam as he was once called in a Disney video game) has a great changing portrait effect.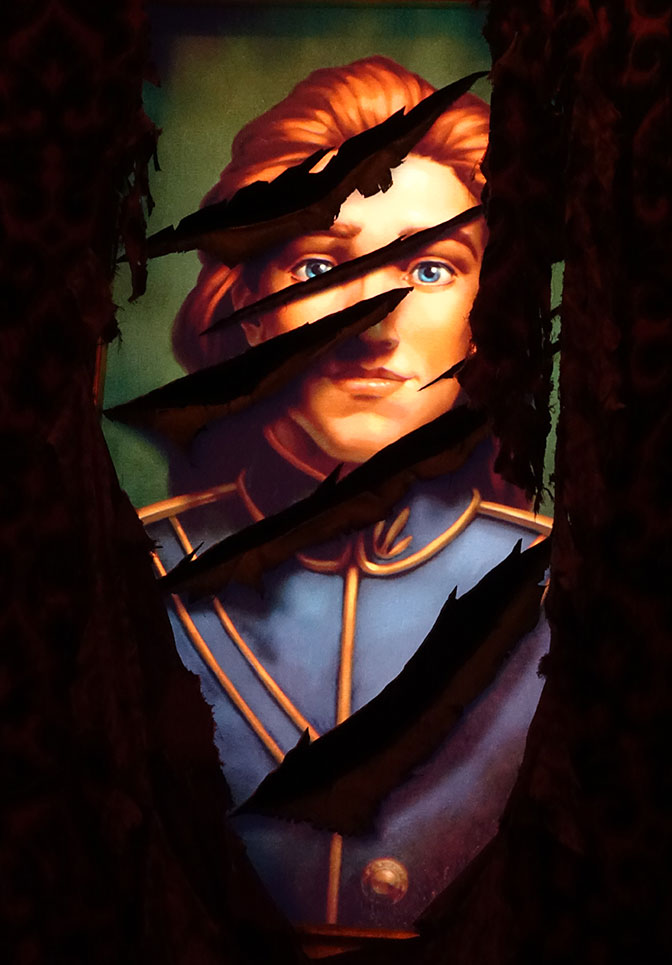 After touring the restaurant, we went to line up to meet Beast.  He meets off to the left as you are exiting.  Every Dinner guest is encouraged to meet him.  We waited 22 minutes to see him, but it was worth the wait to us.  This area is used as the ordering area for Breakfast and Lunch Counter Service.
The Beast now appears in his new outfit.  He changed a couple weeks back and also appears in this form during the Festival of Fantasy Parade and at Beauty and the Beast – Live on Stage.
This is how Beast used to appear in Walt Disney World
This was Beast circa 2012 when he used to meet with Belle in France inside Epcot.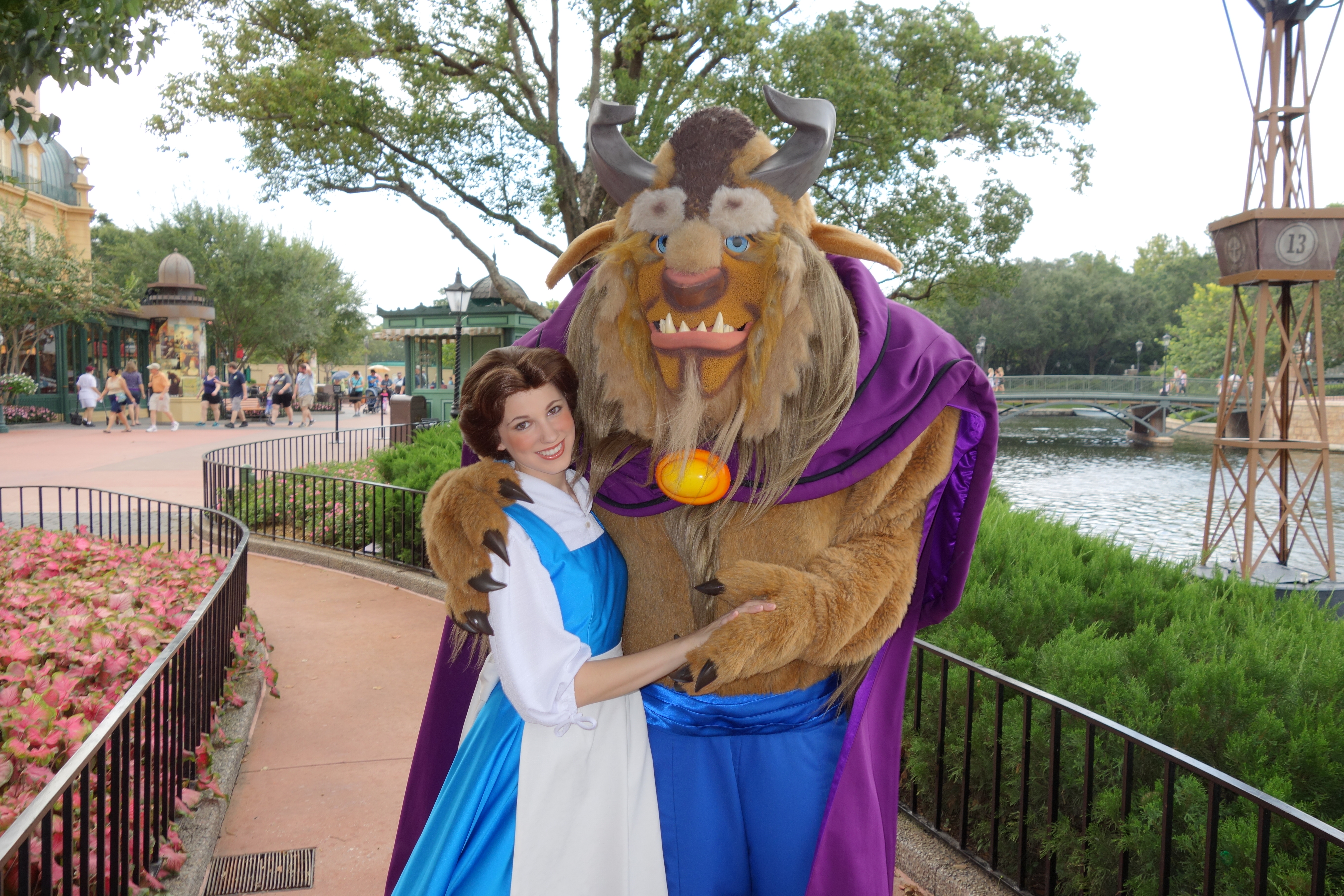 Debbie only had a couple of days to try to put together a Belle tribute costume, so she chose a blue dress with a small apron.  Beast was impressed with her attempt.  She offered for Beast to hold the rose while they posed together.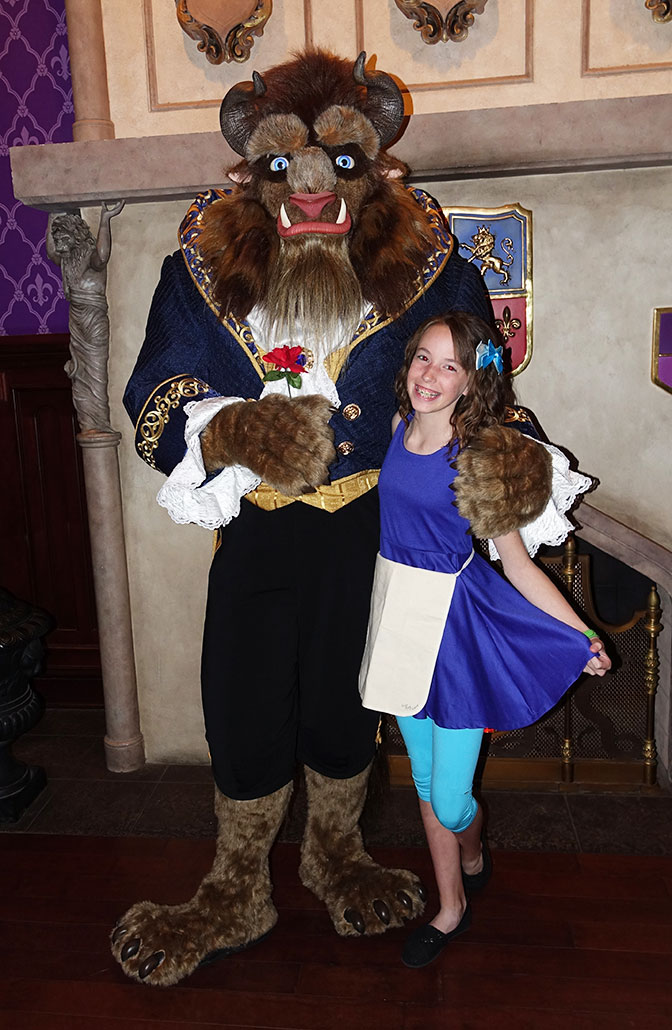 Dad had to join the fun of course.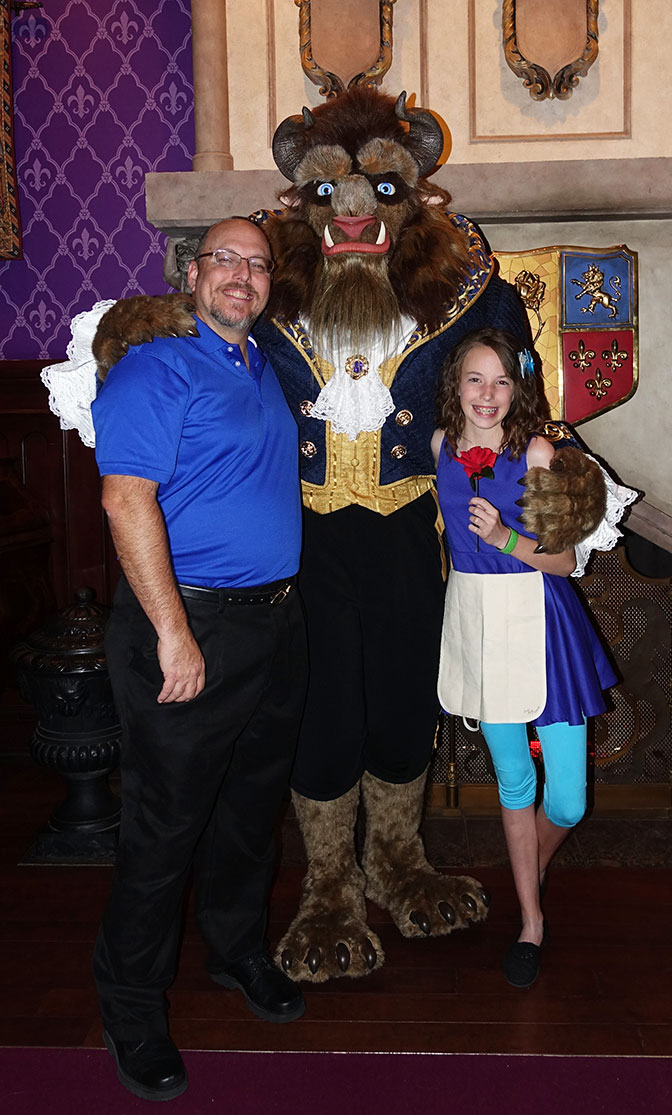 As we left she wanted a photo with the rose window.  She enjoyed her dinner very much, now wants me to take her for lunch sometime.  I'm sure we'll return again some time in the future for the ham and cheese sandwich.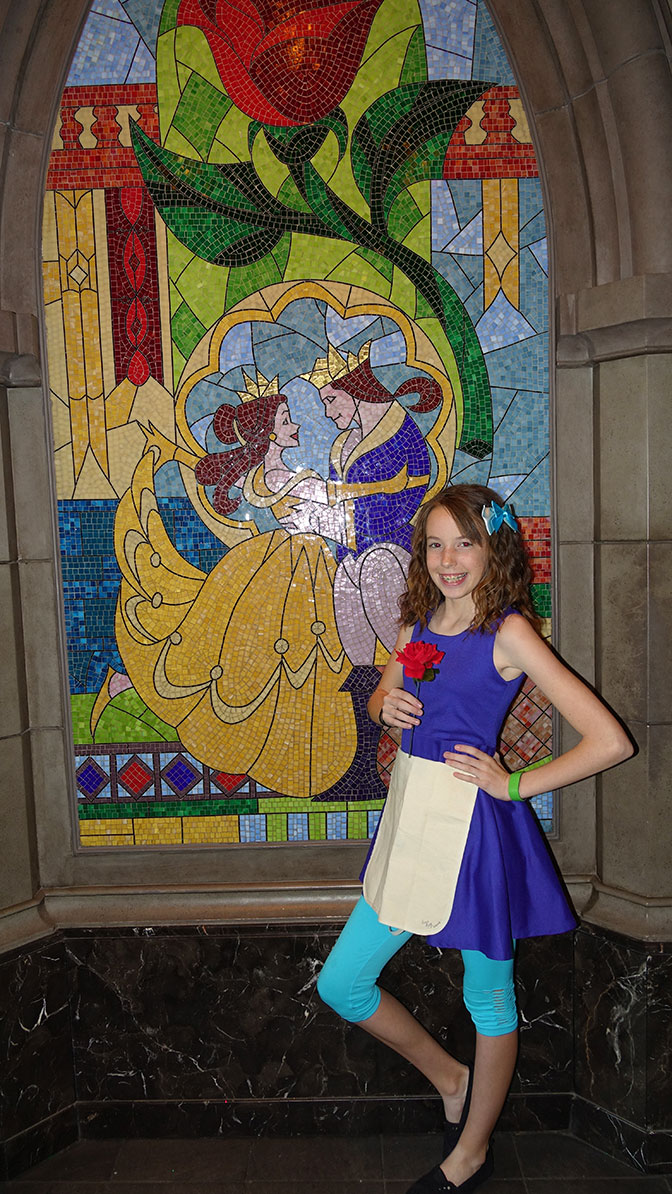 If you're interested in seeing more photos of the restaurant, take a look at this post I created in 2014.
If you have any questions, feel free to ask.