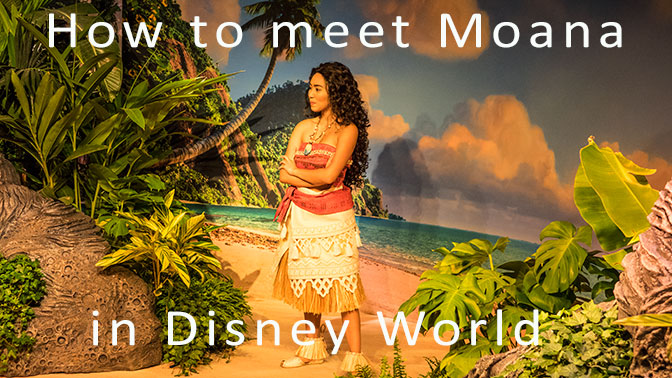 The Moana meet and greet in Disney's Hollywood Studios in Walt Disney World began just before Thanksgiving.  Here's the details on how you can find her and when is best to meet her.
Moana is now meeting inside the Walt Disney: One Man's Dream attraction.  You find that between Voyage of the Little Mermaid and Pixar Place.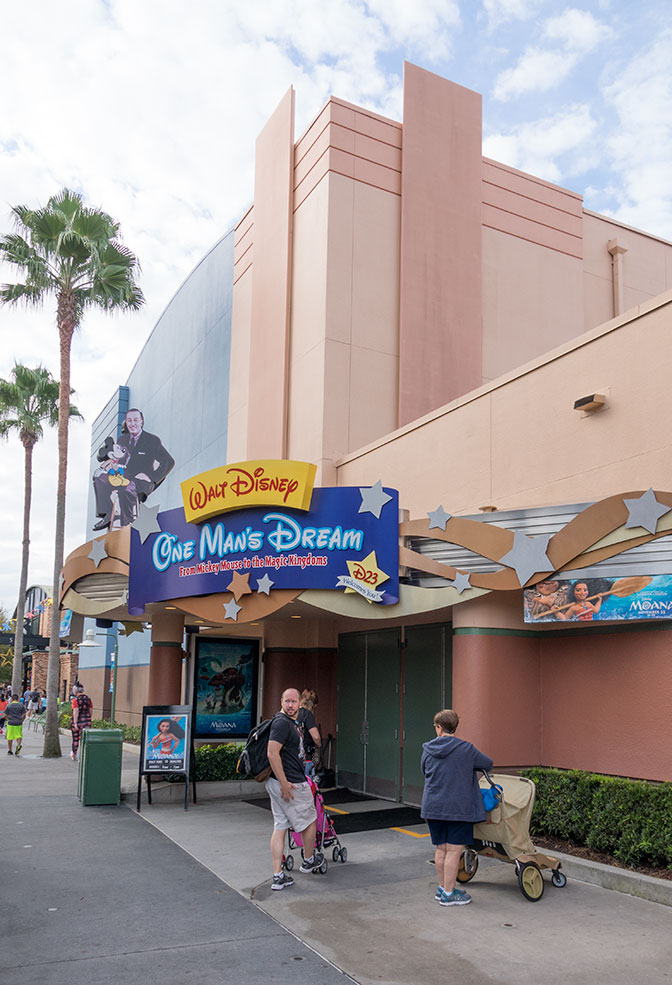 We chose to visit her at park opening and didn't arrive early in order to see what the wait time would be.  Moana is still very new and people a) Haven't seen the movie yet and b) Have no clue where to find her in Disney World.
The only signage that lets you know there's a meet and greet is a little A Frame stand with this picture of Moana, the estimated wait time and the hours that she is supposed to be available inside that day.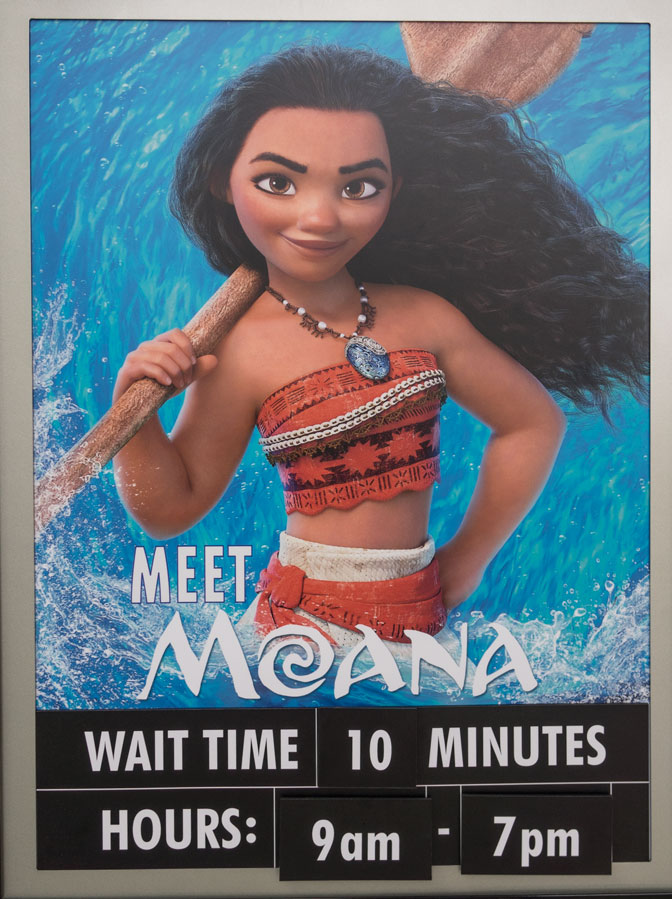 You'll enter the building and go all the way to the back of the attraction.  You're heading for the green wall.  If you were to turn right at the President Lincoln animatronic, you'd be watching the movie preview, not the meet and greet.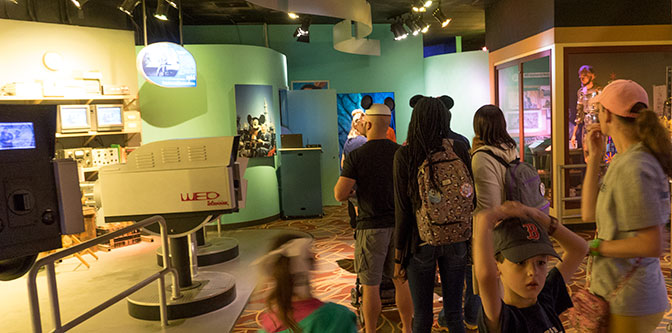 As you enter the small queue, you'll find the same poster with wait time estimate on the left.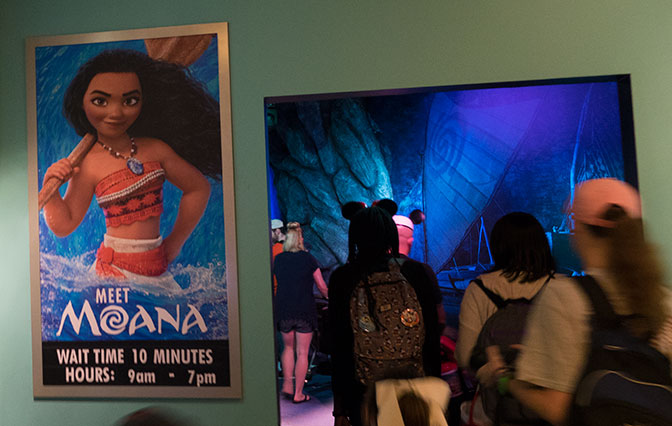 The queue has familiar items built into the wallpaper from the movie like Moana's boat that she used to chase down Maui.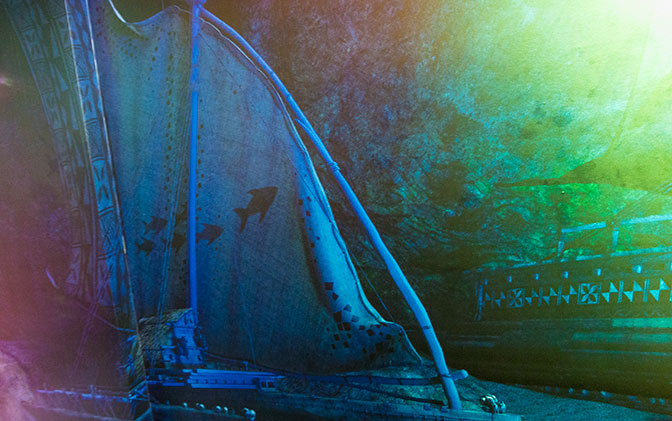 The queue line is a bit unusual.  It's just lines drawn on the floor.  They aren't using any sort of queue poles.  99% of us knew what they Cast Member was instructing us to do by forming a queue using these lines.  1% didn't speak English and thought they could just cut right through.  After a brief hand gesture explanation the 1% figured out the line process.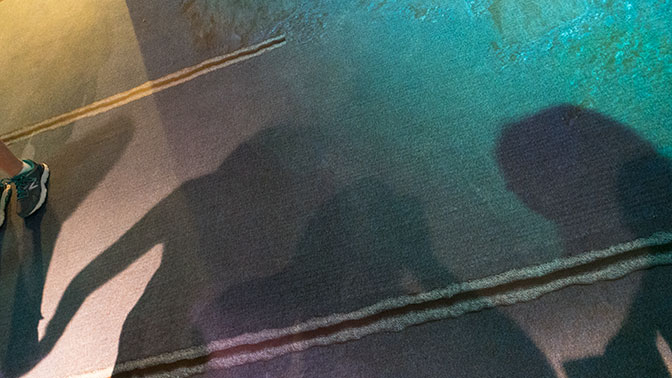 The small queue has some familiar rock work.  Disney does love themselves some rock work.  I've wondered for years if it's one guy's job just to draw rocks all day for the many attractions that use rocks.  It could be another person's job to choose the new paint colors for said rocks for a few years from now.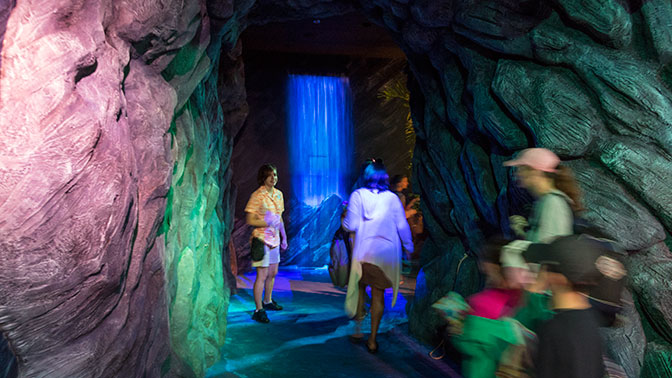 Before you make the turn to meet Moana, you'll find a projected waterfall.  Is that a door?  Could we possibly open it and find all the ancient Wayfarers boats?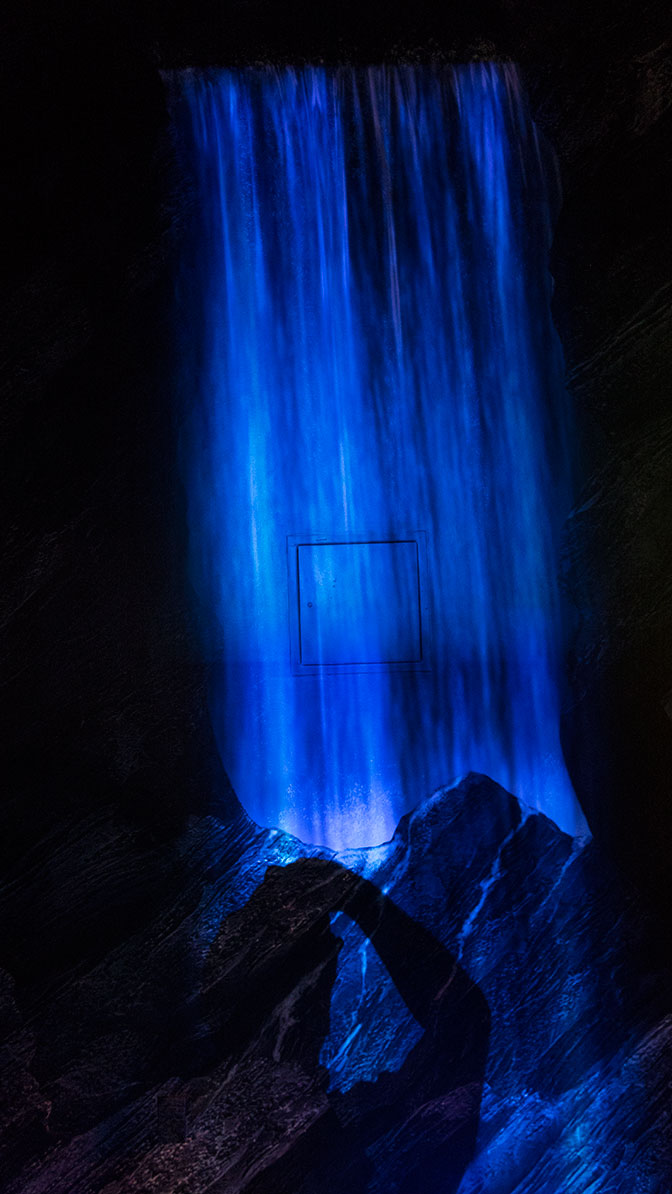 Turn right and you'll find the tropical meet and greet area.  I think it would have maintained the mystery a bit more, if the guest was held here.  Instead we are lined along the wall and watch the others interacting with her.  It's no big deal, just a thought.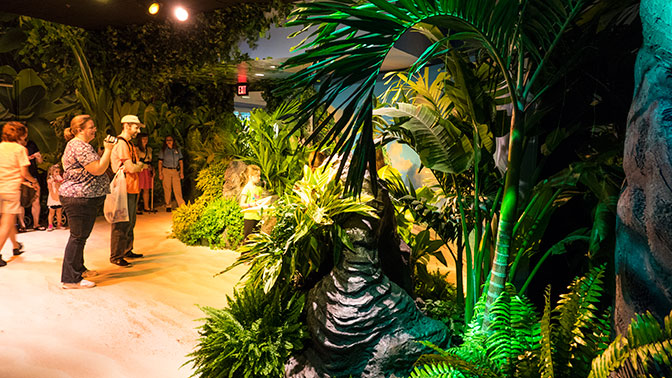 Moana is a fun person.  She is full of energy and ready to discuss her culture and explorations.  She asked my son and daughter to pose like this.  My son wasn't as enthused by the hands on the hips pose, can you tell?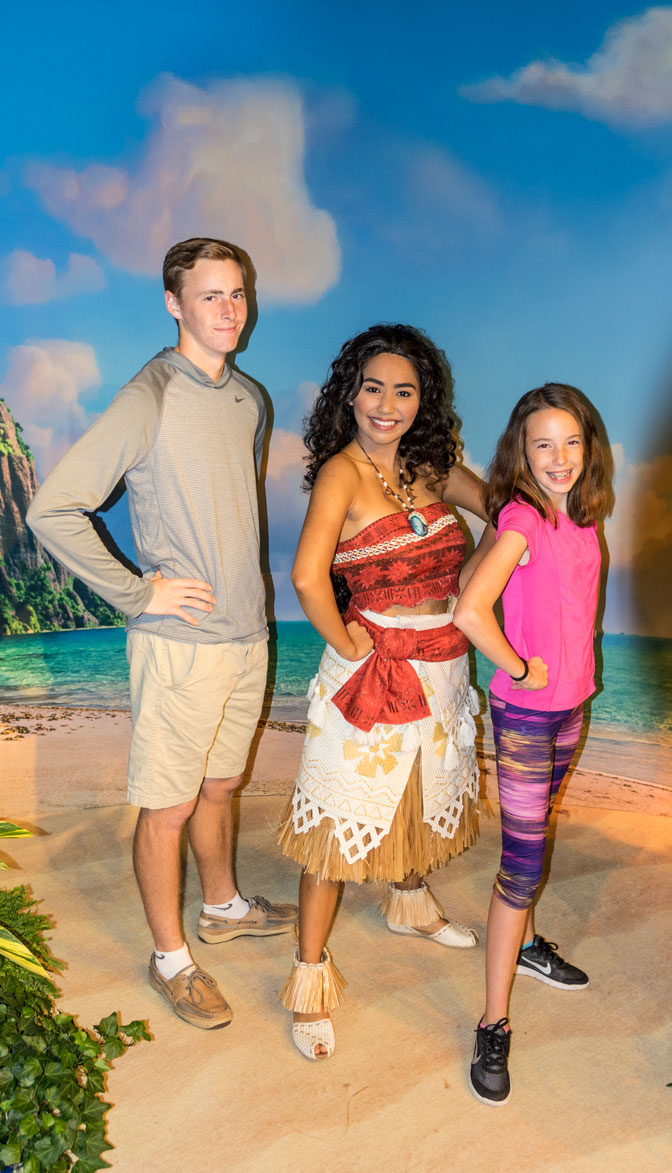 I suggested a "Wayfinder" pose and everyone seemed happy with the idea.  I added the pose idea and several interaction ideas to Character Locator for you as well.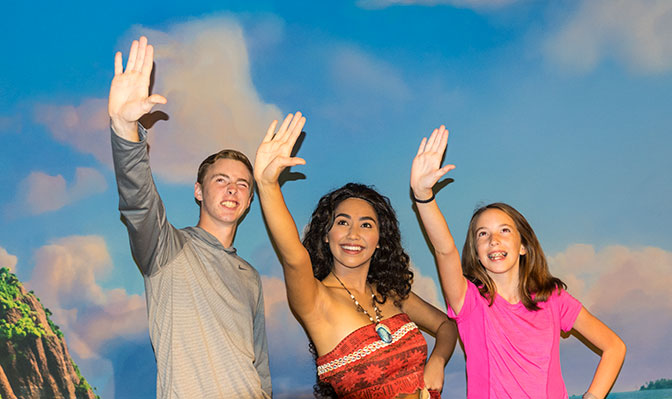 Moana asked if I am the Chief of the Tribe of pirates and said we should pose with our arms crossed like a strong chief would do.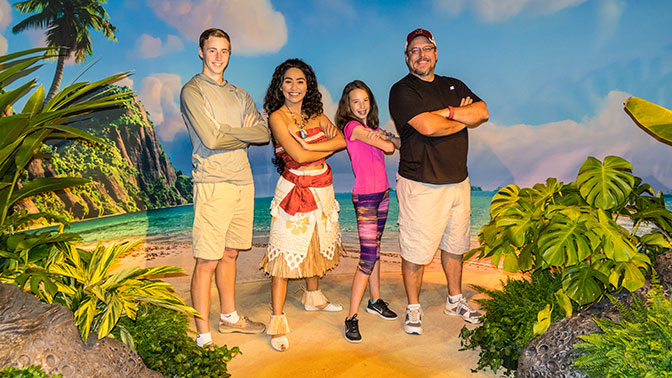 Moana does currently autograph.  Debbie brought along a paper that was part of a little booklet they handed out at Epcot recently and asked her to sign.  She wants to color it in and add it to her memory books.  Several first autographs didn't have the swirl in the O in her name, so Debbie liked that little touch.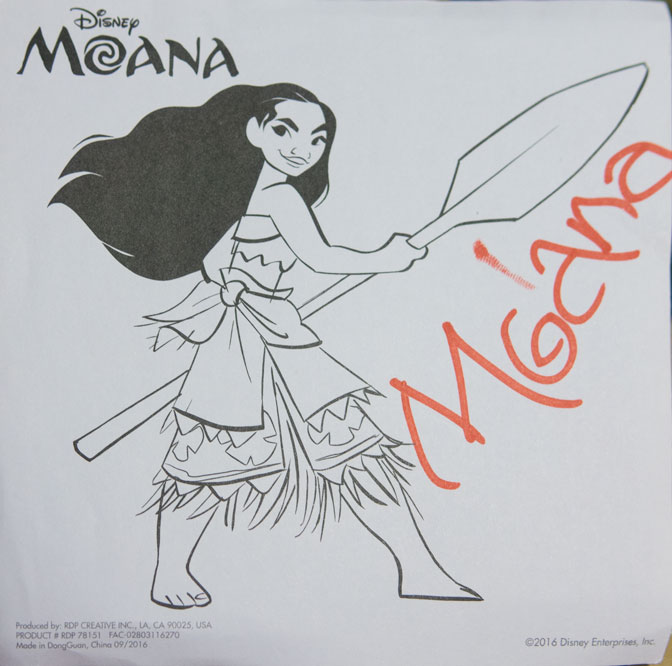 Photopass is usually offered here, but there was not Photopass photographer at park opening on November 26, 2016.
Some suggestions on the meet:
 See the movie.  It's a great movie, except the weird David Bowie singing Crab scene.  It's kind of a mixture of Mulan/Pocahontas, Pirates of the Caribbean and Water World.  You'll be singing the songs constantly in your head.
Arrive early or go late.  The best way to meet her with little or no wait is to go as the park opens or visit late in the evening.  They are supposed to offer a pager system for times when the line becomes excessive, but wait times have been reported up to 50 minutes already.  We visited at park opening and there was no sign of a pager system.
There is NO Fastpass and there's no plans to add Fastpass.
Use FLASH on your photos.  The coloring of the meet and greet is very Orange, so your photos will come out looking weird.
Feel free to ask any questions and share your photos with Moana on my Facebook thread!