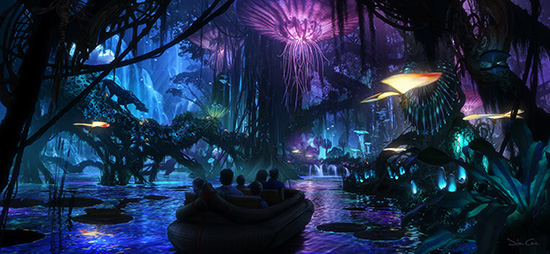 Disney has officially confirmed that "Pandora – the World of Avatar" will open "Summer 2017" and released some artwork for shopping and dining in the new land.
One of the funniest ongoing jokes that has occurred yearly at Bill and Ted's Halloween Adventure during Halloween Horror nights concerned the opening of "Avatar Land" said something along the lines of, "Opening in 2096 or whenever anyone cares."
For those who care, Disney is using the generic term of "Summer 2017" to let us know when the new land will finally open.  I'd expect that to mean Memorial Weekend.  I believe the land will be a stunning example of Disney Imagineering at its best, especially at night when the bioluminescence is at its peak.  Families will likely be stunned by the new boat ride experience.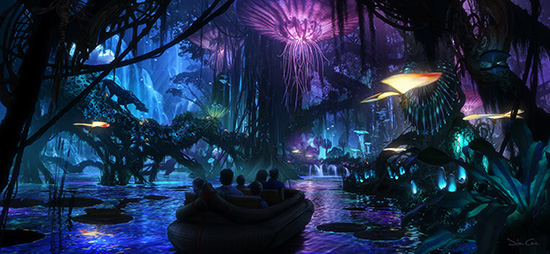 However, I don't see any marketing connection to young children.  Disney's biggest cash cow is the Disney Princess who brings in throngs of little aspiring Princesses who want to meet their various role models.  Little kids have never seen this PG 13  rated feature and don't understand the Pocahontas/Fern Gully mashup movie background.  I suppose kids will see them like dinosaurs and still ask, "Mommy, can I have this weird alien?"
"At Windtraders, travelers can find Na'vi cultural items, toys, science kits, and more."
And Pongu Pongu will be a special drink location with a design that is as eclectic as its Expat owner.
Satu'li Canteen will be the main restaurant in Pandora – The World of Avatar and will feature Na'vi art and cultural items.
"The entire Pandora – The World of Avatar land is set to open in 2017, and will transport guests to a visually stunning world complete with floating mountains and bioluminescent plants. Here, guests will be able to experience two excursions that will truly push adventure to the next level. First, the family friendly Na'vi River Journey will send guests down a sacred river hidden within a bioluminescent rainforest. Their journey will end in an unforgettable encounter with a Na'vi Shaman, a figure who has a deep connection to the life force of Pandora. And second, the Avatar Flight of Passage excursion will offer the jaw-dropping experience of riding on a Banshee over the world of Pandora."
What do you think?  Do you think your children will enjoy the land?  Will they desire the merchandise?