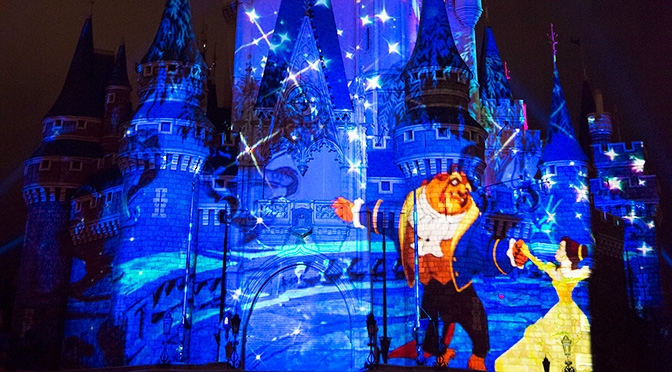 Additional details on new Once Upon a Time projection show for the Magic Kingdom
Yesterday Disney revealed that Celebrate the Magic castle projection show would be retired and replaced by a version of the Once Upon a Time that is now showing in Tokyo Disney.  Here's a couple more details to assist you with your planning
What we already know
The new projection show will be hosted by Mrs. Potts who is telling the story to Chip.  She tells him stories that involve classic films like Alice in Wonderland, Cinderella, Peter Pan  and Beauty and the Beast.  Each night Cinderella Castle will serve as the backdrop for this show.
What I've learned today
From what I was told the new Once Upon a Time show will be about 14 minutes long, so several scenes from the Tokyo version were cut from the show.  I was told (but not confirmed) that includes Tangled, Snow White and Winnie the Pooh clips.  The Tokyo Version runs at around 18 minutes and Walt Disney World wanted something under 15 minutes.  The only other change is the move from Japanese to English.
Additionally, the show is said to be no longer offered as a fireworks pre-show as the 10 minute long Celebrate the Magic was offered.  Instead they will offer this show 45 minutes AFTER Wishes begins or about 30 minutes after Wishes concludes.  So a 9pm Wishes would be 9:45pm OUaT.  A 10pm Wishes would result in a 10:45pm OUaT show.
*It's still possible that an earlier show would be offered as well and the entertainment schedules for Mid to Late November are sketchy at best.
There's still no confirmation if any projection show will occur during Mickey's Very Merry Christmas Party at this time, but we should know soon.
Feel free to SHARE the news by using the social media buttons below!