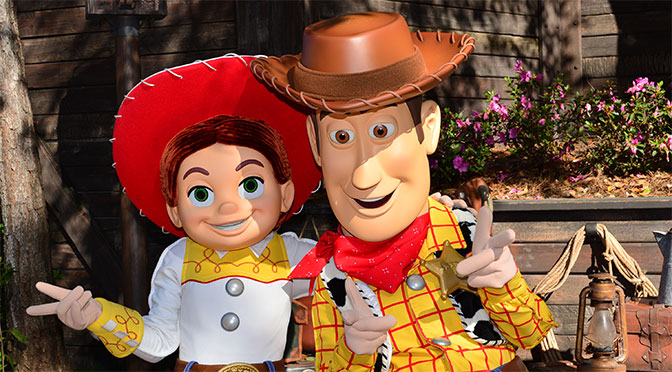 Rumor Roundup:  Woody, Jessie and Rafiki could be leaving Magic Kingdom
With the new Muppets Present Great Moments in American History coming to the Magic Kingdom on October 2nd, rumors are flying that some beloved characters may be removed from meet and greets.
First, the new Muppets offering is a SHOW, not a meet and greet.  It is said to be taking place out of the upper windows of the Heritage House in Liberty Square so more guests in the area can view the activity.
With budgets for entertainment not being stretched, it's being rumored among Cast Members that Woody and Jessie will leave Frontierland.  Woody will continue meeting in Hollywood Studios, and this will make that 30 to 45 minute line even longer.  Some believe Jessie will join him there, but there's no confirmation yet.
Rafiki has been in Adventureland drawing small lines for almost a year in a move that really didn't make much sense, except to make him more visible to guests.  He's really easy to meet in Animal Kingdom.
If the rumors are accurate, the final day to meet Woody, Jessie and Rafiki in the Magic Kingdom will be October 1, 2016.
Another rumor on the entertainment front says that the Notorious Banjo Brothers and Bob may be eliminated from the Magic Kingdom. It's unconfirmed at this time.
Another beloved long-time character to be let go is Scoop Sanderson.  Scoop was the pin trading master for the Citizens of Main Street for many years before being asked to hang up his lanyard last year.  Now, his contract as Ace Reporter for the Main Street Gazette has not been renewed.  His final day is said to be October 8.  Scoop typically does the Magic Kingdom Welcome Show on Sundays and Mondays and visits with guests along Main Street Sunday, Monday, Thursday and Friday.
It is rumored based on Disney casting calls that Elena of Avalor should begin offering meet and greets this fall.  No specific date has been provided.  Her show at Cinderella Castle is currently said to be offered through September 24 at least.
Moana is also currently under casting calls and could begin meeting in Fall or Winter.  Like Elena, Moana will be a live, face character.   No locations have been rumored at this time, nor specific dates given.
Remember, it's all a rumor (except Scoop) until Disney formally anounces a change or until we actually see it happen.