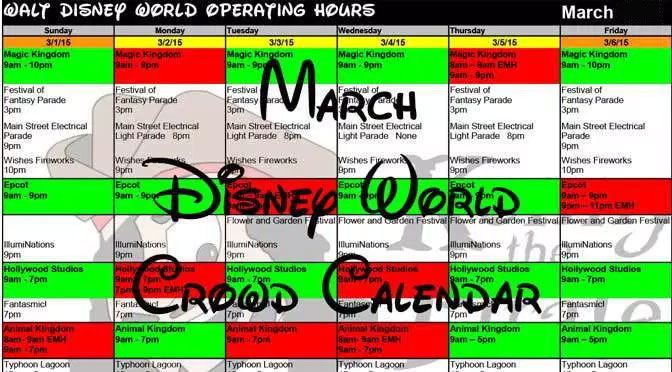 If you've been hoping for the initial Walt Disney World park hours on my Crowd Calendars, you're in luck.  Last night I added that information for you.  Here's a couple of things you should know:
 Magic Kingdom didn't include any parade hours. There's no parade listed for daytime or nighttime, but that doesn't mean they won't be added later.  The daytime parade typically launches at 3pm daily unless Disney is expecting really large crowds, then it goes to 12pm and 3:30pm.
Star Wars Fireworks aren't listed that far in advance.  Again, it doesn't mean they won't offer them, but they aren't there yet.  Lately, it's been listing about 30 to 45 days in advance only.
Hollywood Studios LATE Extra Magic Hours aren't listed.  I made the assumption that it will follow the normal Friday night structure and went ahead and marked it red on Fridays.  I was correct in the assumption in previous months.
These are merely initial park hours and extra magic hours and things change A LOT over the next 6 months.  Hope it helps you plan out your days at least!  Here's the link to the March 2017 Crowd Calendar.