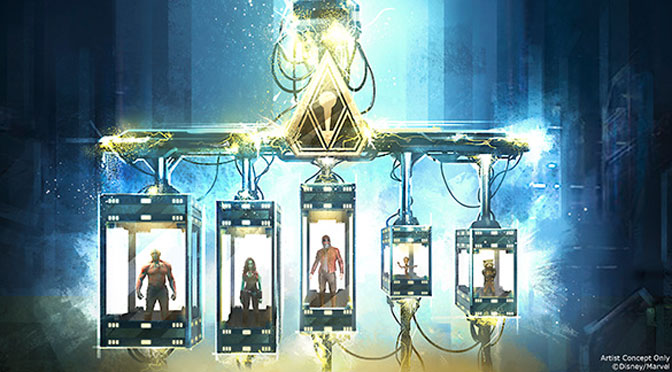 Late last night Disney confirmed that the Tower of Terror will be transformed into an all new Guardians of the Galaxy themed ride.
As a part of an upcoming Marvel Land development that will take over the part of California Adventure that currently hosts the Monsters Inc ride, Disney's California Adventure will see the closing of its Tower of Terror attraction in early 2017 to be transformed into Guardians of the Galaxy – Mission: BREAKOUT.
This transformed attraction is said to open "Summer 2017 with the full array of Guardians of the Galaxy character in a comical high-energy adventure.
Disney – Deep inside his fortress-like collection, the mysterious Taneleer Tivan (aka The Collector) is displaying his newest acquisitions, the Guardians of the Galaxy. They are trapped in customized display cases, suspended over a vast abyss. Unbeknownst to their unscrupulous captor, the intrepid Rocket has escaped and is enlisting the Collector's VIP guests for help. Guests board a gantry lift, which launches them into a chaotic and hilarious adventure as they join Rocket in an attempt to break his fellow Guardians out of captivity.
The new attraction will anchor a broader universe of Super Heroes that will grow over time at Disney California Adventure park. This exciting new presence will transform the structure currently housing The Twilight Zone Tower of Terror™ (scheduled to close in early 2017) into an epic new adventure, enhancing the breathtaking free fall sensation with all-new visual and audio effects to create a variety of ride experiences. Guests will experience multiple random, unique ride profiles in which the rise and fall of the gantry lift will rock to the beat of music inspired by the film's popular soundtrack.
What do you think about the transformation to Guardians of the Galaxy?