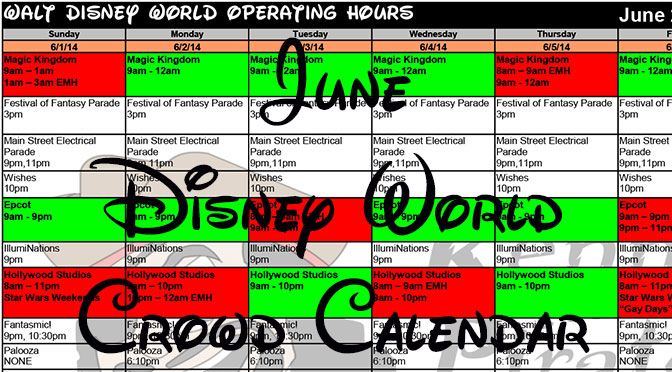 It looks like the updates for Disney World park hours for June 2016 are finally complete.  I notified my Facebook followers a few days ago of the extended Magic Kingdom hours, now we have a full set with a Hollywood Studios update!
Hollywood Studios has extended its park hours to 9pm or 10pm most nights in June (with the possibility of more always a possibility).  It has also added fireworks for the following dates only:
June 1, 3, 5, 8, 10, 12, 15, 17, 19, 22, 24, 26, 29
Recently a thread was on a popular web forum was discussing Crowd Calendars.  It had some fun reading with some people saying Crowd Calendars are basically hocus pocus.  Well, guess what, Hollywood Studios only placed fireworks on ONE of my green park dates and only missed posting them on one of my RED park dates.
I cannot speak for all bloggers and how they arrive at their predictions.  Some do actual research, some rely heavily on history, some just pull it out of a hat and some copy people like myself (often heavily).
Here's my take on Crowd Calendar bloggerdom.  If the person resides in the Orlando area and frequents the parks, they likely know what they are talking about.  If they live in some far off locale, chances are they are just watching what others post or trying to figure out how to make predictions.
I may have some touring opinions that differ from other Disney bloggers, but overall the ones that post from the parks often know more what they are talking about. If you choose not to follow my advice, I'm not offended, just know you're probably going to a busier park than you need to visit.
If you have Early Extra Magic Hour privilege and actually use it, you are ahead of the game until 11am, then the park is really busy.  Most guests think they will make it, but over sleep and miss out.  If you don't have EMH, go on a GREEN park day.