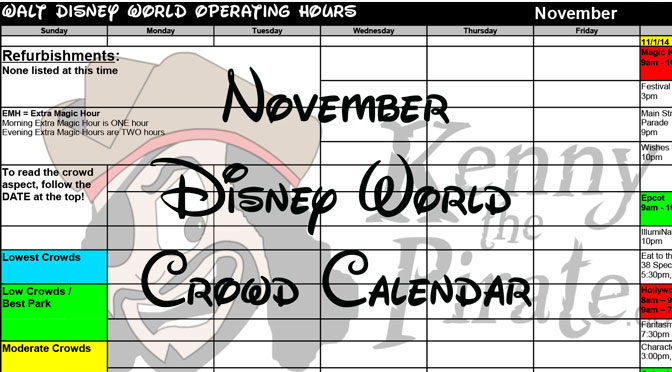 Disney has released the first round of park hours and supposed Extra Magic Hours for November 2016.  I've created my November 2016 Disney World Crowd Calendar and best and worst parks and here's some extra insight:
Park hours are just place holders to help guests sort of plan their park choices 180 days in advance.  I say "sort of" because they can still change Extra Magic Hour parks after you've done the work to book that special meal 190 days before most people even thought about waking up.
Initial park hours are ALWAYS estimated lower than they become.  Park hours typically undergo 3 to 5 changes over 6 months and can even add on an hour while you're touring the park.  You'll find 5pm Animal Kingdom closings, but the park WILL close later.
Magic Kingdom is currently scheduled to close at 4:30pm on November 17th.  It could be because they are hosting a special media or travel agent convention or they could eventually change the hours.   For the moment, it should be the one day at Magic Kingdom where you walk on rides without paying $149 per person.
You will not find ANY evening entertainment offerings listed for Magic Kingdom, Hollywood Studios or Animal Kingdom.  Don't panic, it will come later!
Only time you'll ever find me listing Magic Kingdom as anything but red is a day when there's a hard ticket party.  If you follow a website for calendar info and they tell you to go to Magic Kingdom on Monday, just unsubscribe.  I can't say how many times people have chosen to go to MK, even when I advise not to, only to complain "it's so crowded here."
If you actually USE the morning Extra Magic Hour, it's a great benefit, but parks do get busier around 11am and have their worst waits on these days.  Many guests have the great ambition of arriving at a Disney theme park at 7:30am, but aren't willing to wake up at 6am on vacation. Sleep in on a day you've planned for morning Extra Magic and you're in for a 3 FP+ day with lots of visits to the Country Bears, Carousel of Progress and Peoplemover.
Several events could affect your touring dates including Wine & Dine Marathon, Epcot Food & Wine Festival, Mickey's Very Merry Christmas Party, Jersey Week / Veteran's Day weekend, Thanksgiving and Holidays Around the World.
Get all the latest KennythePirate Disney news and planning advice in your inbox!