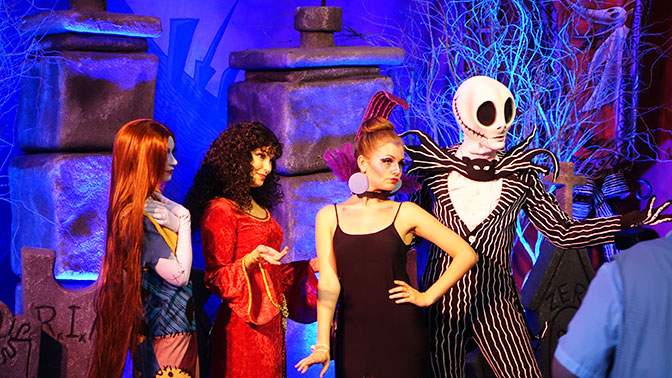 Review Mickey's Not So Scary Halloween Party Sept 15, 2015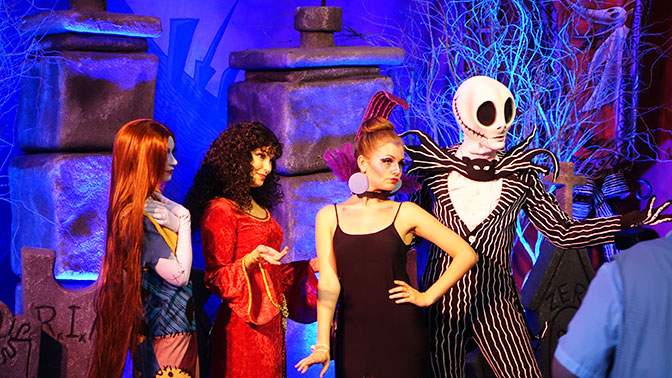 I arrived at the Magic Kingdom parking area at 6:15pm expecting to see the giant inflatable pumpkins on the parking toll booths.  No pumpkins :(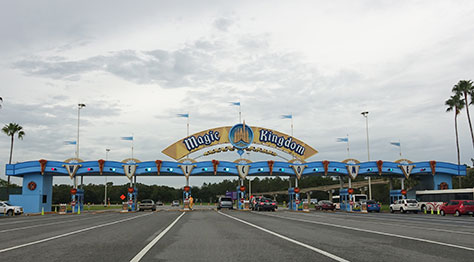 The Magic Kingdom is decked out in festive decor including this ad for the party.  The first party sold out on the same day.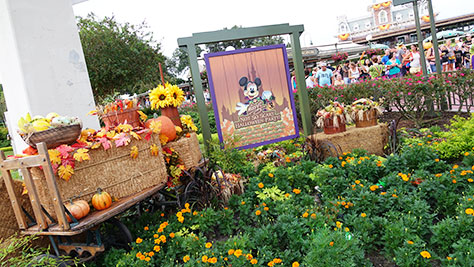 Nice directional signs tell you to head right toward bag screening.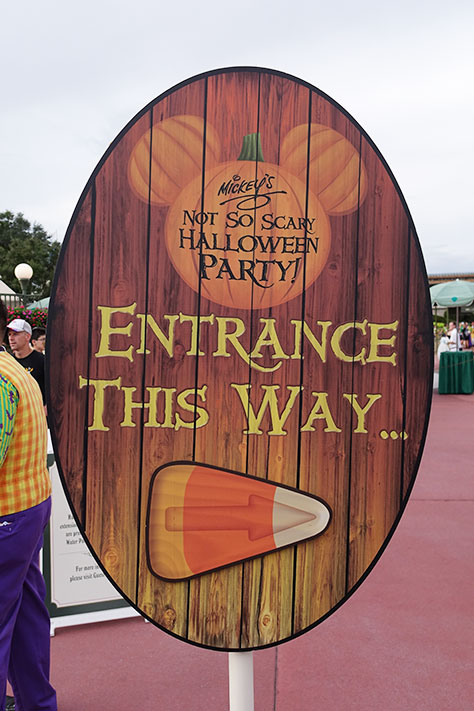 Smiling pumpkins away you for the fun.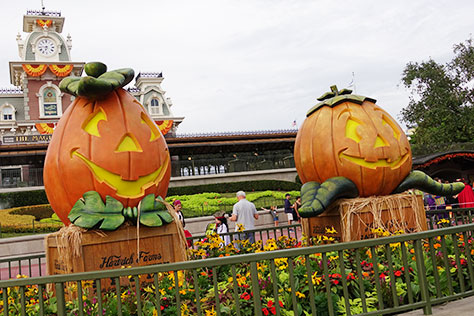 The touch point areas have a big welcome sign.  You pass through these and an armband is placed upon your RIGHT arm.  Even if you prefer left.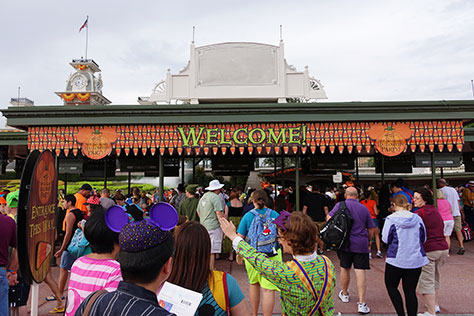 Adorable pumpkins everywhere.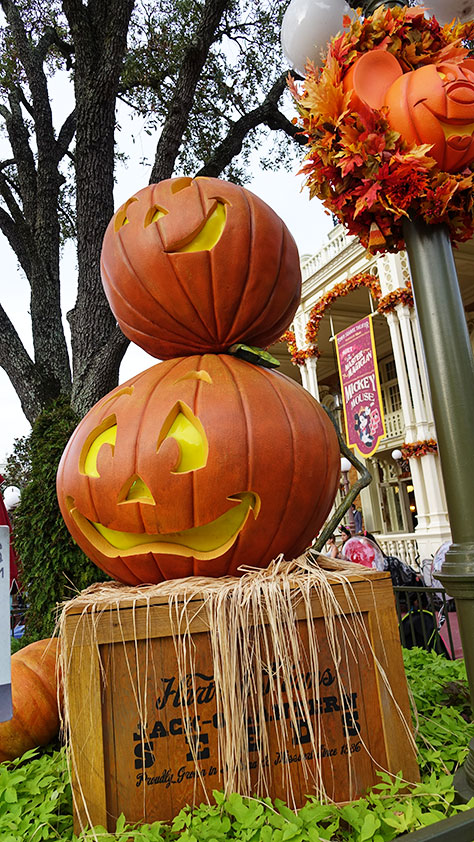 Festive Halloween balloons are available.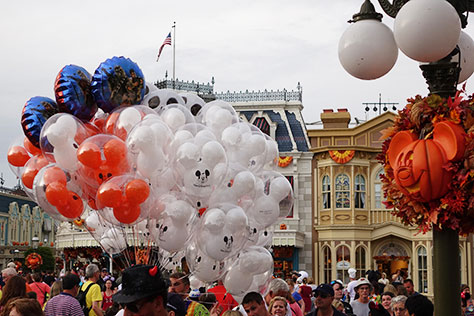 These folks were waiting 30 minutes to get a photo made.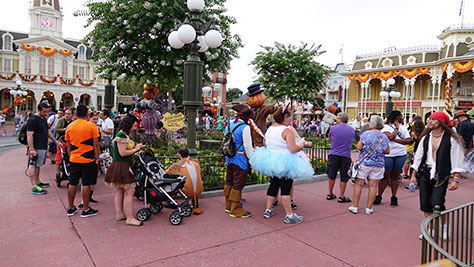 This is the photo op.  If you are getting your picture with some pumpkins at 7pm, don't expect to meet many characters.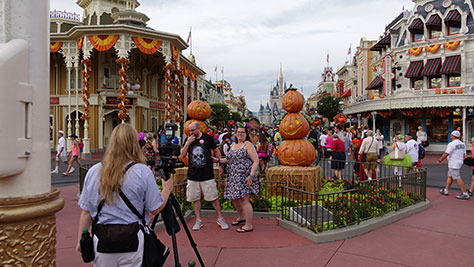 At 6:56 there was a long line for the special Sorcerers card, but at 7pm the CMs came outside and the line went to zero.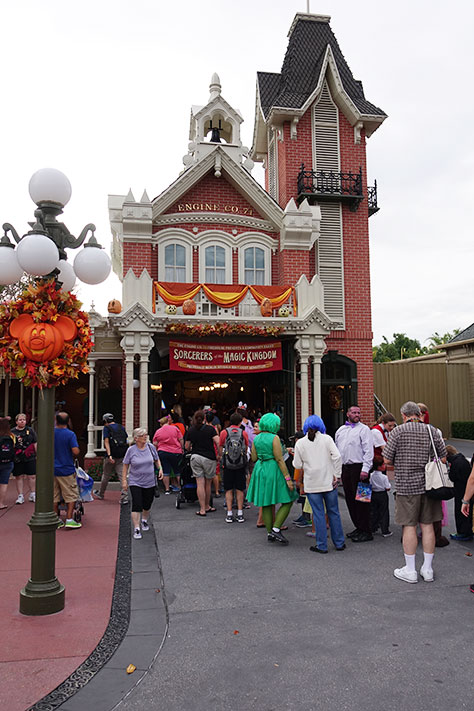 The beautiful Aurora arrived promptly at 7pm for her meet and greet in Town Square.  You can visit her during the day.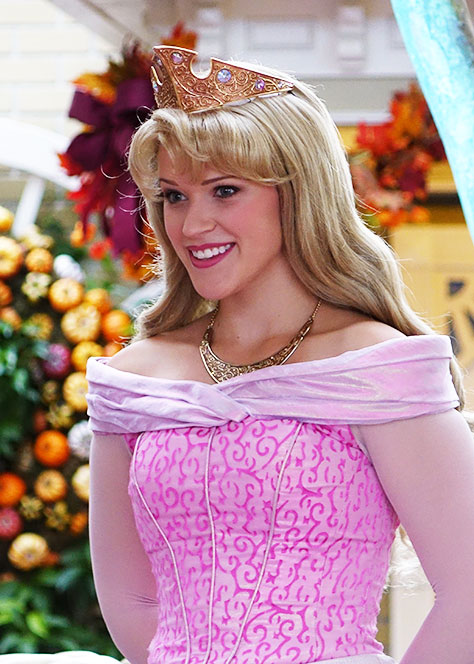 She meets to the left of City Hall.  There were zero people in line.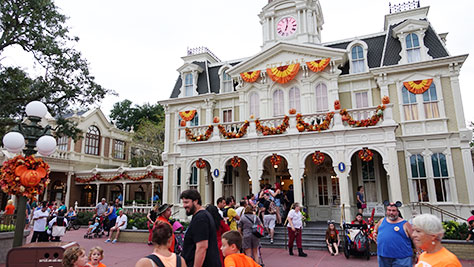 I picked up my special party card.  You can get yours for free or buy it on Ebay for 30 bucks!  Well, you can't buy mine.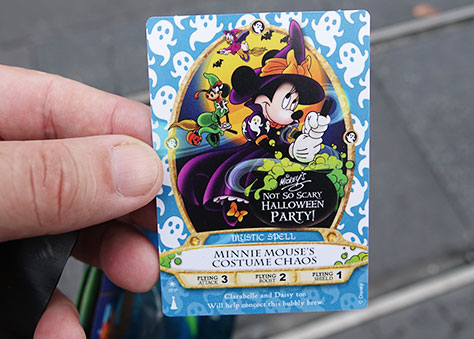 This dude realized he was in for a really long night by reserving a parade spot at 7pm for a parade that won't pass until 8:45pm!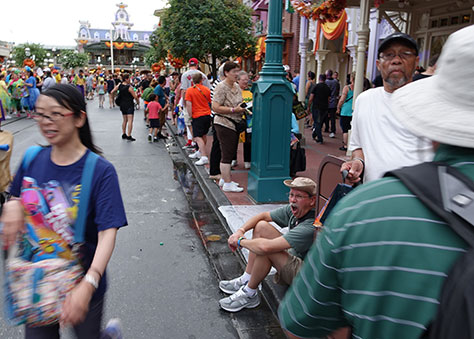 Cast members were blocking the road to try to push all the non party guests out of the park.  Didn't work as well as previous years because I saw people all night long with no wristband.  Some were even in character lines.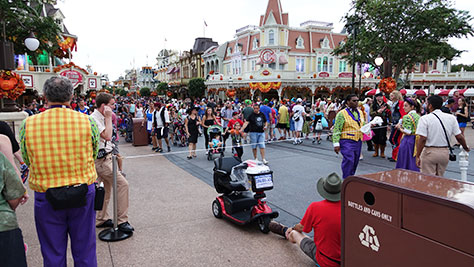 These folks were also anticipating that parade that will come much later.  Where's the armbands???  There were hundreds of non party people all along the parade .  Pretty ridiculous for those who paid to see this and they stayed around for the Villain Show and many even to fireworks!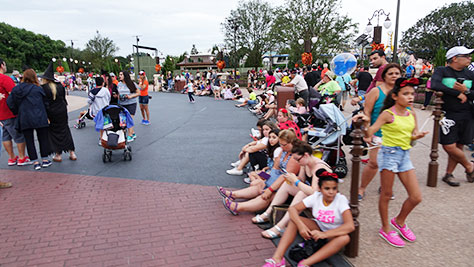 These legitimate guests were lining up for candy.  Long lines!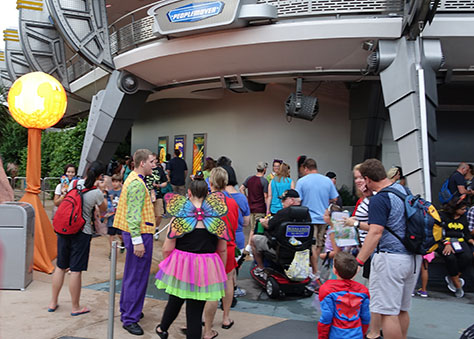 Buzz and Lotso have separate lines this year.  Buzz line was fairly short but you can meet him all day.
Lotso had a pretty good line most of the night, but I met him right after the fireworks with no wait.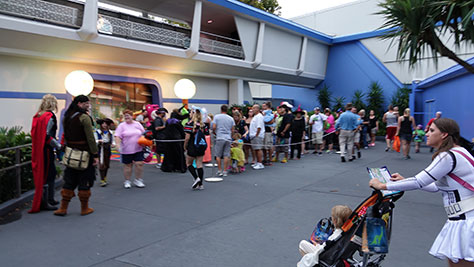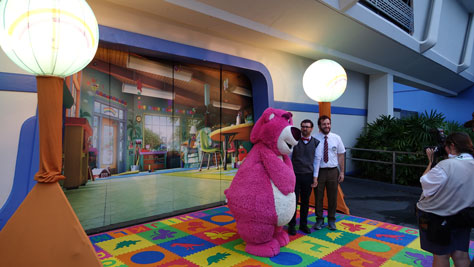 These folks were waiting for CANDY!!!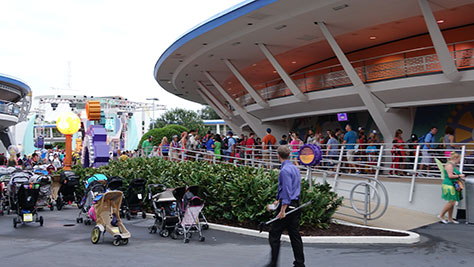 Line extended all the way back here at around 7pm!  Came back late in party and found no line.  Why carry around a bag of candy all night and stand in these crazy lines?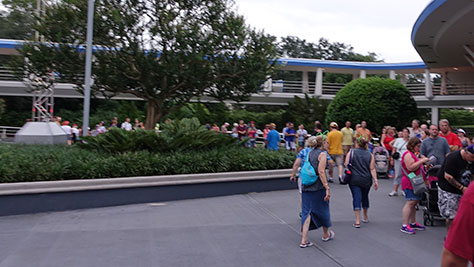 Monstrous Dance party kicked off right at 7pm with the same characters as last year.  Villains dance party was cut.  The reason given was because the venue in Frontierland was closed.  Ummmm, couldn't you use Cosmic Ray's?  It would have even boosted burger sales.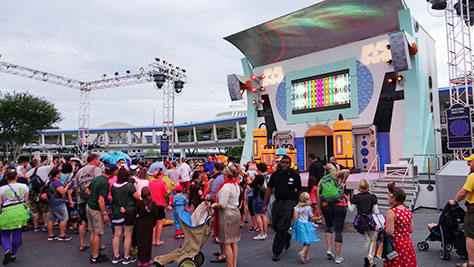 Dance Parties crack me up because most people are just trying to get selfies or pics of little junior with a favorite character instead of actually dancing.  Brazilians do enjoy the dance time though.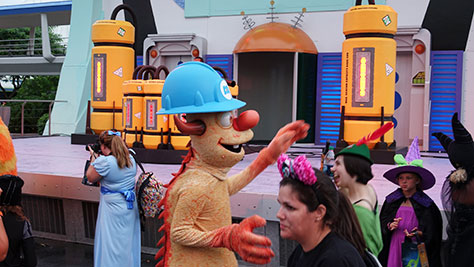 We should have played a game of where does the candy line begin.  Wanna guess?  Candy stop is on the right.
The line was all the way back to the Cool Ship!  You can't barely see the candy stop in the distance.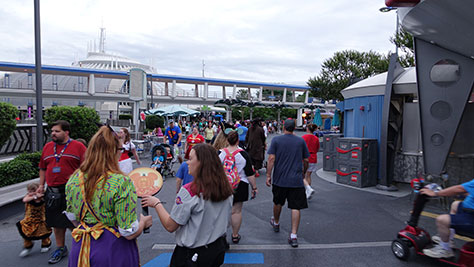 This line at Tomorrowland Speedway was back to Storybook Circus at 7:18pm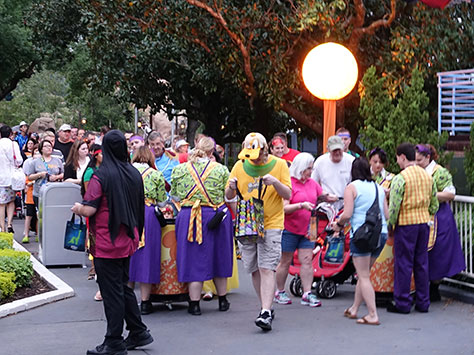 Mad Hatter!  He is supposed to be returning to regular meets during the daytime next month.  Let's hope it happens!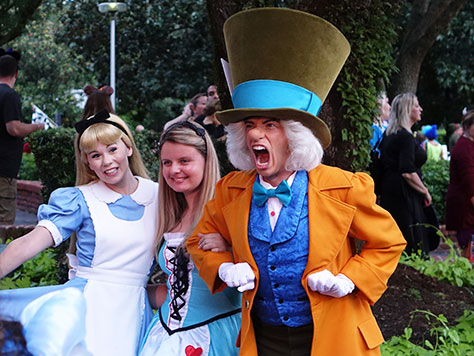 Q o H greeting her fans.  Hard to say how long the line is.  If you arrive at the right time, you'll wait 30 min or less, if you miss the cut you could be in line over an hour.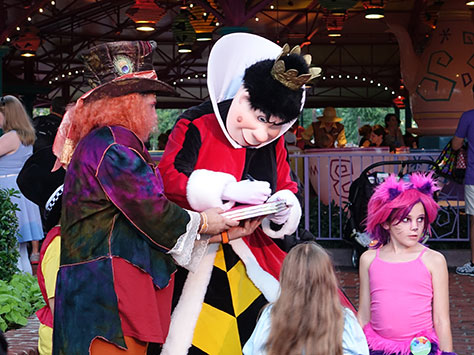 Buzz, buzz, buzz.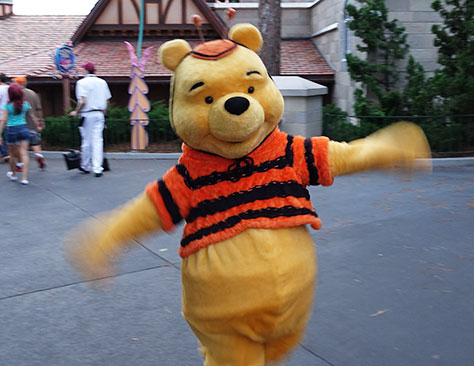 Mmmmm bacon!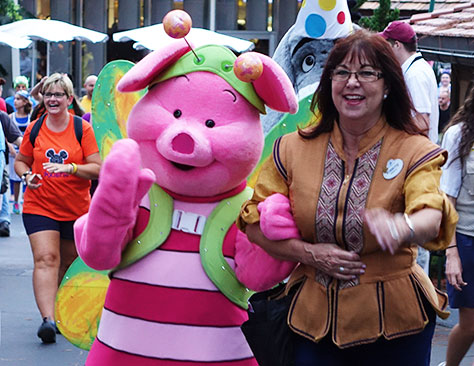 Minnie, Daisy and Donald were moved to Casey Jr Circus Train this year.  I couldn't find Donald early in the party.  The line for them circled the area and most guests reported 35-45 minute waits.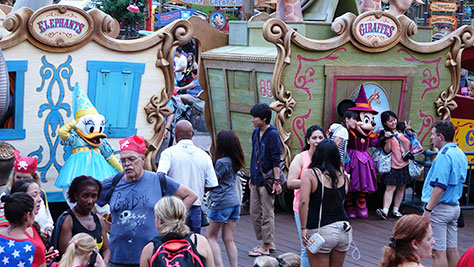 Cruella was meeting beside the train station in Storybook.  She was amazed at the guests waiting to meet her.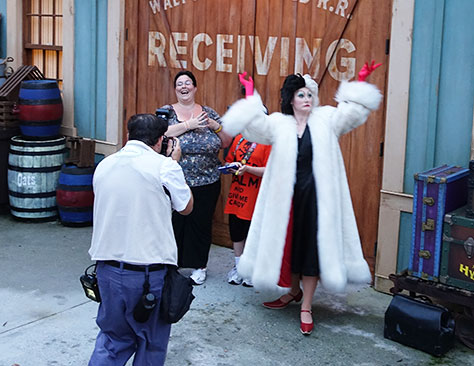 Her line zig zagged down below and popped all the way back to these signs at 7:25pm.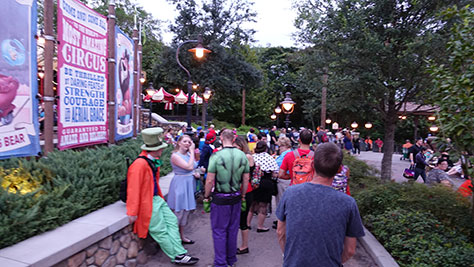 This was a 2.5 hour line for Jack and Sally.  They cut the line for the night at 10pm!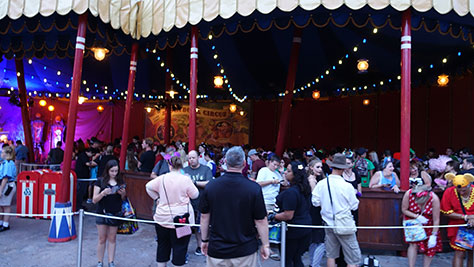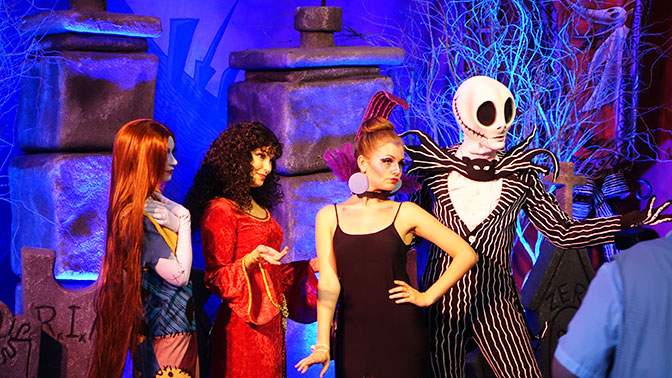 Candy line was very short here all night.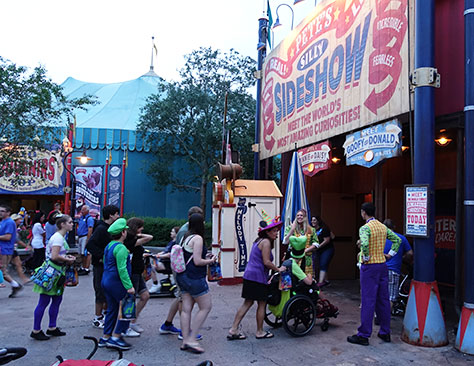 Even Goofy had a pretty long line, even though he was wearing his daytime costume.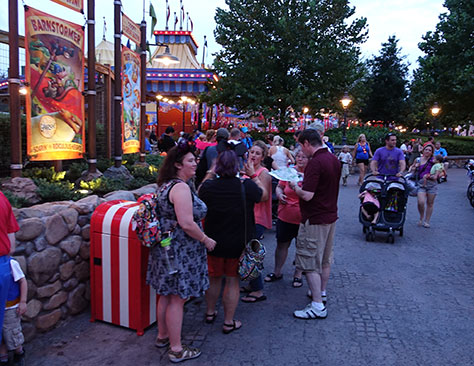 Line for 7 Dwarfs was all over the place.  They cut the line at 10:30pm!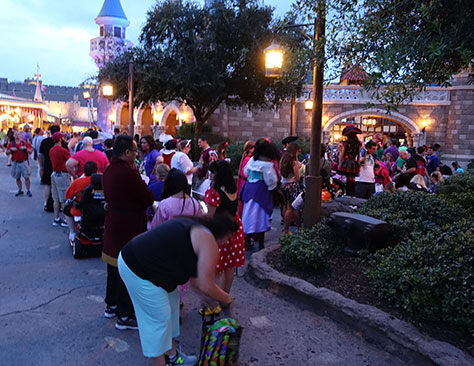 The Witch aka Old Hag line was actually pretty short most of the night.  She didn't sign books, so it moved quickly.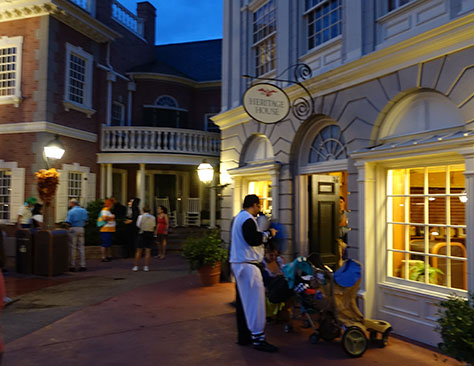 She didn't bring the apple bin this year, so it's BYOA.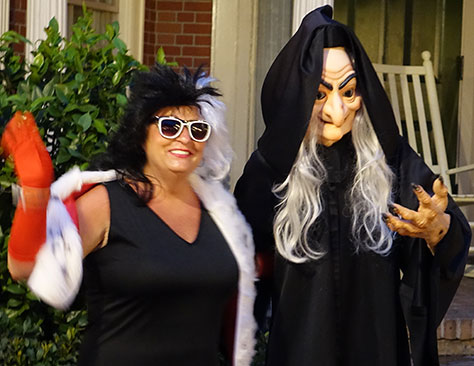 Jafar's line in Adventureland was about 20 to 25 minutes early and lessened later in night.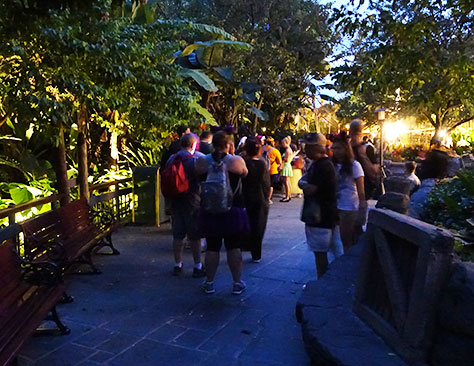 Tarzan and Jane no longer have the odd rotating schedule.  BUT that means you might get stuck only meeting Terk, or as someone called him "Tarzan's monkey."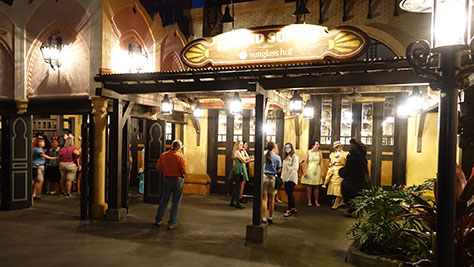 Tarzan appears to have gone on a diet.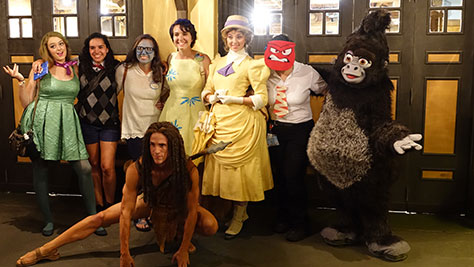 The line was reasonable, if you arrived at the right time or you get that "monkey."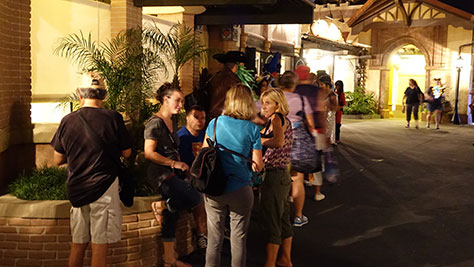 Candy stop at Tiki Room was very short all night.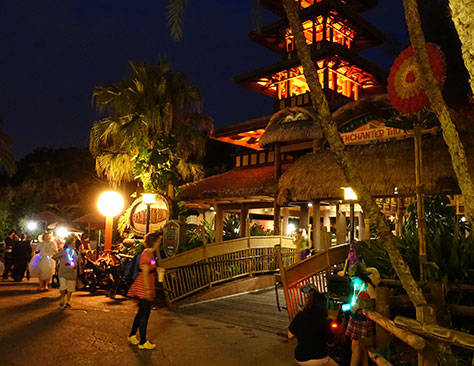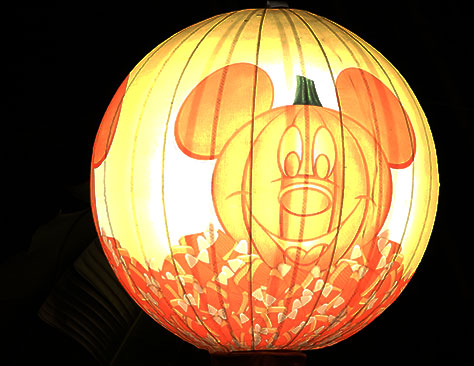 Skull on Pirate's of the Caribbean.  Ride opens again soon.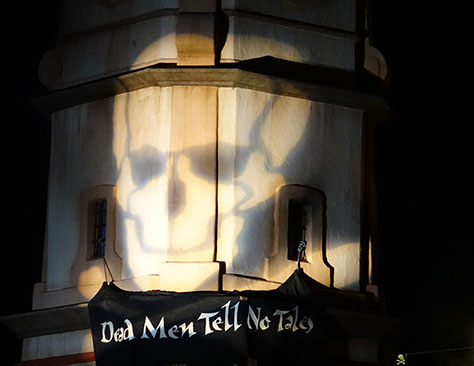 Skull on Big Thunder Mountain Railroad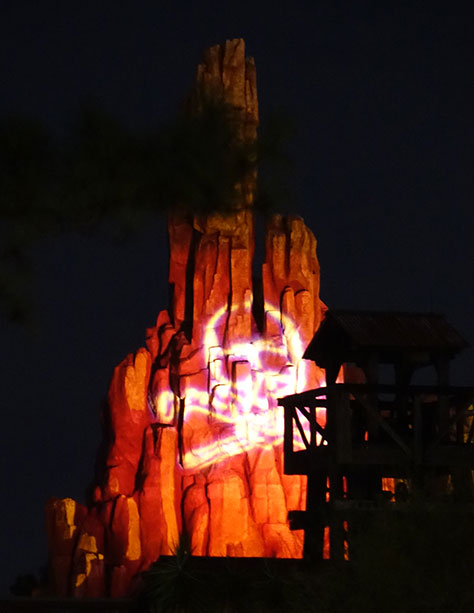 Candy stops in Frontierland were crazy long until late in party.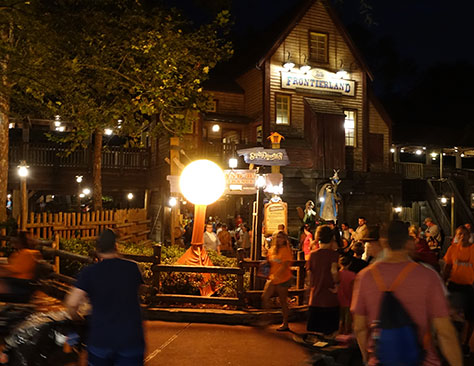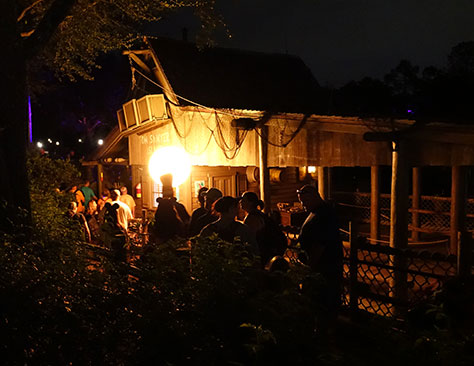 Projections on Country Bear Jamboree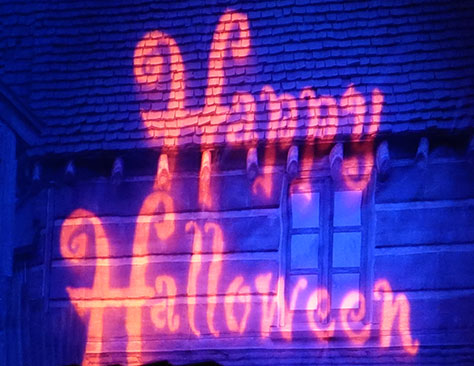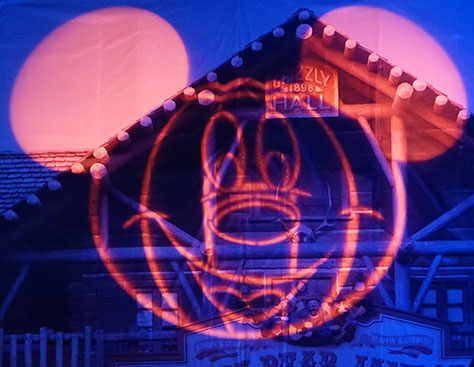 First parade was about to begin and there was another long candy line.  See a theme here?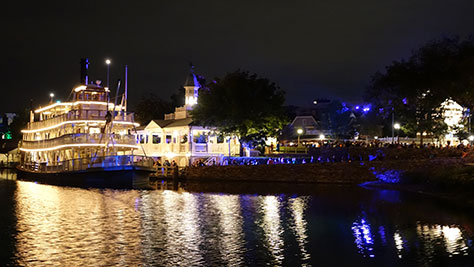 Haunted Mansion butlers were prepared for the evening.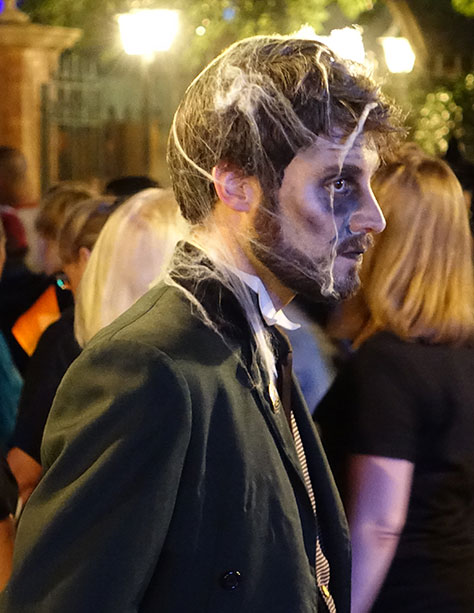 The spookiness of the Haunted Mansion is always fun during a Halloween Party.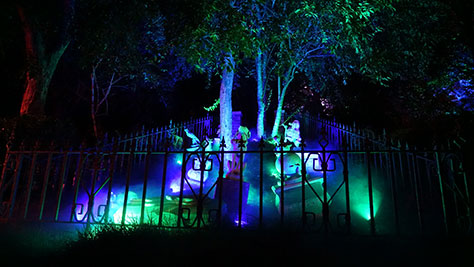 Madame Carlotta was practicing her comedy club act at the mansion.  She's always a lot of fun.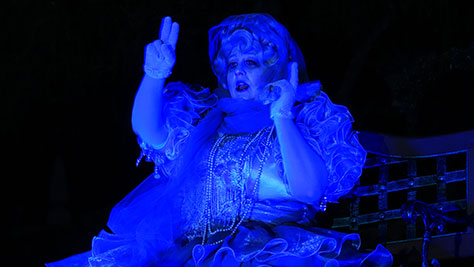 Here's another candy line at Peter Pan's Flight.  One of the more reasonable ones.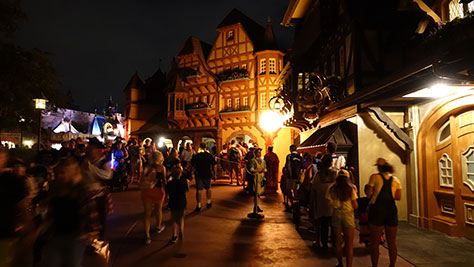 Snow White was meeting by herself.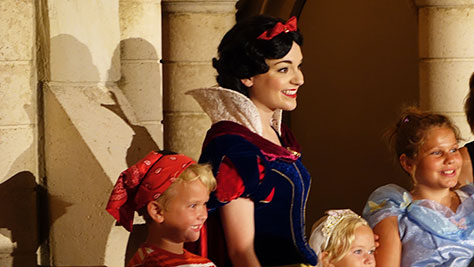 I took in the Boo to You Halloween Parade and made a video for you.
Only thing new that I noticed was Oogie Boogie marching down the street.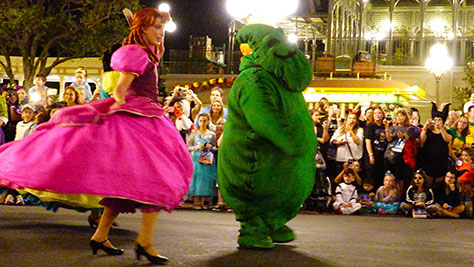 After the parade, I took part in the Happy Hallowishes Dessert Party
Following the fireworks, the waits for Buzz and Lotso were minimal.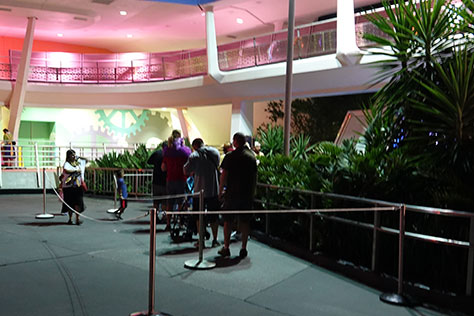 Oh hey, Donald!  Glad you could join us!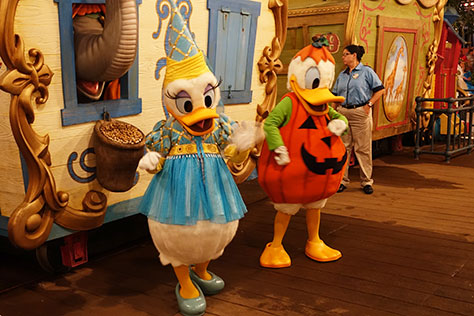 11:11pm and the line for Jack and Sally is guarded, um closed.  Still a ton of people in line.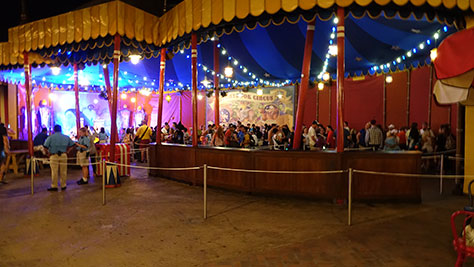 Do I really have to be tied to this post twice a night for 6 weeks?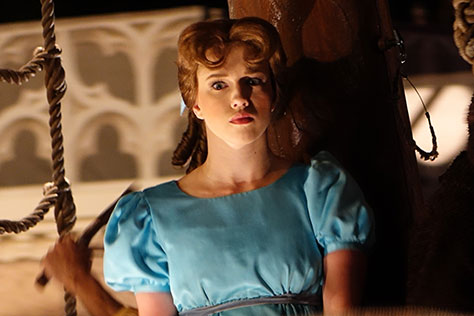 Couldn't have a post without a pirate, right?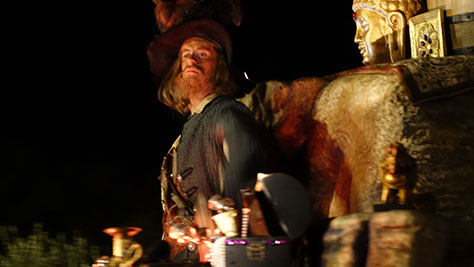 Not sure why, but I actually liked this photo I took.  Look how crazy the crowd was during the second parade.  I should zoom in on the original and see if I can spot armbands.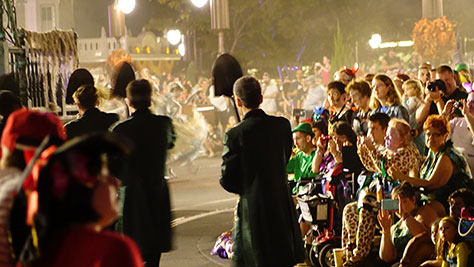 After the second parade passed, I took in the final Villains Spelltacular of the night.
As I was walking out, I caught this light show on Main Street.
Observations:
 I've never seen so many people in a hard ticket party and I've been to many sell outs.
Disney needs to be more firm about getting the squatters out that didn't actually pay for a ticket.  Hundreds were on parade route with no armbands!
Removing the villains (except adding Cruella meet) is a big mistake.  I can't say how many times I heard that from paying guests.
DON'T collect candy early in the party
Line up super early for 7 Dwarfs or Jack and Sally.  If you want both, you'll have 2 long lines.
This may not fit the official party line, but if you are paying $250 for the party and want to meet characters, you might consider splitting the adults into separate lines.
Avoid the upsell Dessert Party, it takes away time from other things and costs more money.