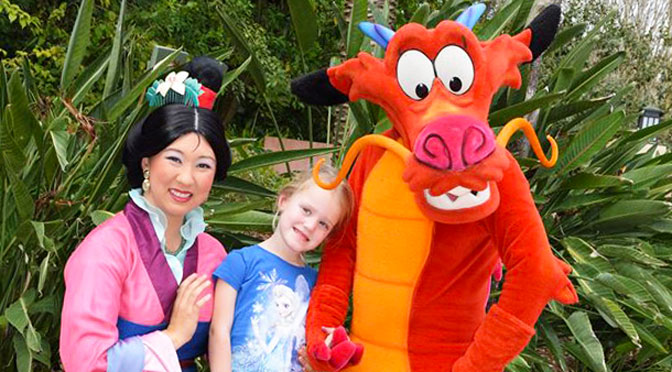 I would like to introduce myself. I'm Danny from the Netherlands, 34 years old and a Disney addict. I've been to Disneyland Paris about 30 times, to Walt Disney World 12 times and once to the Disneyland resort in Anaheim.  Next to collecting Disney merchandise , my family and I love meeting characters.  New characters that we metat Walt Disney World during this trip included Pinocchio, Lady Tremaine, The Tweedles, Baymax and Hiro and the Fairy Godmother. That brings my Total of Disney character meets to 109. I hope to meet Oswald the Lucky Rabbit and the Cheshire Cat one day.
The following story may sound like a commercial.  I wrote this story to say thank you to KtP.  I've never met him in real life and I'm not related to him in any way. I hope you like the story and have the same experience sometime in the future.
It was summer when I read a blog of a fellow WDW fan.  I saw the name of Kenny the Pirate in that blog and I thought:  "Let's Google that name."  It was not long before I saw what info I missed the previous 11 times I had visited the Walt Disney World Resort.  But with a trip to Orlando ahead of me I knew I could benefit from the Character Locator subscription this trip.
I have two daughters. They're still very young at only 2 and 5 years old.  My oldest daughter is a Disney geek just like her father.  I asked her:  "What do you like more, characters or rides?"  Like any other 5 year old, there is no way of choosing:  "Daddy I want to do both, as many characters as possible, but I like the rides to."
I spent hours prepping our vacation.  Because I have 3 women to please.  My wife said:"Danny, I think it is ok to please Izzy, but we have 2 little children so we have to do it at an easy pace."
Of course she is right. (please don't tell her I said that ) So 3 goals
A lot of characters
A lot of rides
No rush
Are we still talking about Walt Disney World?  Yes. Are we still going in the Princess Marathon Weekend?  Yes.  A heck of a job isn't it?  Not with Kenny the Pirate.
We had some luck because we stayed on property this time in The Art of Animation Resort.  Luck, because Anna & Elsa and the Seven Dwarfs Mine train are no problem anymore because of the FP+.
We also planned some character meals. We planned Crystal Palace at the end of our first day, Hollywood and Vine during lunch on the second day and the new Citricos Princess Breakfast (temporary meal while Cinderella's Royal Table was refurbished) the day we left
Our Schedule was:
Half day Magic Kingdom
Hollywood Studios
Swimming Day
Half day Magic Kingdom
Shopping Day
Epcot
Half day Magic Kingdom
Going Home after breakfast
Of course I went back one day (with my oldest daughter) to see the Electrical parade and Fireworks in Magic Kingdom.
The last thing I did was for both my daughter was to create an autograph book of our own.  I used previous photos with signing options for characters.  (KtP Note:  You're welcome to use any of my photos for personal autograph books.)  This made the interaction with most characters more fun.  Characters react very funny when they see you met them on previous occasions.
The First day offered a morning Extra Magic Hour in Magic Kingdom.  We had a lot of jetlag so we we're awake at 04:30 AM to be in Magic Kingdom at 6:30 for a 7:00 AM opening.  We walked into the park at 6:50.  In the first hour we met Stitch, White Rabbit with Alice, Rapunzel & Cinderella, Goofy & Donald, Minnie and Daisy. Our total wait time: 0 minutes. We still had time to ride Buzz Lightyear, Peter Pan, the Teacups, Winnie the Pooh and the Barnstormer before the park opened at 8 AM. An important goal for today was Merida but whe had more than an hour before she came out. So we did Dumbo and Philharmagic before we met the Lady Tremaine .
We took a little hot chocolate break and wanted to get in line for Merida. It was still well before 9 AM, I was thrilled when I saw Tweedle Dee and Tweedle Dum. I never met them so meeting them was a no brainer.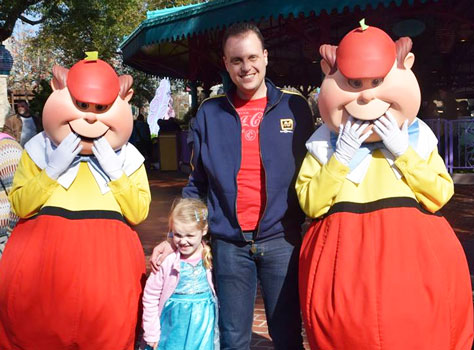 We met them and were the fourth in line for Merida at 9 AM. We had to wait 15 minutes due to her schedule, but before the line opened there where 60 people behind us. Just like Kenny told me.  And I said to my wife: "Told you so." Merida was great fun to meet, when we left at 09:25 (my daughters did some colouring and bow shooting before we headed out). I heard a Cast Member say the wait was over an hour!!! We had Fastpasse for the Mine Train, Anna and Elsa and talking Mickey before we took our lunch oppurtunity at the Crystal palace. After meeting Piglet, Pooh, Eeyore and Tigger our grand Total of that morning was……..20 character and 8 rides. No rush and great fun.  (KtP Note:  This was by lunch :)
The rest of the week we had the same success. Three great things I would mention are:
Character Palooza. 30 people waiting for a "secret" door to open and meeting 7 characters in 20 minutes. Our Palooza had the following characters: Stitch, Pinocchio, Tiana, The Evil Queen, Pocahontas, Mulan and Mushu. This is something I would never know without KtP.
Our meeting with Woody and Jesse. Of course we were the First in line at 10 AM. Woody and Jesse where great fun. Woody saw in an instant I was surrounded by women so he wanted to do a guys picture with me, and he ordered a women's picture on the other side of the area. He let me know he felt sorry for me.
Our meeting with Aurora at Epcot was the last meet I wanted to mention. She came out at 12:30. We where first in line at 12:15. She was so popular the line was closed before she appeared. Despite the long line she was great to my daughter and gave us plenty of time. One picture tells more than thousand words.
We had a great week and the info given by Character Locator helped us. We met 51 different characters (some we met twice), we did all the major rides and shows. For example my daughter did the seven dwarfs mine train 6 times and we met Anna and Elsa 3 times! The longest waits (during a busy time) this week were for Merida, Aurora and Peter Pan. This was because we arrived 15 minutes before a new set, so the wait was 20 minutes. What are my tips for you:
Rope drop. Be there before any park opens. Every minute you are there after the parks opens you lose oppurtunity to do something without wait. You can do more in the first hour then you can do in at least the following 3 hours!!
Listen to KennythePirate!!! All the times and locations in Character Locator were exactly right! Sometimes we could add some bonus characters, but everything turned out to be true. If Kenny says be there at 9 AM or wait an hour it's true. If he says the waittime usually is X minutes during the day it's true.  We have a Dutch saying that states: "Het wiel opnieuw uitvinden", what means, "If there is a best practice use it."  Don't think you can do it better. That is the lesson of today.
Have fun!! If something does not work out the way you planned move on and have fun. You're in the happiest place on earth and with 17 million people visiting the Magic Kingdom you're never alone.
I want to thank anyone who read the story and hope you enjoyed it. This year the plan is to visit Disneyland Paris in the summer and the Disneyland Resort in the autumn. I only could wish there where duplicate Kenny's for those parks.  (Could be in the future, but for now there's only Character Schedules above for Disneyland and California Adventure).