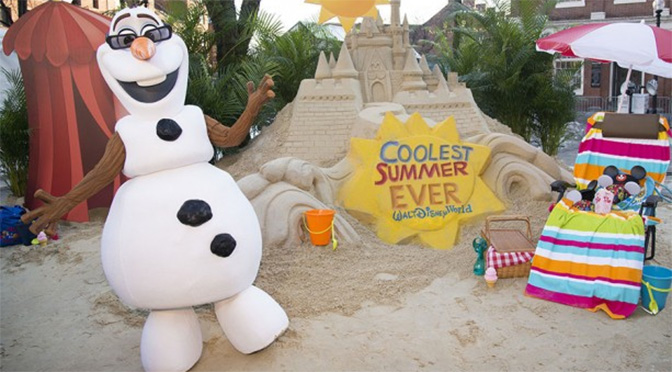 Disney Parks announced earlier today that they will offer another 24 hour event at Walt Disney World's Magic Kingdom and Disneyland parks.  The theme this year is "Coolest Summer Ever" and again offers a Frozen theme for their summer guests.
The event will again be hosted on the Friday before Memorial Day, which is Friday, May 22 and is included with admission to either park.  The 24 hour day will begin at 6am May 22nd and end at 6am on May 23rd.  Guests are invited to dress in their best "Disney Side" interpretation.
Walt Disney World
Olaf the snowman is considered the official host for the "Coolest Summer Ever" event.  Here's a sampling of events for the summer season:
Frozen Fun – "Frozen" Summer Fun LIVE will bring Princess Anna, Queen Elsa, Kristoff and Olaf with citizens of Arendelle appearing daily at Disney's Hollywood Studios June 17-September 7.
Star Wars Weekends – Guests at Disney's Hollywood Studios find stars from another galaxy during Star Wars Weekends May 15 – June 14.
New Restaurants and Shopping – Throughout the summer, new waterfront dining and boutique shops flow into the Downtown Disney shopping/dining/entertainment district as its transformation into Disney Springs continues.
Epcot Entertainment – New entertainment acts will appear throughout Epcot World Showcase, which also brings a fresh summery twist on fan favorite, Voices of Liberty.
A Splash at Water Parks – A cool new deal doubles the fun at Disney's two iconic water parks – Disney's Typhoon Lagoon and Disney's Blizzard Beach.
While the parks will be quite busy, you can still accomplish a great deal as my daughter and I completed 100 attractions in a single day in 2014 at the Magic Kingdom.
Disneyland
The all-day/all-night celebration at Disneyland on May 22 will include dancing and special character encounters at locations in Disneyland and Disney California Adventure parks, along with enchanting Disneyland Resort Diamond Celebration décor throughout the resort.
Here's a look at what is coming when the Disneyland Resort Diamond Celebration begins May 22:
"Paint the Night" Parade – After dark, along the Disneyland park parade route, 24-hour event guests will be among the first to see the new "Paint the Night" parade, showcasing beloved Disney characters in dazzling parade scenes illuminated with more than 1.5 million individually controlled lights – the first all-LED parade in Disneyland Resort history.
"Disneyland Forever" Fireworks – Disneyland park itself plays a starring role in the "Disneyland Forever" fireworks spectacular, also premiering during the 24-hour event. Breathtaking fireworks shows have long been a Disneyland Resort tradition and "Disneyland Forever" soars to new levels, immersing guests from the tips of their toes to the brilliant pyrotechnic bursts above, thanks to special effects that turn the storefronts of Main Street, U.S.A., the Matterhorn and the facade of "it's a small world" into gigantic projection screens filled with color, characters and surprises.
"World of Color – Celebrate! The Wonderful World of Walt Disney" – Award-winning actor Neil Patrick Harris and Mickey Mouse will be the hosts of the all-new "World of Color" show, premiering May 22 during the 24-hour event. "World of Color – Celebrate!" illuminates the night in a fun-filled and inspirational journey exploring Walt Disney's decades-long legacy of memorable animated moments and his dream of Disneyland park.
I'll share more details as they are revealed.  Feel free to pin this on Pinterest and share on Facebook to help others enjoy this great event.