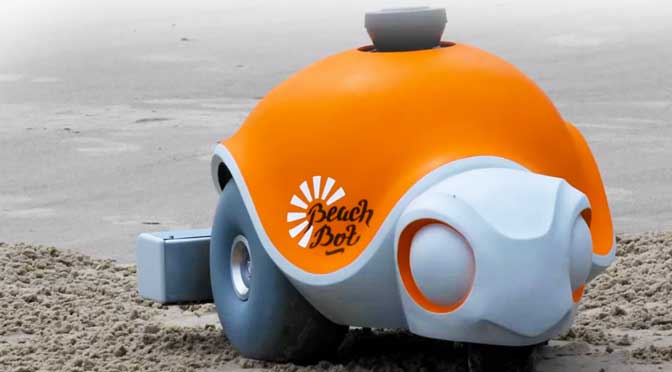 Disney has been known since Walt first began as a company of innovation and creativity.  In recent years they have presented us with Star Tours 2.0, Lucky the Dinosaur and WallE.  Disney Research Zurich along with ETH Zurich has created an awesome little robot that they are calling "BeachBot."  BeachBot's lone job is to create large scale sand pictures along a beach.  In the image below they create a giant Nemo.
BeachBot works by dragging various automated pins through the sand like a rake with teeth that can be controlled.  Each pin has individual movement so it can create any image on the beach from Mickey Mouse to the Mona Lisa.
BeachBot moves along on "balloon wheels" as Disney refers to them.  The special wheels allows it to move across the sand without leaving considerable tracks or ruining it's own outlines. It's like having an etch-o-sketch on an enormous scale.
The creators stated, "The BeachBot is an autonomous robot that can create large scale sand art. The robot will be deployed at a public beach to amaze beachgoers who pass by. Not only the final picture is important, the whole drawing process will provide an exceptional, magical show.
The BeachBot is not just a lifeless, mechanical being; it is a friendly looking creature with a soul."
Why did Disney create this?  Who really knows?  But Disney does have several beach resorts, so it could be used to entertain guests by just looking out their windows.