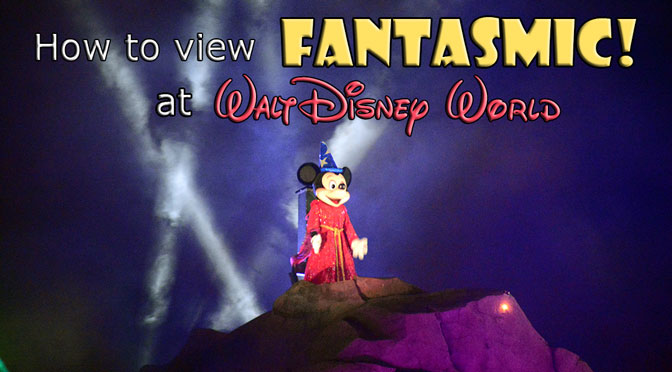 How to view Fantasmic! at Hollywood Studios in Walt Disney World
Fantasmic! at Hollywood Studios is a wonderful way to end your night.  It presents Disney live action characters, giant water screen projections and low level fireworks to create a unique Disney World experience.  The show tells the story of good vs evil with Mickey being the good guy and the Disney villains taking the opposite role.
The gates open 90 minutes before showtime for the first show and 45 minutes before showtime for the second or third shows.  Guests ARE allowed to bring in or purchase food and beverages.  The theater currently seats about 11,000 guests per show.
NOTE:  Fantasmic! may be scary for some younger children.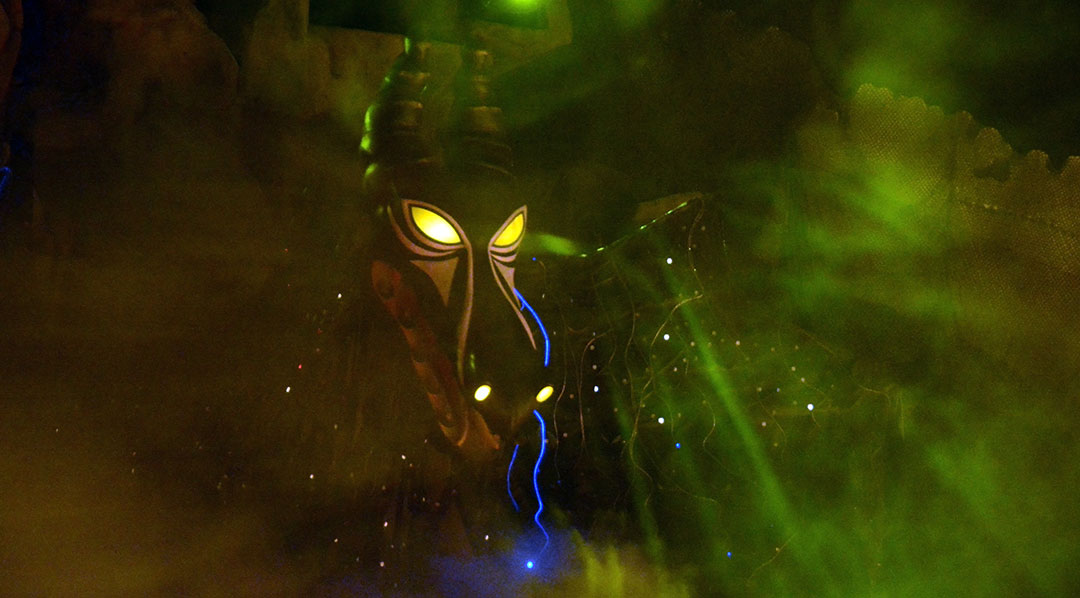 What Characters appear during Fantasmic?
As of August 2014 here are some of the characters you might see nightly at Fantasmic!
Mickey Mouse
Maleficent & her in dragon form
Snow Queen & Old Hag
Kaa
Pocahontas, John Smith & Meeko
Gov Ratcliffe
Ariel & Eric
Belle & Beast
Tiana
Snow White and her Prince
Baloo
Brer Bear
Dopey & other dwafs
Pinocchio & Gepetto
Rafiki
Chip n Dale
Goofy
Minnie Mouse
Donald Duck
Mary Poppins and Bert
Aladdin and  Jasmine
Genie
Mulan
Pluto
Lilo & Stitch
Max
Tigger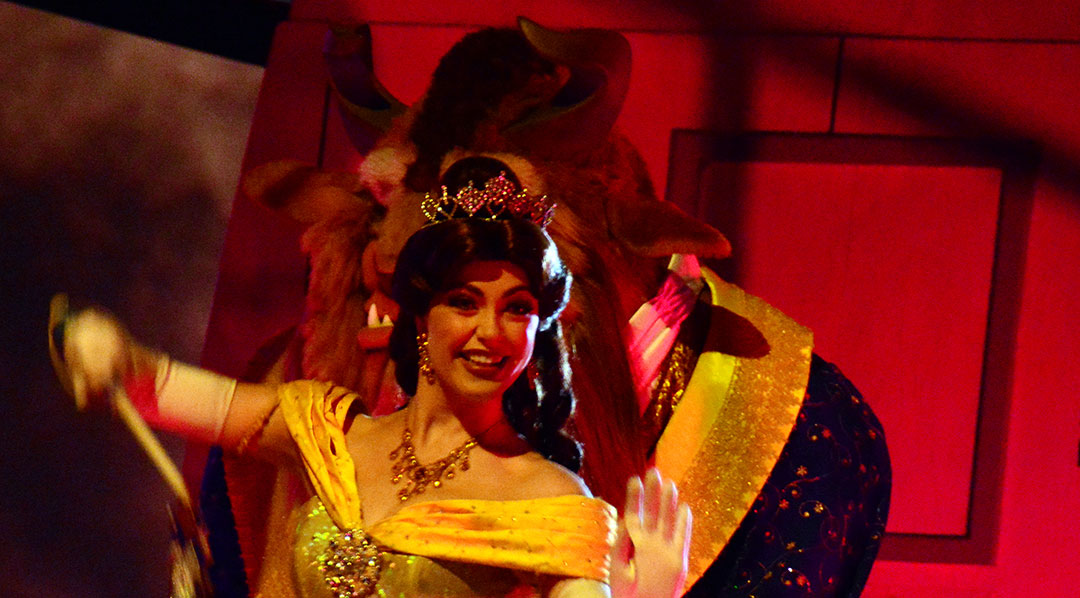 What are my options for seating at Fantasmic?
1.  Fantasmic! Dining Package
A few months ago Disney World finally made the Fantasmic Dining Experience a very positive one by moving the reserved section to the center "Mickey" section of the theater.  For several years guests paying extra for the dining experience were forced to sit far to the right.  But Disney has corrected this issue and now those booking this dining experience now get the primo seats for Fantasmic!
If there are multiple shows on a given night, the Fantasmic! Dining Package and VIP seating  is only available for the FIRST show.  Plan to arrive 20 to 30 minutes early for your choice of seats in the VIP area.
Select Your Restaurant and Meal
The Fantasmic! Dining Package is available for lunch and dinner meals at Mama Melrose, The Hollywood Brown Derby and DINNER ONLY at Hollywood and Vine.
| | | | | |
| --- | --- | --- | --- | --- |
| | Adult | Child | Choices | Dining Plan Credits |
| Mama Melrose | 37.99 | 12.99 | Entree, Dessert & Non-alcoholic beverage | 1 Table Service |
| Hollywood Brown Derby | 56.99 | 16.99 | Entree, Dessert & Non-alcoholic beverage | 2 Table Service |
| Hollywood and Vine | 35.99 | 19.99 | Buffet & Non-alcoholic beverage | 1 Table Service |
Advance reservations for the Fantasmic! Dining Package are highly recommended and can be made up to 180 days prior to your visit.  The reservation MUST be guaranteed with a valid credit or debit card and a fee of $10 per person will be charged, if you fail to cancel within 48 hours of your date.
NOTE:  I would recommend this dining package for guests who wish to view the first show and guests who are attending the park when Fantasmic! is only offered once on their date of choice.
When and where do I enter?
You enter the Fantasmic! Dining Experience line beside the entrance to Beauty and the Beast on Sunset Boulevard.  It is clearly marked and Cast Members are on hand to assist you.  I recommend entering 30 minutes early for your choice of seats in the VIP center section.
2.  Use Fastpass+ to reserve a seat.
If you plan to use Fastpass+, only do so as a 4th or subsequent Fastpass option.  This post will help you understand your Fastpass+ priorities.  Fastpass+ doesn't guarantee you a specific seat or specific seating section.  It only guarantees that you'll be allowed to enter the theater area.  Arrive 30 minutes early for the better seats, but they won't be center section for the first show!
NOTE:  If Disney only offers ONE showing and you don't wish to use the dining package, you should use a FP+ to assure a seat and arrive 45 minutes early.
3.  Wait in the Stand By line.
Some guests wait in line up to 2 hours early, but it's really not necessary to do this.  Only during the busiest holiday periods will the first show fill to capacity within 30 minutes of showtime.  Plus they usually offer multiple shows per day when the park is busy and the second or third shows are easier to find seating with less wait.
NOTE:  If you wish to sit in the center section for the best view, either book the Fantasmic! Dining Package for the first show or arrive 30 minutes early for the second or third show!
How can I know when Fantasmic! is presented during my vacation?
I try to make that really easy.  Just use my Crowd Calendars which contain full park hours, extra magic hours, evening spectaculars dining booking dates and Fastpass booking dates.  They are updated regularly.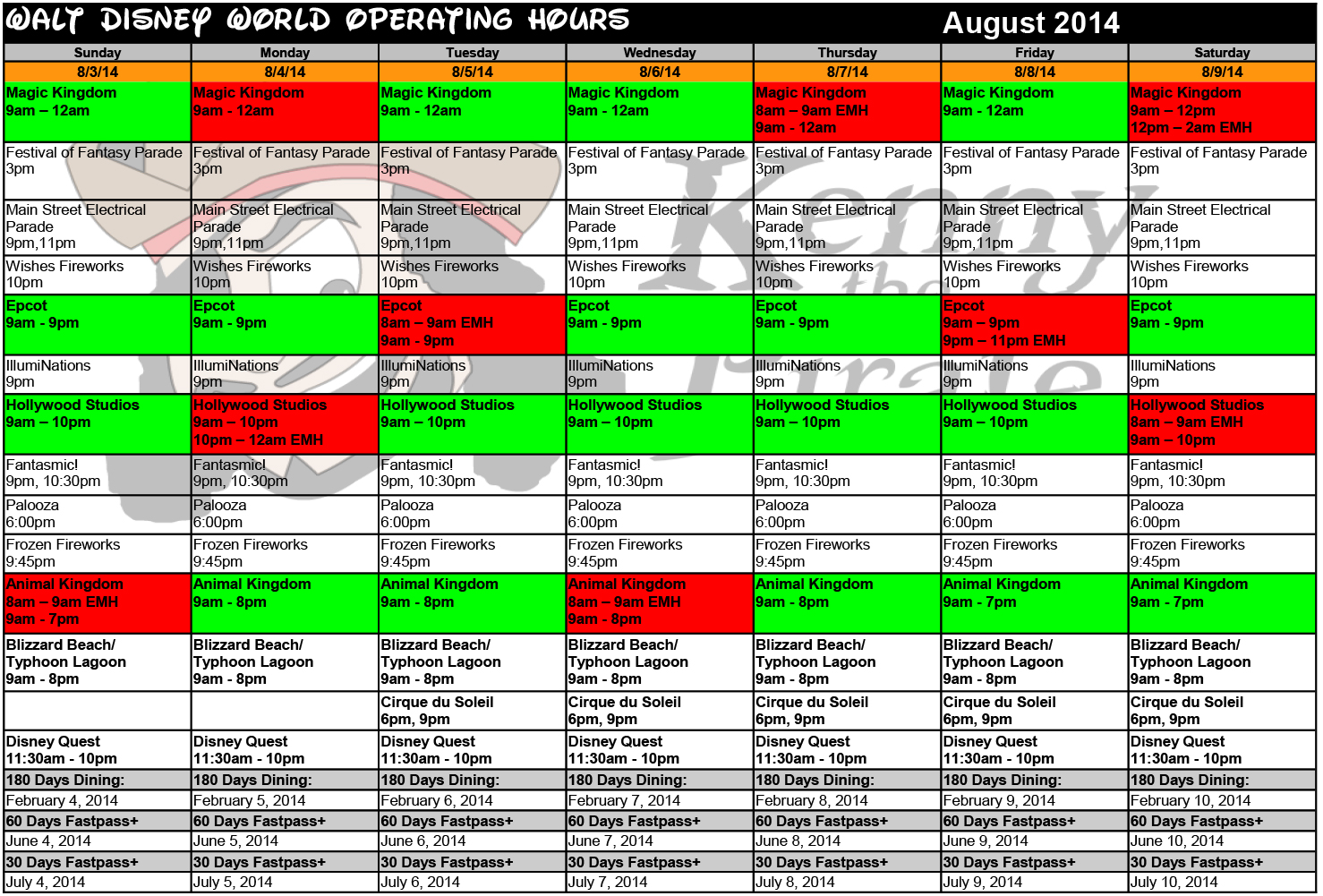 Fantasmic! photo gallery
Are you planning a vacation? Reach out to our trusted travel agency sponsor Authorized Disney Vacation Planner
Mouse Class Travel
!