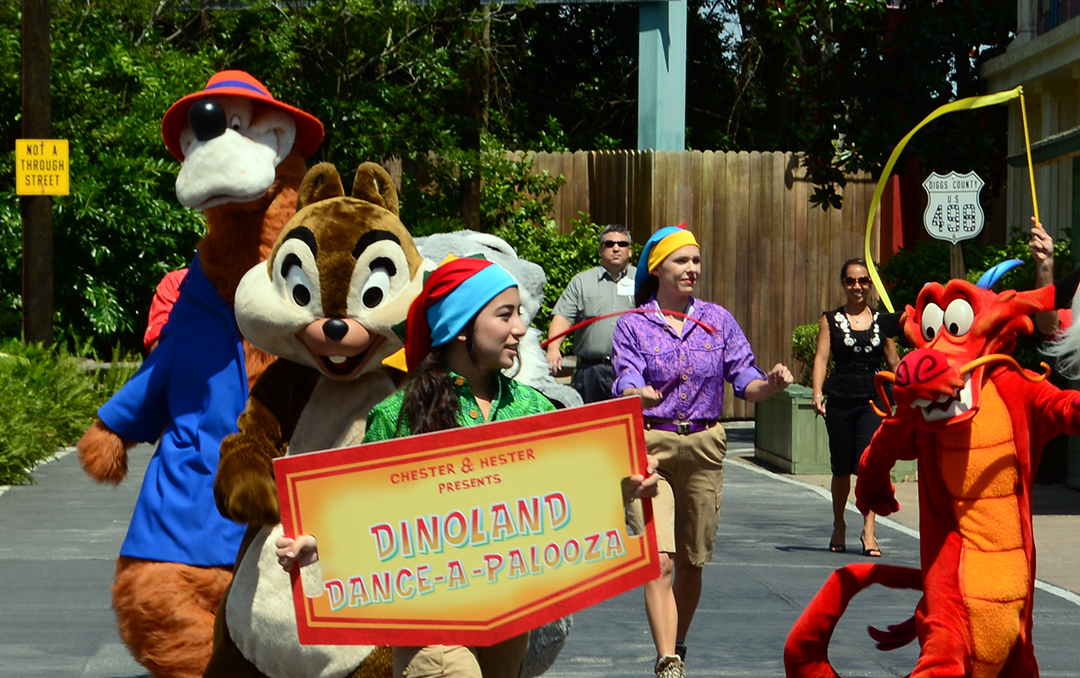 Dinoland Dance-a-palooza
We ventured over to the Animal Kingdom's Dinoland Dance-a-palooza dance party on Saturday afternoon.  It was about 95 degrees, so everyone was pouring sweat with the 712% humidity that we experience here in tropical Florida.
I've previously documented a visit to the Dinoland Dance Party and I was able to dance with Gypsy Moth and Slim on that visit!  You never know what characters will appear, but they tend to be the same for the Daily 3:30pm and 5:00pm shows.  The characters are NOT available for regular meet and greets and do NOT sign autographs.  They are there to dance and have fun.
Be sure to check www.characterlocator.com for updated times during your visit.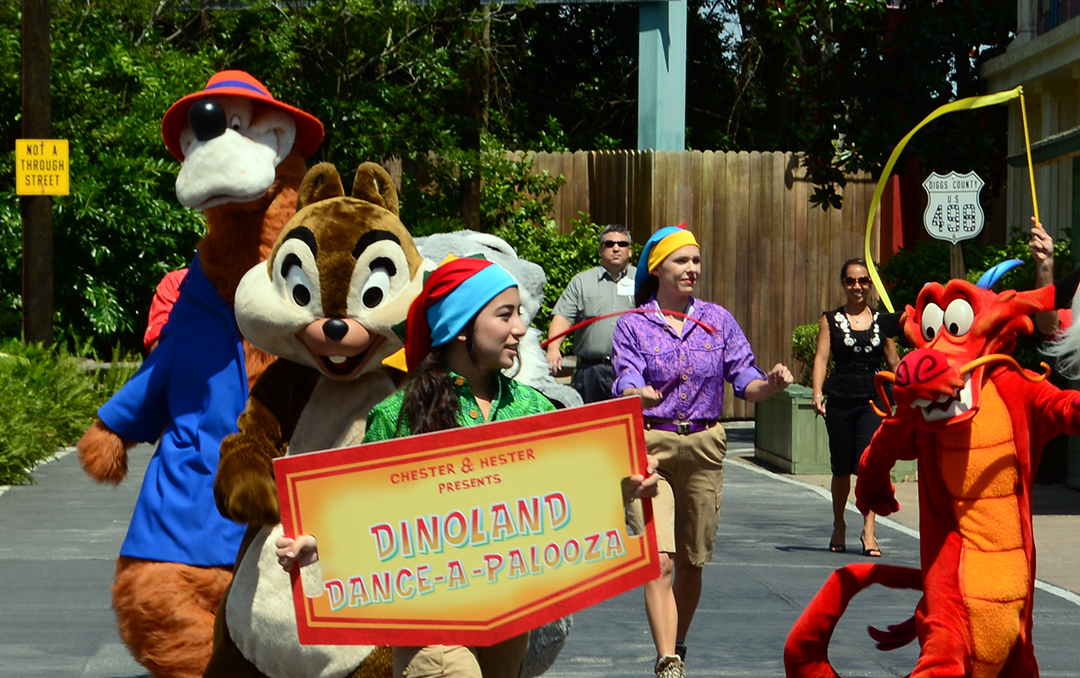 From my viewpoint I saw Brer Bear, Chip, Meeko and Rafiki initially.  Jordyn was all excited and I was wondering why she was jumping up and down to see these characters that we've met about 6 billion times previously. I know Chip and Meeko are great fun, but why the excitement?
She saw MUSHU.  "Mushu, Dad, it's Mushu!  Oh my goodness!  This is so cool!"  Isn't it neat that my daughter who has been to Disney parks hundreds of times still gets excited to find something new?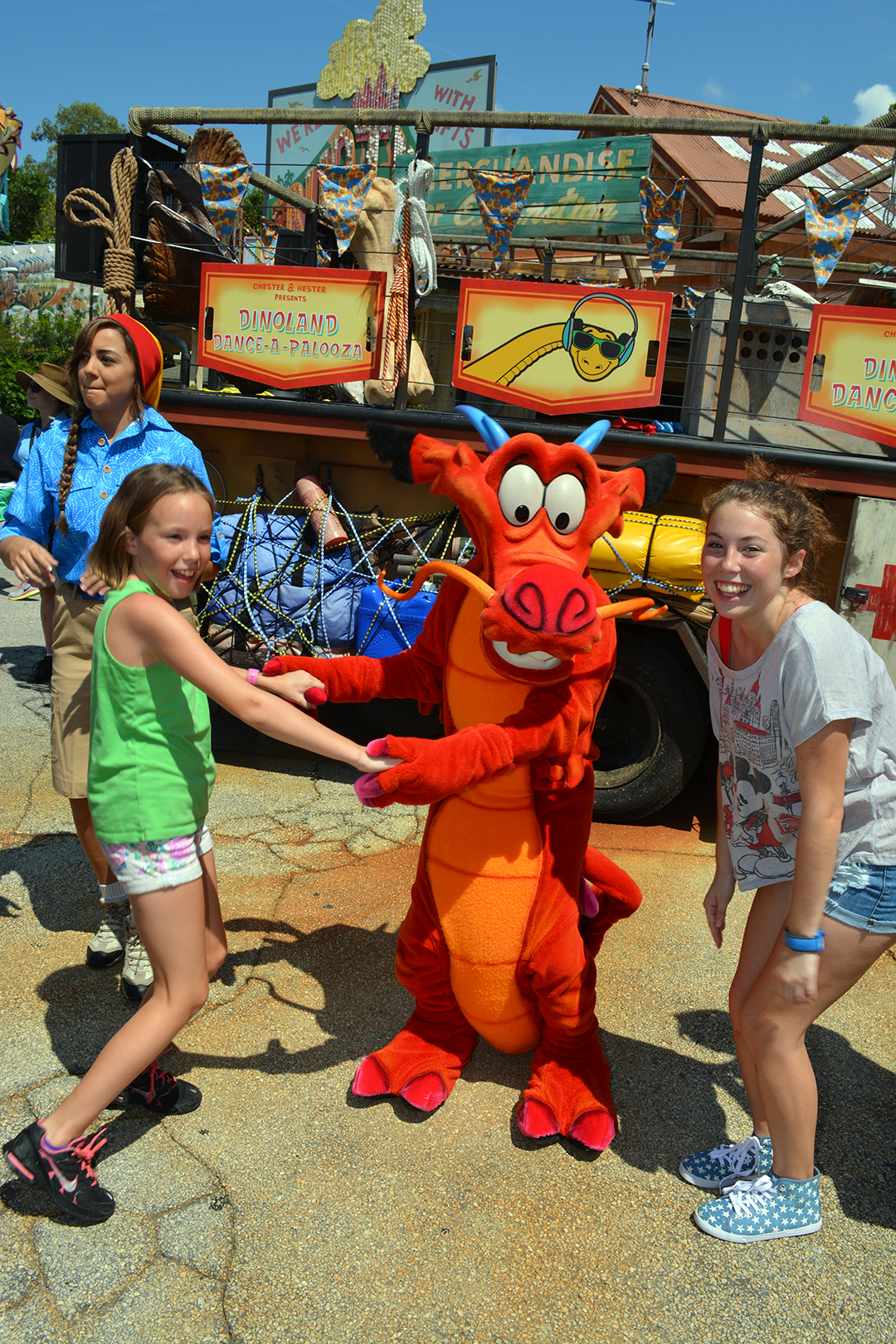 Mushu was there to dance, but he was very accommodating of a quick photo as he stayed in the same location for the entire time.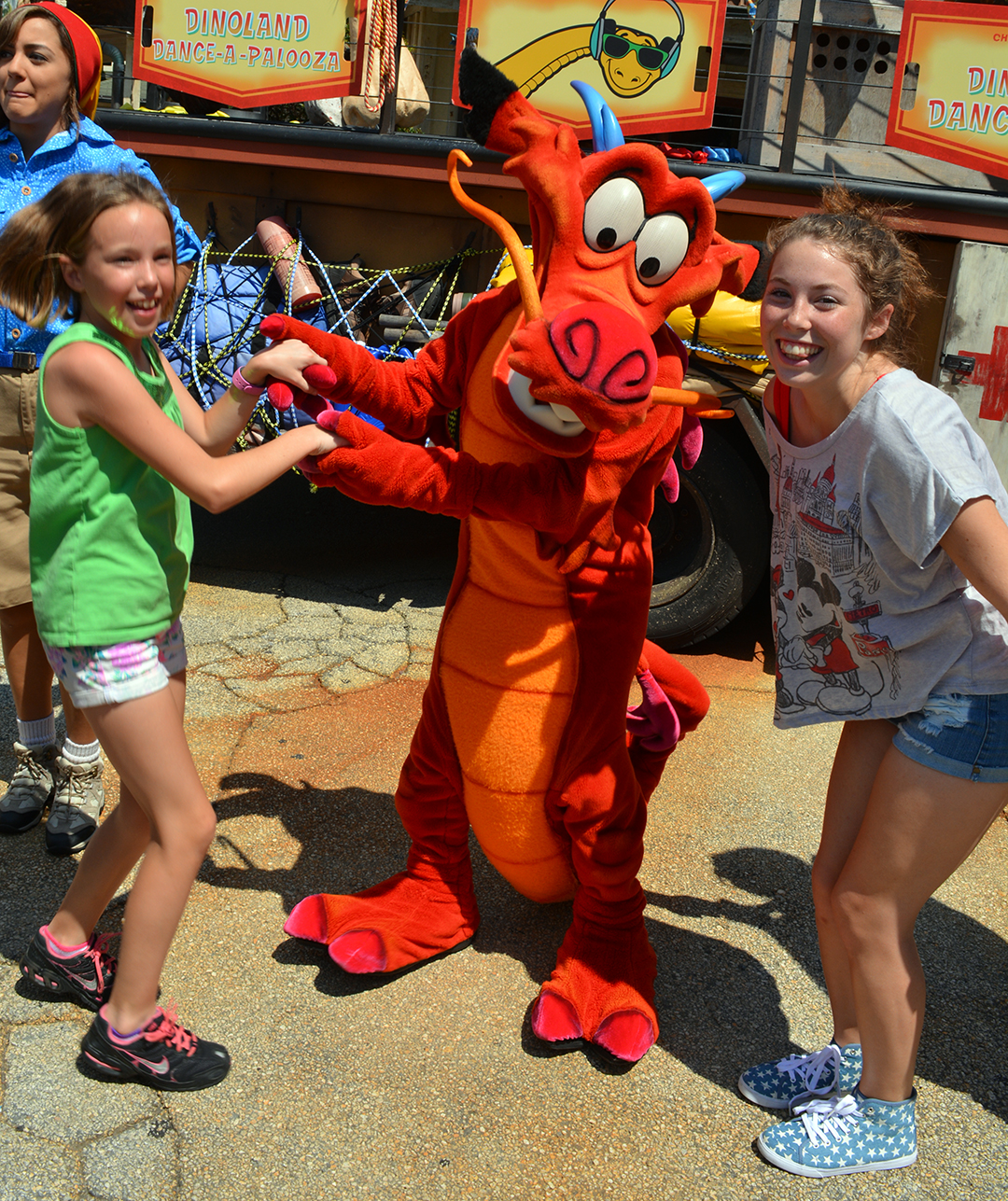 Brer Bear was there directing the dance steps.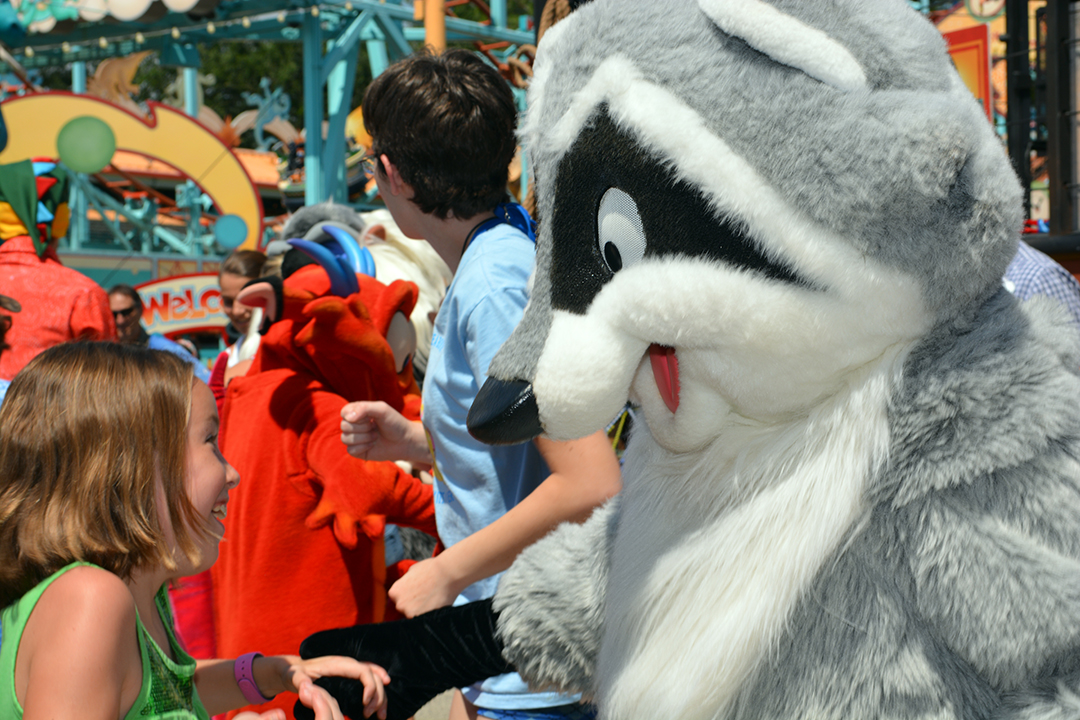 Meeko immediately took a liking for spending some time with my little girl and they danced around for quite a while and held hands while doing the conga line thing.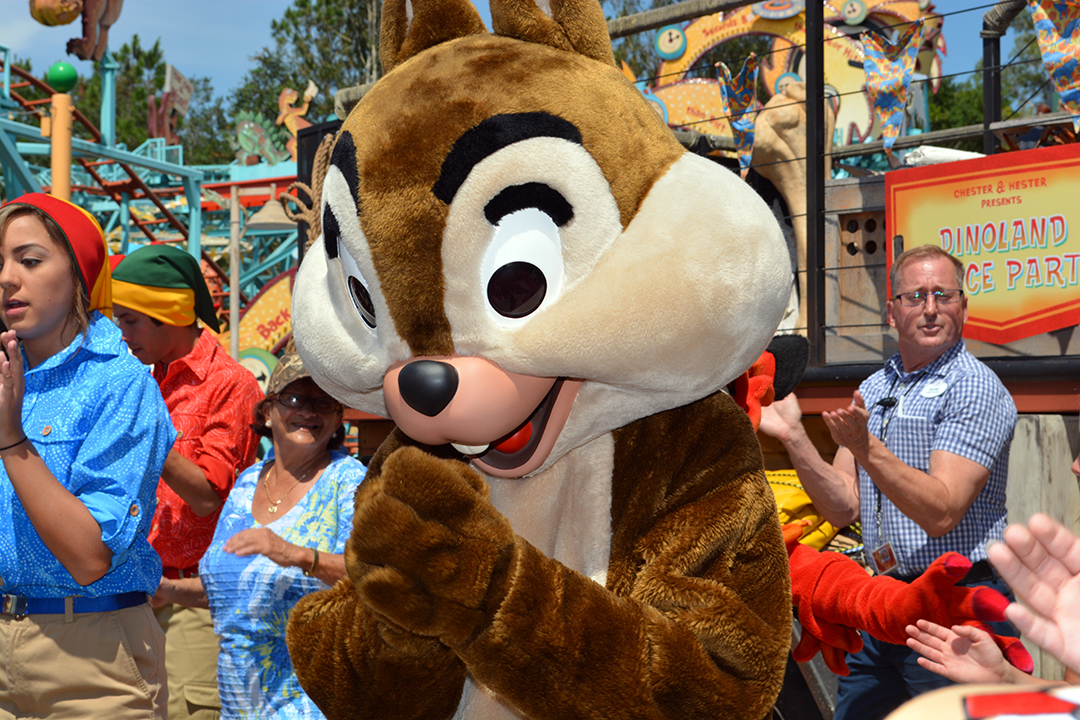 Some folks find it difficult to see smiling faces in Walt Disney World, but anytime there's a favorite character involved, there will be smiles abounding.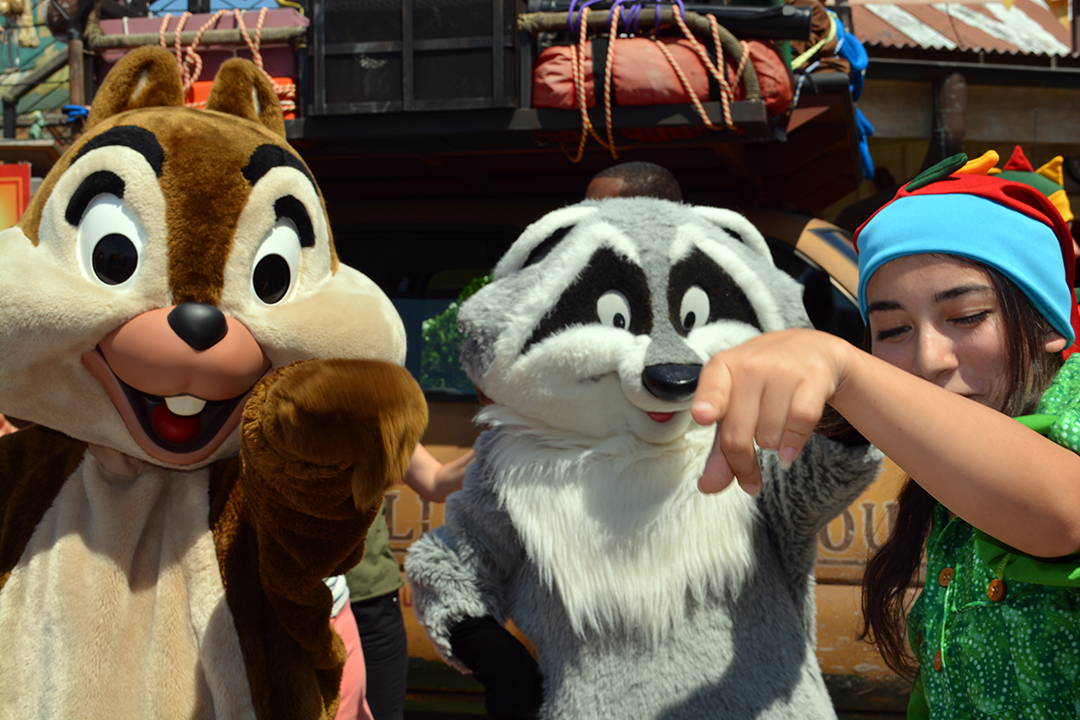 Even rafiki has a bit of a grin.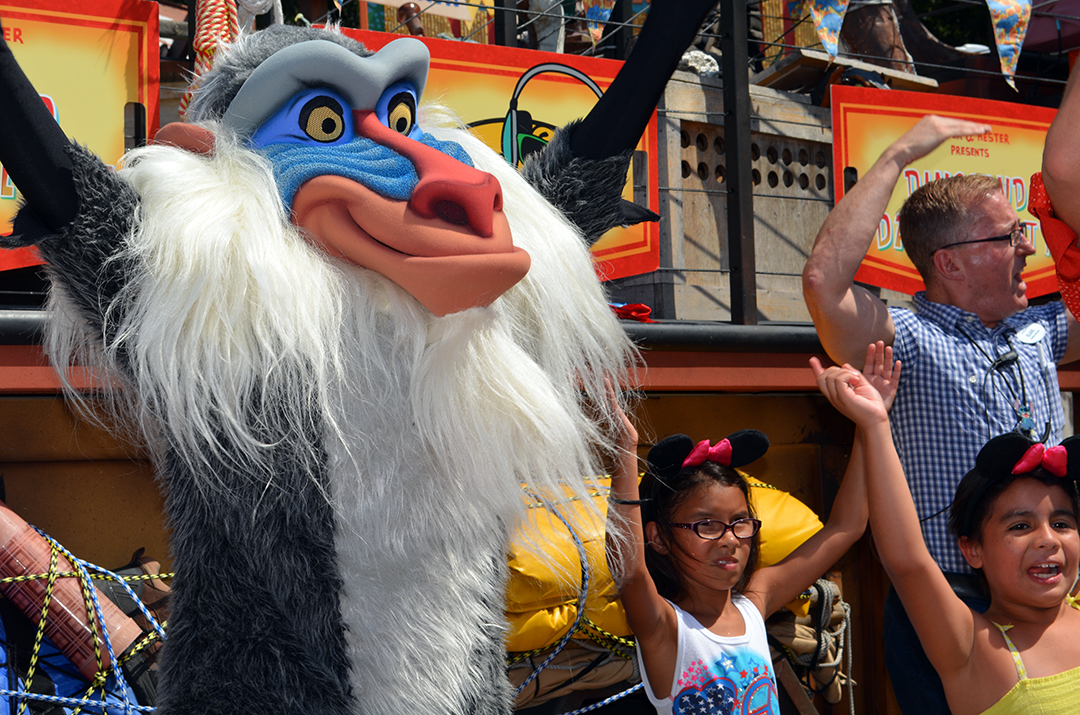 The smiles aren't just on the characters faces or the kids faces, even the mommies seem to love snapping photos of their kiddos dancing with some great Disney characters.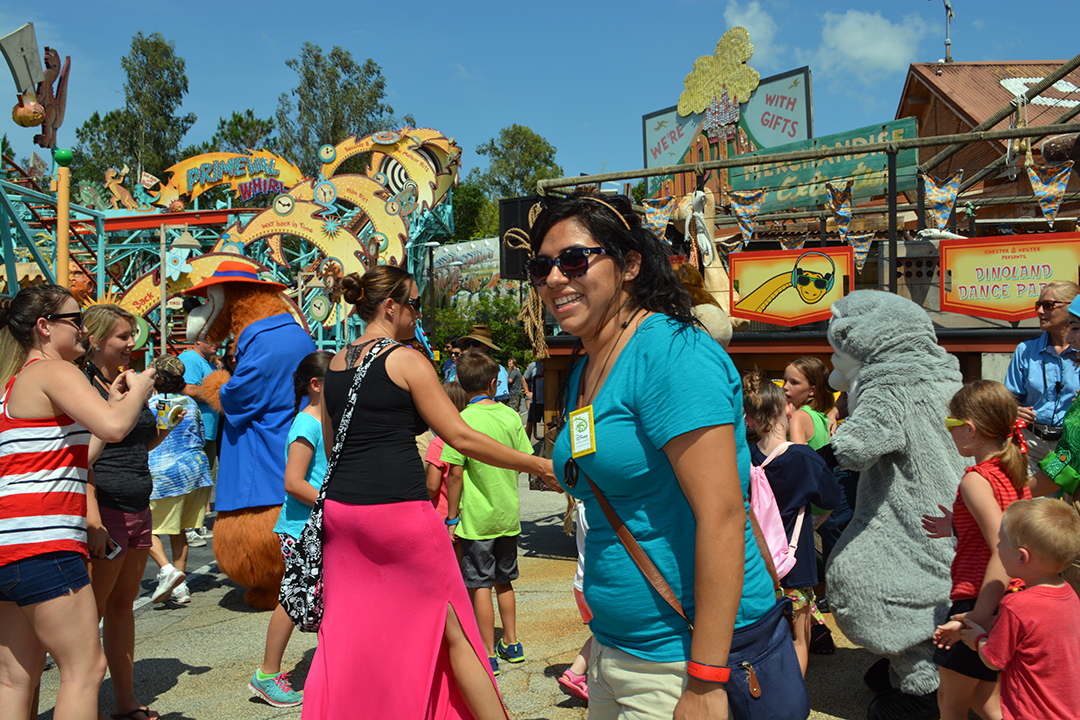 Mushu seemed happy despite the horrid heat.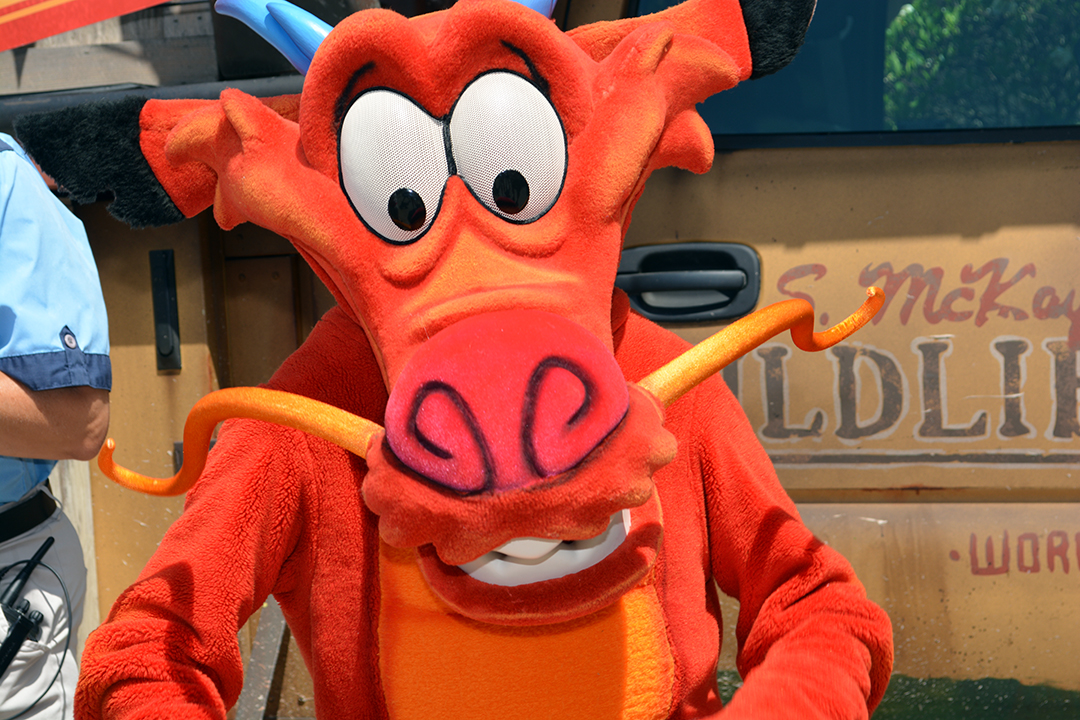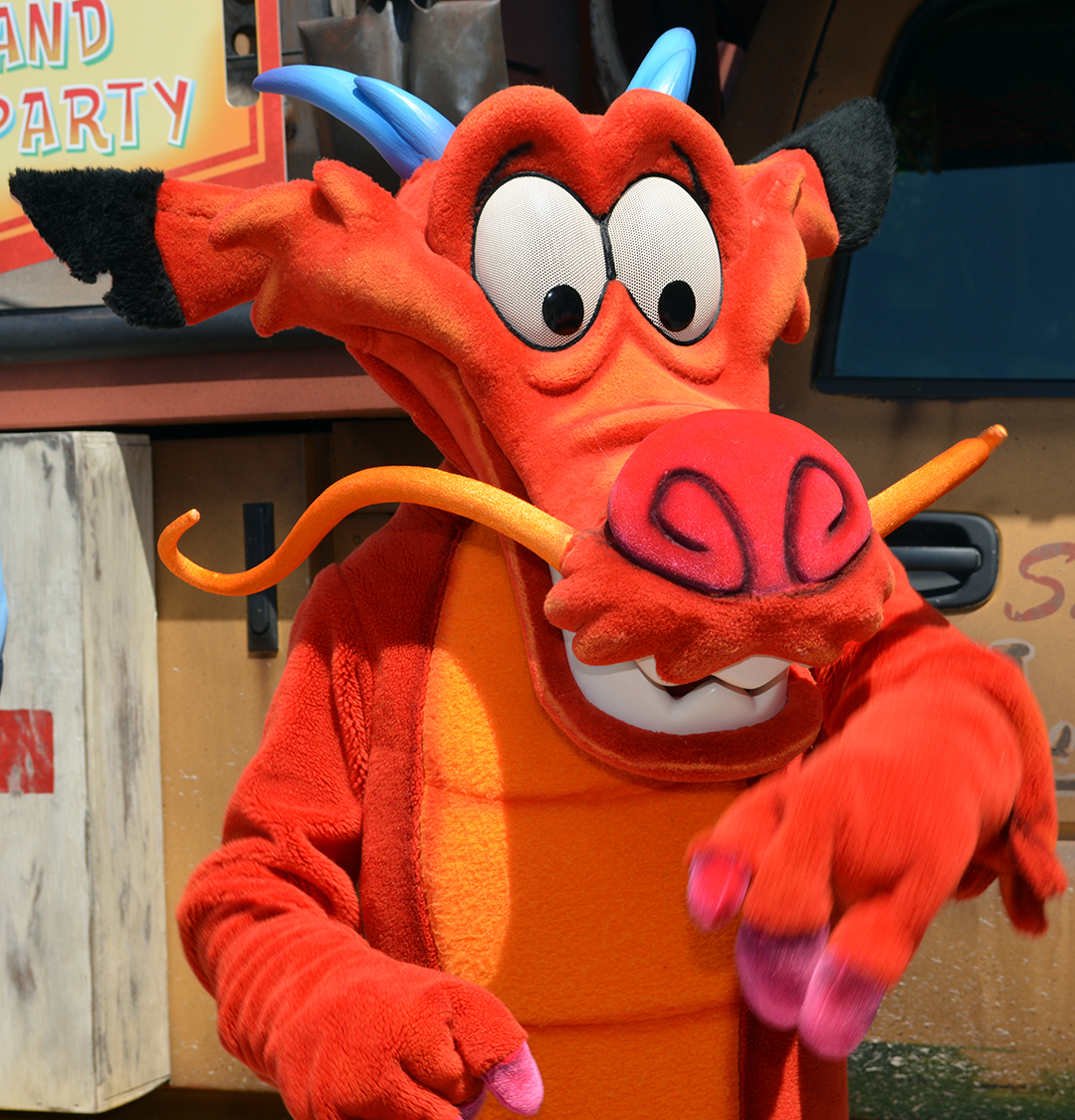 This dancing Cast Member guy seemed pretty happy.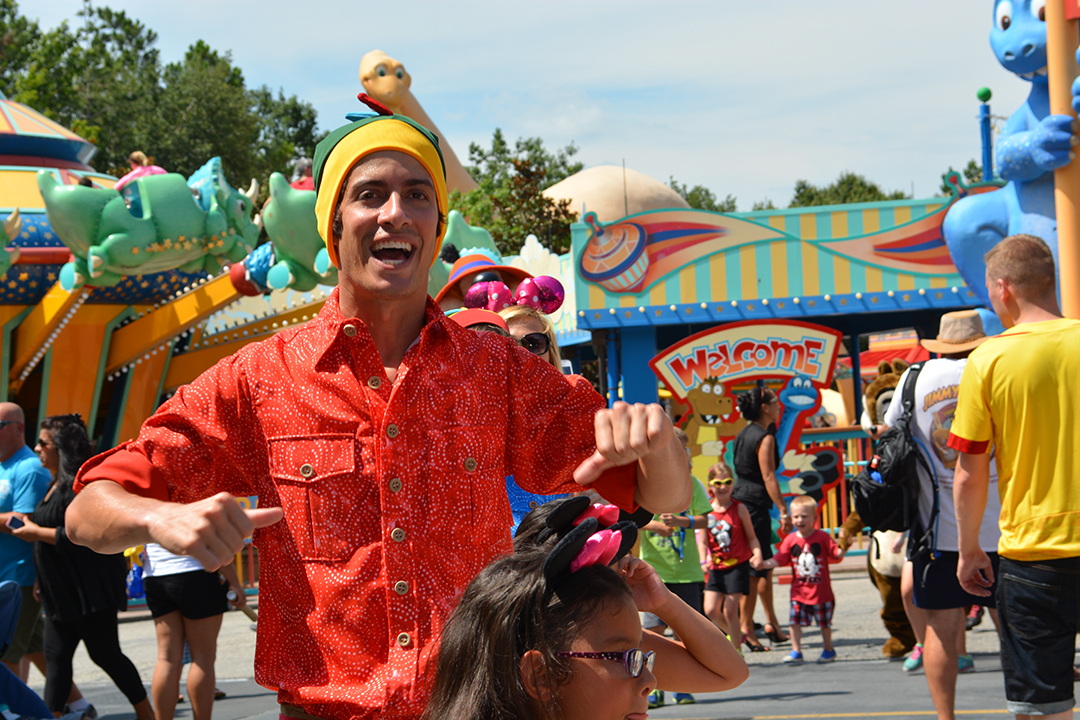 My daughter seemed pretty happy.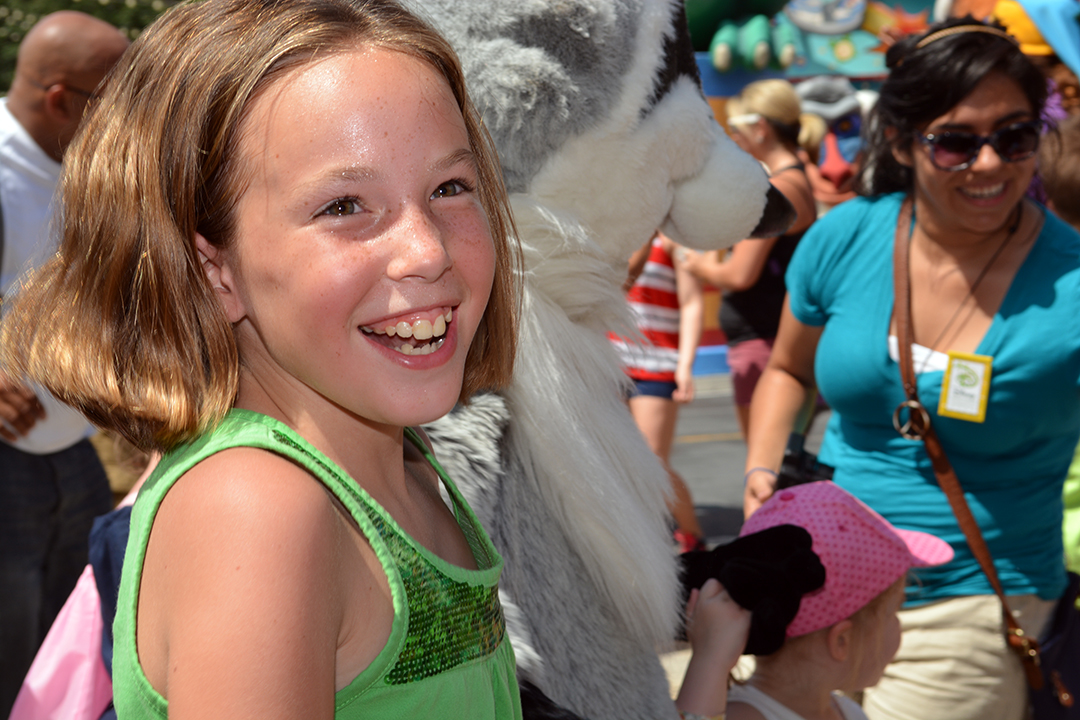 Chip seemed pretty happy.
I caught Mushu doing one of the few dance moves with which I'm familiar.  It's the classic John Travolta "Stayin' Alive" pose.  I'm pretty good at the lawn sprinkler and the grab your ankle and fall down move too.  Mushu didn't try the ankle thing.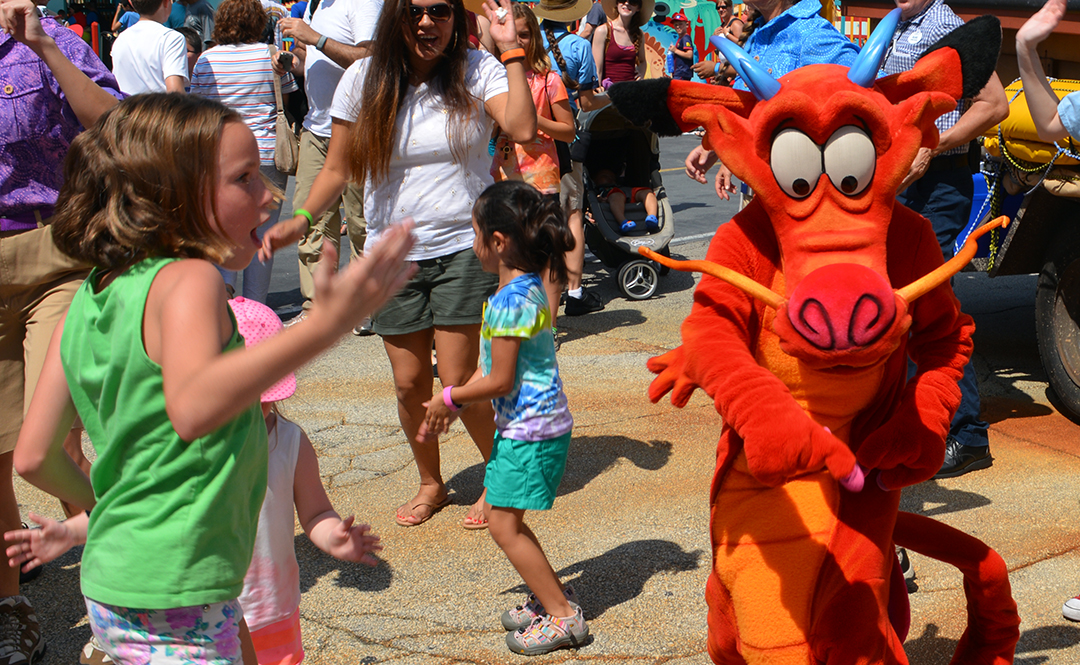 Kids and families seem to love all the dance parties that Disney World offers these days.  I love a good old meet and greet, but I love seeing my little girl have fun even more.  Be sure to check this out on your next trip.