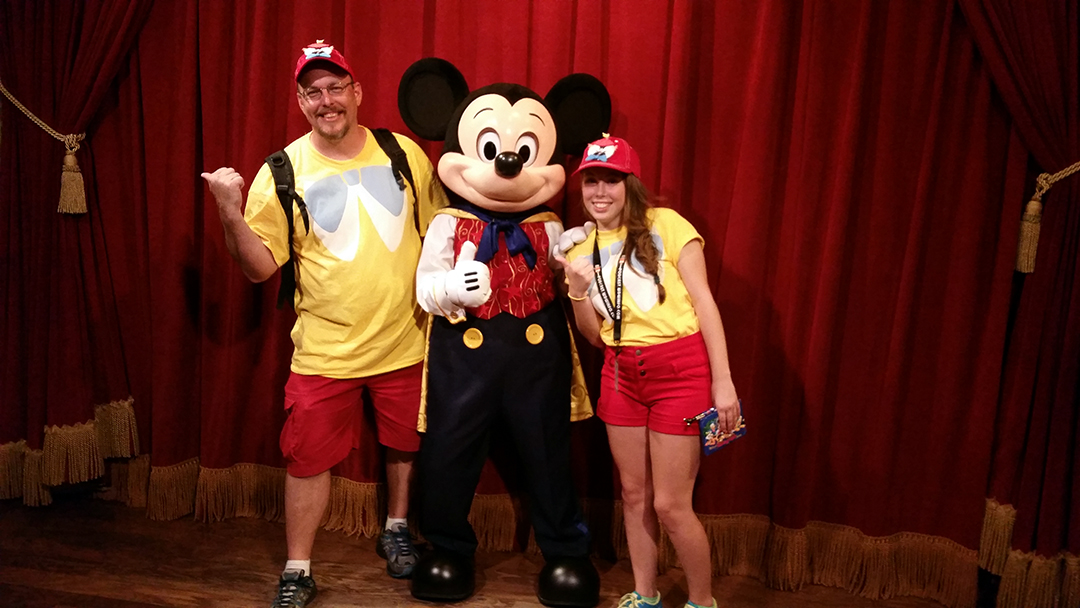 KennythePirate's Ultimate Magic Kingdom Experience on the Rock Your Disney Side 24 hour day.
"The Quest for 100″ – Part Three
This is the link for  Part One.
We left off Part Two at 6pm on May 23.  We had accomplished  56 attractions in about 12 hours and we were in the Castle Hub watching Move it, Shake it, Celebrate it.
57.  Buzz Lightyear
We heard guests entering the park talking about characters meeting out at the Mickey Floral.  We figured it would be a couple of easy bonus meets and made our way down there to find that the characters were gone.  We hustled back to Buzz Lightyear Space Ranger Spin to use our Fastpass+ before it expired.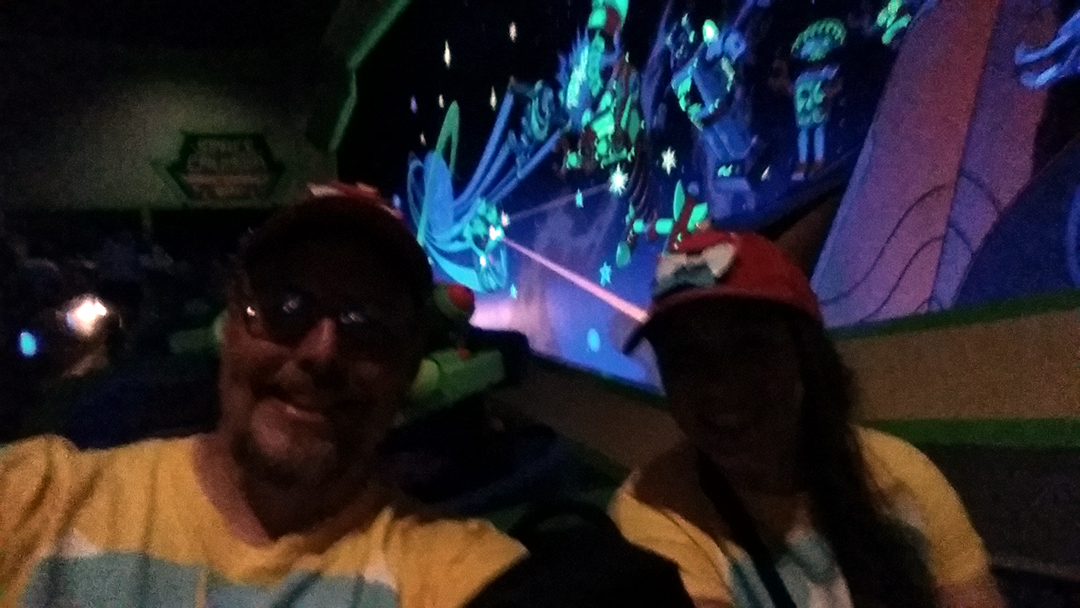 With my aggressive approach, I dominated this game.  Either that or Jordyn was really tired after 12 hours of roaming all over the Magic Kingdom.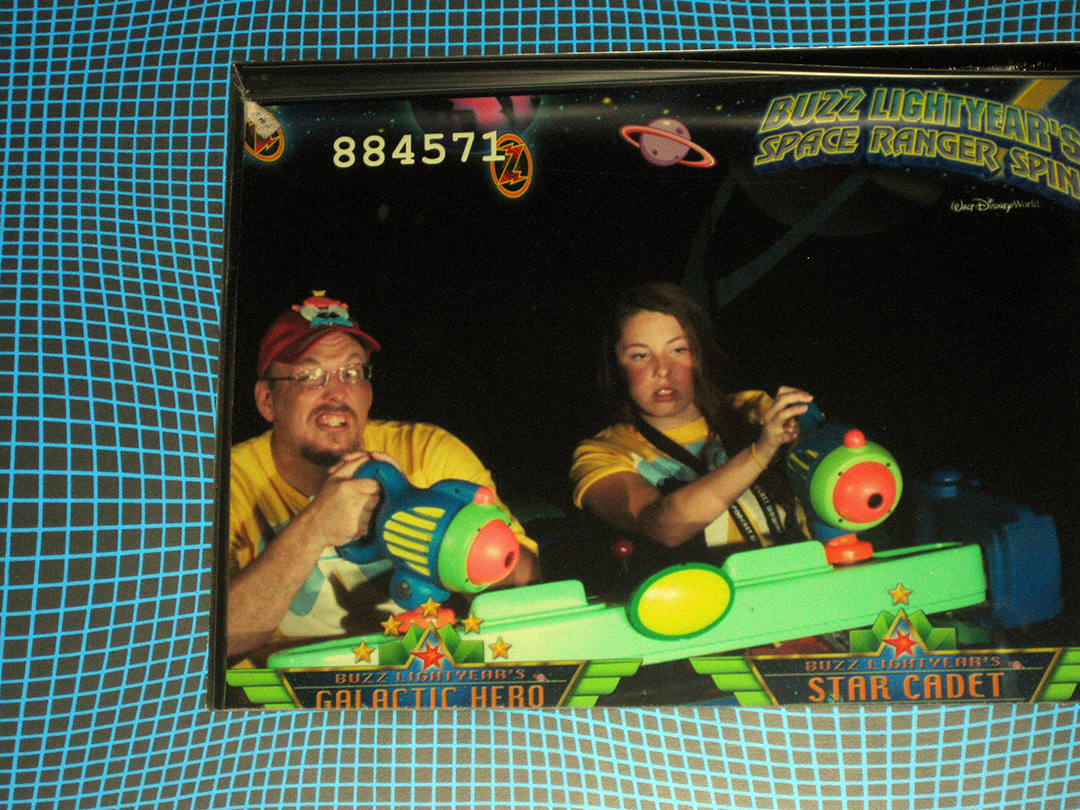 58.  Monsters Inc Laugh Floor Comedy Club
After spending a few minutes acquiring a Space Mountain FP+ in front of the Buzz Lightyear ride, we darted into the Laugh Floor.  We only had to wait about 5 minutes in the final pre-show area before the doors opened.  We love this attraction because it's full of corny jokes, just like me!  Here's a few Laugh Floor jokes you can try when you visit.  Feel free to add a few to the list.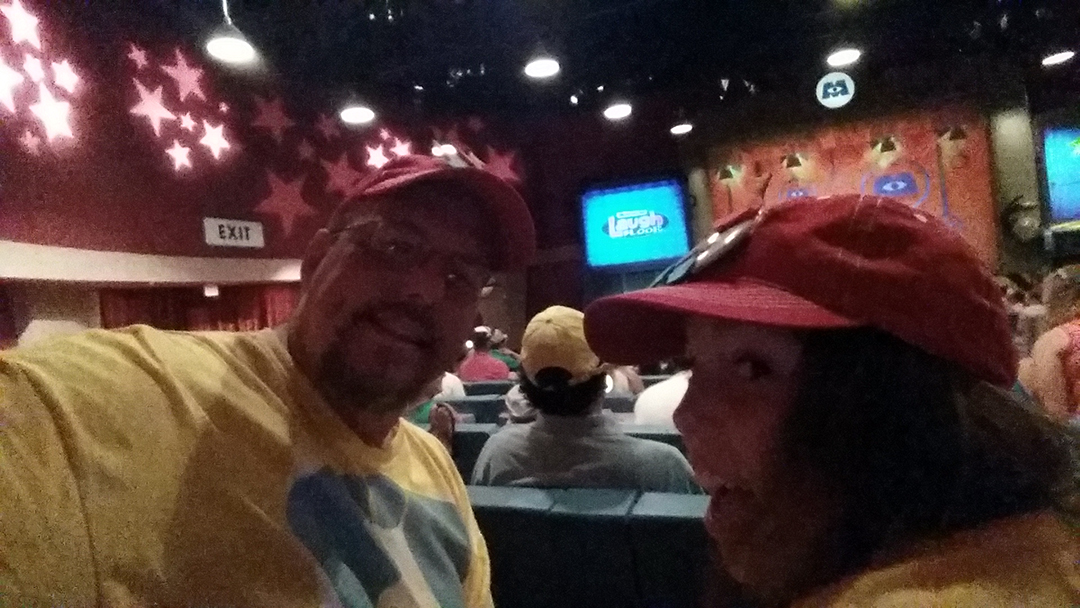 59. Incredibles Super Dance Party
A short restroom break and refilled the water bottles before taking in the Incredibles dance party.  We boogied down with Frozone and Mr. Incredible for the required 5 minutes before moving on.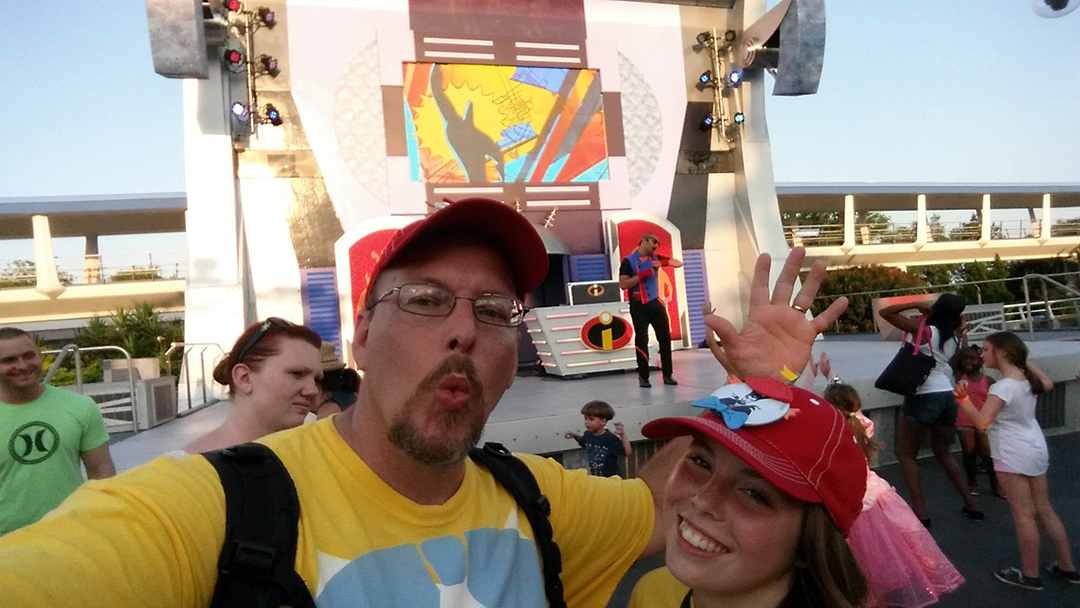 60. Carousel of Progress
Tired, I'm tired.  Can you tell?   As we arrived at the Carousel of Progress, the door swung open, so there was no waiting.  It was really tough not to fall asleep, but I made it through every holiday.  After 13 hours and 60 attractions, I was pretty pooped.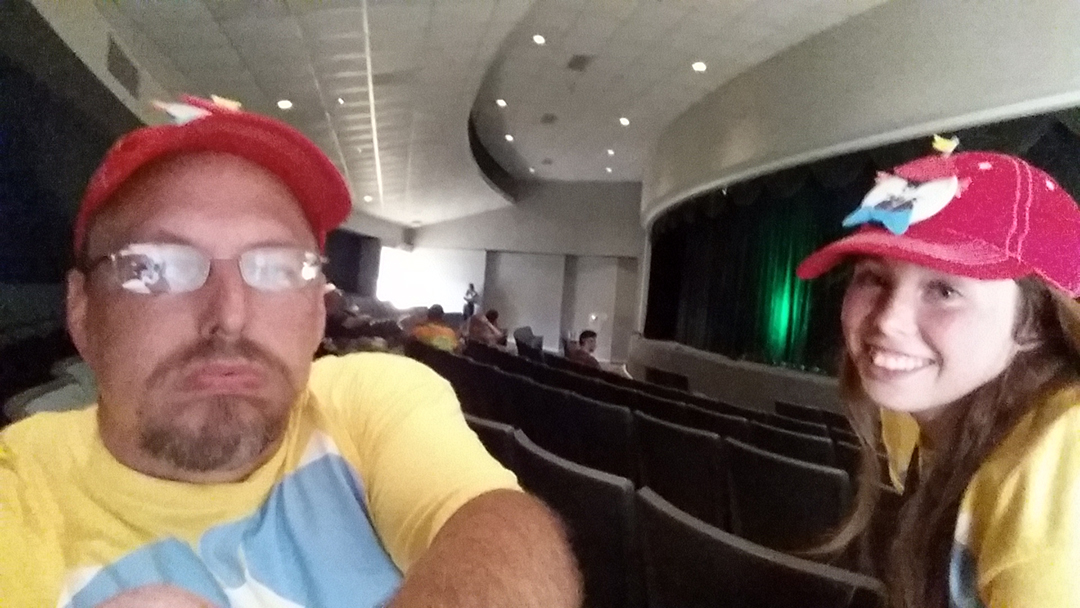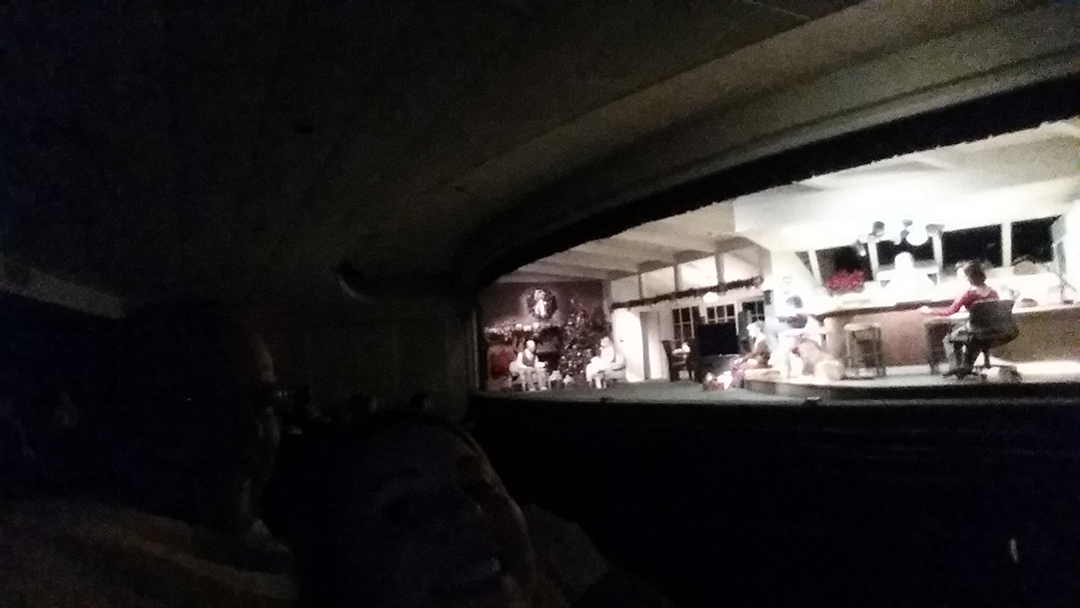 61. Space Mountain
It was time to use our Fastpass+ for Space Mountain.  We only waited 7 minutes for our tour through the cosmos when other guests were waiting 55 minutes for the same attraction.  I guess they don't understand how to use the FP+ system or they wouldn't have been waiting either :)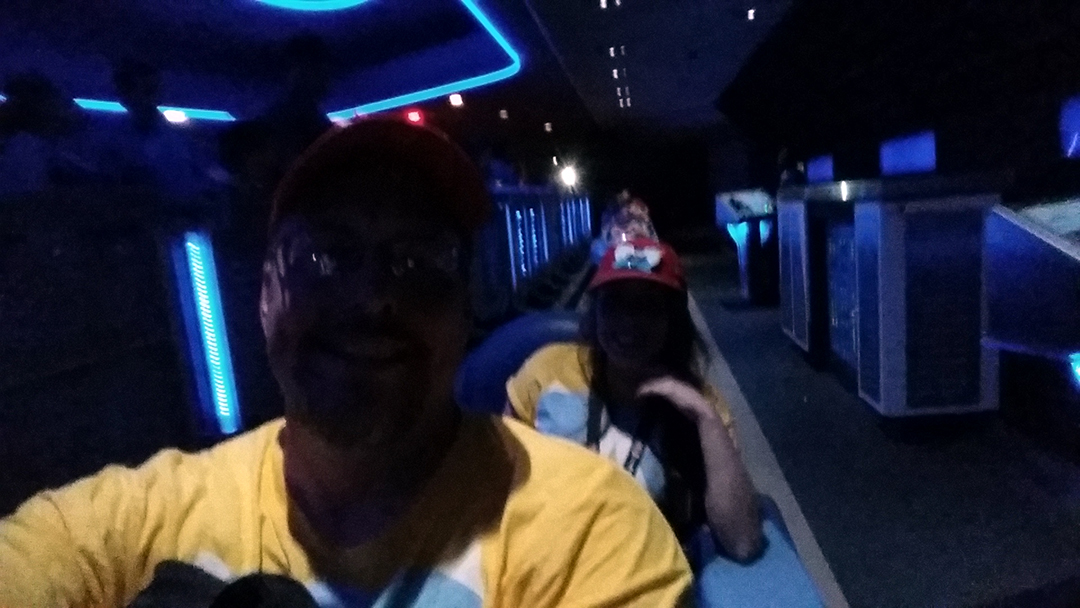 62. Tomorrowland Arcade
One of the requirements is to play a game in the back of the Tomorrowland Arcade which is located behind the shop in which you exit Space Mountain.  We chose to have a basketball shootout.  Should I say that the person on the LEFT of the photo won the contest?  Nah, we'll leave that for interpretation.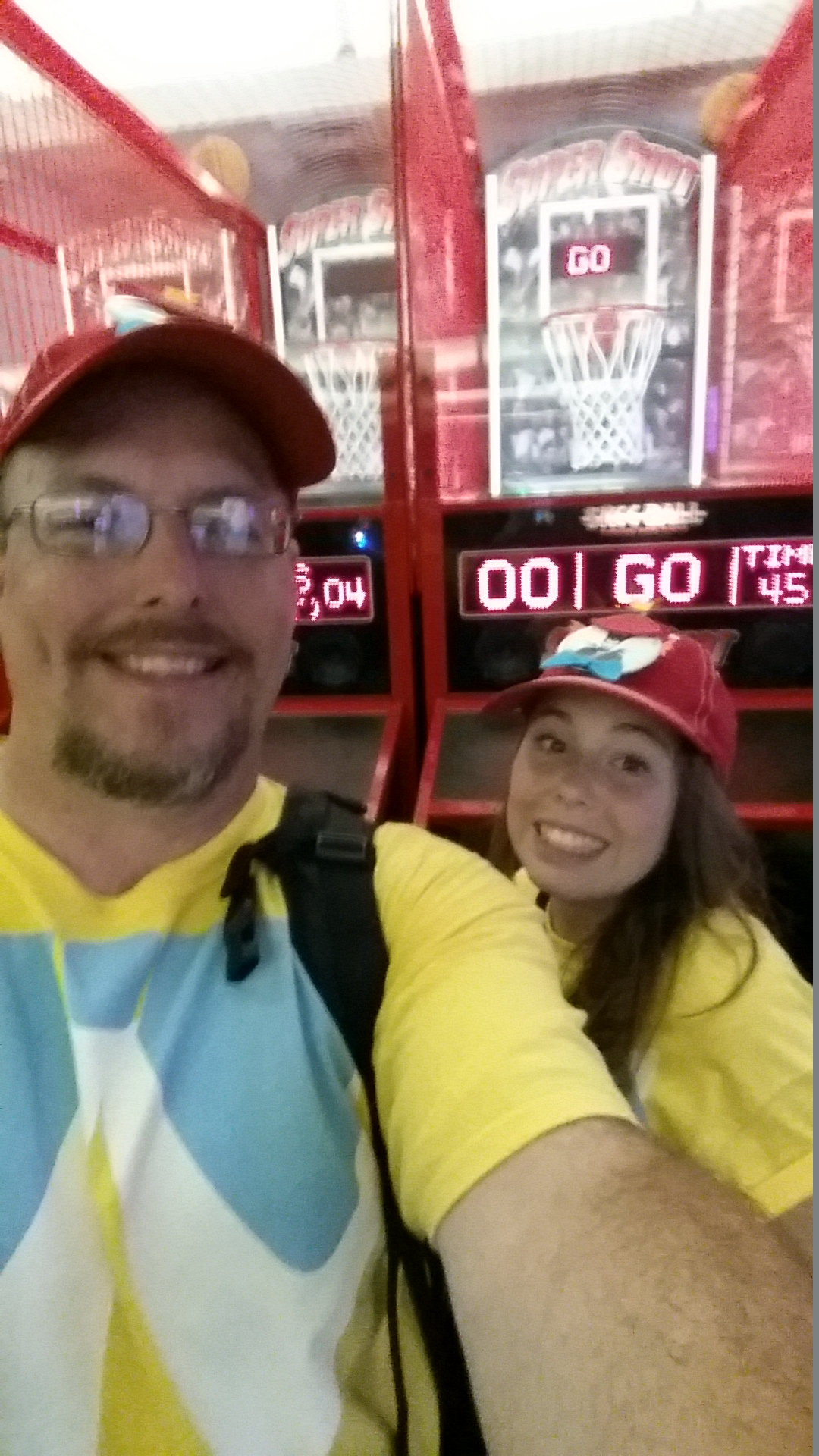 63. Stitch's Great Escape
We quickly acquired FP+ to meet Mickey later and jumped in line for Stitch's Great Escape.  Stitch's Great Escape doesn't want you taking photos inside the ride too much, I guess because they don't want you to reveal how dumbed down the attraction is from its original, really scary form.  We snapped our required photo with no flash before we were seated.  It's always funny watching people try to pull down on the restraint, only to find that it pops right back up.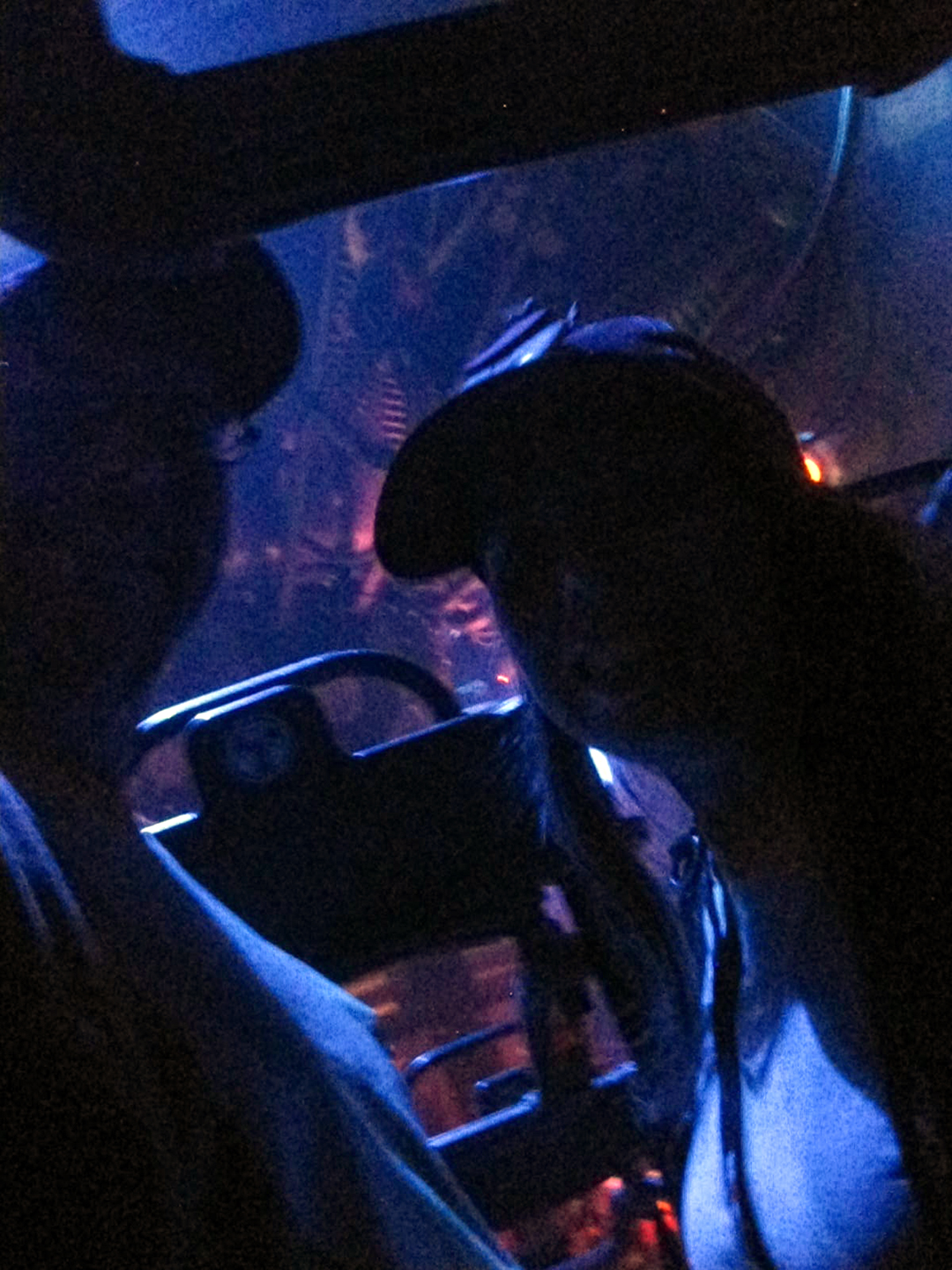 64. Sonny Eclipse
Sonny Eclipse is the inter-galactic lounge singer who performs constantly inside Cosmic Ray's restaurant.  They were in full lock-down mode with Cast Members making sure you had food before finding a table.  We had to explain twice that we just wanted to go down to see Sonny Eclipse.  The first lady said, "who?"  Sonny Eclipse.  "Is that your family member?"   We sang along with Sonny as he performed his hit, Unork.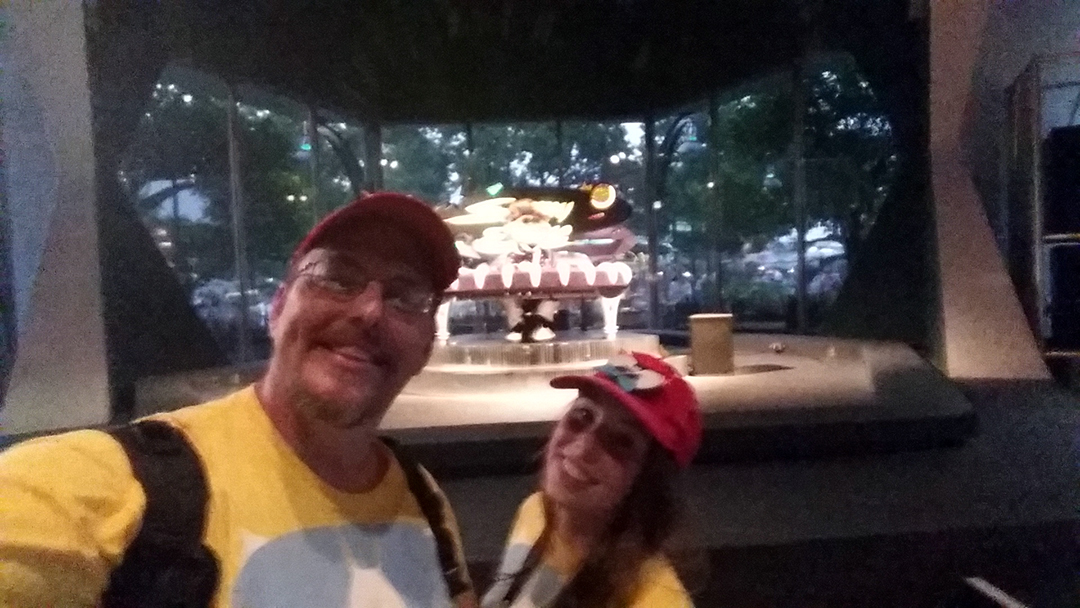 65. Celebrate the Magic!
We made our way down into the Castle Hub to watch the Celebrate the Magic show.  It's a fun show that uses 3D mapping technology to project images upon the Castle.  It's much better than the slide shows your dad used to show on a sheet on the wall in the basement as a child and it includes Mickey Mouse!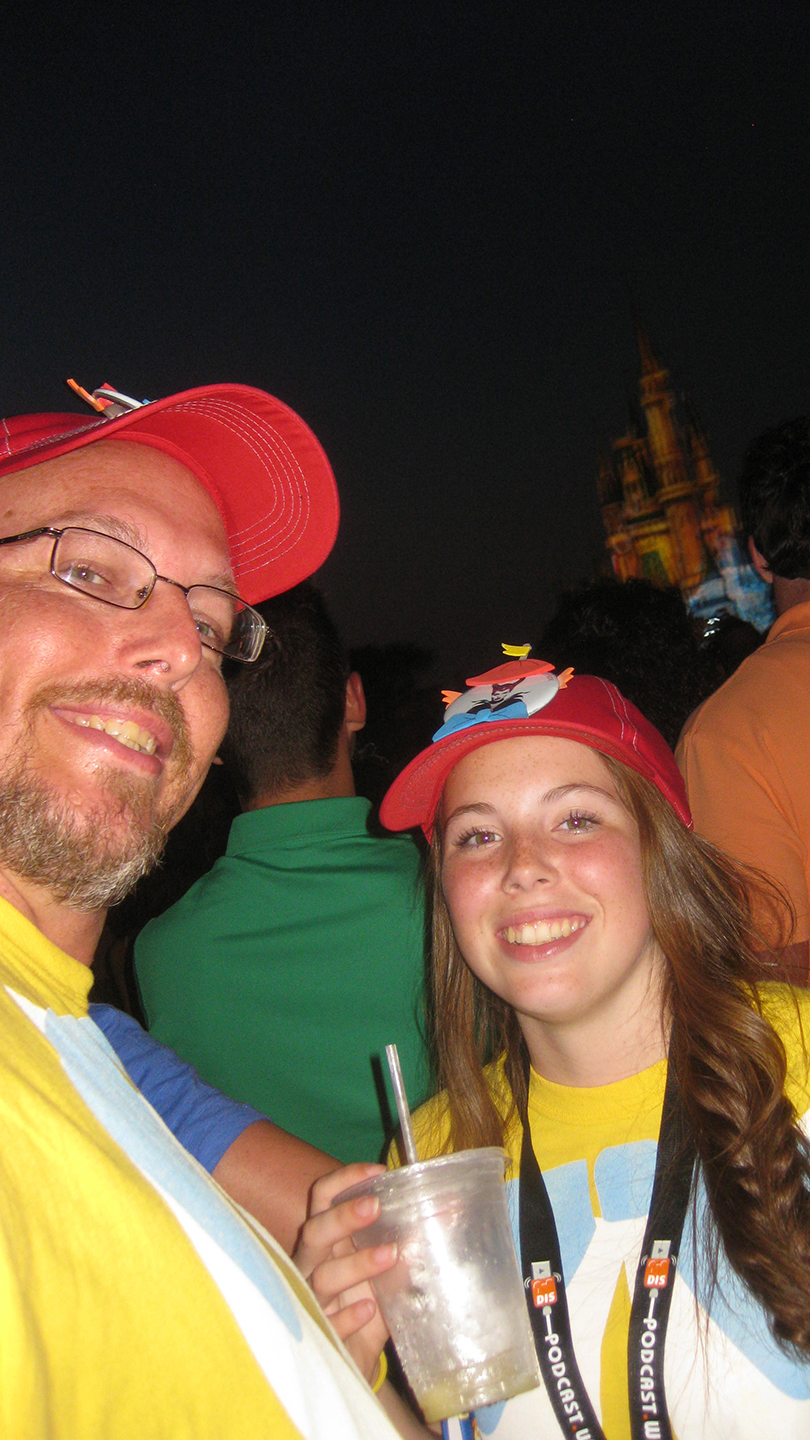 66. Wishes
We stayed in the same area of the hub to watch the Wishes fireworks show.  We used a setting on my old Canon pocket camera that allows a flash, but still pick up the fireworks behind us.  Wishes is a good bit better than the fireworks show your neighbor shoots off on July 4th using a cigar to light bottle rockets and squirrling whirlys.  We hoped the crowd would disperse better this time than it did back in 2012 when it was a total traffic jam of humanity.
67.  Meet Mickey Mouse in Town Square Theater
The last time we tried one of these 24 hour days, we found that everyone was either moving into Tomorrowland or leaving the park after Wishes.  If you can't beat them, join them!  We just followed the herd all the way down to Town Square Theater to meet Mickey Mouse.  I've met talking Mickey several times and he almost always wants to discuss "that spooooky house."  Yup, we got the same discussion.  The guy is fixated with ghosts.  He needs some paranormal counseling.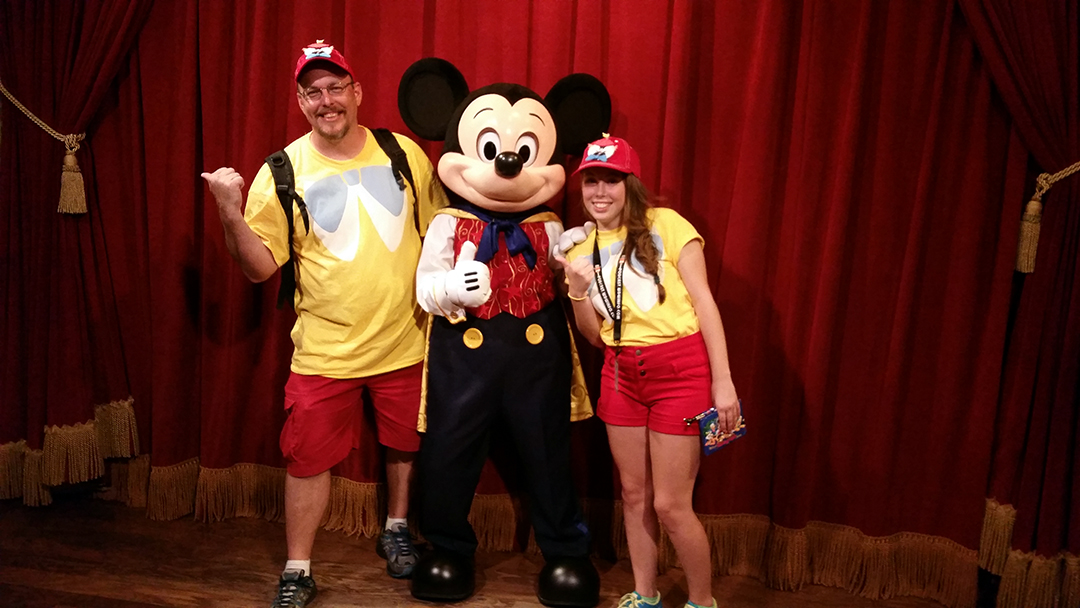 68. Walt Disney's Enchanted Tiki Room
We figured this would be a good time to visit some attractions that we knew would have little or no line.  We started with the Tiki, Tiki, Tiki Room.  Some liked the new management that burned down the place.  Some liked the original, longer version.  Some prefer the current version.  I only visit when I need air conditioning or to complete an ultimate tour.
69. Country Bear Jamboree
Blood on the water!  You'll leave the place sining this song for weeks.  It's like it's a small world, but stays in your cerebral cortex longer than the robotic children of the world could ever imagine.   Blood on the water…  It's 10:12pm and we're still going!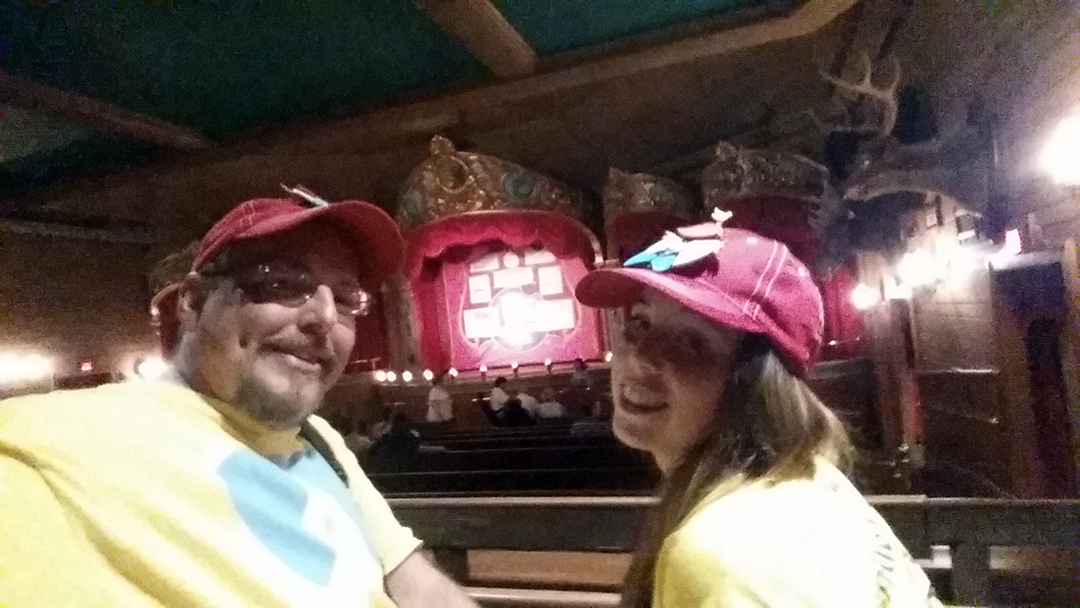 70. A Pirate's Adventure:  Guardians
We picked up on our A Pirate's Adventure games and figured we could go ahead and complete the series.  I like these games better than the Sorcerers because they don't require cards to play and such, you just tap and it tells a story.   Okay, fine!  I like it because it's piratical.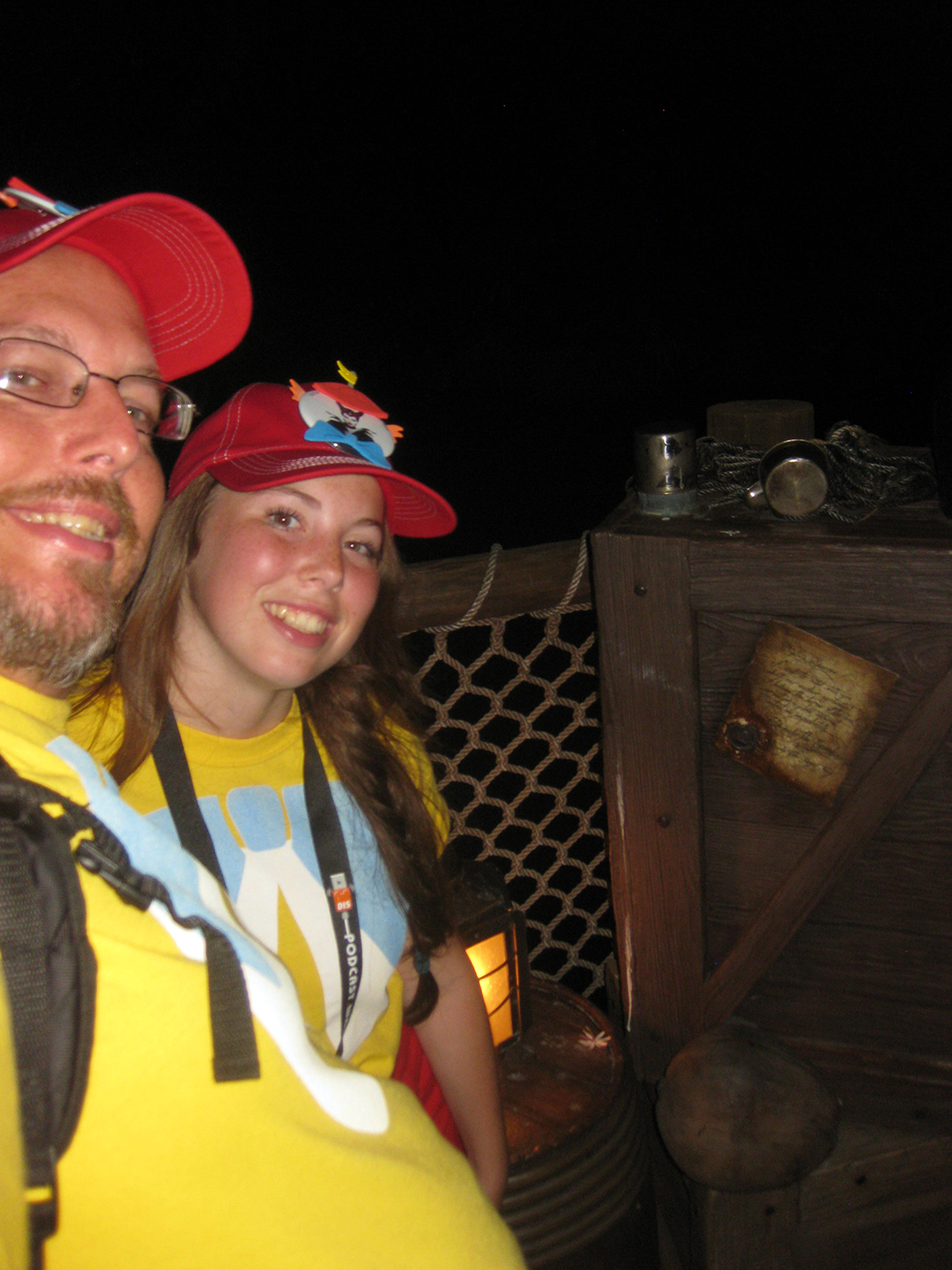 71. Pirates of the Caribbean
Speaking of piratical, we went ahead and rode the ride while we were bouncing all over Adventureland.  It's one of our favorite classic dark rides and the high point is the "Dirty foot pirate."  I've heard red heads have hot tempers, so you might be careful with the choice there.  We had a Pirates FP+, but we changed it to Jungle Cruise when found there was no line.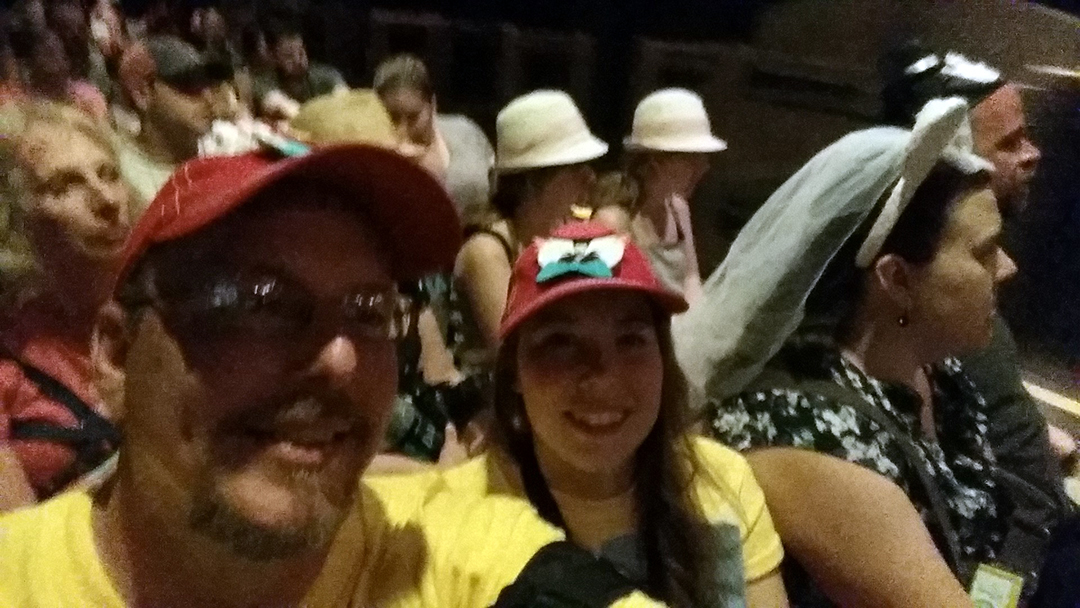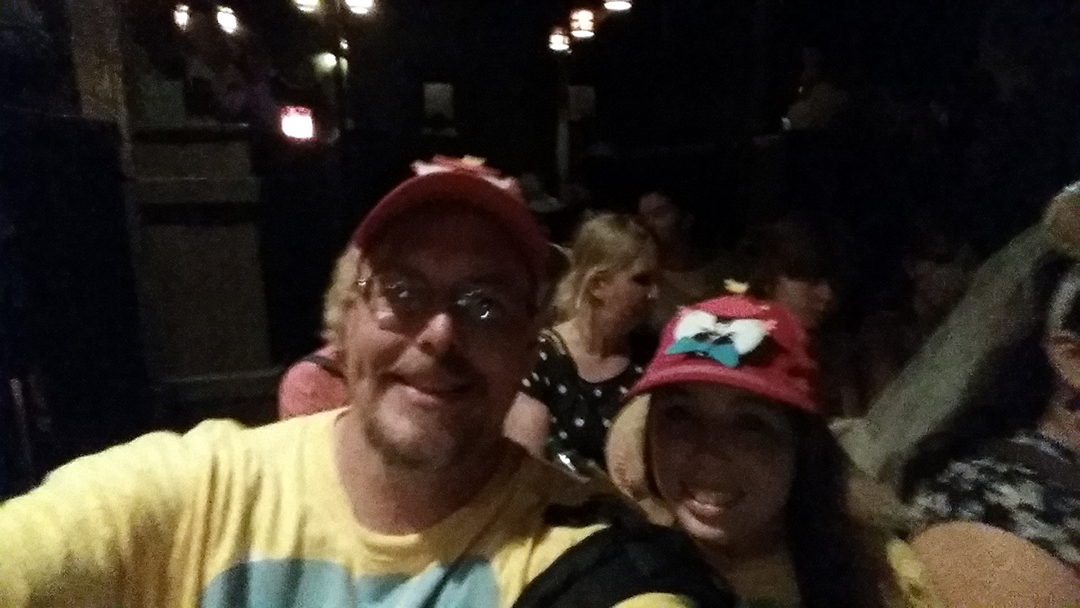 72. A Pirates Adventure:  Haven
We took part in the last regular Pirate's Adventure game.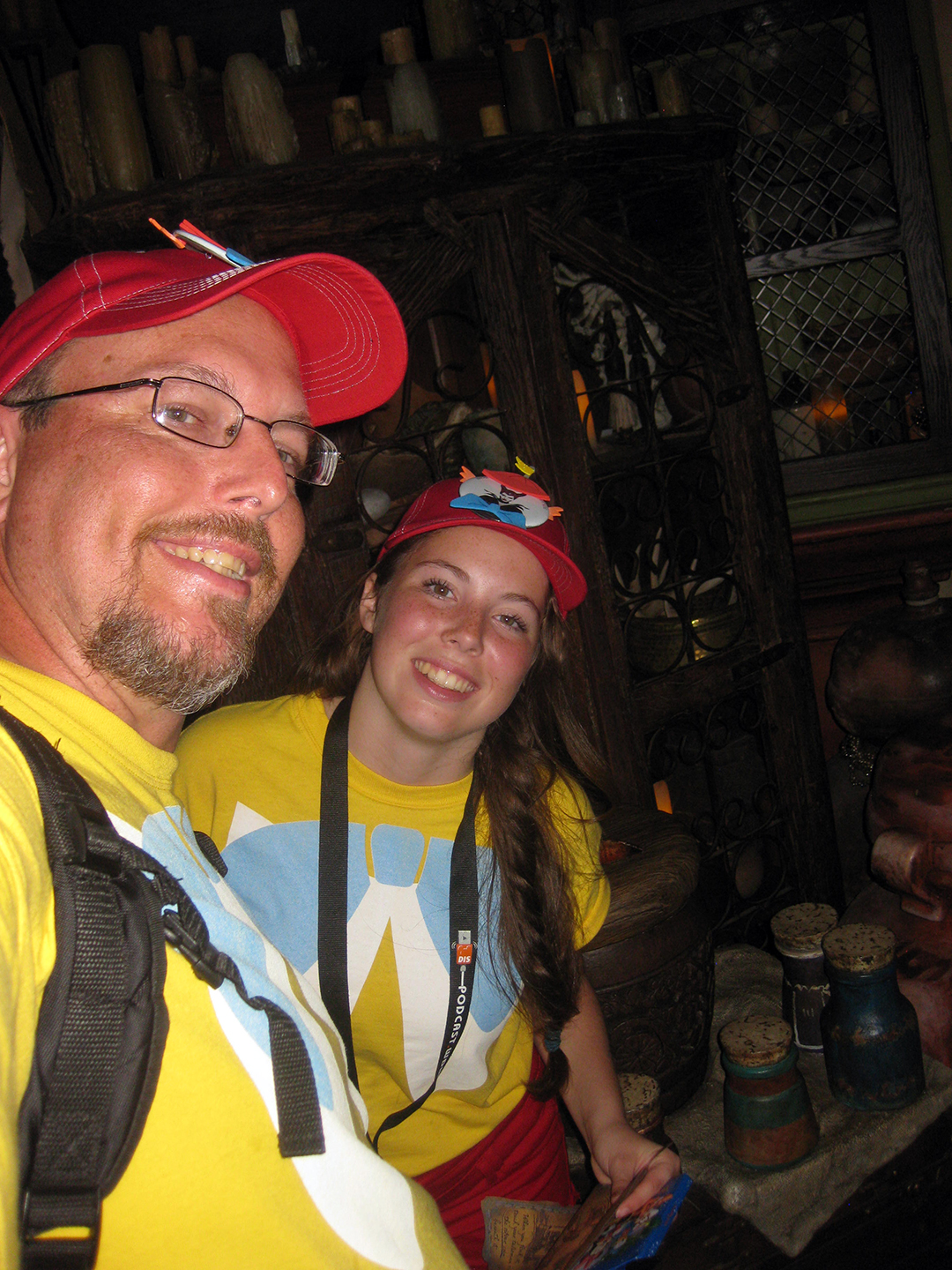 73. A Pirate's Adventure:  Finale
Then, there's a finale with gold dubloons!  It should spit out a few real coins for those who actually finish.  The lady at the sign up station said that most guests don't get past stage 2.  We finished them all.  It was the first time experienced these and it was a cute little treasure hunt game.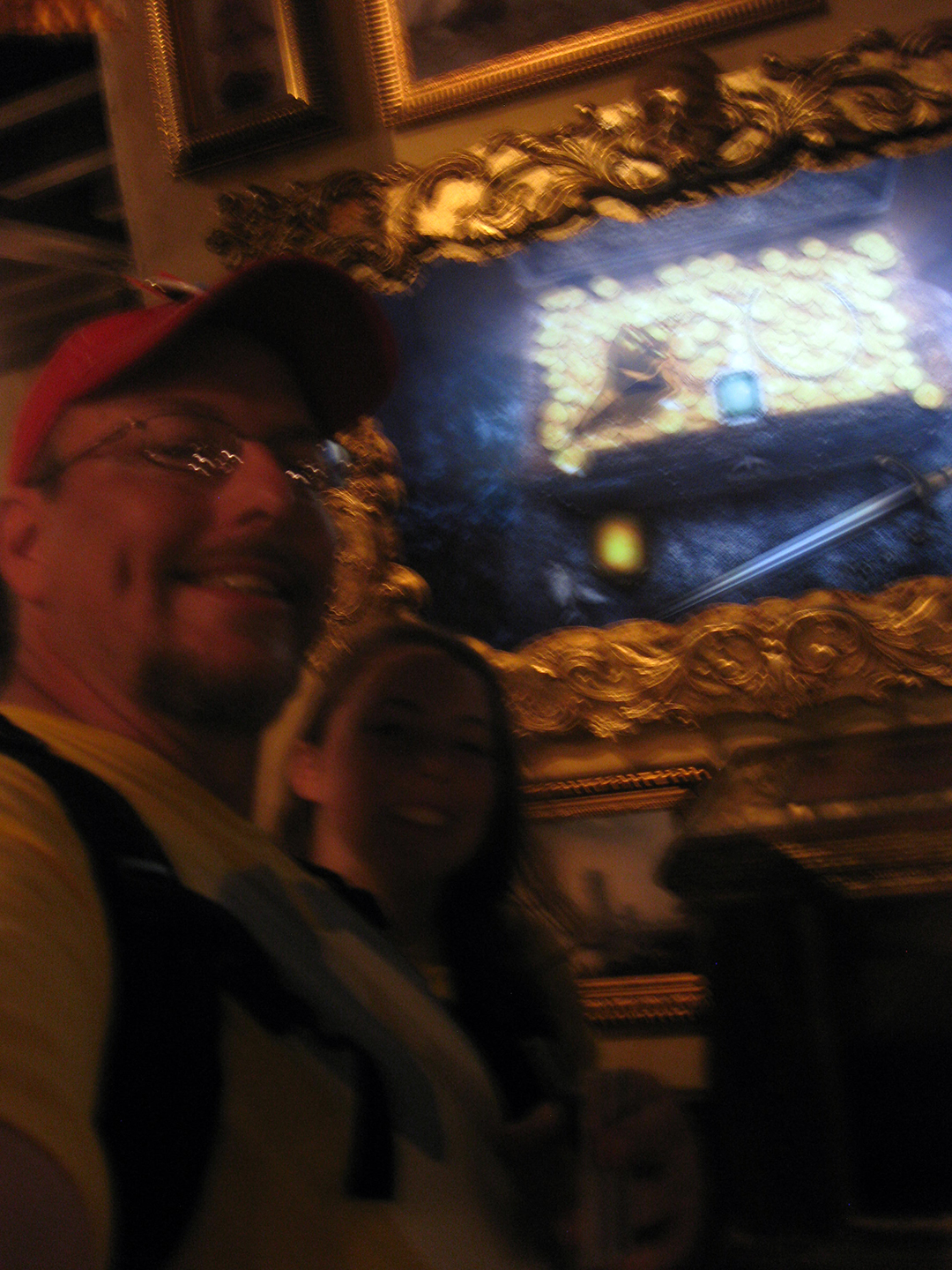 74.  The Magic Carpets of Aladdin
The decision here was who would raise the carpet and who would tilt the carpet.  We were so engrossed in trying to figure out how many attractions might still be possible that we forgot that the camel would spit on us.  It was still really hot at around 11pm, so we didn't mind too much.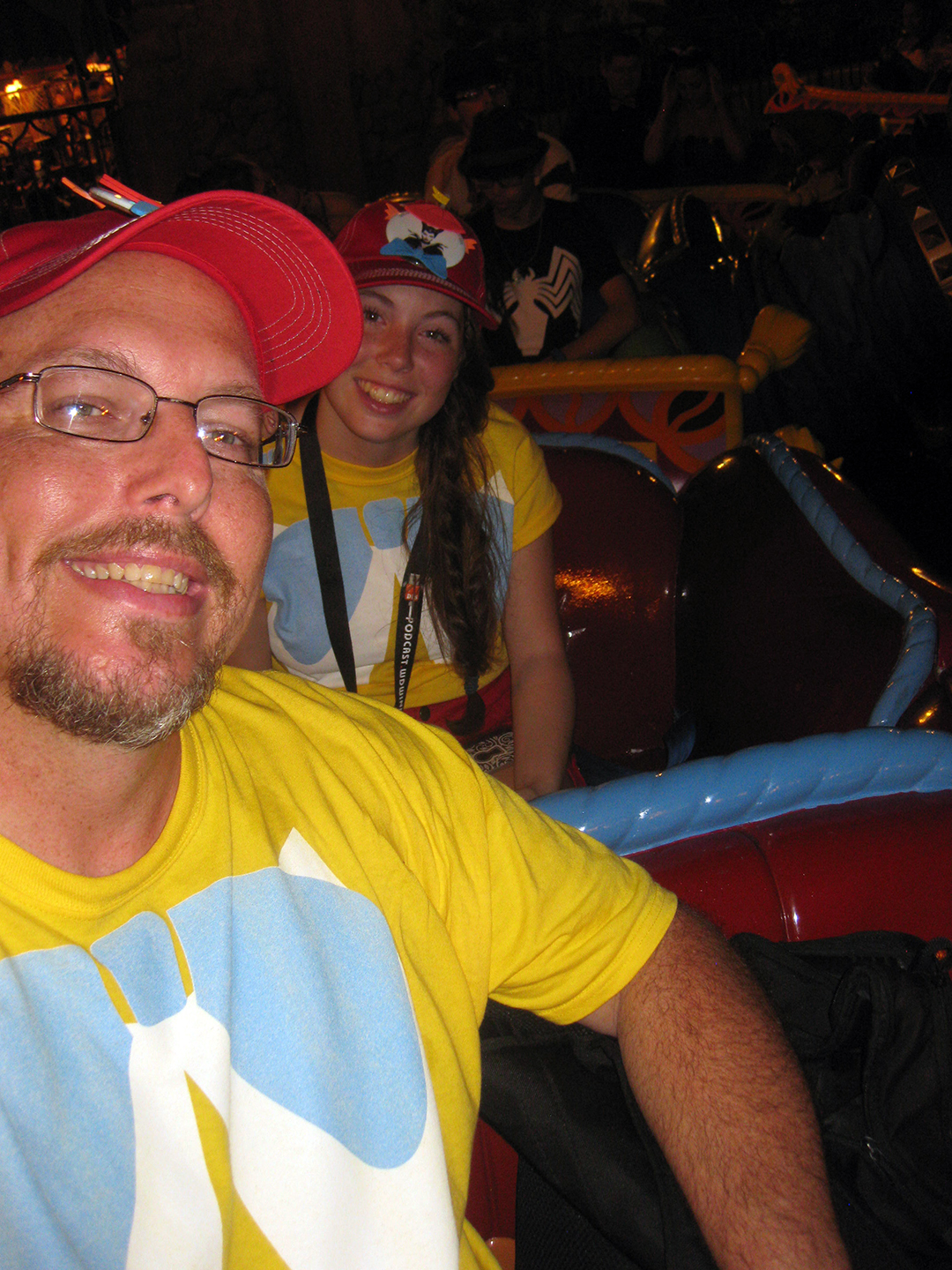 75. Jungle Cruise
The posted wait was 25 minutes, so we went ahead and used that Jungle Cruise FP+.  After we entered the line, we realized it was actually a walk-on, but it wasn't a big deal.  All the rides we wanted to do from this point on had little or no wait.  The skipper was funny and kept us entertained as we continued with hour 17.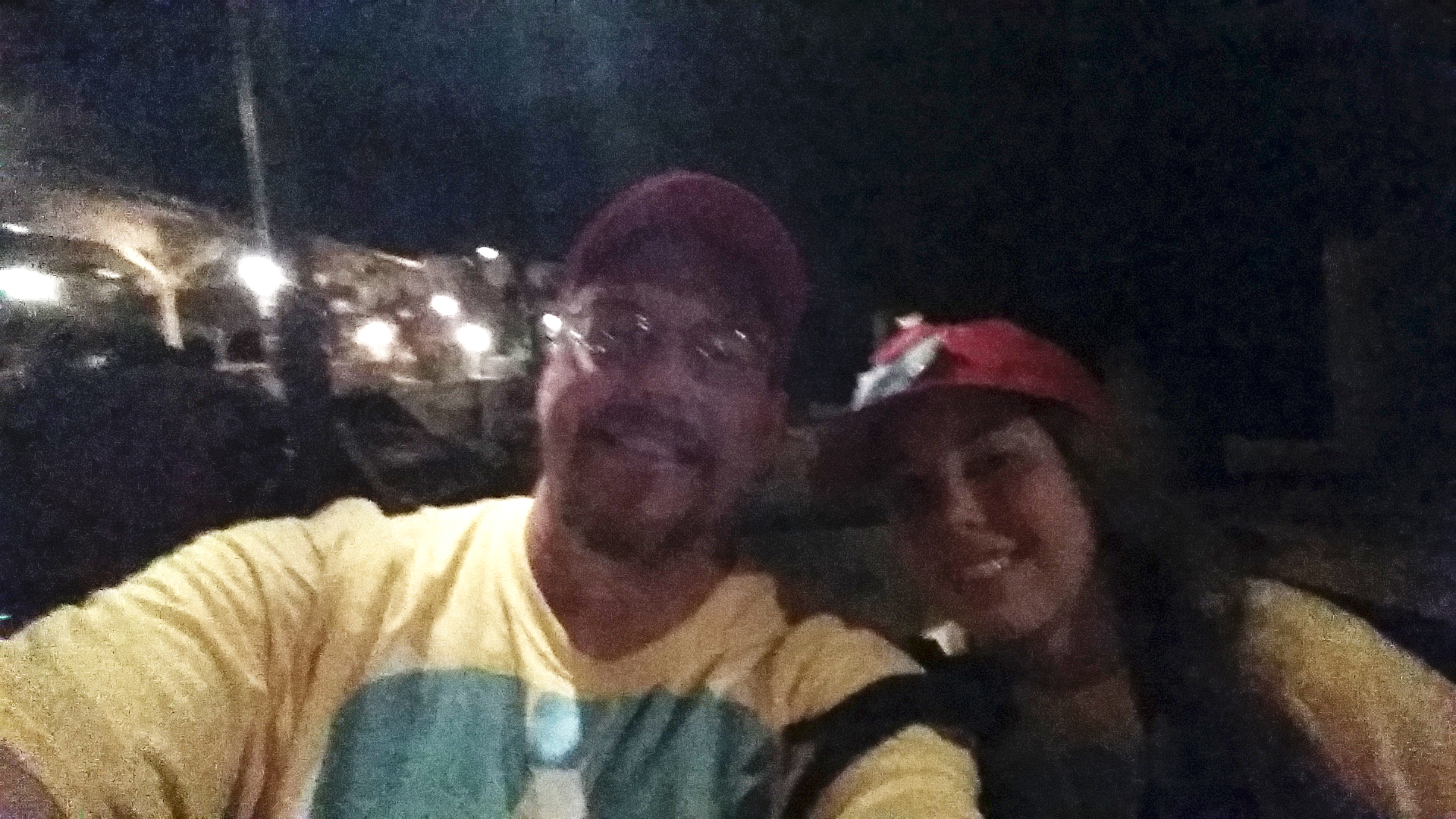 76. Liberty Square Riverboat
The riverboat usually runs really restricted hours and closes by dark, but this special day allowed them to run the boat late into the night, so we saved it for then.  If you're planning to ride this, it launches on the 00s and 30s, which makes it easier to plan.  I was so tired I sat on the floor on the lower deck.  A lady told me that cockroaches usually run the lower decks at night,  (not sure how she knew that) but I didn't care.  It was interesting seeing Frontierland at night from the boat though.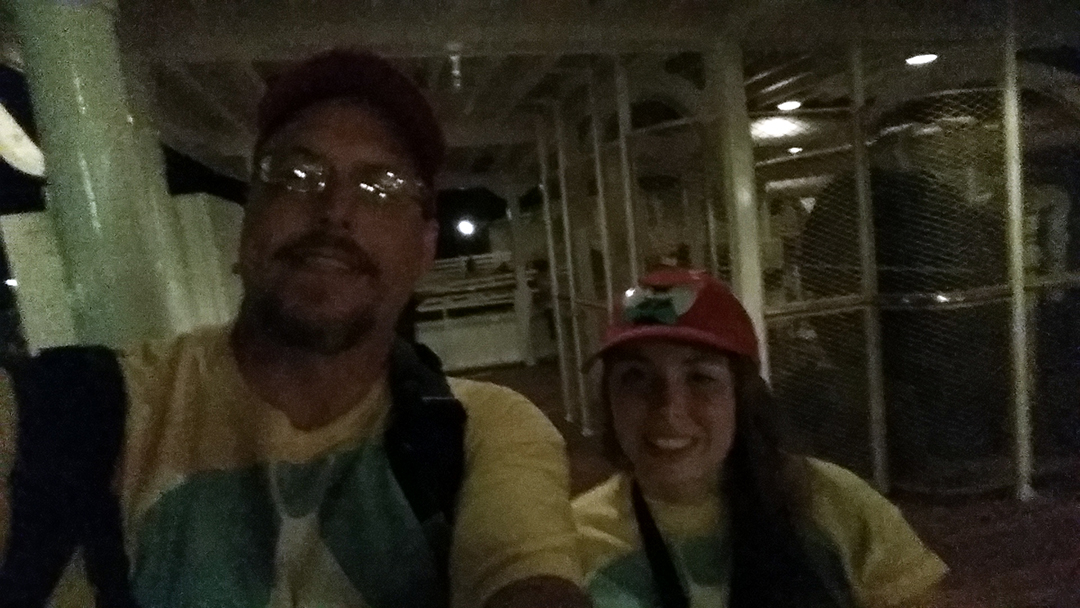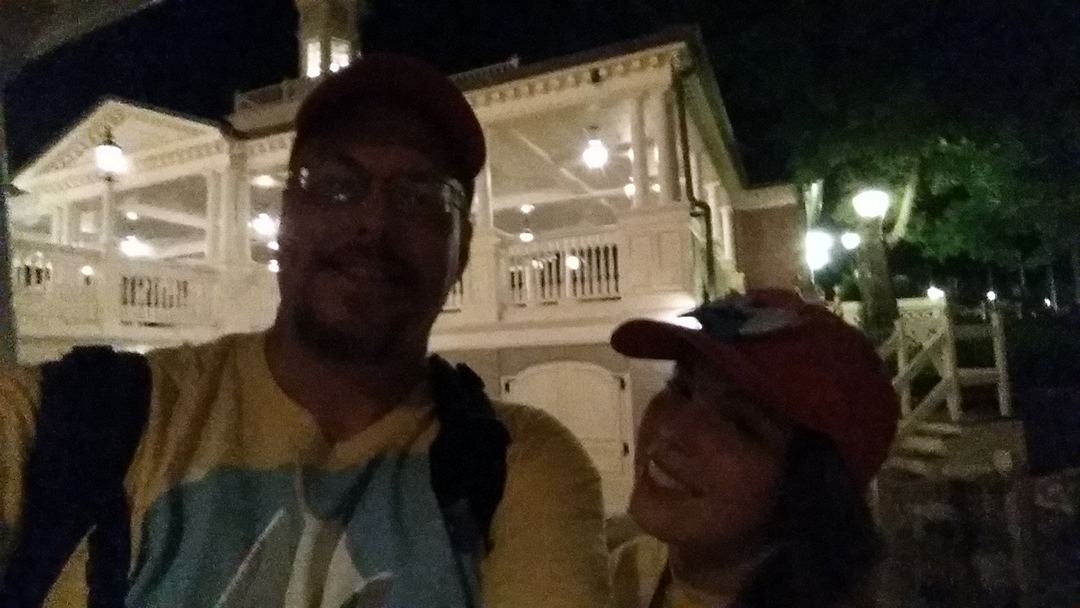 It's 12:19am and we have less than six hours to go.  We had spent 18+ hours in the park and we were only 7 attractions away from a new record, but things begin to turn south after midnight.
Read the fourth and final installment here.