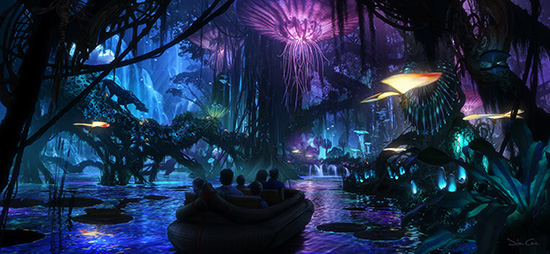 When Disney first announced that Avatar would be coming to Disney's Animal Kingdom over 2 years ago, it was met with a lot of vehement rejection.  Many people didn't understand how an R rated movie that is filled with foul language and violence  and is not much more than a remake of Pocahontas meets Fern Gully would fit into a family theme park aimed at children under 10.  Some thought the designs would be beautiful, but didn't understand the need for an agreement with James Cameron to accomplish something lovely in the theme park.  When I saw the movie in 3D a few years ago, I felt it was one of the most beautiful movies ever produced, but left feeling like I didn't connect with the story.  I wondered how Disney could tell the story of Avatar to children who had never seen the actual movie.  I did think it would be cool to ride a Banshee though.  I figured they could have accomplished the same ideas by purchasing the rights to "How to Train a Dragon" which is a kid-friendly movie.
Well, after more than 1300 days, Disney has just released its first artwork with some teasers of a couple of new attractions that will be coming to the Land of Avatar.  Nothing gets Disney parks fans more excited than a few water color pictures of what is proposed to become reality.
The artwork is as amazing as usual for pieces of theme park conceptual art.  The artwork displays the vibrant colors and mysterious looking designs that will become Pandora, which will replace Camp Minnie Mickey.  We do need to understand that artwork is merely an artist's interpretation of what he or she conceives and we may not see something that is an exact match.
"As these concept renderings show in epic scale, in the world of AVATAR guests will encounter awe-inspiring floating mountains and wander through a nighttime jungle of bioluminescent plants that are alive with light and sound. Guests will also discover what it feels like to soar into the sky riding a Banshee." Tom Staggs
Some people have said we are receiving a beautiful version of Pirates of the Caribbean and Soarin', but that remains to be seen.  It is obvious that there will be a boat ride and some sort of flight simulator.  I'm still left wondering what type of merchandise one will see in this new land.   Will people be purchasing their own Banshee to take home?  Will children want Na'vi action figure toys?

In addition to adding a couple of new attractions and changing out a land, the more exciting news to me is the announcement that Animal Kingdom will eventually be open after dark again with new special entertainment and after dark rides on Kilimanjaro Safaris!

"As part of the largest expansion in the history of the park, we'll be adding all-new entertainment experiences, including a new nighttime spectacular where live music, floating lanterns, water screens and swirling animal imagery all combine to bring a show to Discovery River that will delight our guests and truly cap off their day at Disney's Animal Kingdom. The park will introduce more nighttime entertainment as well, including live performers on Discovery Island (pictured above) and a new nighttime version of the Kilimanjaro Safaris."
I really look forward to these new nighttime offerings.  I thoroughly enjoyed World of Color in Disney California Adventure last year and I'm sure they'll be using similar technology in Animal Kingdom.  I'd assume they will need to construct some viewing areas for guests to see the show though.  One of my favorite attractions is the Jungle Cruise after dark, so it will be interesting to learn what animals could be spotted after dark.  Will we be treated to oppossums, owls, bats, aardvarks and crickets or will they make those elephants and rhinos earn their keep with a full day of work?  Either way it will be fun to take an after dark ride on the Safari.
With Joe Rhode taking the Imagineering lead, I'm sure the land will be gorgeous and immersive, but will we connect to the stories?  What are YOUR thoughts on the new announcements?

All images are Copyright Disney