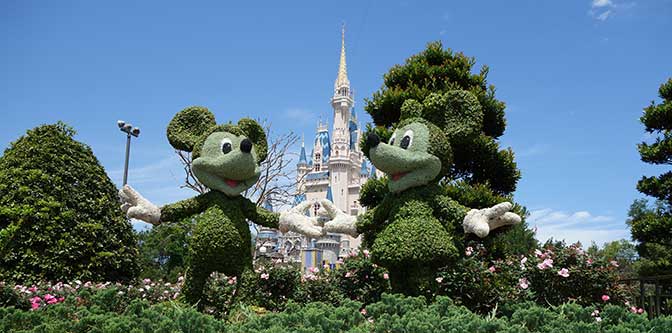 As a part of "Limited Time Magic" Walt Disney World is extending the celebration of Independence Day to a full week.  The celebration begins July 1 and runs through July 7.  The Magic Kingdom will offer nightly fireworks spectaculars with 360 degree explosive blasts to allow you to be surrounded in the magic.
At Walt Disney World Resort, the July Fourth fireworks spectacular will rocket into the air above Cinderella Castle every night with "Disney's Celebrate America! A Fourth of July Concert in the Sky." The dazzling display at Magic Kingdom Park will be orchestrated to an upbeat musical tribute to America as patriotic lighting covers the Castle.
The Walt Disney World Resort fireworks spectacular takes place at 9 p.m. on July 3 and 4, and 10 p.m. on July 1, 2, 5, 6 and 7.
Walt Disney World Resort guests will also be treated to a fun-filled spectacle as Goofy, Donald and Pluto, dressed as a colonial fife and drum corps, join a spirited procession down Main Street, U.S.A, prior to the daily Celebrate a Dream Come True parade at Magic Kingdom Park. The pre-parade features the Main Street Philharmonic, Citizens of Main Street and Walt Disney's historic horse-drawn calliope.
In Epcot on July 4th, Patriotic characters will also be available for meet and greets on July 4th in Epcot's American Adventure area.   Characters in patriotic attire will be available from 11:30 a.m. – 2:30 p.m. and from 3:30 – 6 p.m. near Kidcot location outside to the right of the pavilion.
The Voices of Liberty will perform their annual Independence Day shows, also featuring the Spirit of America Fife and Drum Corps and Disney characters, at the America Gardens Theater with showtimes at  12:30, 1:45, and 3 p.m. They are also doing two sets inside the American Adventure Rotunda at 4:15 and 5 p.m. Special showtimes for Slippery When Wet (Sounds Like Summer concert series) on the Fourth of July are 5:15, 6:30, 7:45, and 9 p.m.   Conclude your 4th of July celebration at Epcot with The Heartbeat of Freedom, a special fireworks tribute following IllumiNations: Reflections of Earth at 10 p.m.
If you choose to enjoy your patriotic celebration at Disney's Hollywood Studios, you'll enjoy the all-new "Rockin' 4th of July Celebration" which will begin at the Sorcerer's Hat with a DJ at 6 pm, followed by performances by Mulch, Sweat & Shears at 7, 8, 9 and 10 p.m. and a fireworks presentation at 10:15 p.m.
Across the Resort, you will also find treats inspired by our traditional American celebration. You'll be able to try the Red, White and Blue Strawberry Shortcake at Storybook Treats in Magic Kingdom Park and the Fourth of July Cupcake with apple pie filling, caramel buttercream and apple crisp topping at Disney's Hollywood Studios,Disney's Animal Kingdom or Downtown Disney. At Epcot, you can taste the Skillet-Baked Peach Cobbler with Vanilla Whipped Cream or the Red, White and Blue "Baked Alaska" Mousse.