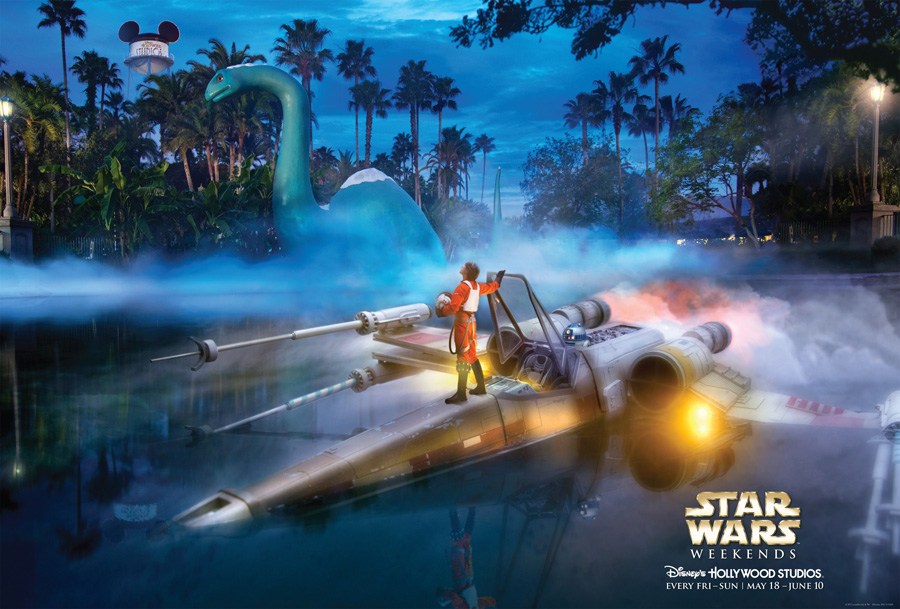 Updated April 8, 2015
Some items may not be available for general public purchase due to the Galatic Gathering special event.  Many others will sell out almost immediately after park opening on May 15 and some will remain for the entire weekend.
D-Tech Me experience information is at the bottom of this post.
Limited Edition Pins

These Are the Droids You're Looking For Mystery Set Edition:  Limited Release
Retail: $19.95
Dimensions: approx 1.75″ (Individual pin size may vary.)
Features: The mystery pin set features Droids from the Star Wars Universe. Each Droid features a pin on pin element. There are eight revealed pins, eight chaser pins and one super chaser pin. Each set box contains two (2) randomly selected collector pins. There are 17 pins in the collection. Boxes are sealed and cannot be opened prior to purchase. Guests will be unable to return or exchange the item. Chaser pins are limited to an edition size of 400 and the super chaser is limited to an edition size of 200.
Death Star Lanyard Medal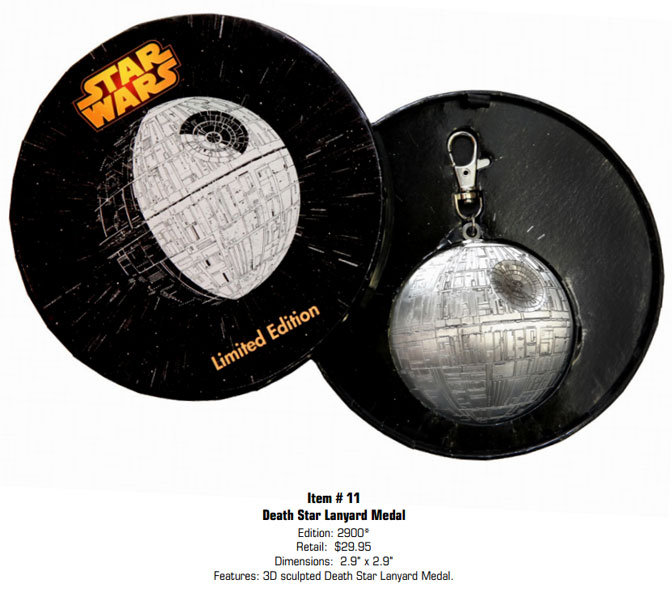 Pin Sets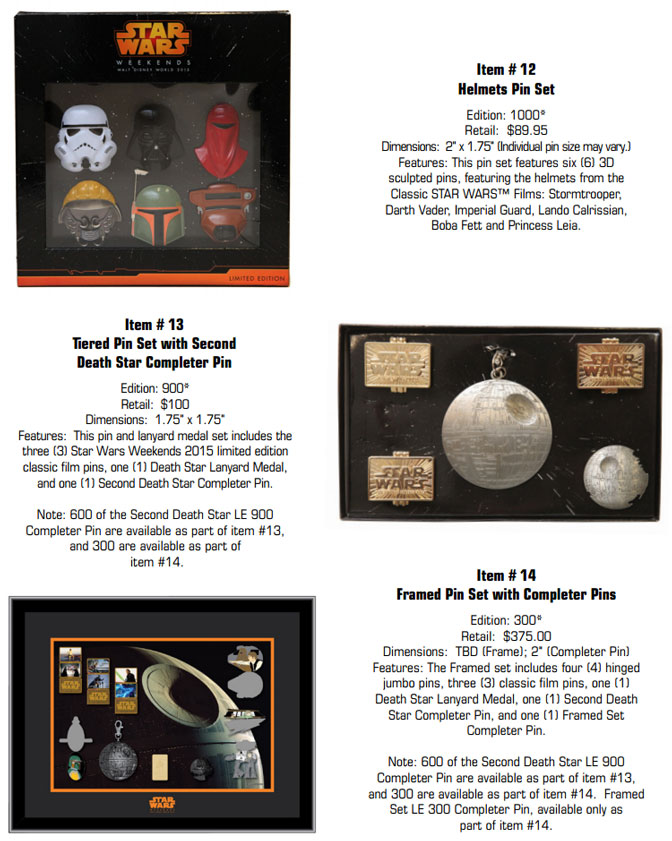 Star Wars Weekends Vinylmation Series 5 Pre-production set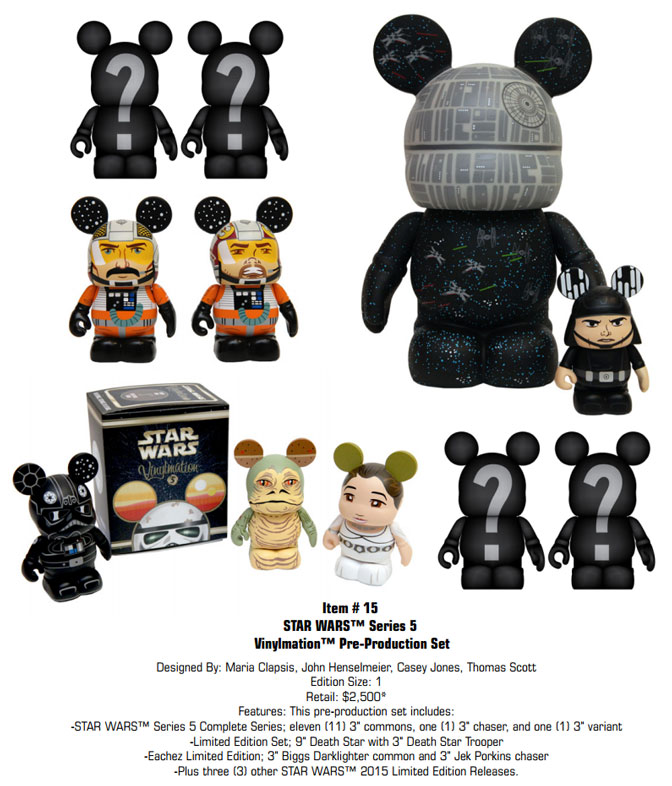 Pete as Jango Fett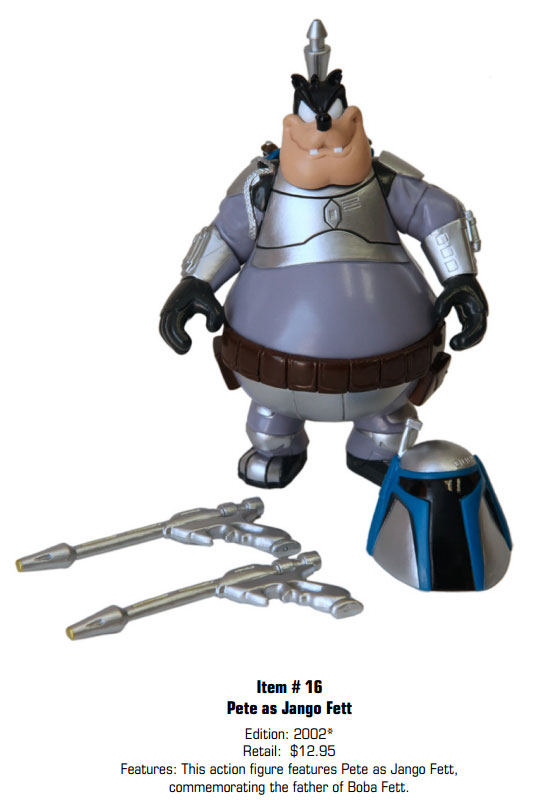 Dooney and Bourke Purses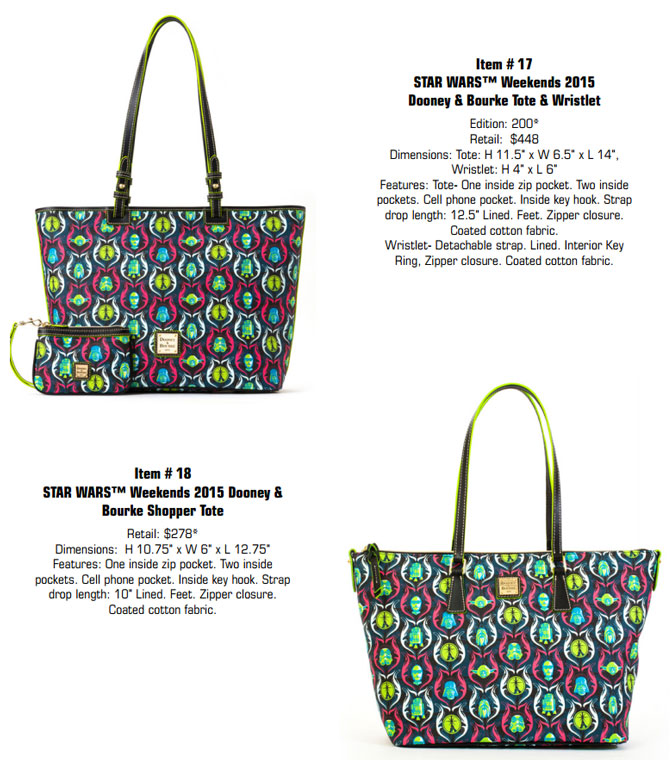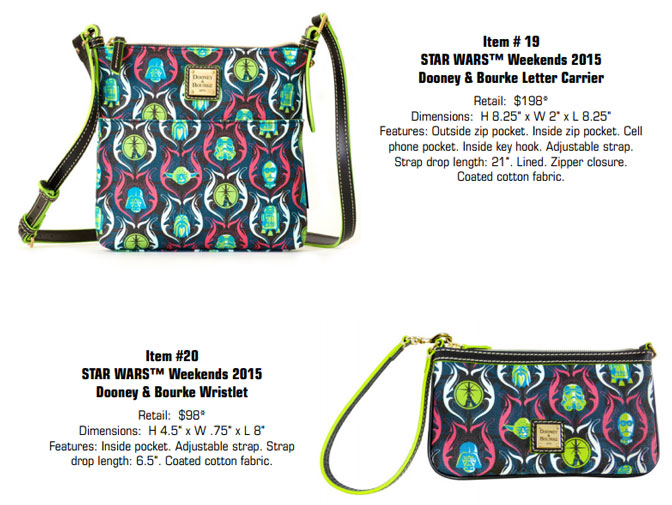 Special Edition MagicBands featuring Donald Duck and Mickey Mouse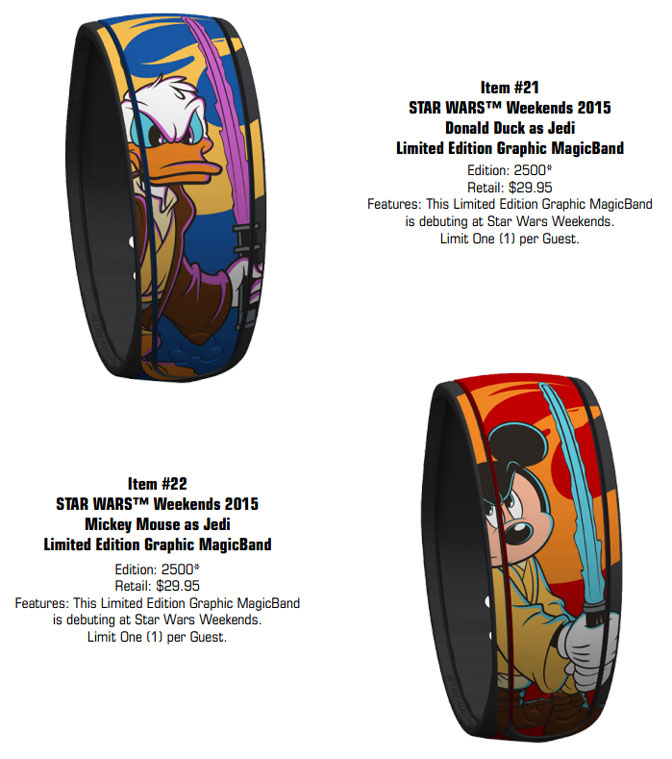 Vinylmations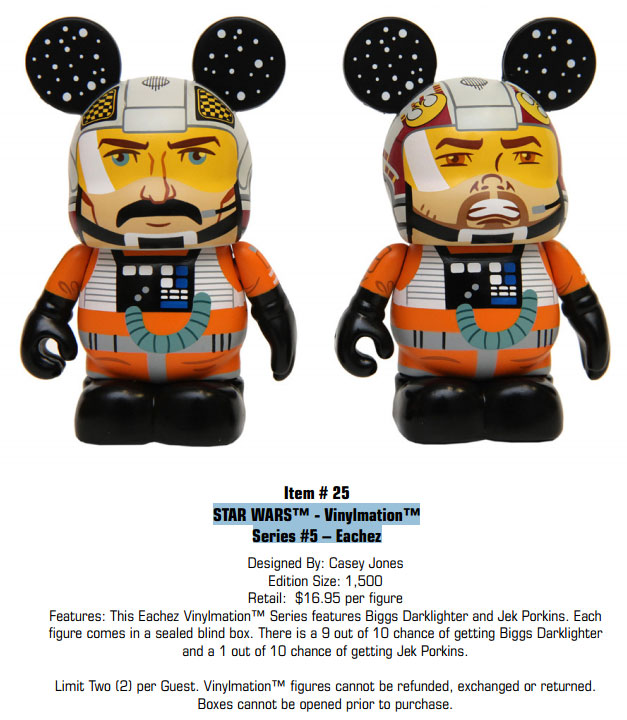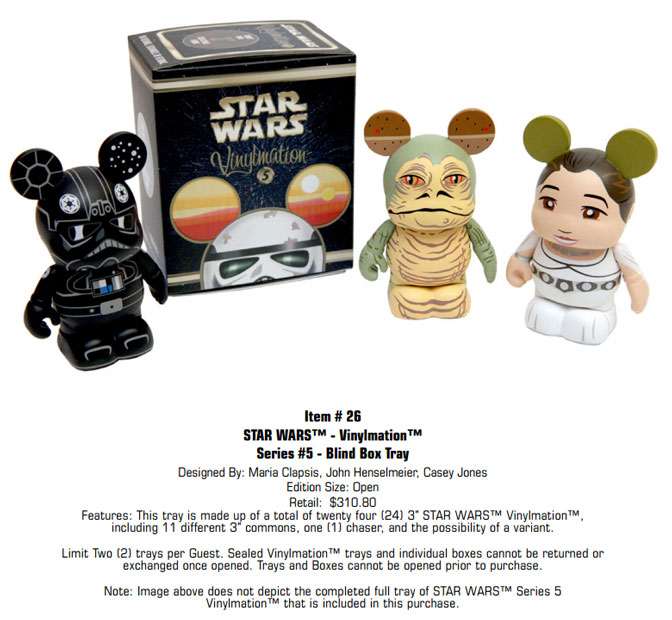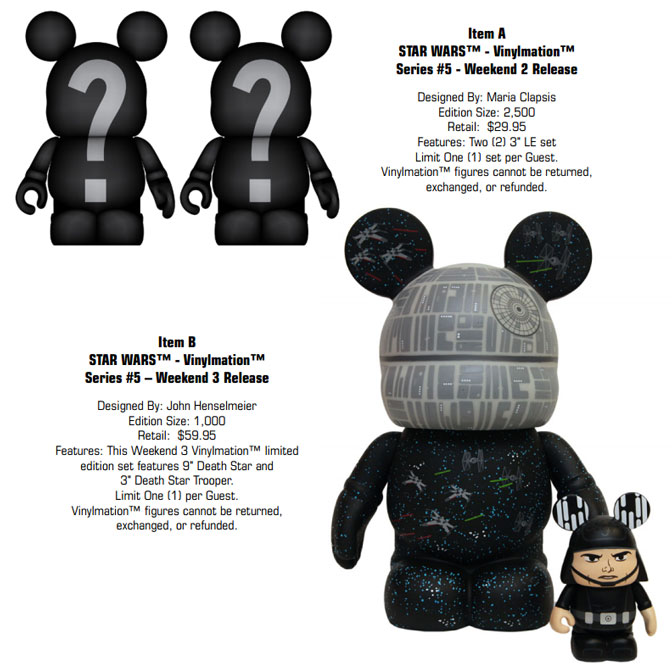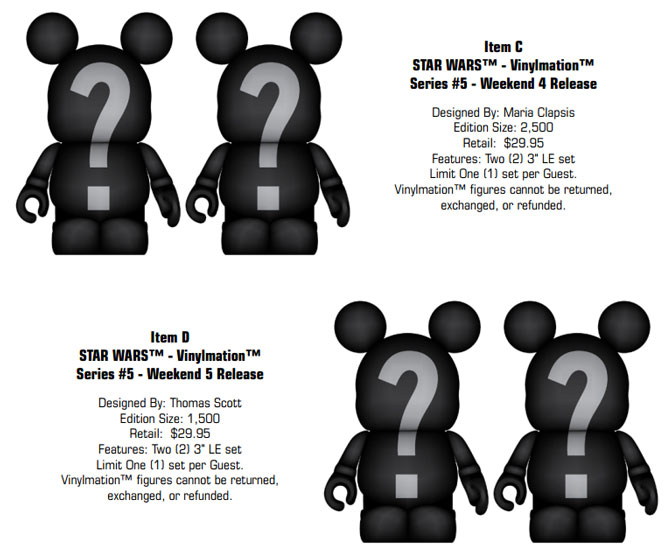 D-Tech Me
D-Tech Me is a 10-minute experience that uses the world's highest-resolution, single-shot 3D face scanner created by Imagineering scientists with Disney Research labs. The captured image is later sent to a high resolution 3D printer to create the figurine. This year, the experience will be located inside Darth's Mall, near Streets of America across from Studio Catering Company.
In addition to the new figurines, we will again offer the Carbon-Freeze Me figurine, Alderaan Princess figurine, and male and female options for Stormtrooper and X-Wing pilot figurines.
For children, the Carbon-Freeze Me and Alderaan Princess figurines will be available in more youthful appearances.
The Star Wars – D-Tech Me 7-inch figurines are $119.95 each, plus shipping and applicable sales tax. For 16-inch figurines, retail is $999.95 each, plus shipping and applicable sales tax. All participants will receive a specially designed button.
Completed figurines will arrive within 6-8 weeks after the experience if shipping domestically (it takes a little longer if shipping internationally).
Guests can book their experience by calling 407-WDW-TECH (407-939-8324) starting March 26.  The experience will only be offered during Star Wars Weekends 2015 (May 15 – 17, May 22-24, May 29-31, June 5-7, and June 12-14).
Please note: Separate theme park admission required for Disney's Hollywood Studios. No discounts apply unless otherwise noted. Guests must be at least three (3) years of age to participate in the Star Wars D-Tech Me experience. Children must be accompanied by an adult at least 18 years of age or older during the entire experience. A valid accepted credit card number is required at time of booking. No-shows or reservation cancellations within 48 hours of scheduled experience will result in such credit card being charged a $25 cancellation fee. The experience, due to its personalized nature, is non-refundable and not eligible for an exchange. Certain restrictions may apply. All prices, components and information are subject to change without notice.