There are only a few characters that appear within the parks during regular hours that offer special Christmas costuming.  Phineas and Ferb and Goofy after dark dress up at Hollywood Studios and Duffy appeared as Santa in Epcot, but the Animal Kingdom is a smorgasbord of Disney characters in special holiday outfits. You can find Mickey, Minnie, Donald, Chip n Dale, Goofy, Pluto, Winnie the Pooh, Eeyore and Tigger in great festive attire.  My daughter and I spent a day in the Animal Kingdom recently and met each of these characters.
Goofy and Pluto in Dinoland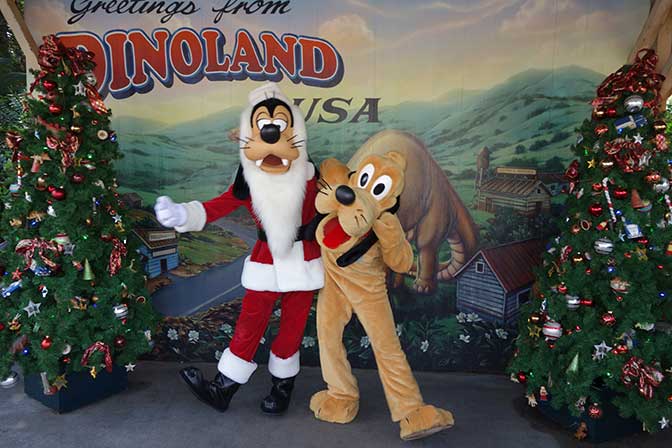 Winnie the Pooh, Eeyore and Tigger at Discovery Island landing
Mickey, Minnie, Donald and Chip n Dale were in Camp Minnie Mickey.  Chip n Dale switched places during the holidays with Baloo and Louie.
You might recognize Donald's costume from his Tusker House meets, but he's added a little red for the occasion.  It was a fun day that we also rode Dinosaur, Everest and Safari and watched Finding Nemo, Flights of Wonder and It's Tough to be a Bug.  If you're interested in those photos, let me know and I'll post them sometime.