All-Star Music Resort
1801 West Buena Vista Drive
Lake Buena Vista, FL 32830
Telephone: (407) 939-6000
Fax: (407) 939-7222
Value Resort
Animal Kingdom resort area
Check In: 3:00 pm (Early check-in is available based on availability)
Check Out: 11:00 pm
Complimentary self-parking
This value resort offers a less expensive opportunity to be surrounded by the Disney magic and take advantage of all the great amenities like booking dining reservations 180 days plus 10, complimentary bus transportation, free MagicBands with the opportunity to book Fastpass+ 60 days in advance, opportunity to take part in the Disney Dining Plans, as well as resort recreation and themed pools.  Think of it as a Disneyfied Motel.
All Star Music surrounds you with giant musical instruments.  Imagine a 4 story tall saxophone!  This is a fun and whimsical resort.  The drawbacks are the small rooms, poor sound proofing and the resort often shares buses with the other All Star Resorts.
The resort themes demonstrate enormous statues inspired by music and includes Calypso, Jazz Inn, Rock Inn, Broadway Hotel and Country Fair.
All-Star Music offers only smoke-free rooms. Designated outdoor smoking areas are indicated on the All Star Music Resort Map.

All Star Music offers Disney's Online Check-In program, which allows you to you provide name, address, and credit card information up to 10 days before your resort arrival.  Once you arrive at the resort, you'll be directed to a special queue area for those who checked in online and your room is often ready before guests who haven't used this free service.
Guests who haven't registered online will be directed to a separate, and probably longer line.  You'll need to provide proof of ID and a credit or debit card at registration.
Each member of your party will be presented with MagicBands that you ordered online during your reservation.  They come in a variety of colors for those booking in advance or grey for those booking with short notice.

1920 Rooms
Preferred rooms located in Calypso Rooms
Rooms accommodate up to 4 persons plus child under 3 in crib
Suites accommodate up to 6 persons per room
Rooms are 260 square feet
Suites are 520 square feet
All buildings are 3 levels with stairs and elevators
All buildings have exterior hallways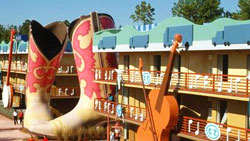 All Star Movies Building Icons
Building 1 – Calypso maraccas
Building 2 – Jazz Inn saxophone
Building 3 – Rock Inn jukebox
Building 4 – Rock Inn jukebox
Building 5 – Country Fair cowboy boots
Building 6 – Country Fair cowboy boots
Building 7 – Broadway Inn theater
Building 8 – Broadway Inn theater
Building 9 – Jazz Inn saxophone
Building 10 – Calypso maraccas

Standard Room – One child under 3 may stay in a complimentary Pack n Play in the room free of charge.  Handicap rooms with handrails and roll-in shower available upon request.
The bathrooms in the All Star Resorts are really small.  They feature a tiled tub and shower with curved shower curtain and toilet.  There is a separate dressing area with mirror, sink and hairdryer.  Expect one or maybe two people to use this area at once.
[ezcol_1half]
Standard View
2 guests – 1 King
4 guests – 2 Doubles
Preferred View
2 guests – 1 King
4 guests – 2 Doubles
[/ezcol_1half] [ezcol_1half_end]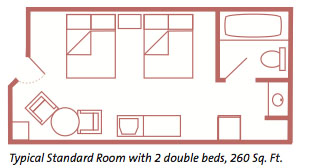 [/ezcol_1half_end]Suite – One side contains a Queen Bedroom with a tv, desk and bathroom.  There is a refrigerator and small sink.  Side B has two pullouts and a Pullout Sofa in a living room style setting with another tv.  There is a second bathroom available as well.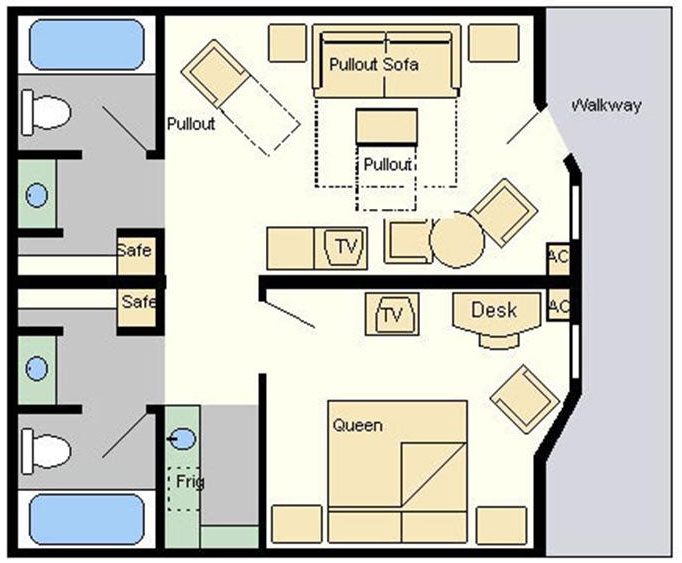 Alarm Clock
Complementary Wi-Fi
Digital thermostat
Full length mirror on bathroom door
Hairdryer (small and not very powerful)
In-room safe
Iron and Ironing Board
Mini-refrigerator
Pack 'n Play crib available for child under 3 (Complimentary)
Phone with voicemail
Satellite Television (Flat screen) with Disney Programs
Single sink
Soap and shampoo (refurbished daily)
Small dresser
Table and chairs
Wake up call services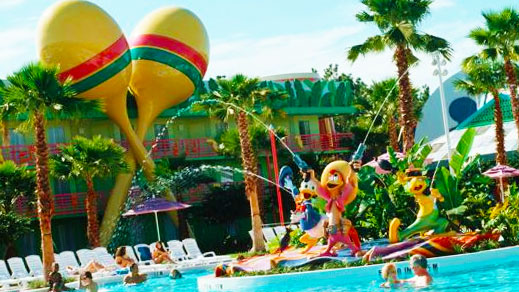 The All Star Music pools vary in depth from around 3′ 6″ to 4 ' 9″ deep.   The pools are heated during cooler weather and maintain a constant temperature of 82F year around.  There are no hottubs or jacuzzis.  There are no pool slides, but there are lockers, showers and restrooms at each pool.  The pools are typically open from early morning to 9pm to 11pm daily.  The Fantasia pool is staffed most of the day with trained lifeguards, but the Duck Pond pool doesn't offer lifeguards.
Infants and children are allowed to use swim diapers.  Water wings, inflatables, and "pool toys" are allowed at all Disney pools, and every pool has free life jackets to borrow.
Be sure to check my Resort Recreation and Activities Guide.  (Usually available around the beginning of the month)
2 Disney Themed Pools
Guitar themed feature pool
Piano themed smaller pool
Guests must bring towels from room
Complimentary life jackets for children in pool area
Child water play area at Calypso Pool
Children's playground
Jogging Trail
Movies under the Stars
Video Game Arcade

Intermission Food Court – open from 6am to midnight
INTERMISSION FOOD COURT – BREAKFAST
INTERMISSION FOOD COURT – LUNCH
INTERMISSION FOOD COURT – DINNER
Singing Spirits Pool Bar (usually open from Noon to Midnight)
Pizza delivery: 4pm to midnight
Also delivers chicken wings, desserts, beer, wine, and sodas Delivery can be quite slow take 30 to 90 minutes.  Minimum order is $15, an 18% tip and $3 delivery charge are required, as well as 7% sales tax.
Refillable mug station

Maestro Mickey's Shopping area  (Souvenirs, clothing, gifts, sundries like aspirin, sunscreen, cold and allergy medicine, baby diapers and formula)
Dry cleaning services (additional fees)
Coin operated Laundry services (a small selection of laundry soap, fabric softener, and dryer sheets are also available for purchase)
No on-site child care facility. In-room child care is available at all resorts.
Babysitting Services

KID'S NITE OUT
FAIRY GODMOTHERS
407-828-0920 or
800-696-8105
kidsniteout.com
407-277-3724
Sitters
Men and women
Sitters
Mothers and grandmothers, female college students
Things Sitter Won't Do
Transport children in private vehicles, give baths or
take children swimming
Things Sitter Won't Do
Transport children, give baths; swimming is at sitter's discretion
Child-Care Clubs

| HOTEL | NAME OF PROGRAM | AGES | PHONE |
| --- | --- | --- | --- |
| Animal Kingdom Lodge | Simba's Clubhouse | 3-12 | 407-938-4785 |
| Dolphin and Swan | Camp Dolphin | 4-12 | 407-934-4241 |
| Polynesian Resort | Never Land Club | 3-12 | 407-824-1639 |
| Yacht and Beach Club Resorts | Sandcastle Club | 3-12 | 407-934-3750 |
| Wilderness Lodge and Villas | Cub's Den | 3-12 | 407-824-1083 |
Disney provides complimentary bus transportation throughout the Walt Disney World Resort  (Time in minutes, add up to 20 minutes wait for next bus.  It's always best to allow one hour transportation time.)
Animal Kingdom – Bus 18, Car 13
Epcot – Bus or car 20
Hollywood Studios – Bus 15, Car 17
Magic Kingdom – Bus 23, Car 37
Blizzard Beach – Bus 15, Car 8
Typhoon Lagoon – Bus 22, Car 14
Downtown Disney – Bus 20, Car 15
Other Disney Resort Hotels
(Requires transfer at a Disney Theme Park)
Taxis