Are you attending Mickey's Very Merry Christmas Party? You will definitely want to read these tips we have for you so you can make the most of your evening!
1: Plan Ahead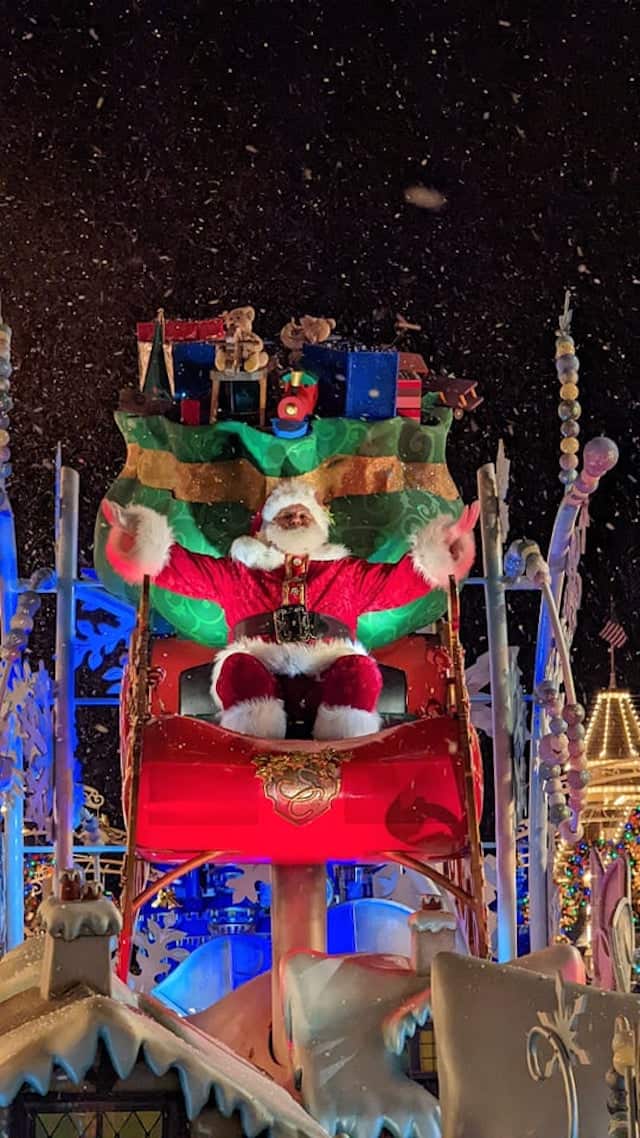 Part of having a good time is planning ahead. That means looking at your vacation as a whole and your individual park days to choose the best event date. You probably don't want a full park day ahead of your party or an early morning the next day.
By strategically planning your party and the rest of your park days, you can avoid over tiredness early in the evening and cranky travelers the next day. My (Monica) personal strategy is to have a full rest day the day of the party. Then, the next day I plan for a late morning/early afternoon arrival at another park.
Animal Kingdom is never a full-day park so you could easily plan for Animal Kingdom the following day.
2: Look at the Offerings Before your Visit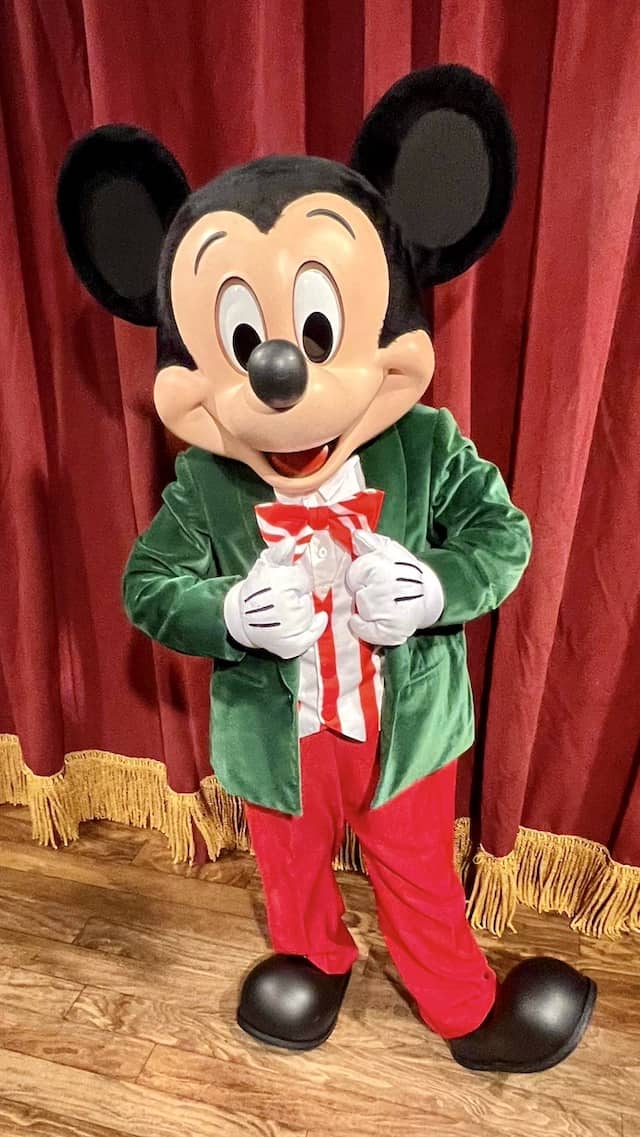 It's not very wise to spend all that money on a ticket and then walk into it blindly. Disney provides the entertainment schedule ahead of the event. And, since the first party has already commenced we have all the information you need on characters, attractions, and other event-exclusive offerings!
Take a look at everything that is offered, and put them into three categories: "Must-do", "Would like to do but not necessary", and "Don't care about at all". This will help you decide how to plan out your evening.
We will talk more about schedule with the other tips included in this post!
3: Have all the Essentials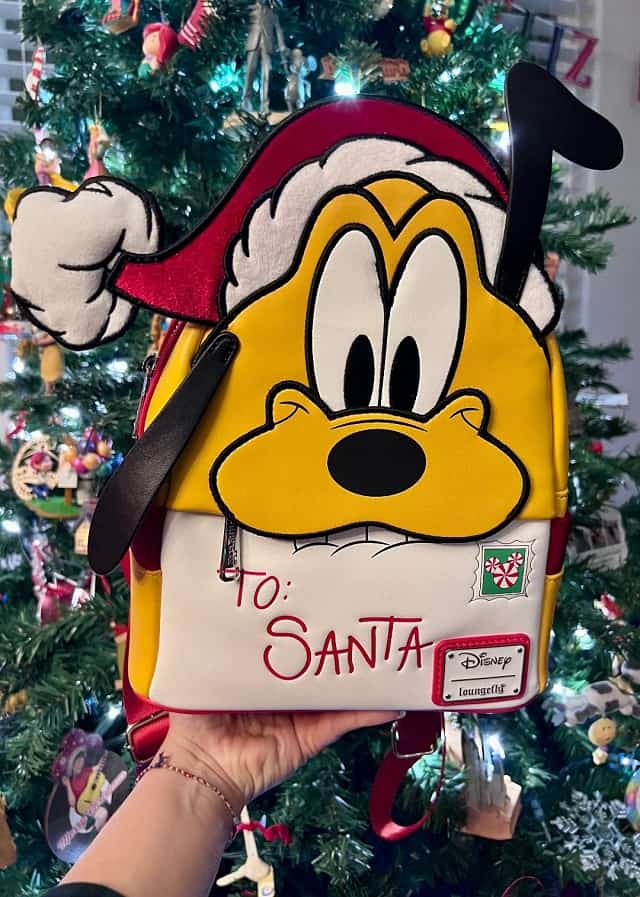 You definitely want to make sure you have all your essentials for the event. That includes a portable charger, ponchos, and jackets. It may be 85 degrees at 4:00 pm, but it can get very chilly in the evening! This is especially true for those December parties.
Oftentimes, the parade, fireworks, and other activities will still take place during the rain. You want to make sure you have a poncho or umbrella to enjoy them!
Outdoor characters will not meet in the rain. If there is rain in your forecast you will need to move your strategy around.
4: Arrive Early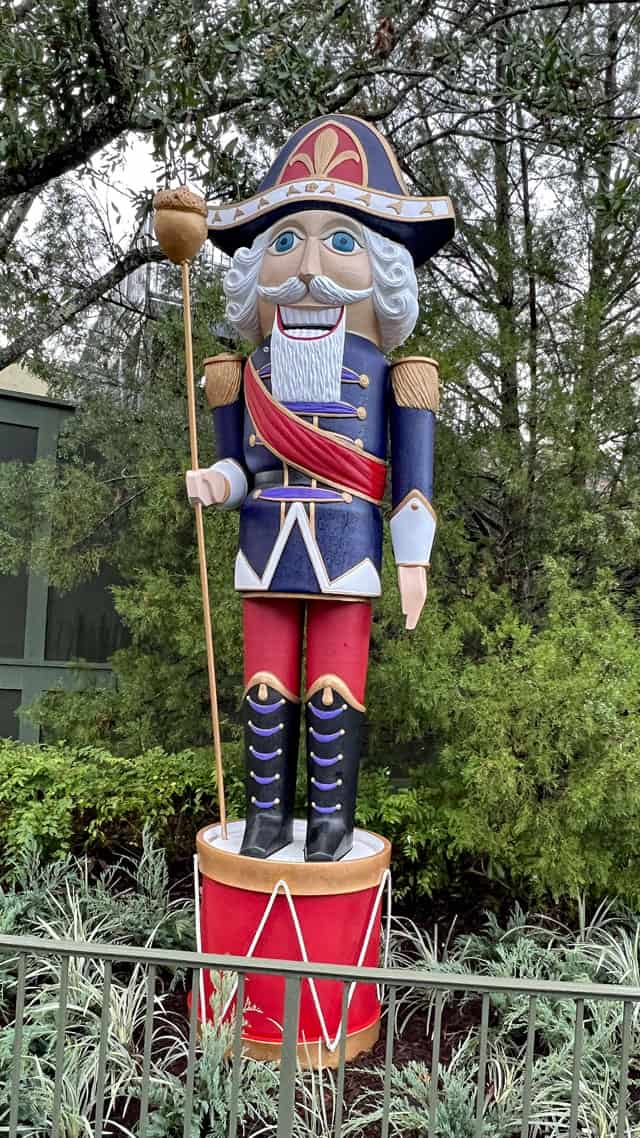 Even though the party officially starts at 7:00 pm, Disney lets party Guests in as early as 4:00 pm. We always recommend you enter at 4:00 pm!
To be ahead of the crowd, consider arriving at 3:00 pm. You will have to wait an hour, but a crowd quickly forms. I always prefer to the be at the front of the line vs the back.
There is so much that can be done within those 3 hours. You can experience attractions (especially those that will be closed during your event), have dinner, and line up for popular characters. In fact, many characters start meeting before the party even starts!
Jack and Sally meet as early as 4:30 pm. The Seven Dwarfs and Hundred Acre Wood friends also begin early.
5: Get your Free Ornament!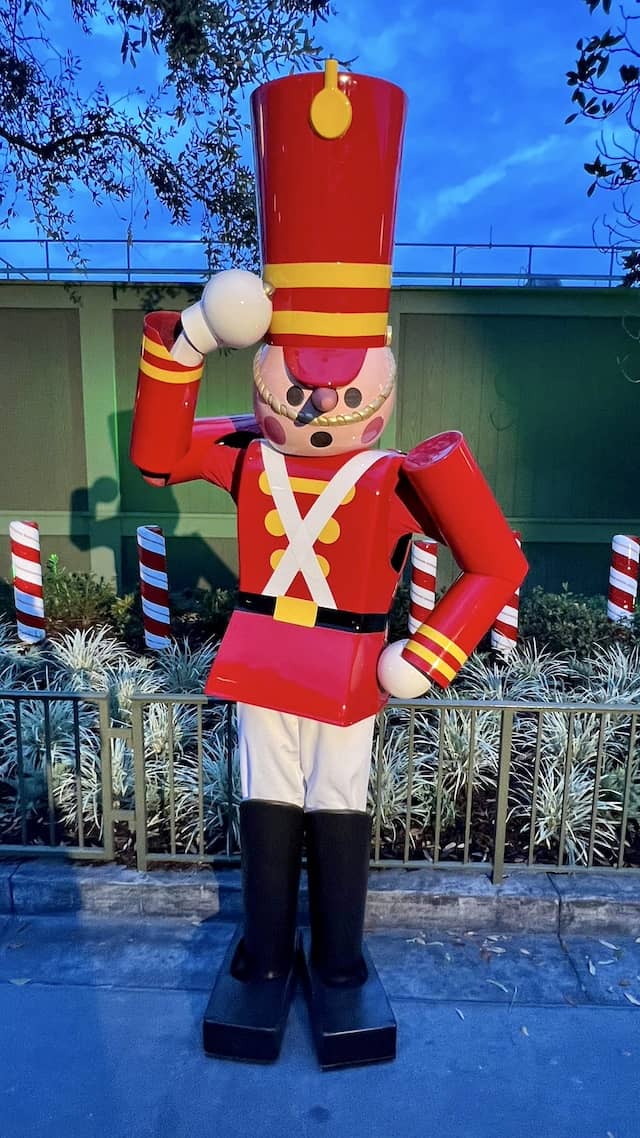 A cute little keepsake Disney is handing out in 2023 is a Toy Soldier ornament. It is oh-so-adorable but is only available until 8:00 pm.
Once you enter the park, follow the crowd of people heading to get their ornament. It is just past Tony's Town Square Restaurant in a backstage area.
There is also "snoap" and a Toy Soldier meet and greet opportunity. If you plan to meet Jack and Sally first, get your ornament after you meet them.
6: Use Genie+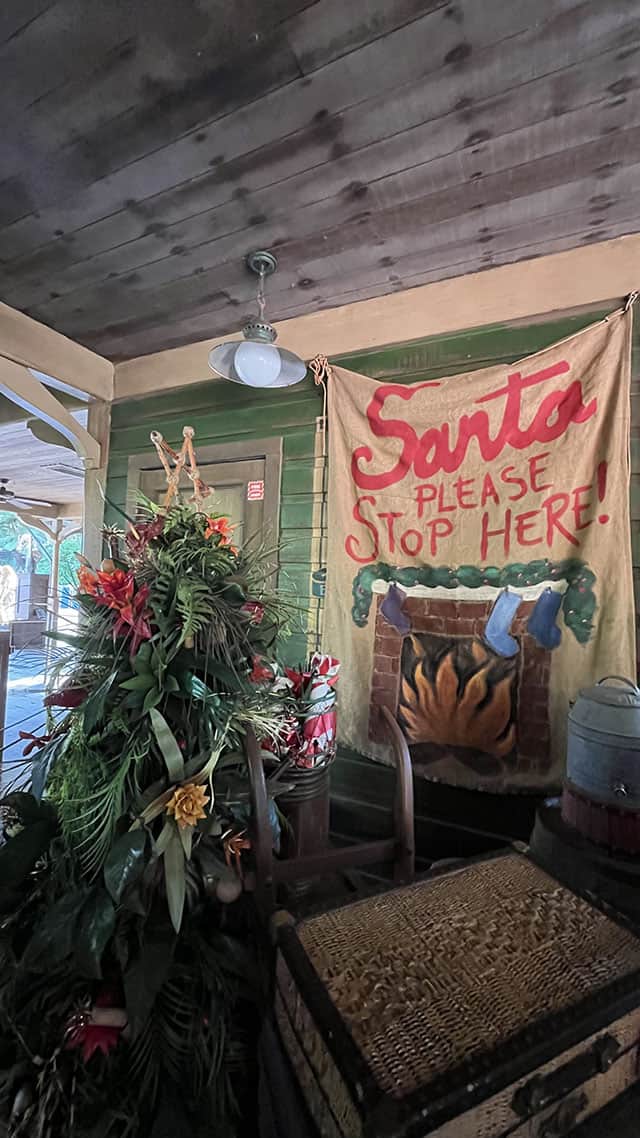 Genie+ is not utilized during the party, but it can be used before the party. And, that is exactly what we recommend doing!
This is actually one of my favorite tips. I prefer to use party time for party-exclusive offerings, so attractions are never high on my list (minus special overlays).
I spend the 3-hour mix in redeeming my Lightning Lane return times I spend all day grabbing. You can get 5 return times if you book at 7:00 am and then every 2 hours after the park opens.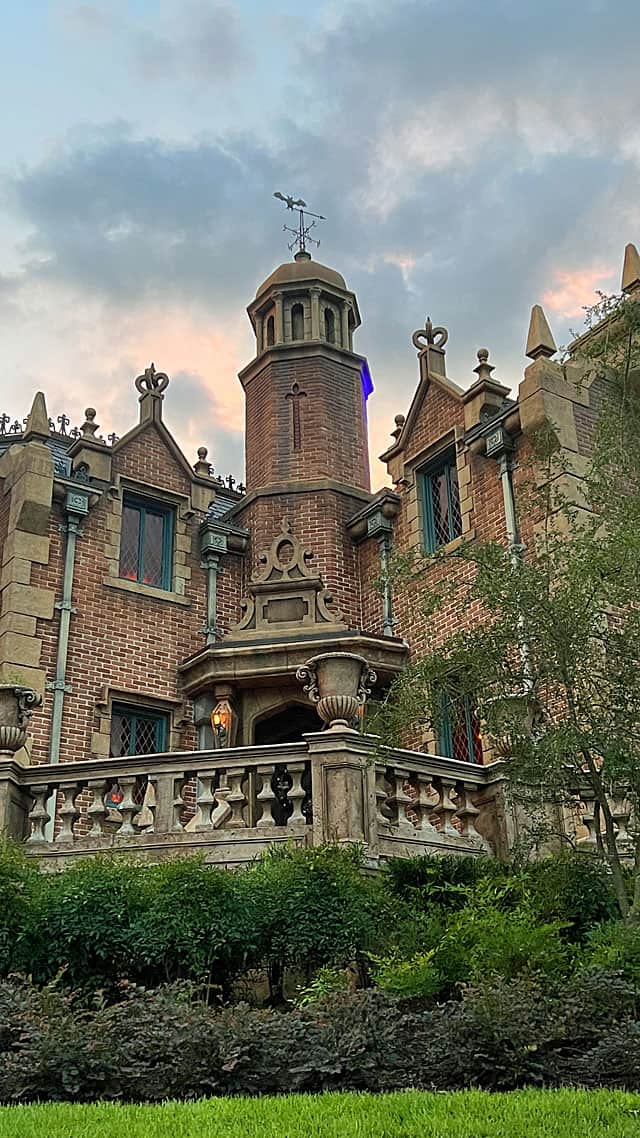 Yes, you will be on your phone a lot. You will constantly have to modify your return times to later in the day, but it's a small price to pay to walk on a few rides before the party even starts.
Note: If you plan to meet any characters above that meet before the party starts, you will need to decide if Genie+ is worth it for you.
7: Don't Bother with Table-Service Meals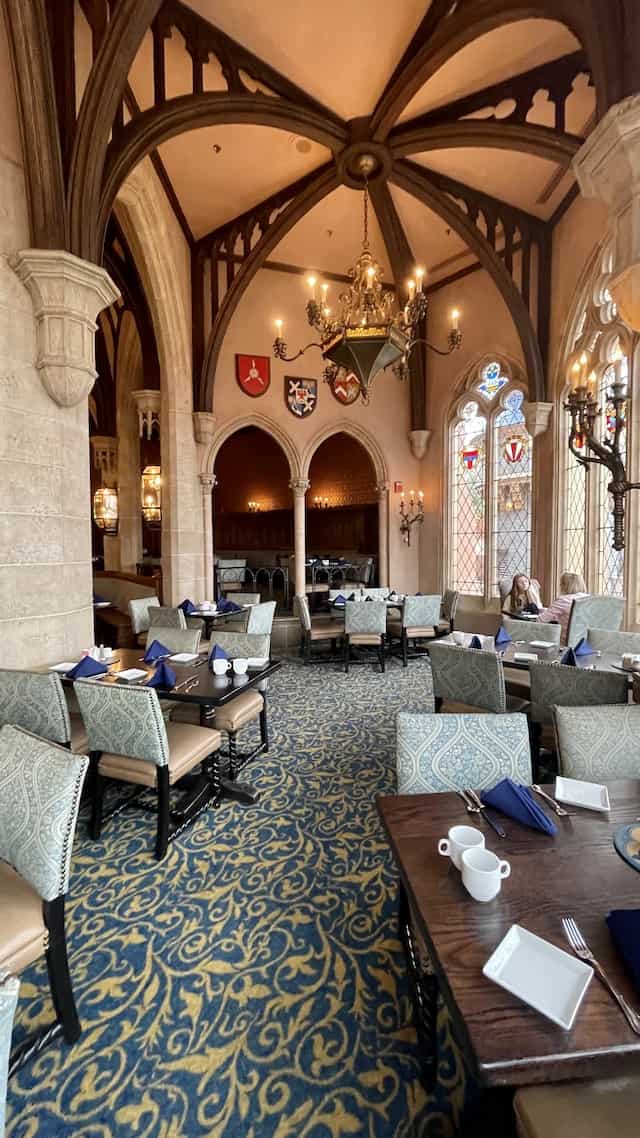 We never recommend sitting down to eat during a party (or during the 4:00 to 7:00 mix in). There is just too much to see and do that including something you can do on another day is just not worth it.
Instead, fill up on food at one of the monorail resorts before heading to Magic Kingdom. Then, you can spend the evening sampling all those exclusive food items!
8: Dessert Parties are a Waste of Time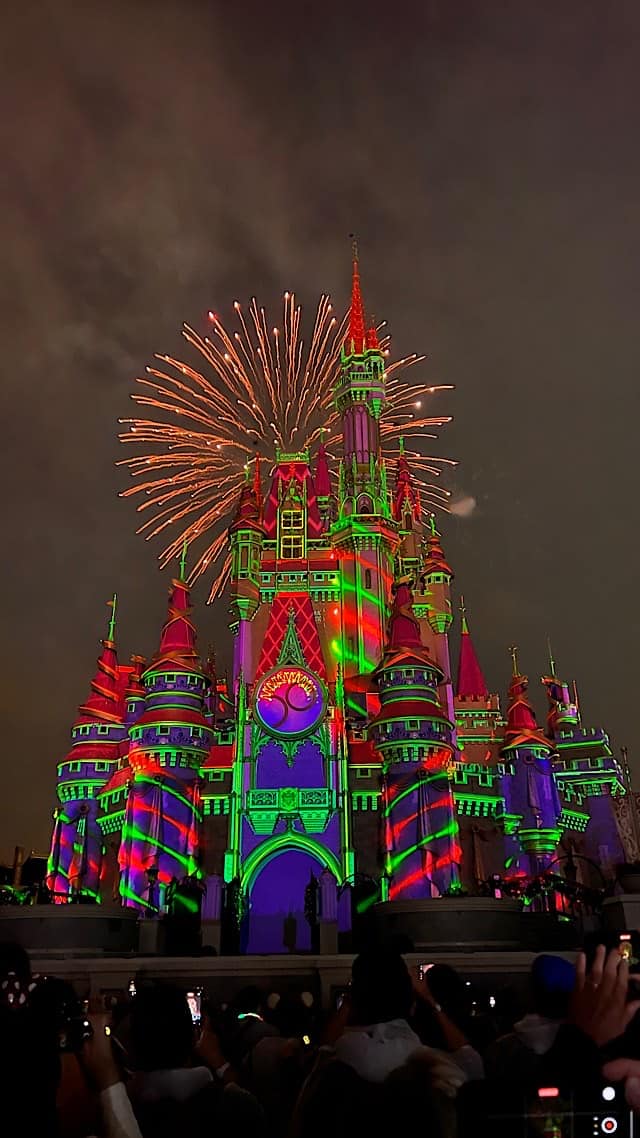 Along with table-service restaurants, the dessert parties for the fireworks are also a waste of time. This requires a 60-90 minute time commitment for a fireworks show that lasts less than 15 minutes.
Plus, the Hub is not crowded, so you can easily find a decent spot about 20-30 minutes before the fireworks. Adding another cost on top of the cost of the party and losing precious minutes is not smart.
9: Skip Most Merriest Celebration, but Watch Frozen Castle Lighting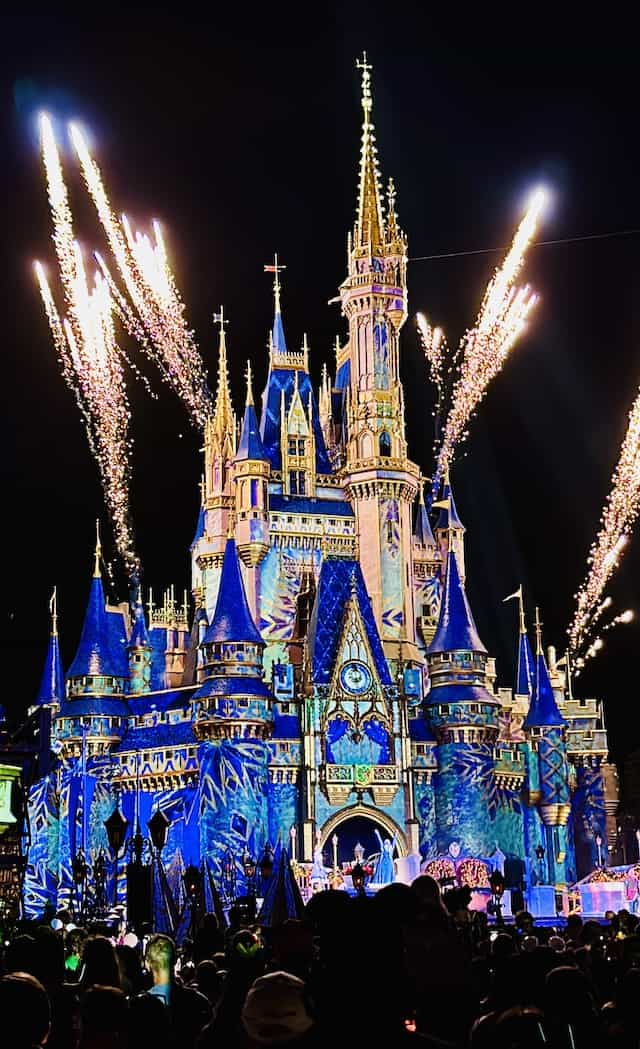 The Frozen castle lighting takes place twice each night: 6:15 and 8:15 pm. It is new this year, so we definitely recommend checking it out even if you have attended in previous years. It is a cute 7 minute show.
To me, the Most Merriest Celebration stage show is not worth watching. My kids always prefer the smaller dance parties, and Most Merriest is just average. You may want to watch a few seconds of the show on the internet before your visit to decide for yourself.
10: Take Advantage of Free Cookies and Beverages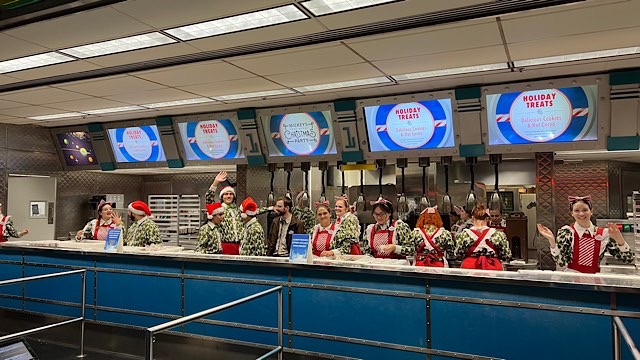 Mickey's Very Merry Christmas Party is one of the few times throughout the year when Disney gives away free food and drinks! Located around the park, you will find cookie and beverage stations marked with giant peppermint inflatables.
Columbia Harbour House: chocolate chip cookie and hot cocoa
Cosmic Ray's: snickerdoodle and hot cocoa
Lunching Pad: sugar cookie and apple cider
Pinocchio Village Haus: red velvet cookie and hot cocoa
Tortuga Tavern: gingerbread cookie and eggnog
I actually really enjoy the treats. They are fresh…and free! What more could you want?
11: Plan to Watch the Second Parade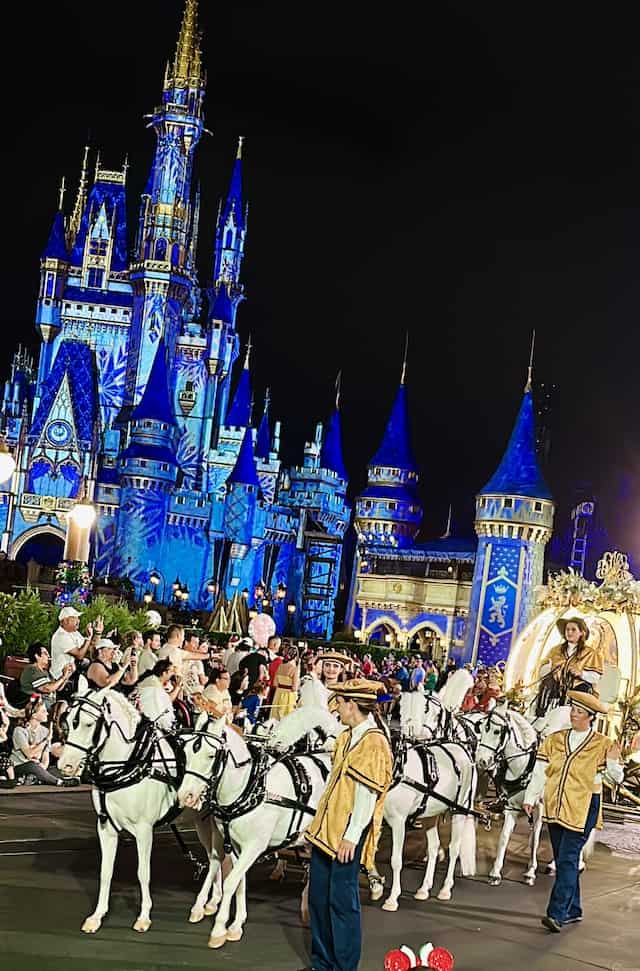 The second parade is always less busy than the first. Just like Frontierland will always be less crowded than the Hub and Main Street.
If rain is not in your forecast and you know your youngest party-goers will stay awake, plan to watch the second parade. While everyone is watching the first, wait times for characters and attractions will be lower.
Use that time to your advantage and hit up popular characters (Jack and Sally, Dwarfs, or Hundred Acre Wood friends) with low waits.
12: Use MDE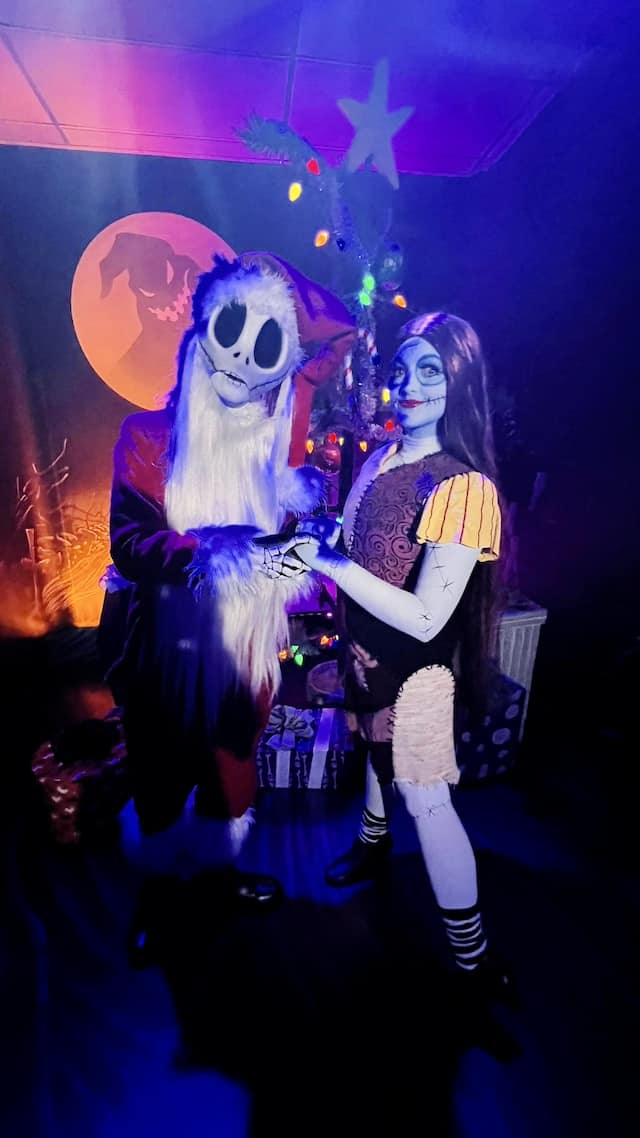 My Disney Experience has wait times for attractions, select character greets, and more. You can also use DAS (if you qualify and have an active DAS pass).
Checking on these wait times will help you see what's going on in the park and can direct you to that next meet or attraction.
13: Ride Space Mountain and TRON During the Party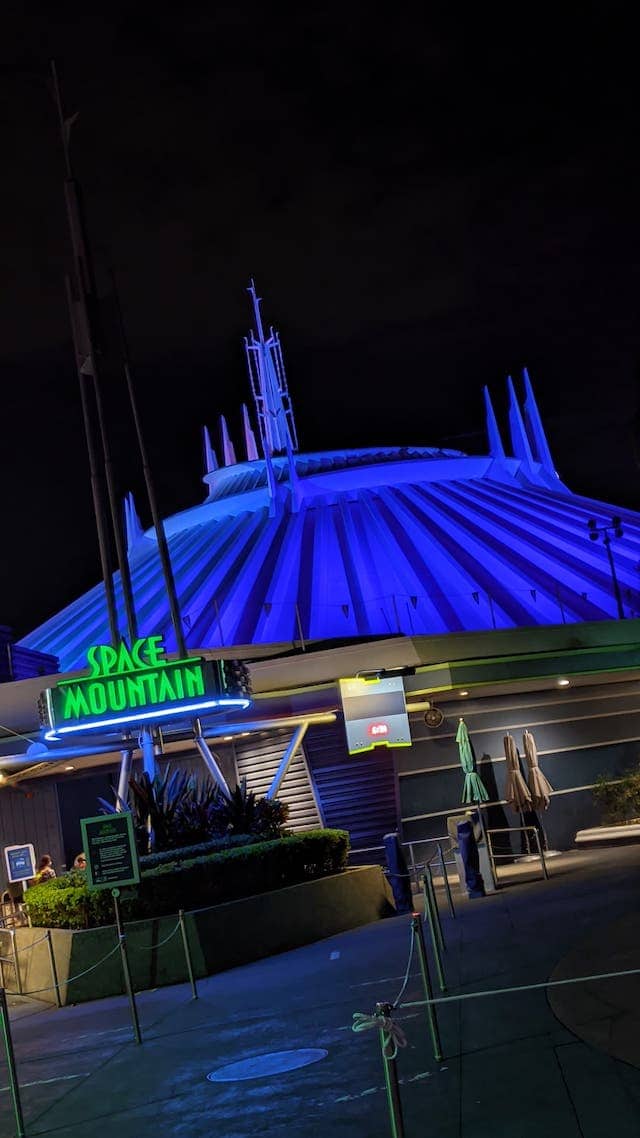 Space Mountain is the only holiday overlay that takes place during the party. Jingle Cruise's overlay is up for the entire day all throughout the season.
If there is one attraction I recommend during the party it's Space Mountain! The rock music is so fun, and the light effects are really neat. Because it's not completely dark, you can actually see the tracks as well! It provides a very unique experience.
When I rode, the wait time was a little inflated. It said 35 minutes, but I waited less than 20.
For TRON, you can join the virtual queue at 6:00 pm and they begin calling boarding groups just a few minutes later. You can also purchase an Individual Lightning Lane for the ride to use during the 3-hour mix in if you do not want to ride it during the party.
14: Plan to Stay for the Entire Party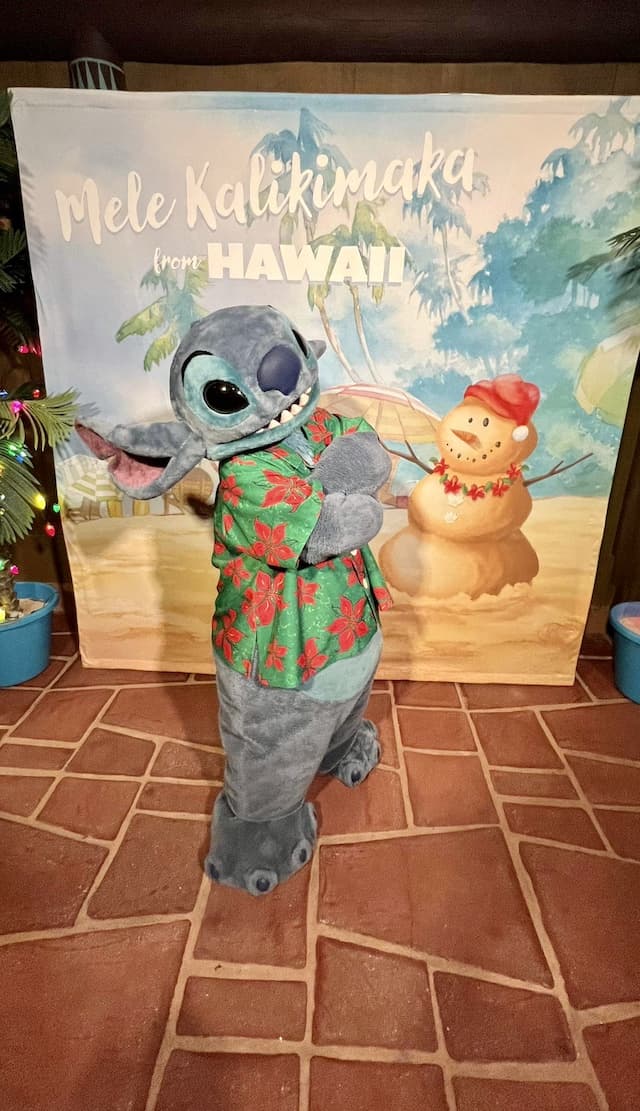 Whether it's people leaving after the fireworks or something else, the park always feels less busy for the last hour of the night. Your ticket gets you into the park for 8 hours, and we always recommend getting your money worth!
After the fireworks, I was able to meet Mirabel, Aurora and her prince, and Snow White and her prince. Then, I headed back to the Hub just as the parade was approaching.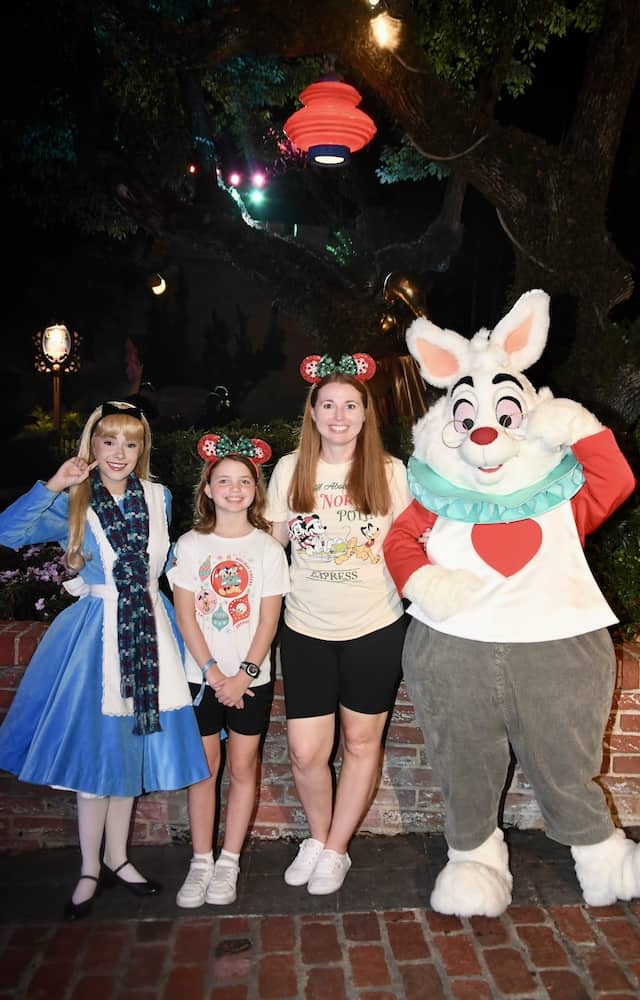 After the parade, I went back to Fantasyland and met Alice and the White Rabbit and got in line for Seven Dwarfs Mine Train just a few minutes before the party officially ended.
Had I tried to do all that earlier in the evening I would have been in line for much longer. Do note that many times the character lines will cut off before 12:00. Keep that in mind once 11:30 pm approaches.
15: Have Realistic Expectations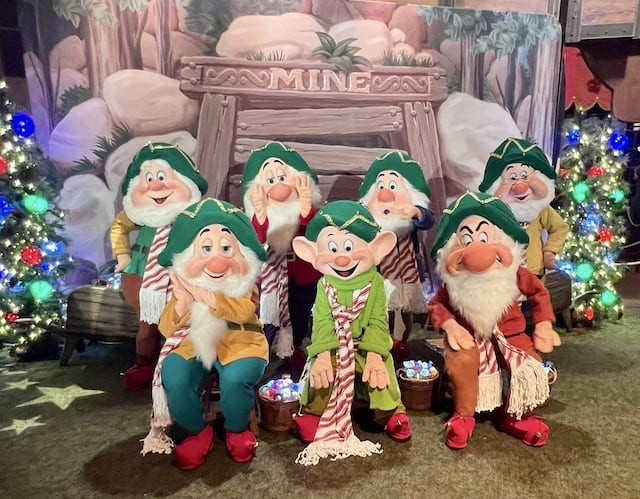 Finally, my favorite tip for anything Disney-related. Have realistic expectations! You will not get to meet every character, ride every attraction, and experience every single offering the party has to offer.
Remember those categories I mentioned in tip #2? Focus on your must-do's and then work towards completing your second category. Anything beyond that is a bonus!
Character Locator has three touring plans specifically for Mickey's Very Merry Christmas Party. Plus, it has all the best tips for characters – when they begin meeting, when to line up, and what to expect. Be sure to subscribe! The $10 is well worth it.
Do you have any more tips for your fellow KtP readers? Share them in the comments below! And, feel free to pass these tips along to a friend who is attending the party this year!