Jollywood Night is a new holiday event for 2023. Here is our complete review of the event's offerings and our best tips for how to plan your evening. And we answer the important question: is it worth it to attend?
The Basics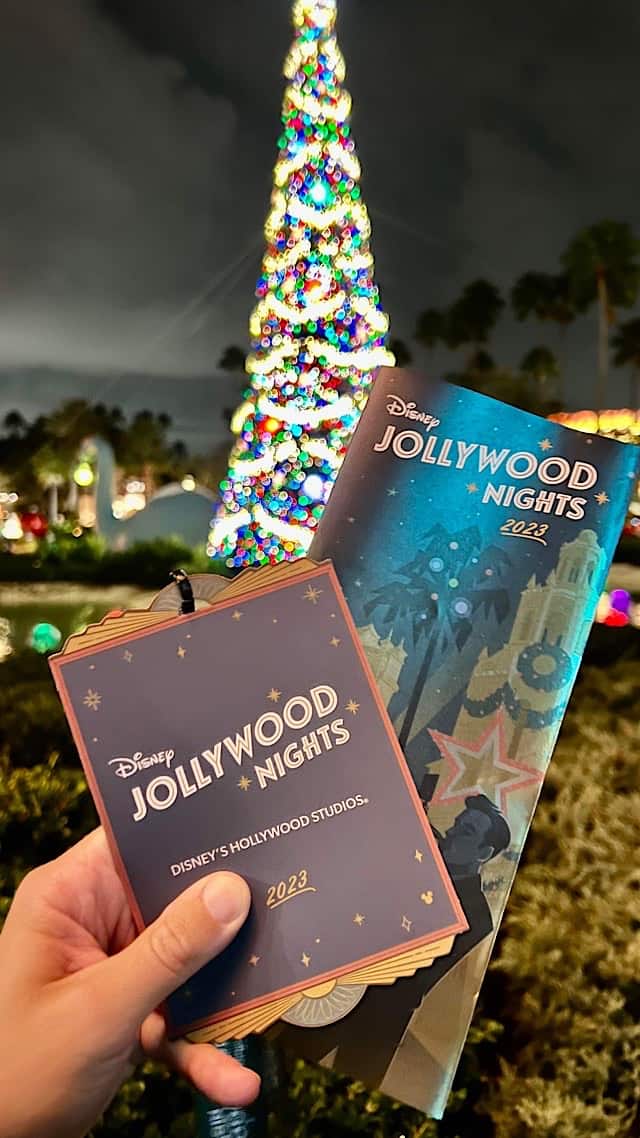 For 2023, Jollywood Nights takes place on select nights in November and December.
November 11, 18, 20, 27, 29
December 4, 6, 16, 18, 20
Prices range from $159 to $179 per person, but Annual Passholder and DVC discounts are available. It's important to keep in mind that there are only 10 dates available for the event. With less dates than Mickey's Very Merry Christmas Party, more Guests may be competing for tickets for Jollywood Nights.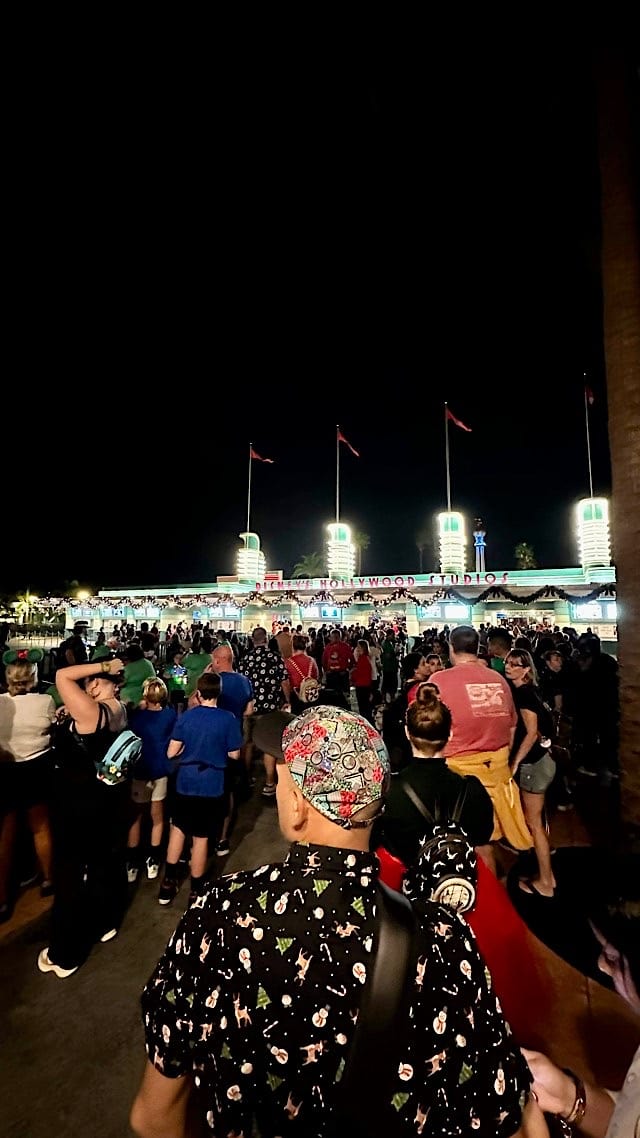 Prices are also more expensive for the event (supply and demand), but only three dates sold out before the first event. I (Monica) imagine most people are waiting for reviews just like this before they purchase tickets. Just know tickets may begin to sell out quickly if reviews are positive.
Guests with tickets can enter Hollywood Studios as early as 7:00 pm on the evening of the event. On the first night, Guests at the front entrance were let in at 6:40 pm. Lines moved quickly.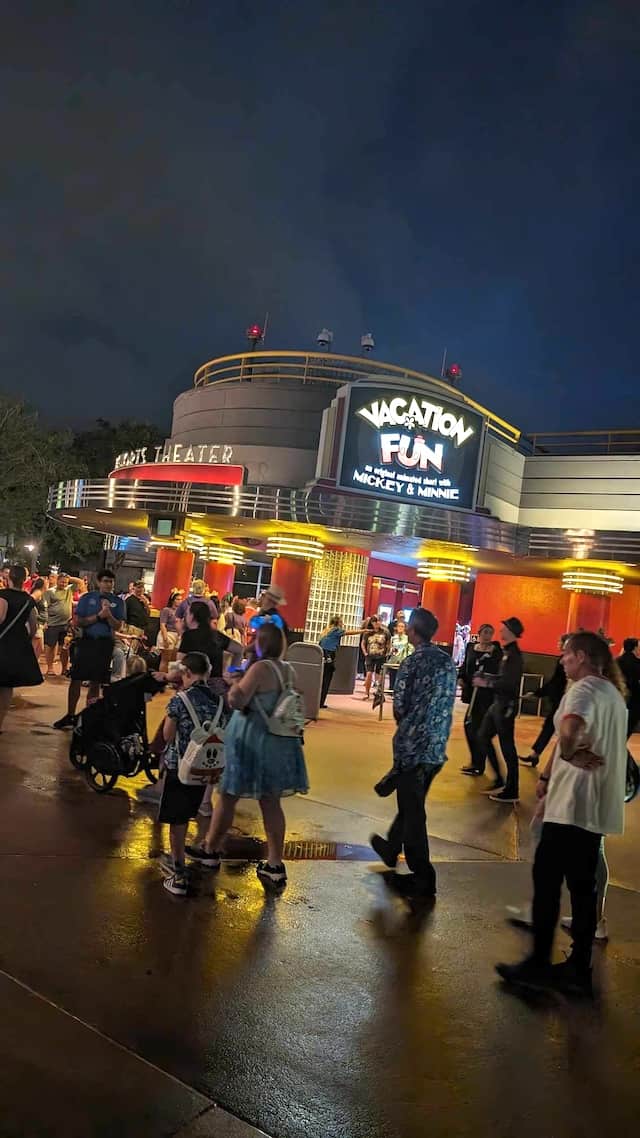 People who were already in the park and getting their wristbands from Vacation Fun had a much different experience. It took about 30 minutes to get a wristband from there, BUT we anticipate Disney implementing more check-in locations for future dates to help solve this problem.
The park closes to day Guest at 8:00 pm, and the event officially runs from 8:30 pm to 12:30 am. To maxmize your ticket, you should enter at 7:00 pm. You can watch Fantasmic!, experience some attractions, or get in line for popular characters.
Attractions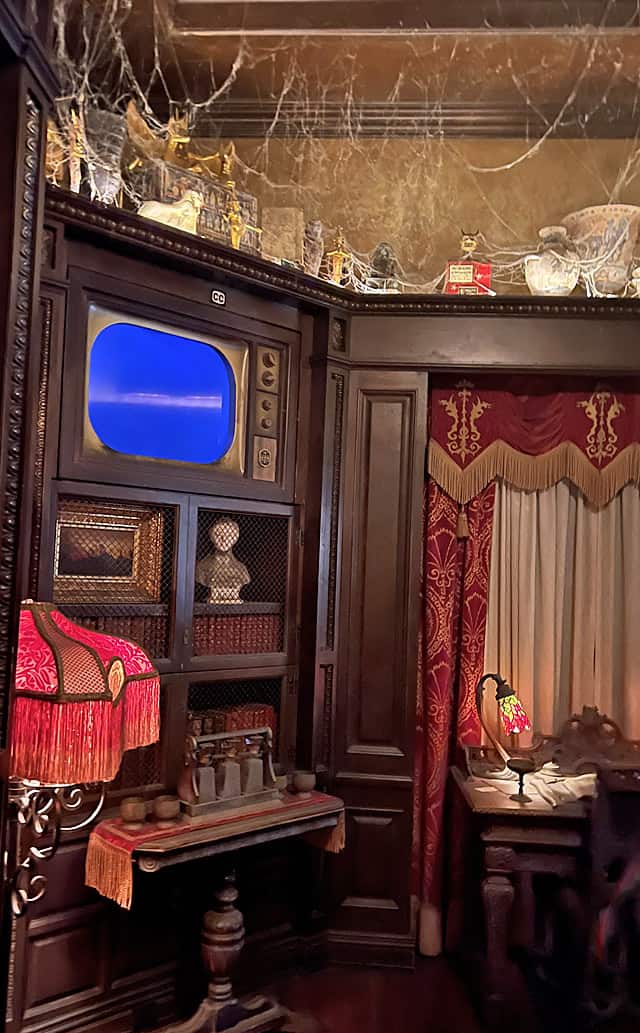 Almost all attractions are up and running for the event. Disney promises lower wait times for these events. Throughout the evening, almost everything was a walk-on. The longest wait was 35 minutes, but I recommend focusing on event-exclusive offerings.
To make the most of your time in the park, consider purchasing Genie+ and obtain return times for 3-4 rides during the hour you are mixed in with day Guests. Whatever you don't accomplish during that hour, you could sprinkle in throughout the evening. That's what I did, and my daughter and I were able to ride Slinky Dog Dash, Mickey and Minnie's Runaway Railway, Rock 'n' Rollercoaster, and Tower of Terror before the event even started.
There is a virtual queue in place for Rise of the Resistance. You can join at 8:00 pm, and they begin calling groups shortly after. The idea for using a virtual queue is to keep waiting down to a minimum. Otherwise, you could spend an hour or more waiting and, thus, waste precious event time.
Characters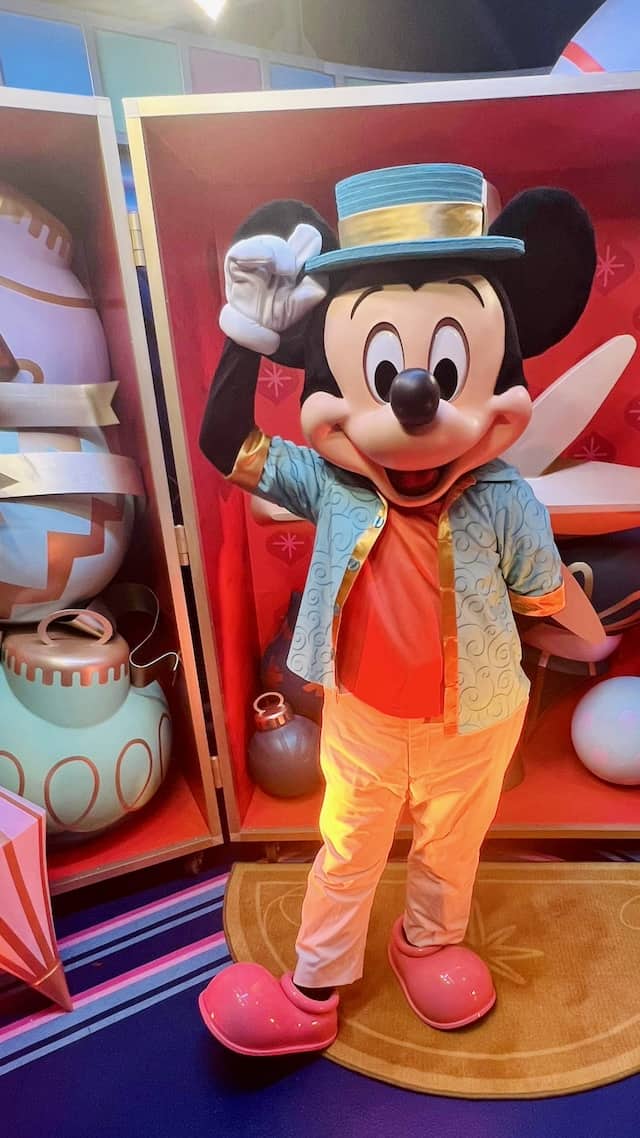 There are several character opportunities during the event. Some are exclusive to the event, and some can be found during the day. At Animation Courtyard, meet The Sensational Six in their holiday best.
Donald and Daisy alternate near the Little Mermaid gift shop. Goofy and Pluto switch off at the entrance to Star Wars Launch Bay. And finally, Mickey and Minnie alternate at the Disney Junior meet and greet locations near the Play & Dance.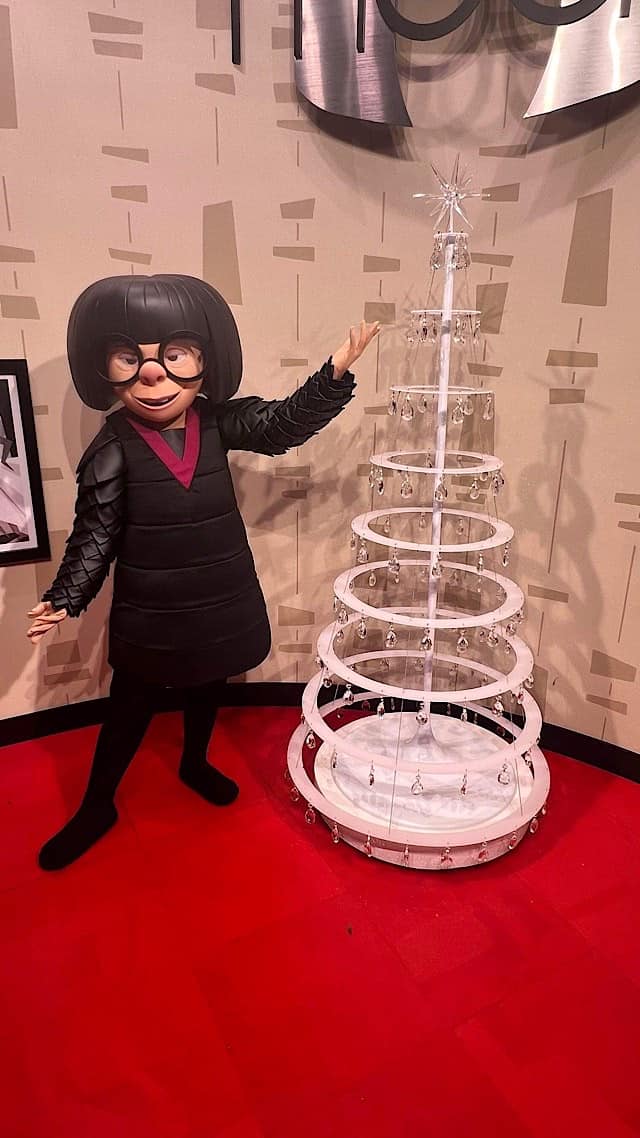 Around Echo Lake, you can meet Powerline Max, Rescue Rangers Chip 'n' Dale, and Phineas and Ferb. Phineas and Ferb are the event-exclusive characters. Personally, I would skip Max because you can meet him during the day.
Edna Mode and Frozone meet in Pixar Place. They also meet during normal operating hours.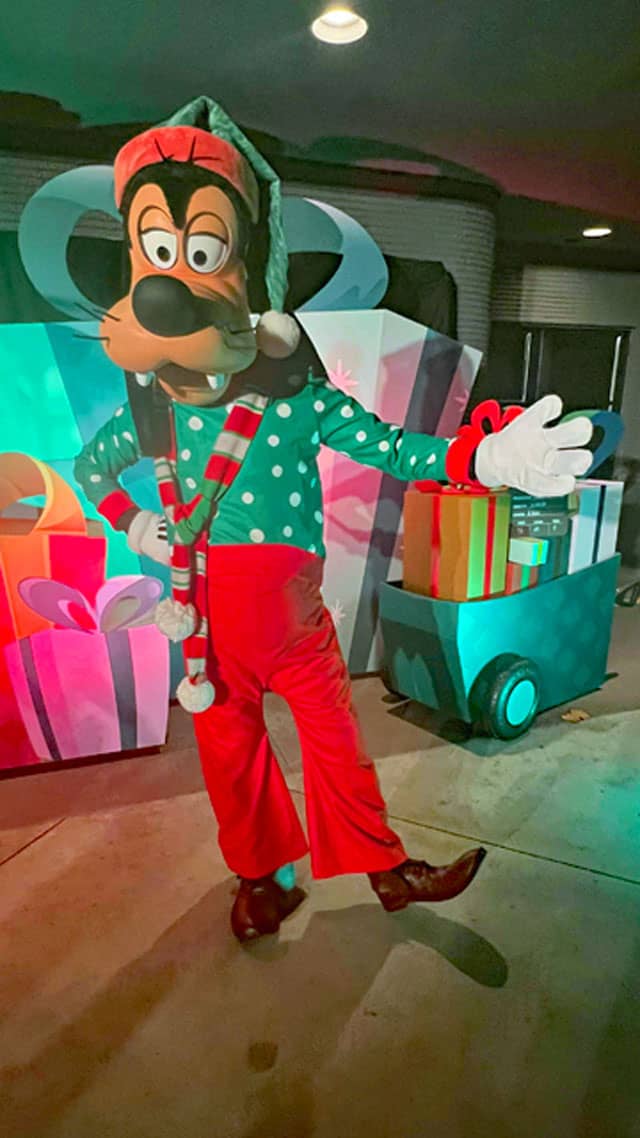 Lines were longest for the Sensational Six and Phineas and Ferb. In fact, many people queued up before the event even started. In the future, I'd like to see them offer autograph cards to keep the line moving.
Overall, I wish Disney incorporated more exclusive characters during this event. Magic Kingdom's Christmas Party has so many rare and unique characters that you can only meet once or twice a year. Also, more characters that fit the theme of jazzy holiday would be more appropriate than what was offered. I am still disappointed in the outfits for Mickey and friends.
Stage Shows, Fireworks, and More Entertainment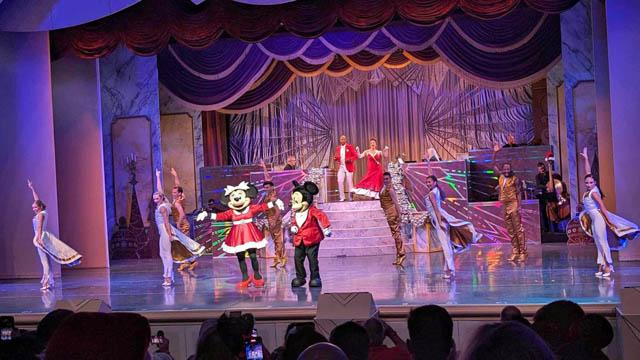 The Disney Holidays in Hollywood is a variety-style show that features Kermit, Miss Piggy, Tiana, Belle, Mickey, and Minnie. Inspired by the glitz and glamour of old Hollywood television specials, you can catch the show at Theater of the Stars on Sunset Boulevard.
Disney Holidays in Hollywood lasts approximately 28 minutes and is a cute show. There is singing, dancing, some comedy, and characters!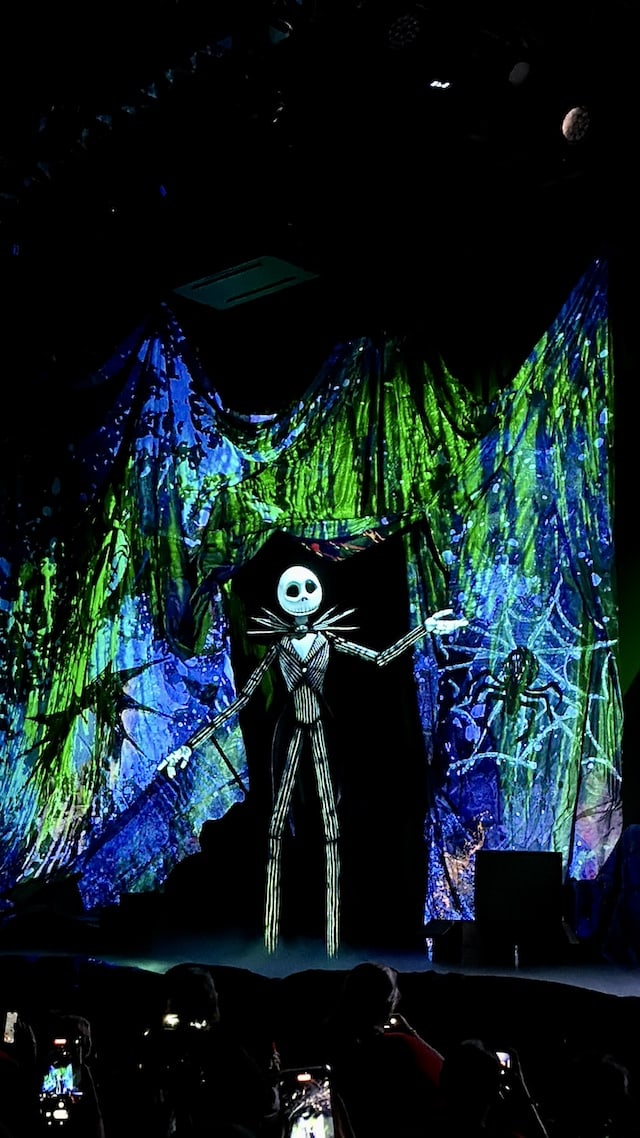 The Nightmare Before Christmas Sing-Along takes place at the Hyperion Theater. It's basically a holiday version of the Frozen Sing-Along that takes place during normal operating hours.
Jack, in giant puppet form, makes an appearance at the beginning and end of the show. Oogie Boogie has a dance number in the middle. And, two non-talking performers lead us through the story of Nightmare Before Christmas.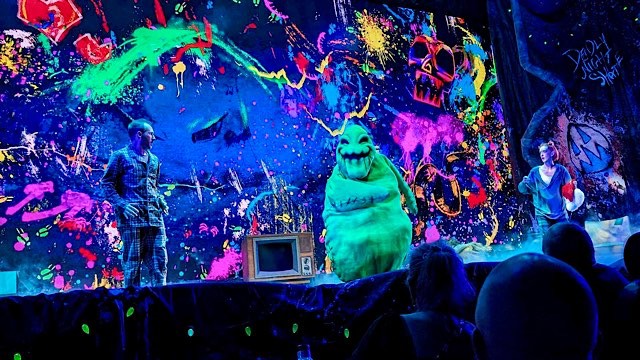 This show is also about 25-30 minutes, and even though it's advertised as a sing-along I did not notice many people in the crowd singing.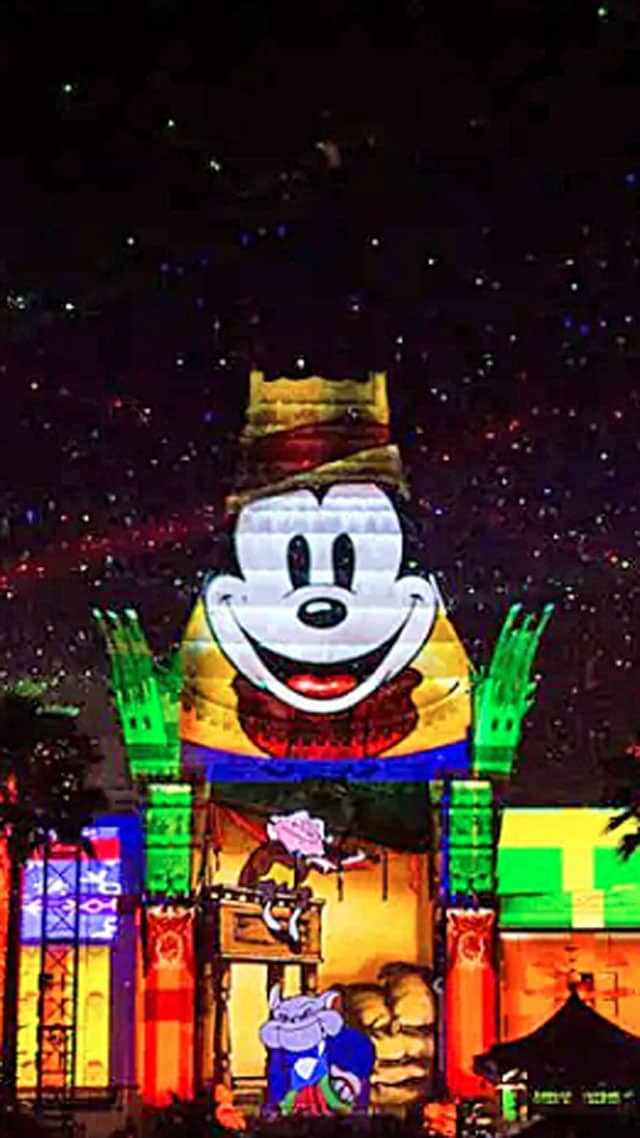 Finally, Jingle Bell, Jingle BAM! returns in 2023! It has been absent from the holiday season since 2019, and we are so happy to see it once again. The fireworks show only takes place during the event. You cannot see it on regular evenings during the holiday season.
Unfortunately, it down-poured during the first event, but Disney still put the show on. I recommend getting there about 20-30 minutes if you want a spot closer to the theater. It's not really necessary to get there super early for this show or the other shows that take place during Jollywood.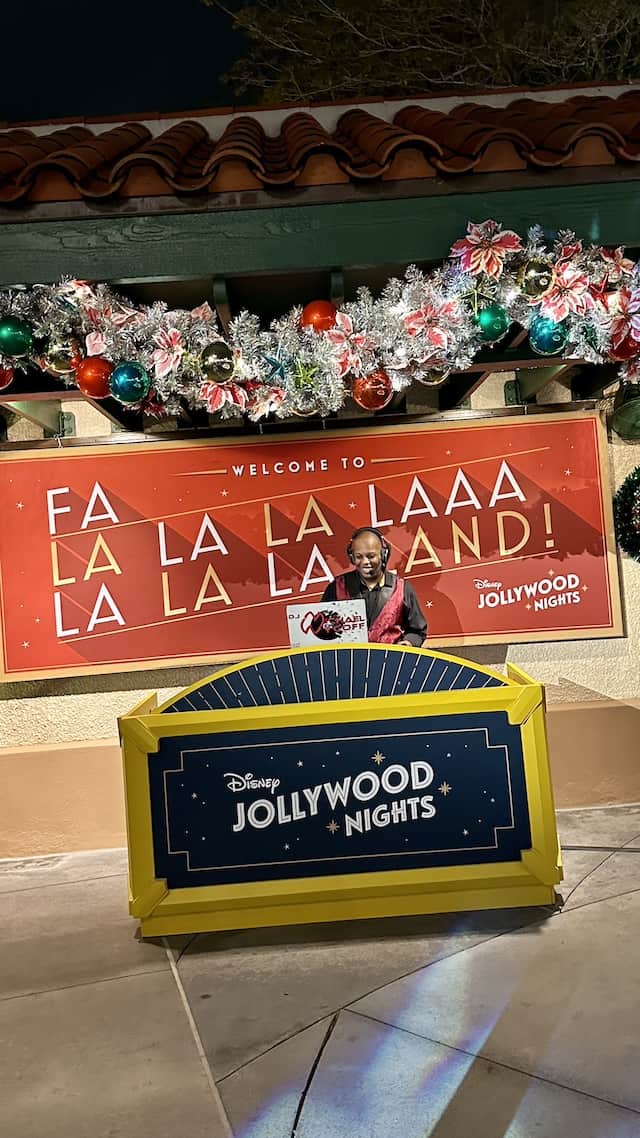 Throughout the park, you can find other parties and entertainment offerings. A DJ spins holiday favorites on Hollywood Blvd, and various "parties" take place at Echo Lake (throwback bash) and Commissary Lane (Latin street fair).
These are offerings you could enjoy in "passing" as you head towards an attraction or other activity. They add a fun atmosphere but aren't necessarily something you need to carve time out for.
As far as a "strategy" I would focus on shows last. Spend the first few hours getting those character meets and treats in. It is much more predictable to do the shows last because you know when they start and how long you have to complete everything else before.
Jazzy Holidays at Brown Derby Lounge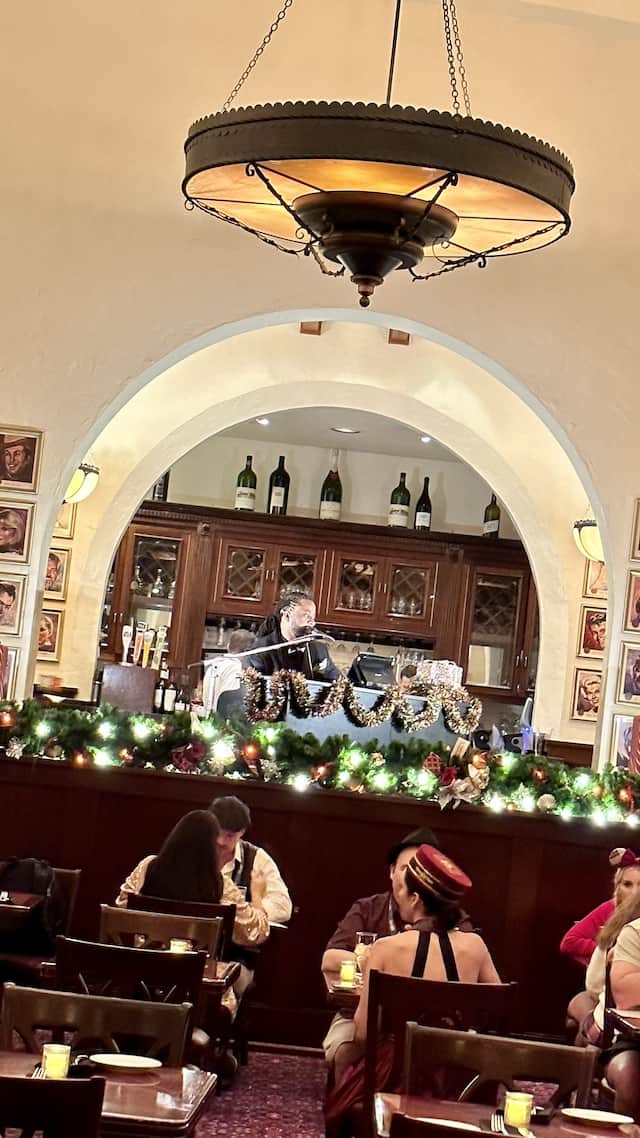 The Hollywood Brown Derby turns into a jazzy speak-easy during the event. Enjoy holiday music, specialty cocktails, and "light bites" during Jollywood Nights. You must join the walk-up waitlist; there are no advanced dining reservations available.
Because availability is limited, if you want to eat here you will want to join the waitlist as soon as it opens. It opens at 8:15 pm, but for the first night there was a glitch in the system. This caused everyone to receive a return time of 10-15 minutes. It was rather chaotic outside Brown Derby as people tried to make sense of the issue.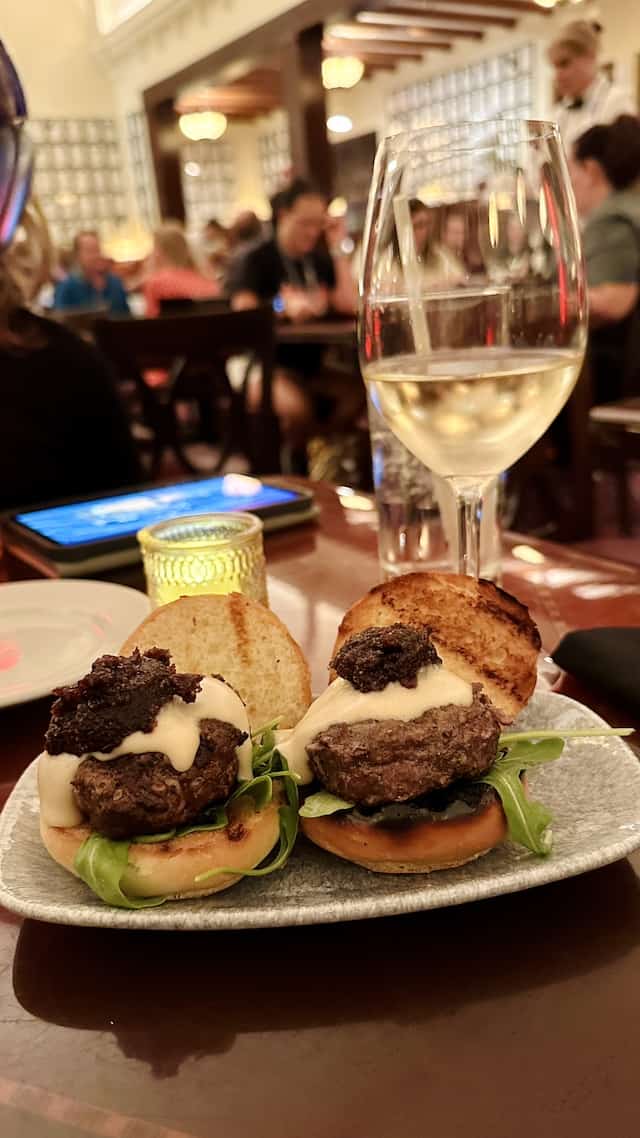 It's also important to keep in mind you may get called for your table during the fireworks or in the middle of a ride or show. For some, it may not be worth it to eat here because you have to give up a certain level of planning/control. I received my notification around 9:40 pm.
Once inside, a jazz piano player sings holiday tunes. Service was incredibly fast. I ordered the bison Derby sliders, and they were fantastic. I was in and out within 30 minutes. It was a nice break and much better than standing in a long line for food at other locations.
Twilight Soiree at the Tip Top Club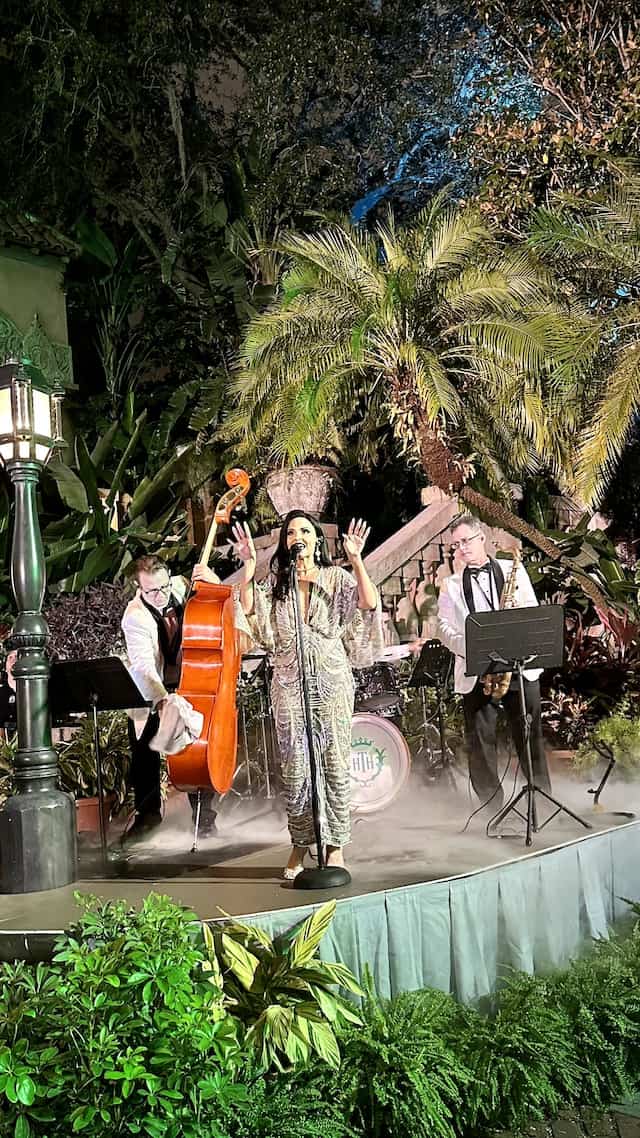 In the courtyard of the Hollywood Tower Hotel, stop by for swing dancing and cocktails. A live band plays holiday music while you spend a few minutes unwinding.
Do note that the band will not play in inclement weather. If rain is in your forecast and you want to see them, be sure to plan that out strategically. This is not an offering that you need to plan to do. You can enjoy it in passing as you finish riding Tower of Terror or pop in for a few minutes after the Disney Holidays in Hollywood show.
There are several standing tables to enjoy your beverage.
The Food
You can find the full menu for the event in this post. Because I ate at Brown Derby, I did not sample any of the food. There were no free treats or anything like what you will find with the cookies and drinks at Mickey's Very Merry Christmas Party.
From what I saw, lines for food were incredibly long. It would be helpful for there to be more food service staff to help with this. Of course, with first night events a lot of people attending were PR media that Disney invited. So, in the future lines may not be as intense.
With that said, if there is something you are set on trying you may want to consider getting in line for that early in the evening. I am always a fan of one person standing in line for food while another holds the spot for characters.
PhotoPass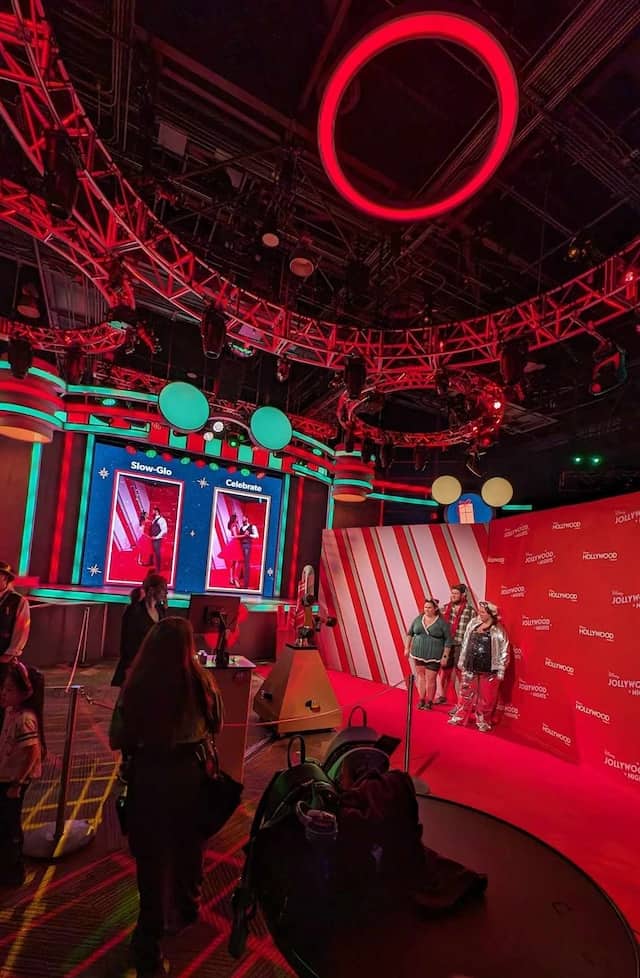 There are several PhotoPass opportunities during the event. You will find them all throughout the park, and all photos are included with admission!
In the Disney Junior theater, find the Robotic Arm that captures a video. This fun opportunity gives you 4 different options. Also in Animation Courtyard, another photo op has several backdrops and even offers a boomerang video. The large Jollywood Nights neon sign is located near the front of the park.
Magic Shots include Jazz with Ollie in front of the Chinese Theater, Kermit and Miss Piggy at the location closest to the Hollywood Tower Hotel, Twilight Soiree at the exit of the ride, and Life-Day stationed at the X-Wing in Batuu.
Is It Worth It To Attend?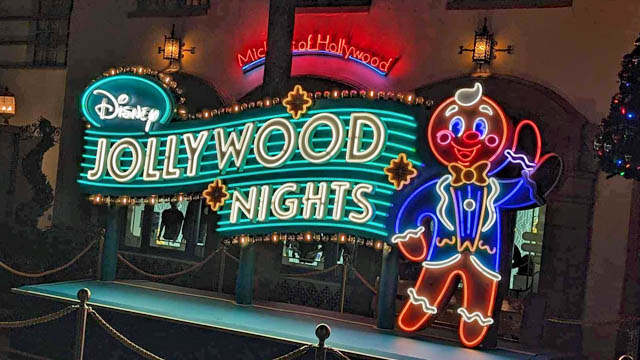 Disney marketed the event more for adults than children and families. Mickey's Very Merry Christmas Party is definitely supposed to be considered the family event of Disney World, and Jollywood is the "adult" counterpart.
I (Monica) brought my 9 year old daughter, and while the overall vibe is more geared towards adults, there are still some offerings for children. There are the rides, of course, as well as the stage shows and character meets. We rode four rides during the mix-in from 7:00 to 8:00 and other than the Nightmare Before Christmas sing-along, she did not care about much else.
Unless you plan to go just for the rides or characters, I actually do not recommend this event for children. There is just not enough to justify the cost of the ticket.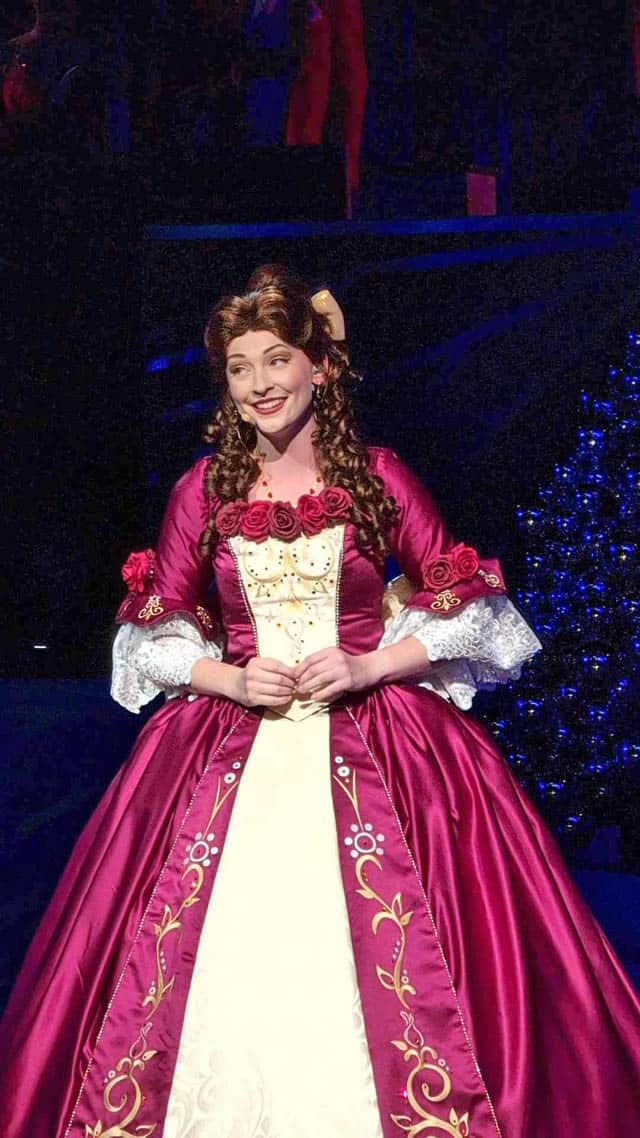 The Brown Derby Lounge and Hollywood Tower Hotel Soiree are definitely be something children would NOT enjoy. If you are bringing children, these would be good offerings to partake it while they sleep in the stroller at the end of the night. My daughter enjoyed a Shirley Temple and some iPad time at Brown Derby.
The event cannot (and should not!) be a stand in for a real day at Hollywood Studios. If you do not visit Disney World often, you would miss out on so much by skipping a full day at Hollywood Studios.
It also cannot and should not be compared to MVMCP. These are actually vastly different events, and I would classify Jolywood as more of a themed After Hours event instead of a party.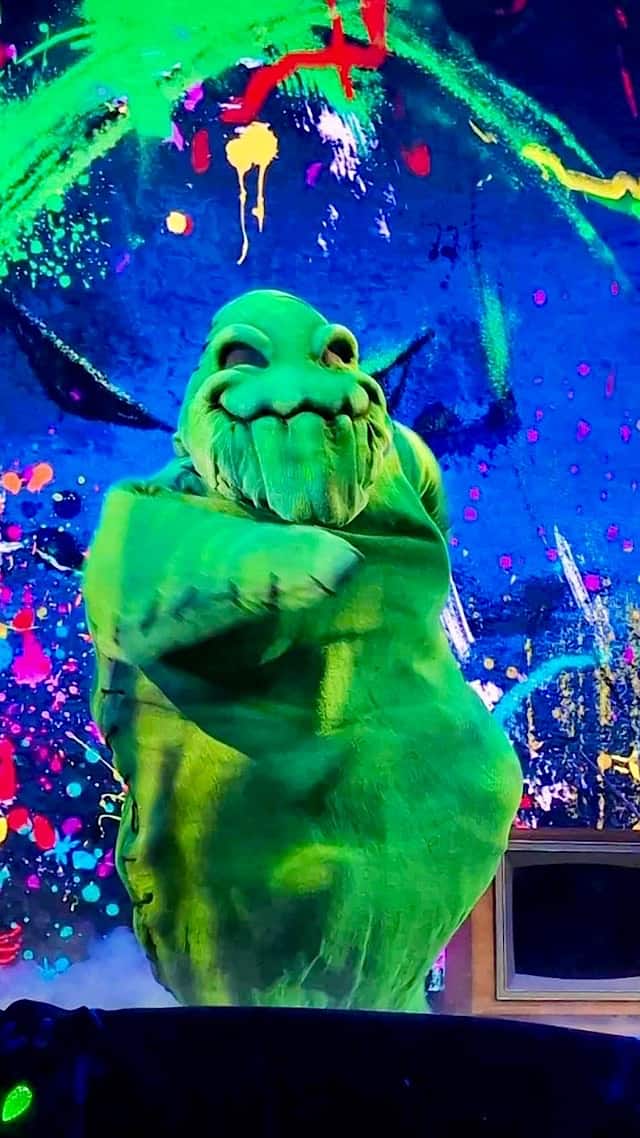 Overall, I think Jollywood is worth it for adults. Both Magic Kingdom and Epcot have holiday events, and it's nice to see Hollywood Studios have one too. Hollywood Studios offers a completely different holiday experience with the vintage decor. I appreciate an event that "matches" the atmosphere of the park during the holidays.
One thing I wish Disney would do is let event Guests in earlier. Even 6:00 would allow people to enjoy more of the park before the event officially starts. Because the ticket is so expensive, this would increase the value of attending the event.
Hopefully Disney continues to improve this event and maybe adds in more offerings. I think this was a good starter event, but I would not bring the entire family here with what is currently offered.
Are you attending Jollywood Nights in 2023? Let us know in the comments below. And, share this post with a friend is also going!