In the words of Dr. Facilier, "Got to hand it to you, Tiana. When you dream big, you dream big." His words couldn't be any more accurate!
Princess and the Frog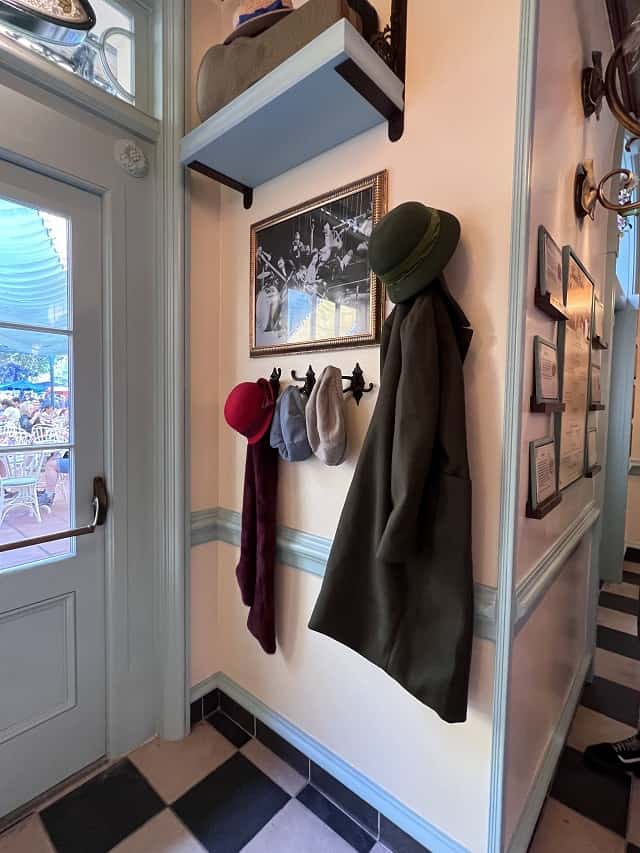 The Princess and the Frog released in theatres in 2009.  The animated film, set in the Bayou of New Orleans, follows the story of a hard-working girl, Tiana, and a spoiled prince, Naveen. They both embark on an adventure of a lifetime while learning many valuable lessons!
The film stars the voices of Anika Noni Rose, Bruno Campos, Michael-Leon Wooley, Jim Cummings, Jennifer Cody, John Goodman, and many others. The film is set in the 1920s and has ten songs. Composed by Randy Newman, many have become fan favorites to this day.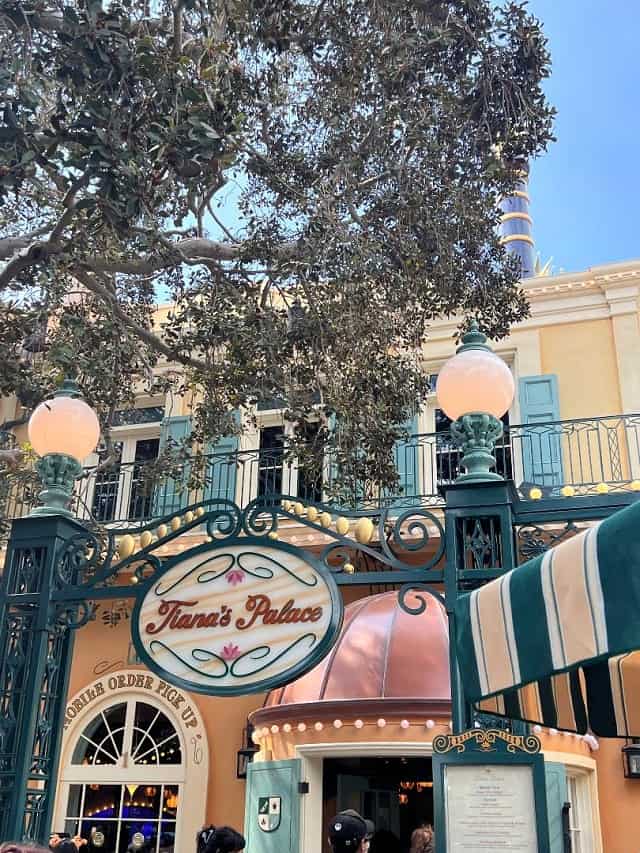 With the film's success, it is no surprise that a brand-new upcoming theme park ride is in the works at Disneyland and the Magic Kingdom. It replaces Splash Mountain. Disney has announced that the attraction's storyline will follow where the film ended. It will focus on Tiana hosting a party for the people of New Orleans during Carnival.
Tiana's Bayou Adventure will open at both parks in late 2024. However, the Princess and the Frog's theming does not end there. As of September 2023, Disneyland opened its door to Tiana's Palace, a quick-service restaurant.
Tiana discovers that the celebration is missing a key ingredient and needs the guests' help to find it as they join her and Louis on a trip to the bayou.
Tiana's Palace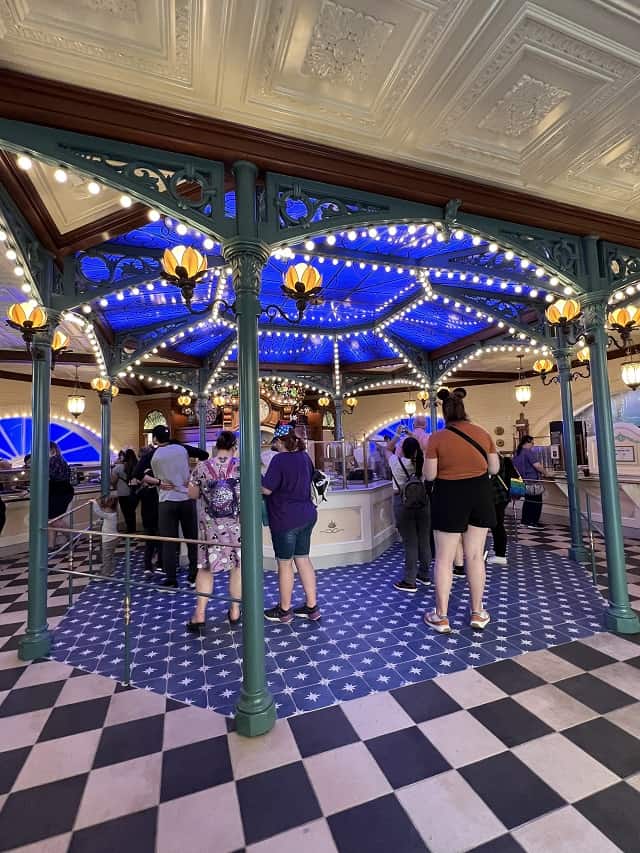 Tiana's Palace, located within New Orleans Square in Disneyland, is a retheme of the French Market and replicates Tiana's dream restaurant, which she envisioned in the animated film. From the minute that one walks up to the restaurant, it is clear that it belongs to Tiana herself.
The theming and motif of Mardi Gras with greens and yellows adorn from the outside to the inside and all around!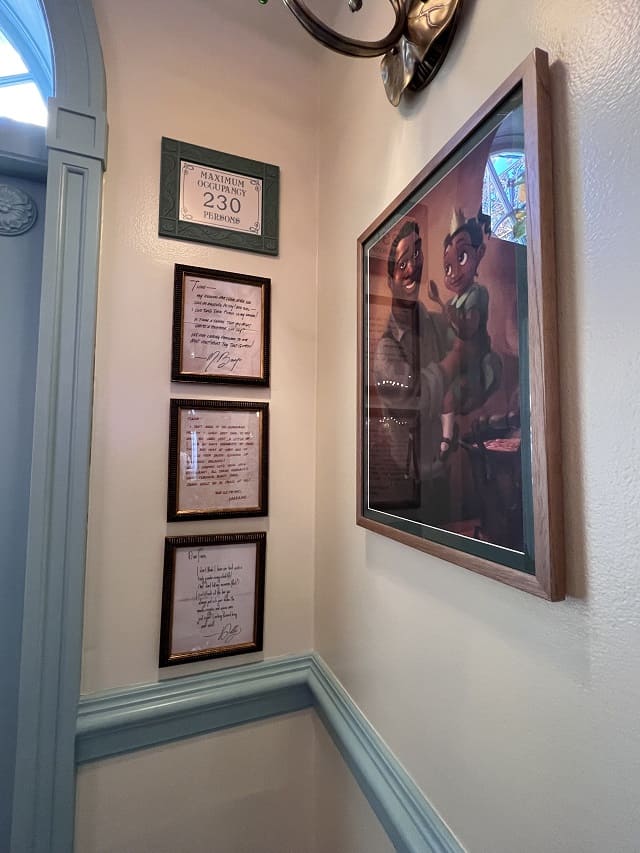 A large, beautiful, and intricate bayou mural that features Ray, the firefly, and his love, Evangeline, adorns the restaurant's interior as the focal point. Additionally, easter eggs and nods to the film are placed throughout represented by lily pads, light fixtures that focus on frogs, cookbooks, and even her father's beloved favorite gumbo spoon.  Various letters of encouragement from neighbors, her father, and childhood photos can also be found throughout the restaurant.
Seating is available outside the restaurant. The patio has been expanded from the previous restaurant, which is nice as there are more tables and shade. It's lovely for a hot summer day!
Tiana's Palace Menu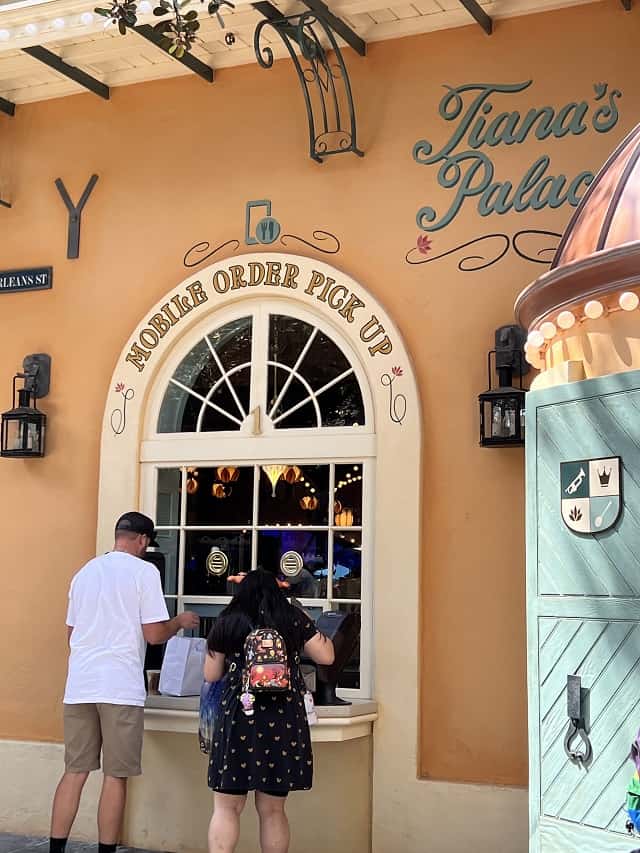 Mobile order is available. However, make sure to place your order at the park's opening, as the entire day availability books up very quickly! A standby line is available if Mobile Order is no longer available. Guests should prepare to stand in line for a long time. The Mobile Order window is located to the left of the restaurant.
There are six entrees to select from. They include House Gumbo, Cajun Spiced Half Chicken, Beef Po'boy Sandwich, 7 Greens Gumbo with Chicken & Andouille Sausage, Muffuletta Sandwich, and Gulf Shrimp and Grits. Prices range from $14.99 to $17.49. There is also a plant based 7 Greens Gumbo dish available.
Soak in the lively culture of New Orleans through new menu items inspired by the flavors of the Crescent City––including Southern comfort dishes and plates with a Cajun and Creole twist.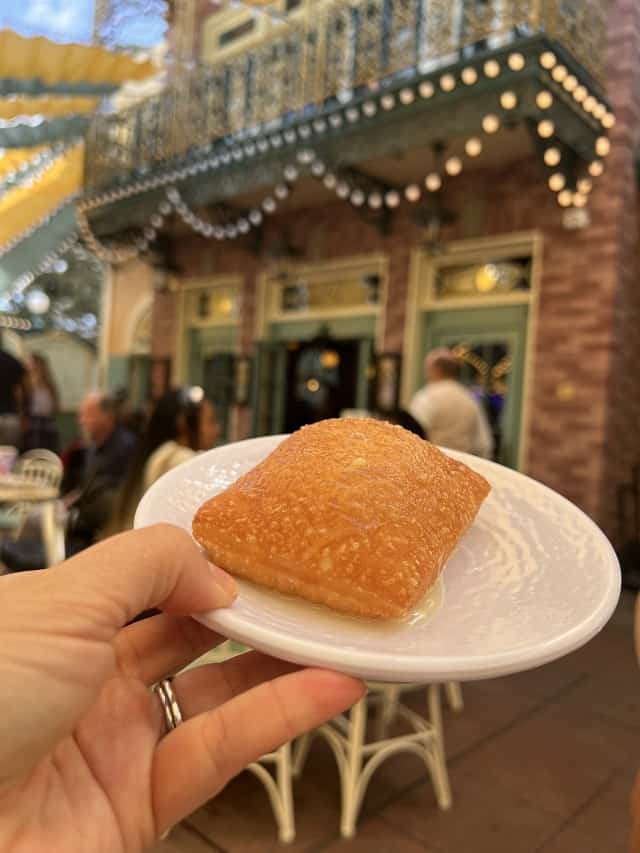 Buttermilk Cornbread and Joffrey's Coffee Chicory Cold Brew with Sweet Cream are listed on the menu as Southern Specialties. Kid's Baked Macaroni and Cheese, Roasted Chicken Drumstick, and Toasted Ham & Cheese Sandwiches are the kid's menu options. Prices range from $7.99 to $8.49.
There are two specialty items available at Tiana's Palace. These include a Ray Firefly Glow Cube with the purchase of a beverage and the sought-after Lily Pad and Lotus Cup Ceramic Set with house-filled beignets for $34.99. The Lemon Ice Box Pie Filling topped with Lemon Glaze beignets cost $4.49.
What I Ate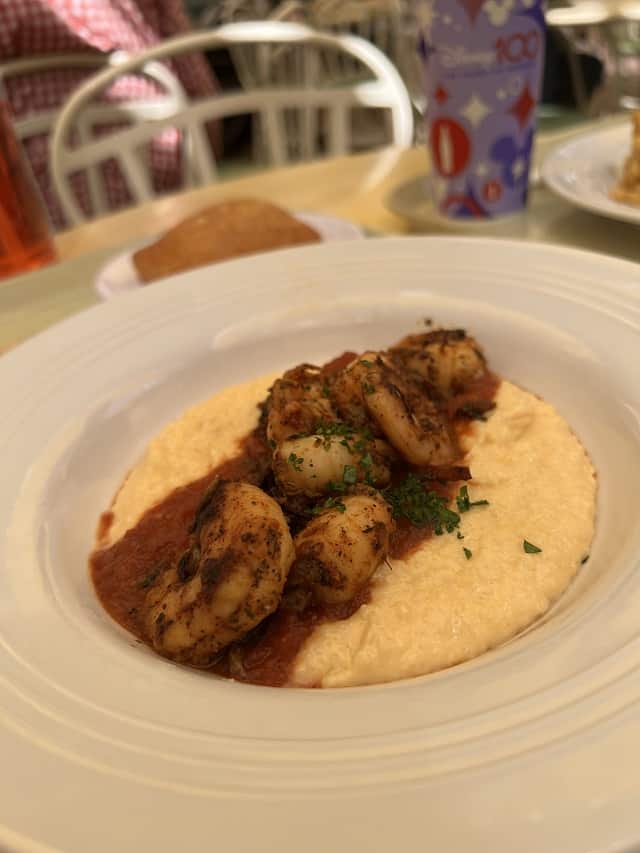 My (Marisol) friend and I decided to order many different items so we could try more items. We ordered, Cajun Spiced Half Chicken, Gulf Shrimp and Grit, a side of cornbread and the Lemon Glaze beignet.
The shrimp with the cajun spices and the grits' creaminess were delicious. The shrimp was cooked great and I could genuinely eat a whole bowl of grits on its own. The only part I did not like about this dish was the red salsa placed across the middle of the bowl. It tasted like Mexican salsa, and I thought the dish did not need it. Next time, I will order without the salsa.
My friend's chicken was very moist and the cajun seasoning on the chicken made this dish so special. It was delectable. The mac and cheese is also tasty, but beware that it is baked, not creamy, mac and cheese. I was okay with it being baked as I savored the creaminess of my grits!
The cornbread was wonderful, and I will be ordering a loaf to take home. It is a cold loaf of cornbread, so enjoying it at home after it has been warmed up would be a good idea. Lastly, I have to be honest about the lemon-filled beignet. As soon as I took a bite, my feelings about this dessert were quite apparent. It's sour and sweet at the same time and I was not a fan. I could only eat a bit, and then I picked around outside the beignet. From now on, I'll be sticking to the traditional beignets that are not glazed on the outside and filled on the inside!
Final Thoughts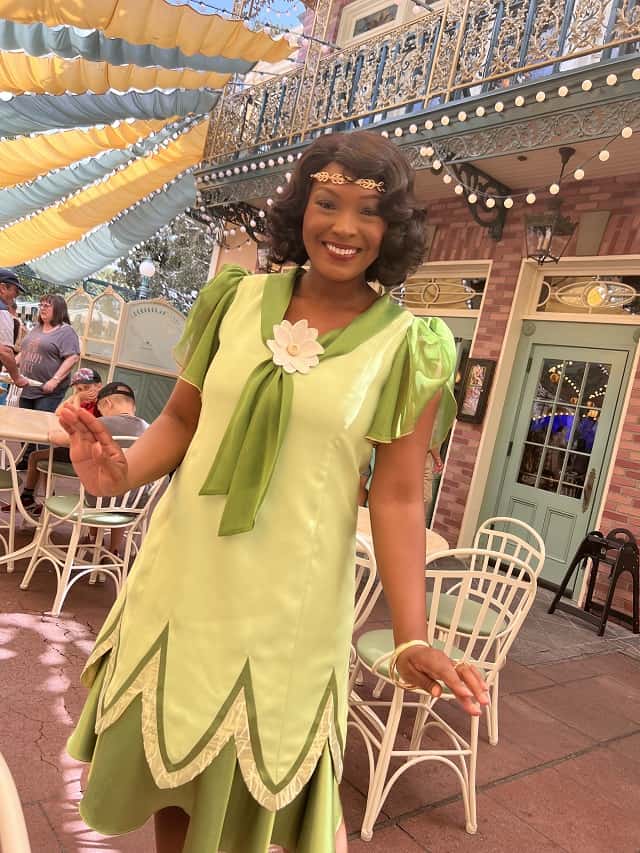 If you are a fan of the Princess and the Frog, you will not want to miss a visit to Tiana's Palace. It is truly breathtaking for more reasons than one. It wasn't easy to decide what I wanted to try, as I wanted to try it all.  Thankfully, my next trip to Disneyland will include another stop at this beautiful restaurant.
One thing to remember is that this quick-service restaurant is not a character dining experience although it certainly feels like it is one. Tiana occasionally walks through of her restaurant. She spends time going table by table and having a conversation with guests and asks if they would like to have their picture taken.
When she walked over to us, she commented that she loved the color of my hair. It currently is a deep violet color. I thanked her, congratulated her on achieving her dream of a lifetime, and commented on her beauty with her headpiece, dress, and shoes. Tiana was indeed a sweetheart and posed for many pictures.
Tiana surely does know how to dream big. We know that her father would be immensely proud of his hard-working little girl!
Tiana's Palace is open from 10 am to 9 pm.