Do you enjoy eating in the World Showcase at EPCOT? Are you looking for a unique dining experience at Walt Disney World? See if you want to add Teppan Edo to your list for your next trip.
Teppan Edo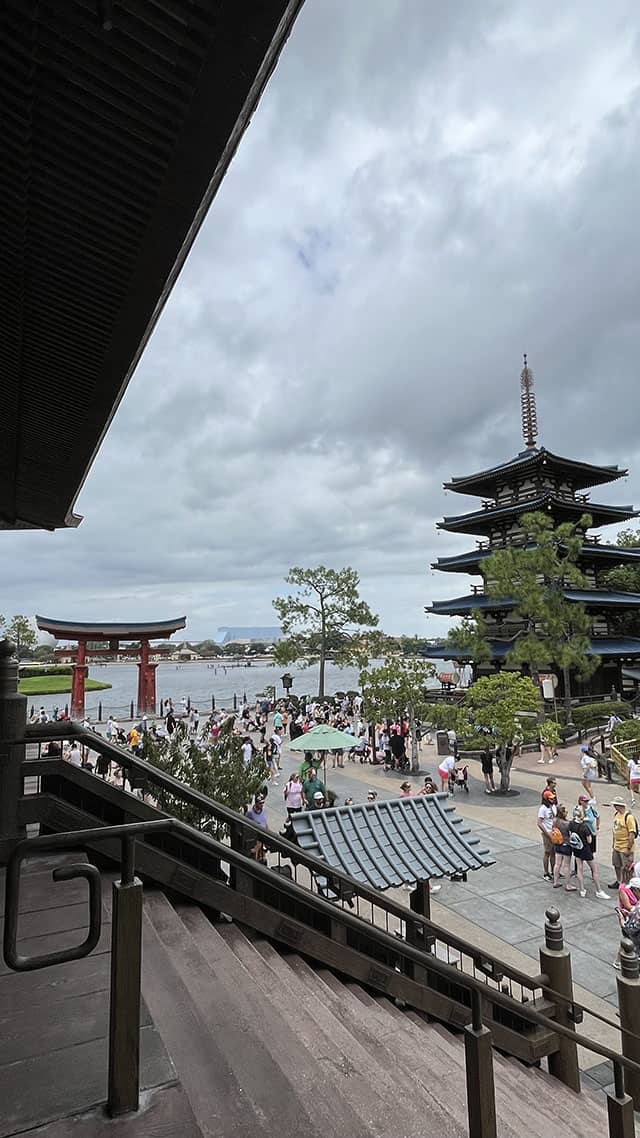 Disney World's Teppan Edo restaurant is located in Japan in EPCOT's World Showcase. Enjoy a Japanese meal and even some live entertainment. The restaurant is located above the Mitsukoshi Department Store.
Guests might assume that this is a "hibachi" restaurant, but the restaurant actually follows "Teppan-yaki" style cooking. The word, "Teppan" in Japanese means "iron plate". Are you wondering where its name came from? Your meals are all prepared on a hot iron plate.
Menu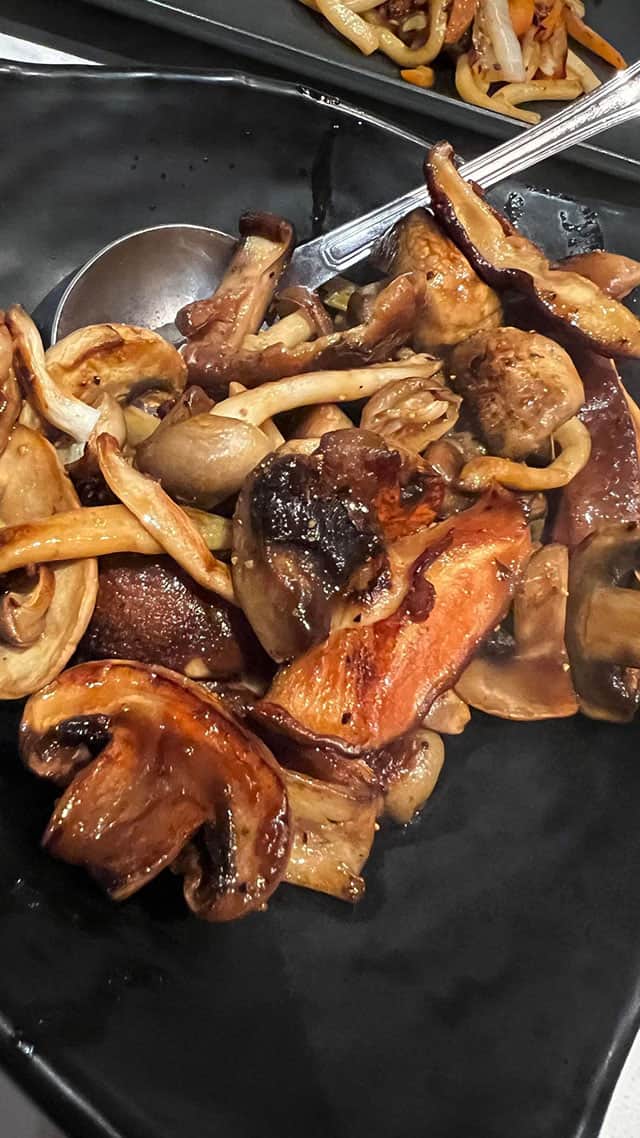 Teppan Edo serves lunch and dinner. Prices range from $15 to $49.00 per adult for regular entree items. However, it is worth noting that the menu also includes "add on enhancements". Add on enhancements include a Japanese Wagyu Strip ($120.00), Lobster Tail ($38.00), Hotate ($31.00), Ebi (shrimp – $17.00) or Mixed Mushrooms ($15.00).
Keep in mind, if you are to request any of these add on enhancements to your meal, the price of your overall meal will go up significantly. If mixed mushrooms are your jam, by all means, add them on. But also be aware that you just paid $15.00 for a few extra mushrooms.
Appetizers, sushi, combination platters, dessert and a kid's Menu are also available. Will kids enjoy it? It all depends on your kids. My children love steak, so they would enjoy eating here. However, if your children are more picky and prefer chicken nuggets, hot dogs or pizza, this is not the place for them.
Atmosphere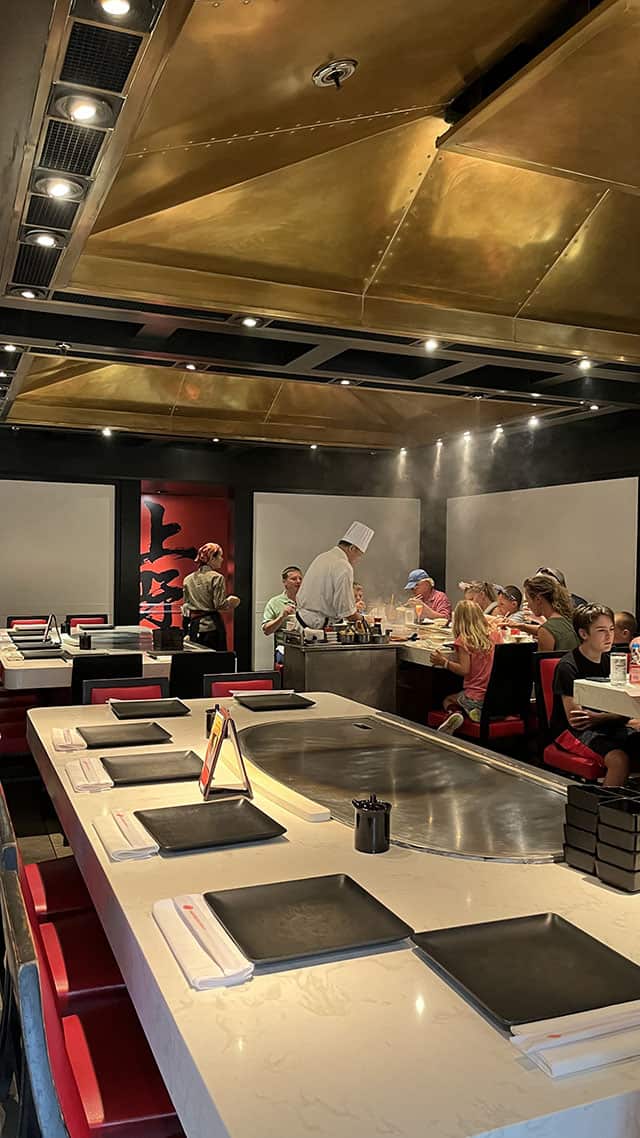 Teppan Edo is one of the largest dining locations in the World Showcase. It has a lot of open space and plenty of tables. Guests are seated at tables in groups of eight. If your group is smaller than a group of eight, you will be seated with other guests.
Not much of a person for small talk? That's okay, because your group is more likely to be focused on the show happening right in front of you rather than trying to make friends with others at your table.
The atmosphere itself is very loud. After all, there is so much happening around you! You will hear plenty of clanging, food being made and people shouting during your meal. If one of the people in your group has sensory issues, this dining option might not be for you. Also, if you are looking for a quiet sit down meal where you can enjoy some conversation, it's not the best option because it can be hard to hear each other talk.
Dining Experience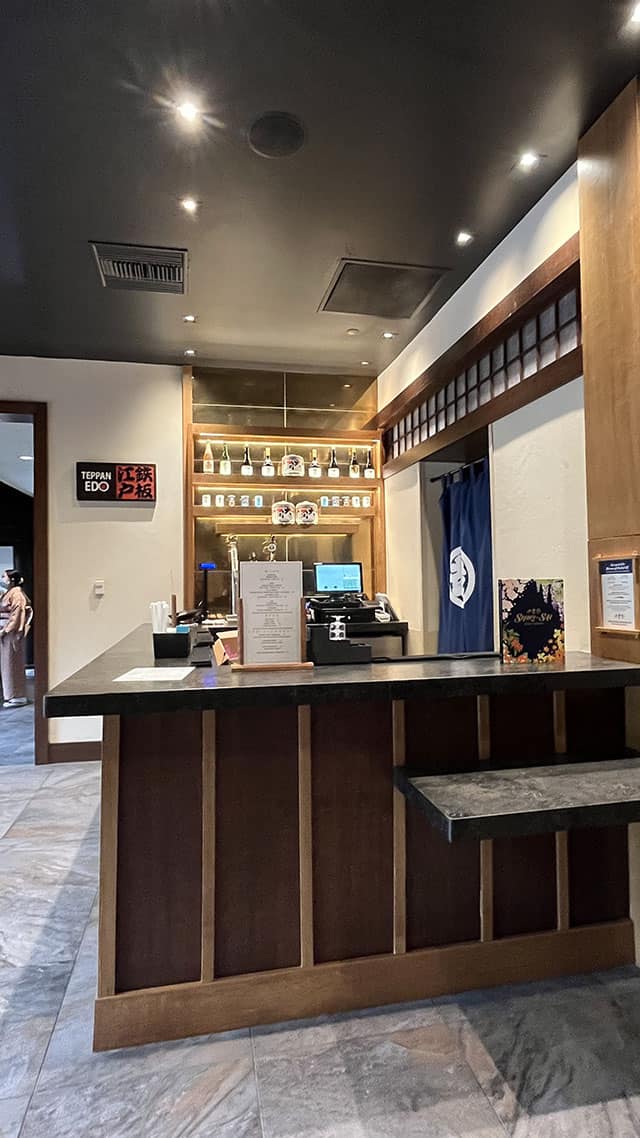 During a recent trip, I (Maggie) was able to try Teppan Edo for the very first time. After checking in on Disney's app, our party was called shortly afterwards.
After we were seated, our server passed out a warm cloth to wash our hands. This practice of passing out a wet cloth before meals is tradition in Japan. The actual term is called "oshibori". Oshibori are typically passed out in restaurants or bars before eating.
The Meal
We were each served a small salad to begin the meal. This salad was pretty tasty even though it was all pretty plain. The ginger dressing tasted nice and sweet, but wasn't overly powering.
A server came around and took drink and food orders. Then, the chef brought everything out on trays to cook in front of us.
Next, it was time to eat! Can you spot a Mickey in the picture above?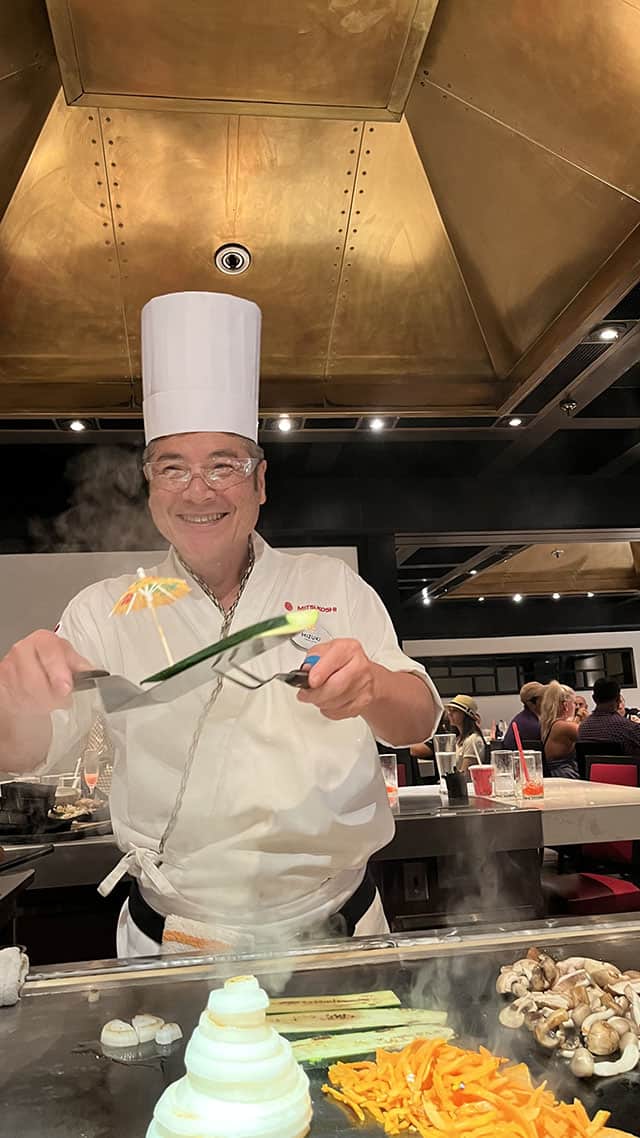 Is the chef holding some zucchini with an umbrella stuck into it OR is he pretending it's actually a magic carpet ride? You are at Walt Disney World, of course! I also see a volcano made out of onions, which is actually pretty typical of these types of restaurants to have.
Enjoying the Food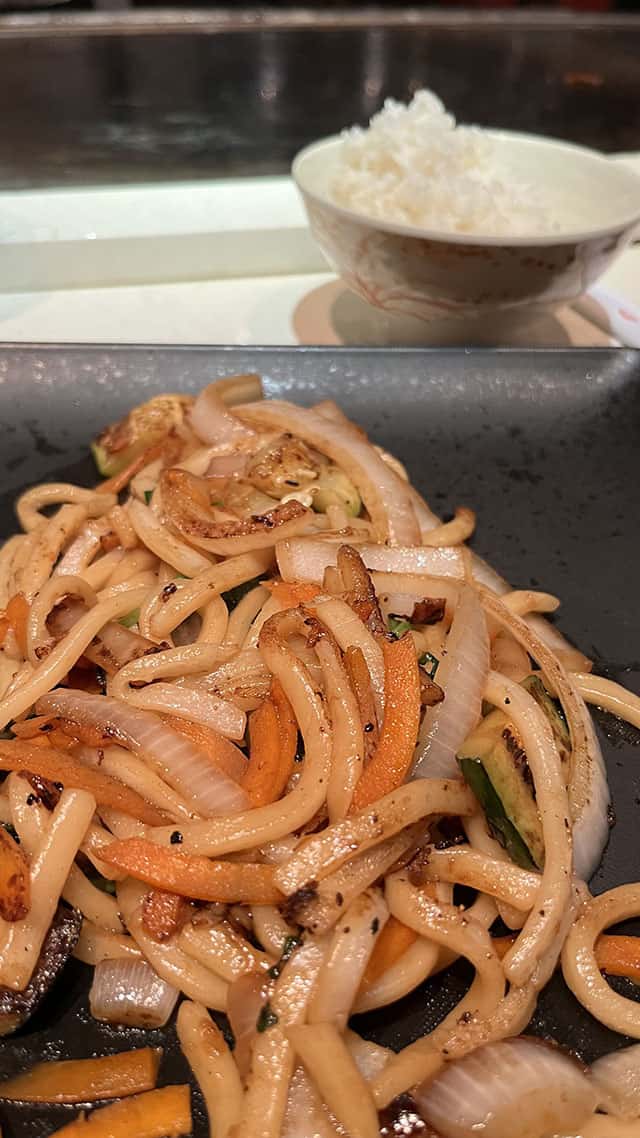 I ordered the Tori, which came with an 8 oz. chicken breast, served with a garden salad, udon noodles, vegetables and steamed white rice. All of the entrees on the menu will come with the sides mentioned above. The udon noodles were served hot and were really tasteful. The mixture of the fried vegetables and seasonings gave them a really nice kick.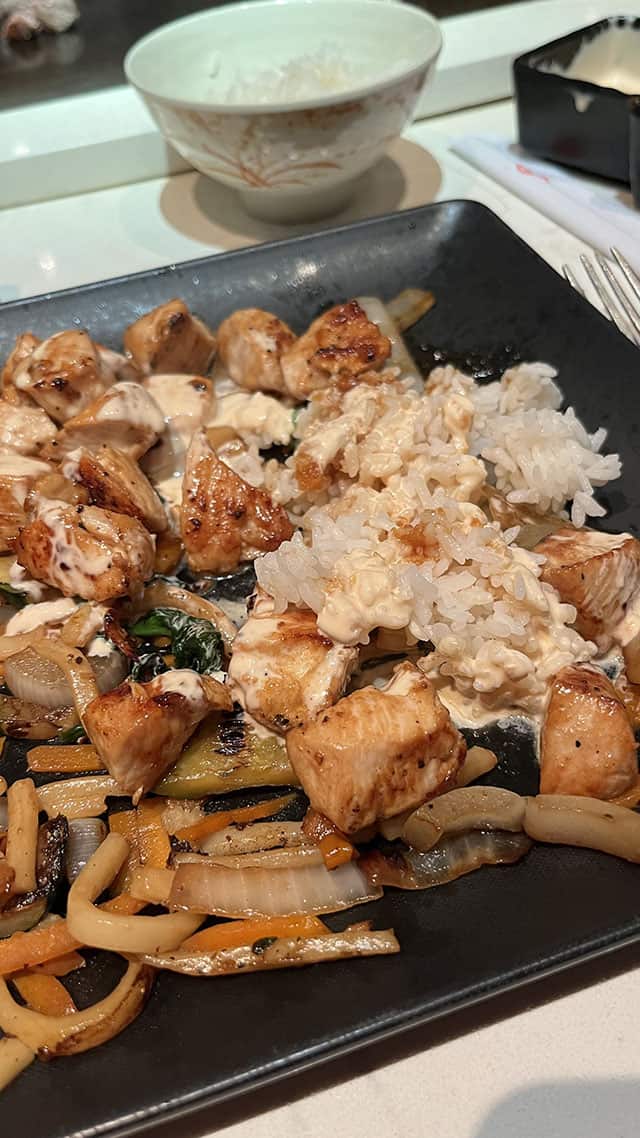 I enjoyed the hot chicken and steamed rice along with all of the other sides. The "yum yum sauce" is a sweet addition to your meal and really adds some great flavoring.
One of the guests in my party ordered the Filet Mignon. The steak was amazing and cooked to perfection. However, this is also one of the pricier meal options on the menu at $49.00.
Final Thoughts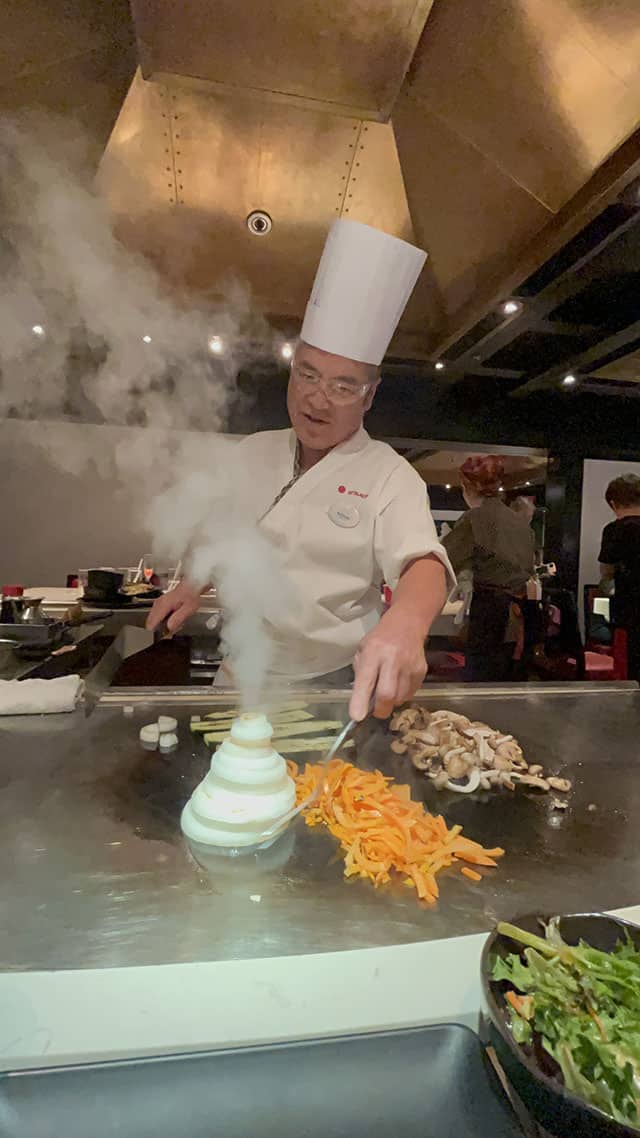 While not truly authentic in any way, Teppan Edo is a great dining choice if you are looking for some good, tasty food and want to enjoy some entertainment during your meal.
Teppan Edo is a great dining choice if you are looking for some good, tasty food and want to enjoy some entertainment during your meal.
While it was my first visit to Teppan Edo, it was not my first visit to this type of restaurant. Many people might compare Teppan Edo to their traditional Japanese steak house found at home. If I were to compare it to one of the ones close to my home, I would say that the one we go to at home is much more superior than Teppan Edo.
Why? I feel like the showmanship is a little better. Most people are probably accustomed to seeing a huge fire at the beginning of the meal. You will not see this at Teppan Edo. Another difference is many of these types of restaurants serve fried rice with the meal. Here, you will only receive steamed white rice.
Overall, our meals were served hot and fresh. After all, the meals are cooked right in front of you! The amount of food you receive is also a very generous amount. You will not leave hungry after this meal. I would absolutely go again, but it is definitely not one of my top dining location choices for EPCOT.
Have you visited Teppan Edo at EPCOT? Did you enjoy it or is it one dining location you want to try? Tell us about your dining experience or let us know if you want to try it in the comments below or share this post with a friend who would like to try it!