The Plaza Restaurant is one of Magic Kingdom's many sit-down dining options. Disney recently updated the menu with some new and returning items. Here are our thoughts on these items and why we keep coming back time and time again to this classic restaurant.
The Plaza Restaurant
Located at the end of Main Street U.S.A., The Plaza Restaurant offers beautiful views of Cinderella Castle in a turn-of-the century atmosphere. It is located next to Plaza Ice Cream Parlor along the walkway to Tomorrowland Terrace. If you are lucky enough to catch a window seat you will love looking out at the Hub and Cinderella Castle.
The Plaza Restaurant itself is very small compared to other restaurants around the parks and resorts. It does feel very intimate, but that also means noise can become an issue. There is a little gazebo-style seating area on the far side of the restaurant that offers more privacy.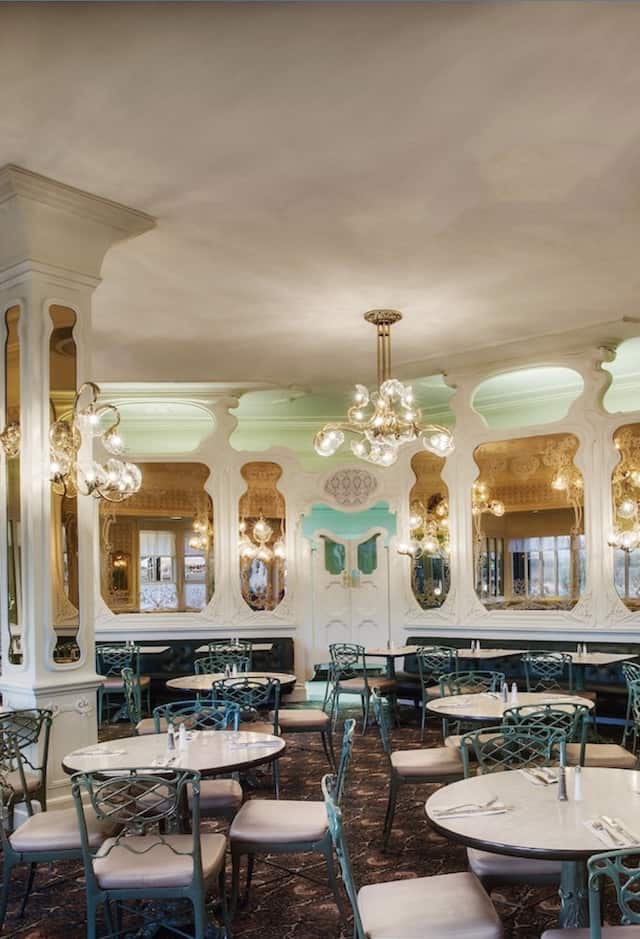 Reservations are highly recommended for The Plaza Restaurant. I would not delay in securing your table. But, it is also possible to score a spot on the walk-up list, so don't let that deter you from trying the Plaza Restaurant.
Pricing is very reasonable here. Adult entrees are in the $20-range, and children's entrees are approximately $10 each. I think Magic Kingdom has a great mix of prix fixe and a la carte table-service restaurants. In my opinion, of the three a la carte table-service options (the other two being Tony's and Skipper Canteen), the Plaza Restaurant offers the best choices.
New and Returning Items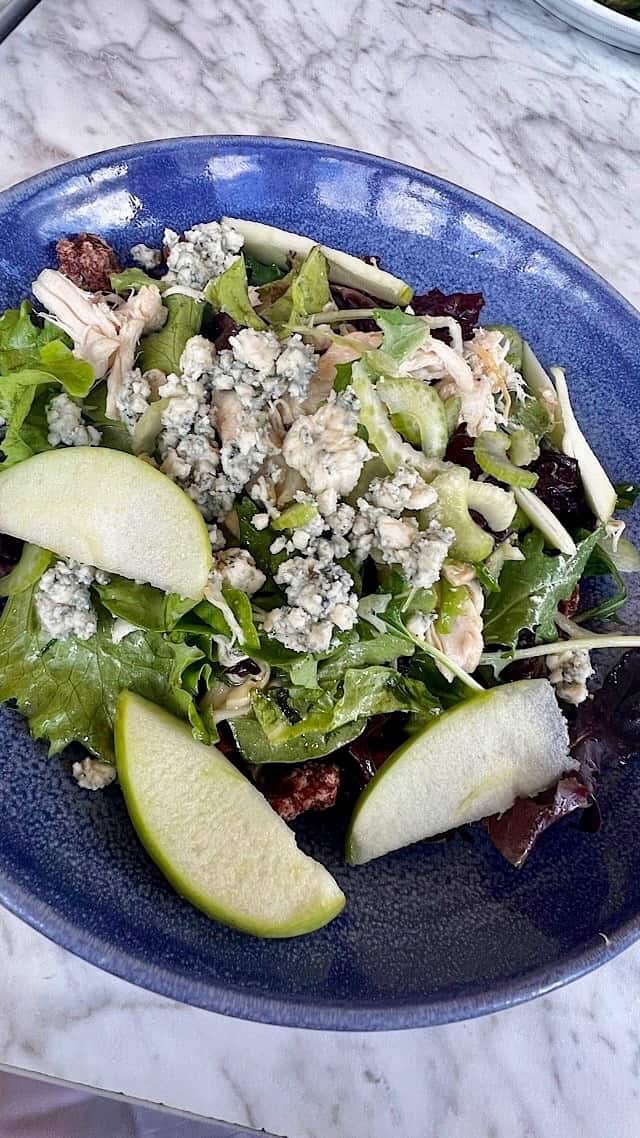 It is not unusual for the Plaza menu to change. However, sometimes when it changes, we see very popular items vanish. We are happy to report that some of the items Disney food fans have been missing have returned. So, while not all of the items are necessarily new, they are indeed welcome!
Here is a look at the menu as of September 2023. You may notice some you have never seen before or some you have not seen in a while!
Appetizers:
Onion Rings
House Salad
Daily Soup
Plaza Loaded Fries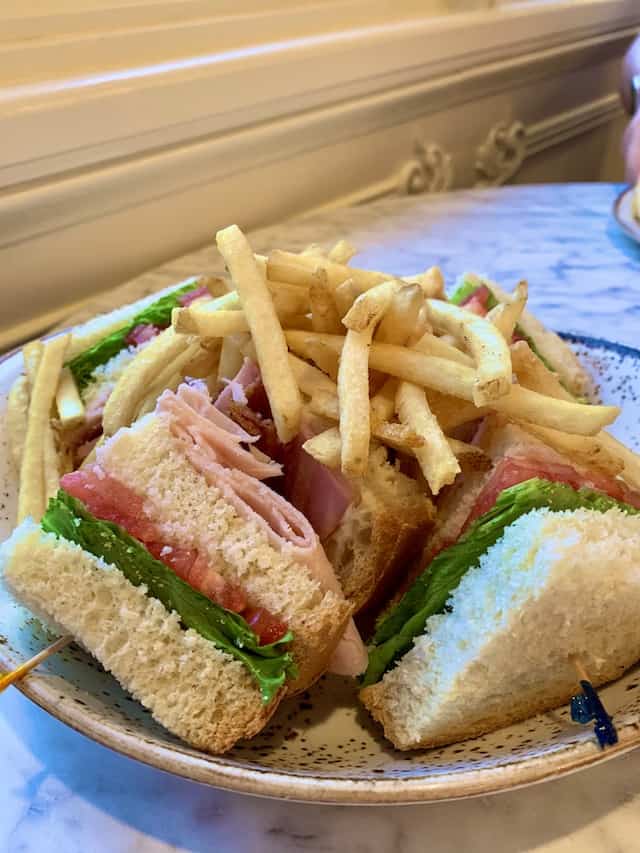 Entrees:
Home-style Meatloaf
Pot Roast Stack
Crab Cake Sandwich
Bacon Cheeseburger
Crispy Chicken Sandwich
Impossible Chili Burger
Chef's Salad
Triple Decker Turkey Club Sandwich
Chicken Waldorf Salad
Artisanal Shakes:
Milk Shakes (variety of flavors)
Key Lime
Chocolate Pecan Brownie
Strawberry Shortcake
Desserts:
Original Banana Split
Plaza Restaurant Sundae
Chocolate Layer Cake
Cotton Candy Cheesecake
Dark Chocolate-Banana Bread Pudding with Soy Milk Frozen Dessert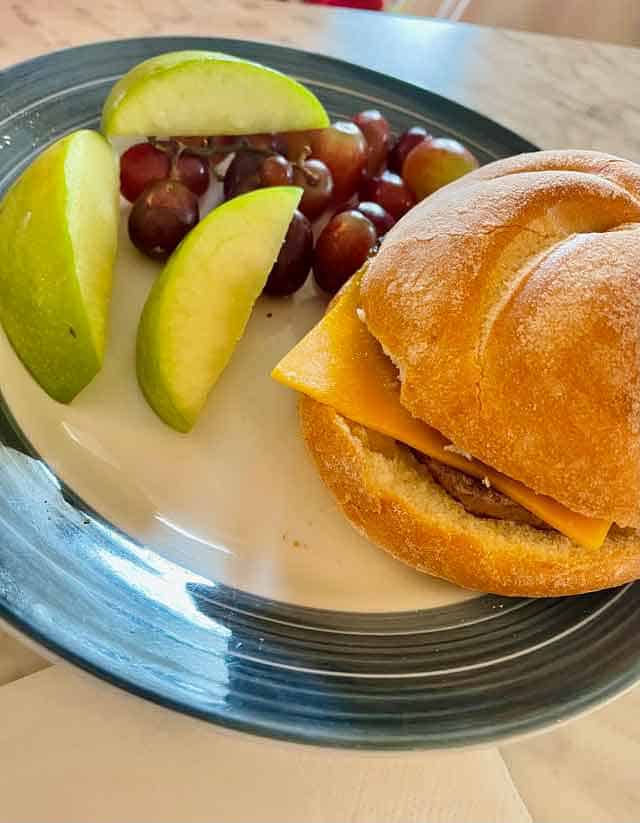 Kid Meals:
Hamburger
Cheeseburger
Grilled Chicken Strips
Turkey Sandwich
Peanut Butter and Jelly Sandwich
Appetizer Review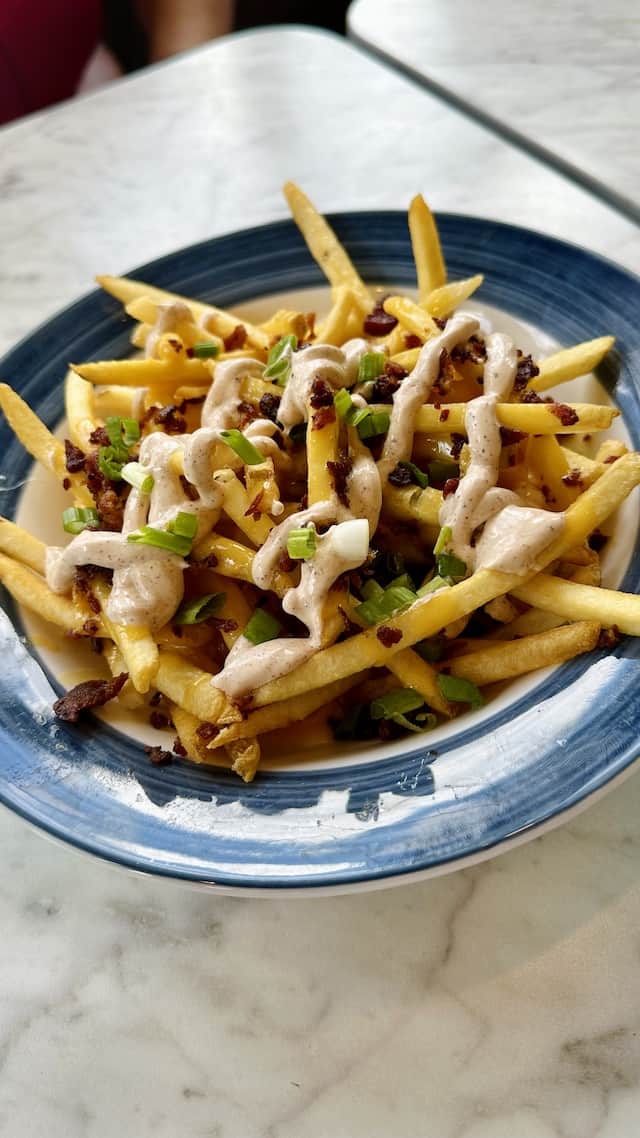 My table tried the Plaza Loaded Fries for the appetizer since people were already planning to order a Salad and Onion Rings as part of their entrees. The loaded fries come with crispy fries, melted cheddar, bacon, green onion, and spicy sour cream.
First, I love shoestring/restaurant style fries vs steak/thick-cut fries. These fries were perfect! The spicy sour cream tasted like like sour cream onion dip that you would find at the grocery store. Overall, the flavors complemented one another well and were the perfect starter to share with the table (it serves two).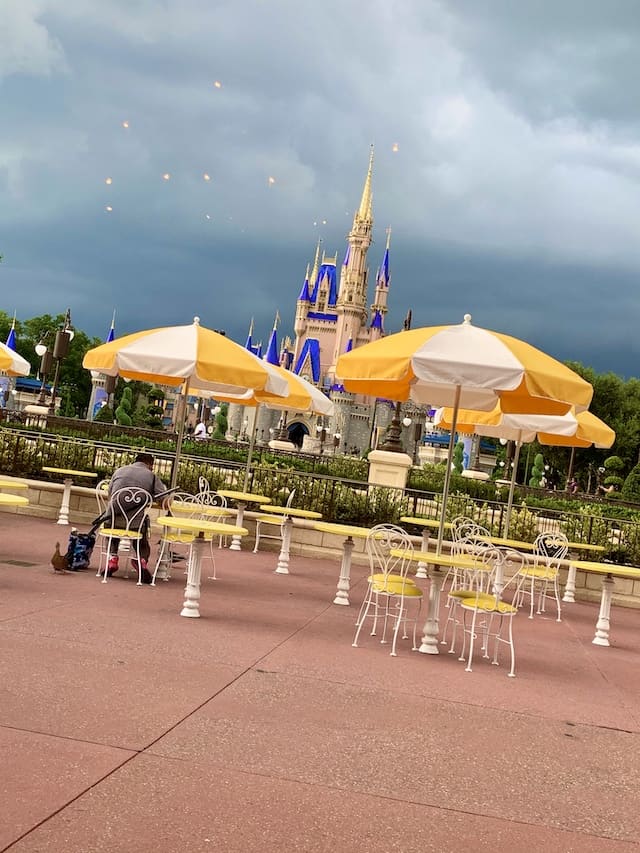 The only "complaint" I have (which was quickly remedied) was the presentation of the fries. When we received the fries, there was a very small amount of toppings all heaped together in the center of the dish. This was hardly enough for the amount of fries. So, we politely asked for a second side of the toppings.
We were not expecting anything more than an extra cup of cheddar and sour cream (which we would have been perfectly fine with!). However, the server was gracious enough to bring out a second plate of fries. This time they were fully loaded and evenly distributed.
Entree Reviews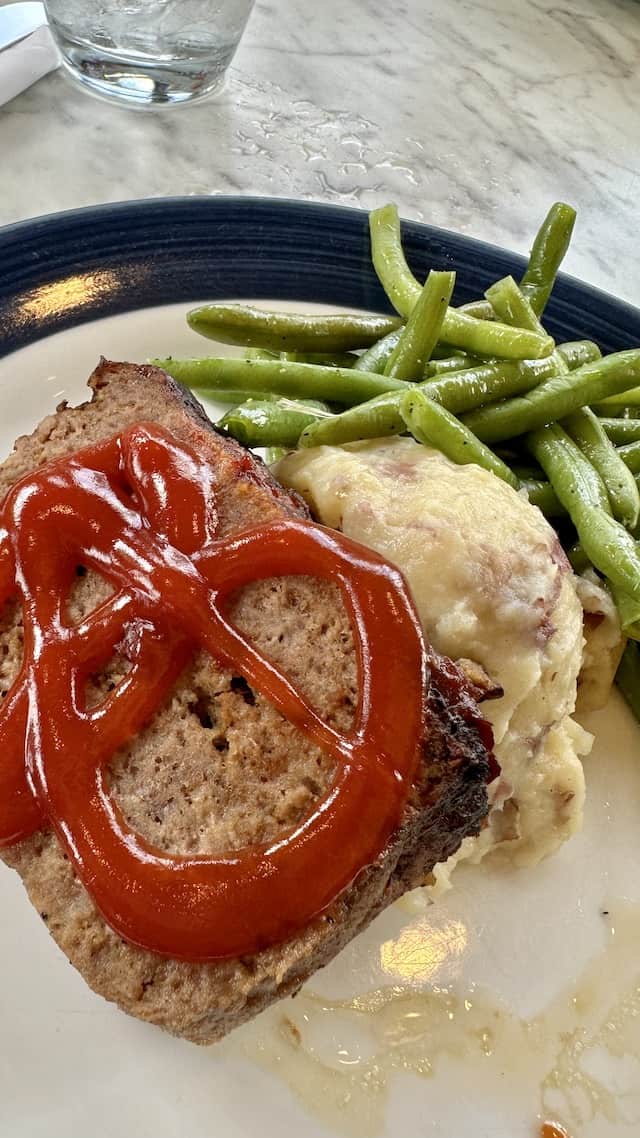 The table ordered four entrees: Meatloaf, Pot Roast Stack, Bacon Cheeseburger, and Waldorf Salad. During past visits, I have enjoyed the Turkey Club Sandwich, which you can read about in my previous review.
The Meatloaf is the perfect comfort food for a day at the Magic Kingdom. I know it may not seem the most appealing to eat on a hot summer day, but I was really hungry and wanted something hearty. The Meatloaf did the trick! It comes glazed with "tomato sauce" (ketchup) along with mashed potatoes and green beans.
Another person at my table is particular about Meatloaf, so I was curious to get her opinion. She tried a bite and loved it as much as I did! It's also the perfect size – not too big, not too small. I was able to enjoy some of the loaded fries, eat most of the meatloaf and mashed potatoes, and still have a little room for dessert.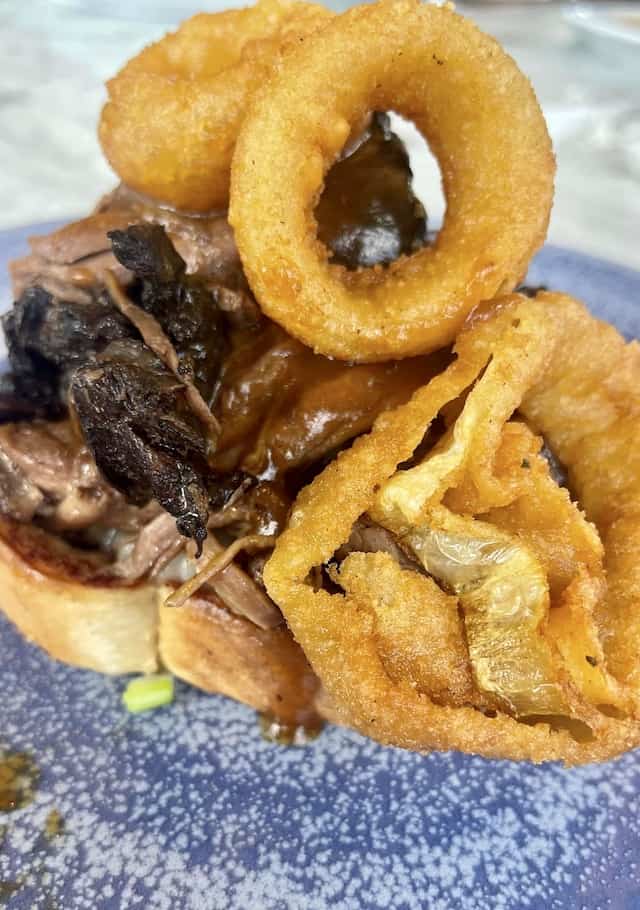 Our table also enjoyed the Pot Roast Stack. It is a huge portion and a true comfort food (like the meatloaf). It consisted of layers of pot roast, thick toast, mashed potatoes, crispy onion rings, and onion gravy. I tried a bite of this dish and really loved it – even more than I loved the Meatloaf!
This entree was plated beautifully, and the flavors completed each other in harmony. We would definitely order this dish again.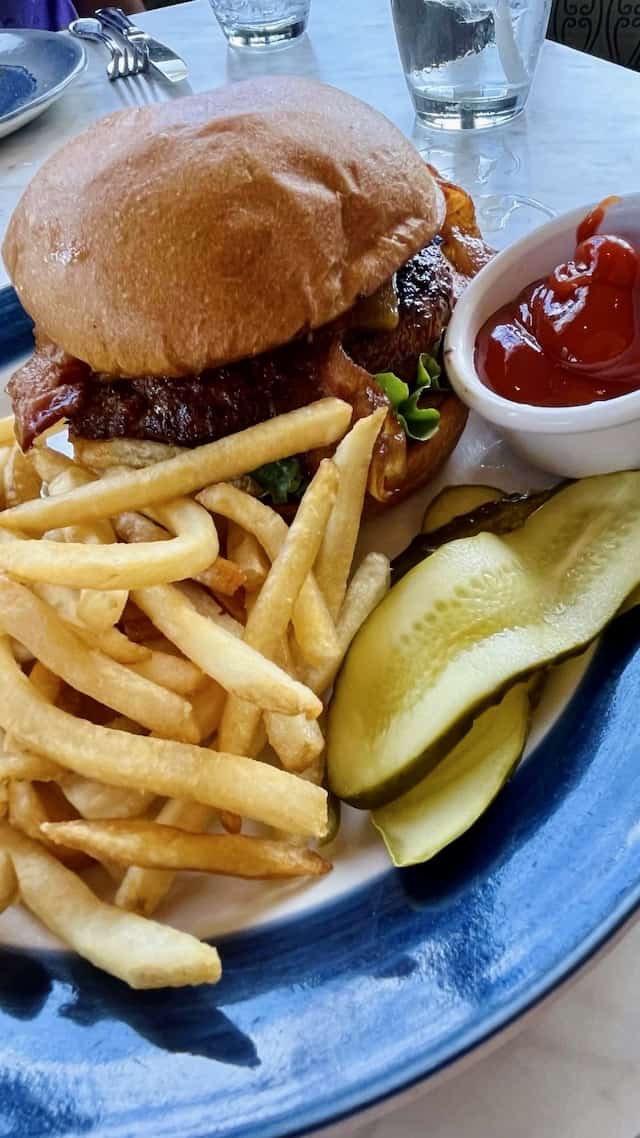 The burger, while it may seem like a standard theme park burger, was much better than quick-service options you may find at Cosmic Ray's and the like. It was cooked to the preferred temperature and the perfect size. The fries that came with it were the same style as the Loaded Fries we ordered for an appetizer – just without the toppings.
Finally, the Waldorf salad (pictured further up in the post) was a big hit! This a light and refreshing salad that would be perfect for a hot day of being in the Magic Kingdom. It was a large portion, and the greens were very fresh. Moreover, the mix of sweet pecans and apples went perfectly with bitterness of blue cheese crumbles and tart apple cider vinaigrette dressing.
Dessert Reviews
Our table enjoyed the Strawberry Shortcake Shake and the Chocolate Layer Cake for dessert. The hand-dipped Strawberry ice cream shake is blended with vanilla cake and strawberries. But, it is not too blended – you can definitely still feel chunks of cakes and strawberries.
It tasted fantastic, but someone who has texture issues may prefer a smoother shake over this one. We all thought the sprinkles was an odd choice, but it didn't take away or add to the overall dessert.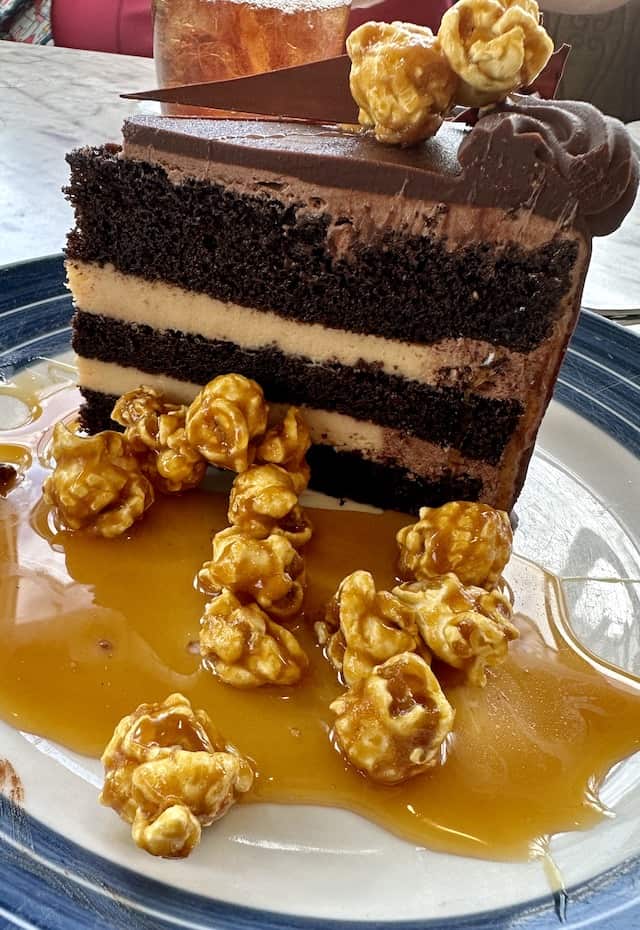 I was a little hesitant about trying the Chocolate Cake because it is served with Caramel Popcorn Mousse. Cake and popcorn? I thought the cake would consist of layers of chocolate and layers of caramel popcorn. When it arrived at the table, I was happy to see it was a plain Chocolate Cake, and the Caramel Popcorn Mousse was on the side.
This dessert would be great for people who want a plain Chocolate Cake AND those who want some Caramel flavor as well.
I would also like to mention the Cotton Candy Cheesecake for a minute because I was very curious about this new item. Our server was able to try it before it debuted in the restaurant. She reported it definitely tastes like cotton candy and it definitely tastes like cheesecake as well. These two flavors together did not sound appealing to the table, so we opted out of trying it.
Final Thoughts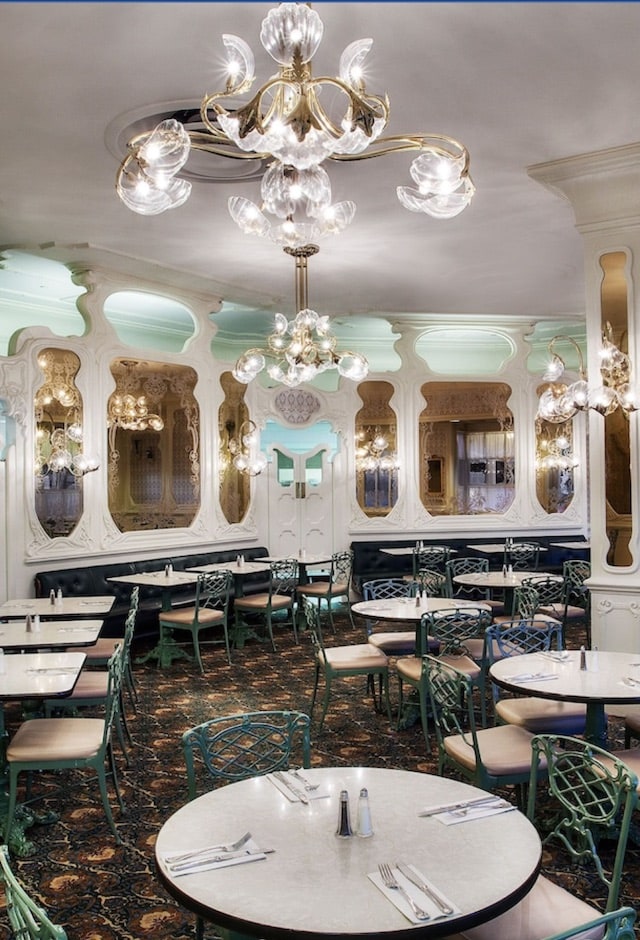 As usual, our table was pleased with the service and food at the Plaza Restaurant. It is consistently one of the better restaurants in the park, and these new menu items solidified that even more. The Pot Roast Stack was a favorite among the table, and all of our dishes were fantastic.
We appreciated the attentiveness of our server and the way she went above and beyond when we had an issue with the Loaded Fries. It is just one of the many reasons we love Cast Members at Disney World!
Do you enjoy the Plaza Restaurant? Would you try any of these new or returning items? Let us know in the comments below, and share this post with a friend so they don't miss out!