EPCOT's Italy Pavilion offers two great dining options. If we could only pick one, this is the one we would choose time and time again.
Visiting Italy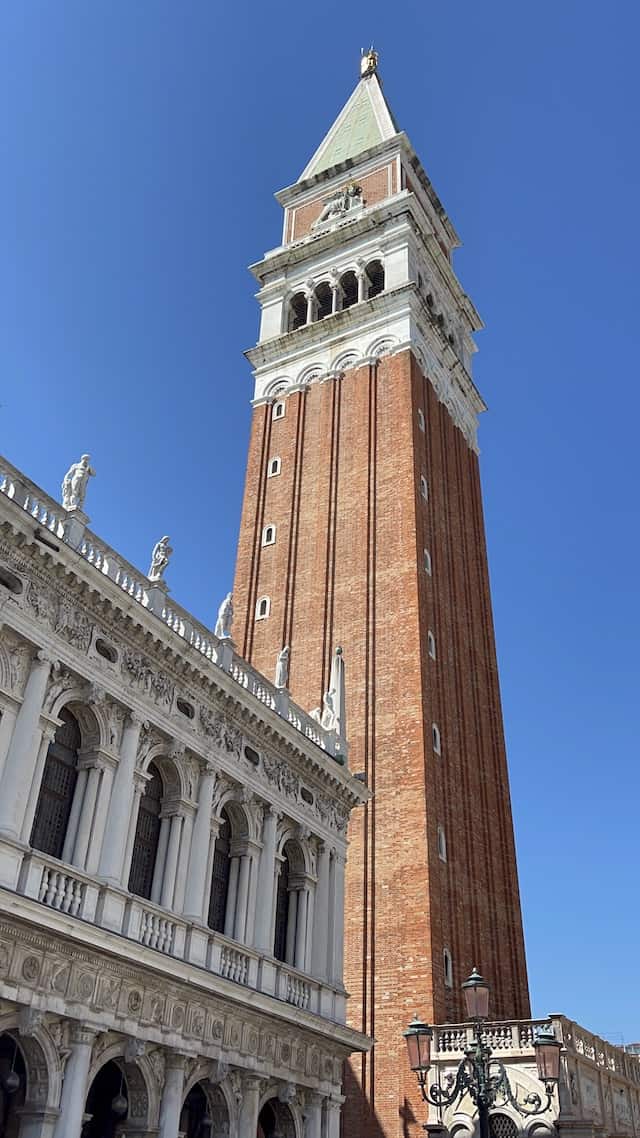 Recently, my (Donna) husband and I took a vacation of a lifetime to visit Italy in both Venice and Florence and then travel to Paris, France. We had our travel agenda planned before our trip. You know you are a "Disney Geek" when you arrive in Venice and you are blown away that it looks just like the Italy Pavilion in the World Showcase. Be sure to check out all the beautiful details of the Italy Pavilion HERE.
Italy is gorgeous. There is much more to enjoy in this beautiful country. It is amazing how Imagineers have recreated many of the beautiful scenes from Italy inside the Pavilion. Of course, you can't visit Italy without enjoying the food.
Via Napoli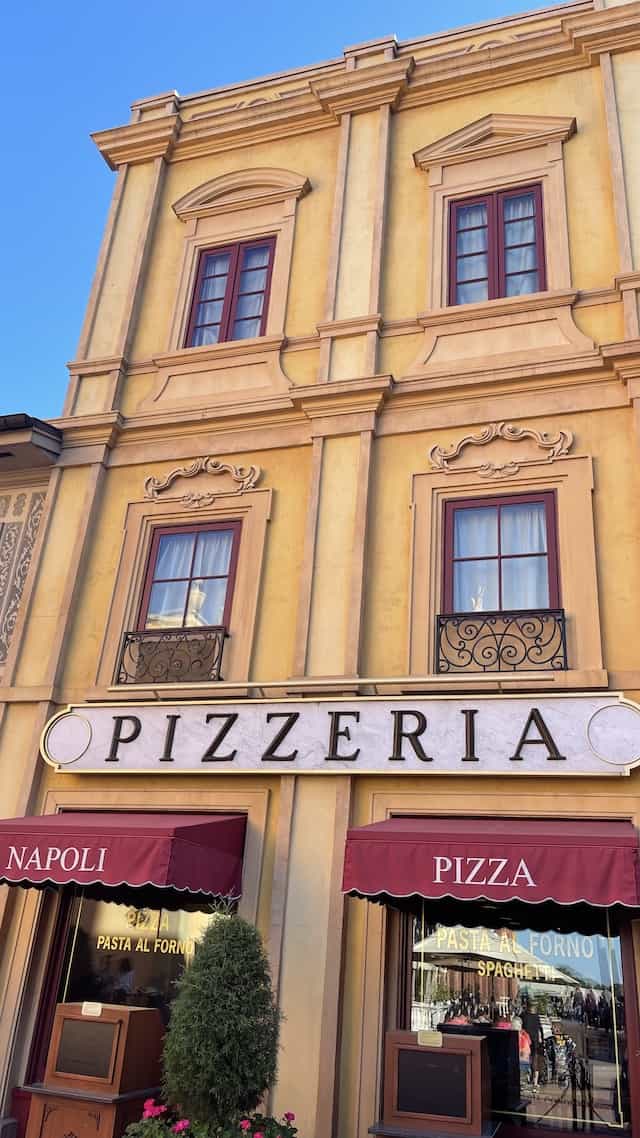 When my husband and I first arrived in Venice, Italy, we enjoyed an authentic Italian pizza. It was a great memory to start our trip. During our next trip to EPCOT, we had plans to visit Via Napoli at EPCOT to see if this may transport us back to Italy.
The thin pizza crust is created using authentic Caputo flour, that is imported from Southern Italy. While using water sourced from a spring similar to Italy's Campania region.
Where many table service options offer a higher price tag throughout EPCOT, Via Napoli offered an authentic dining atmosphere while menu prices are fairly modest. You can check out a full review of our food options and the overall experience at Via Napoli HERE.
Tutto Italia Ristorante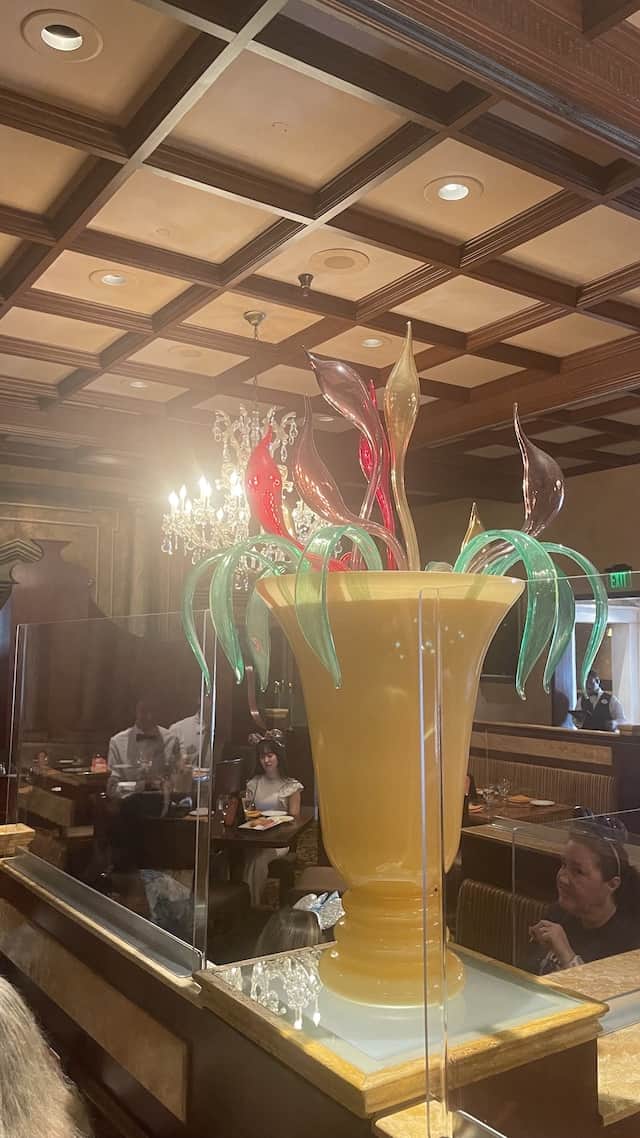 The Italy pavilion also offers another table service dining location. Guests are invited to "relax in Old World ambiance as you enjoy chicken, fish, handmade pasta, lasagna, and more" at Tutto Italia. Tutto Italia welcomes guests for both lunch and dinner.
As with many dining locations, advanced dining reservations are highly recommended.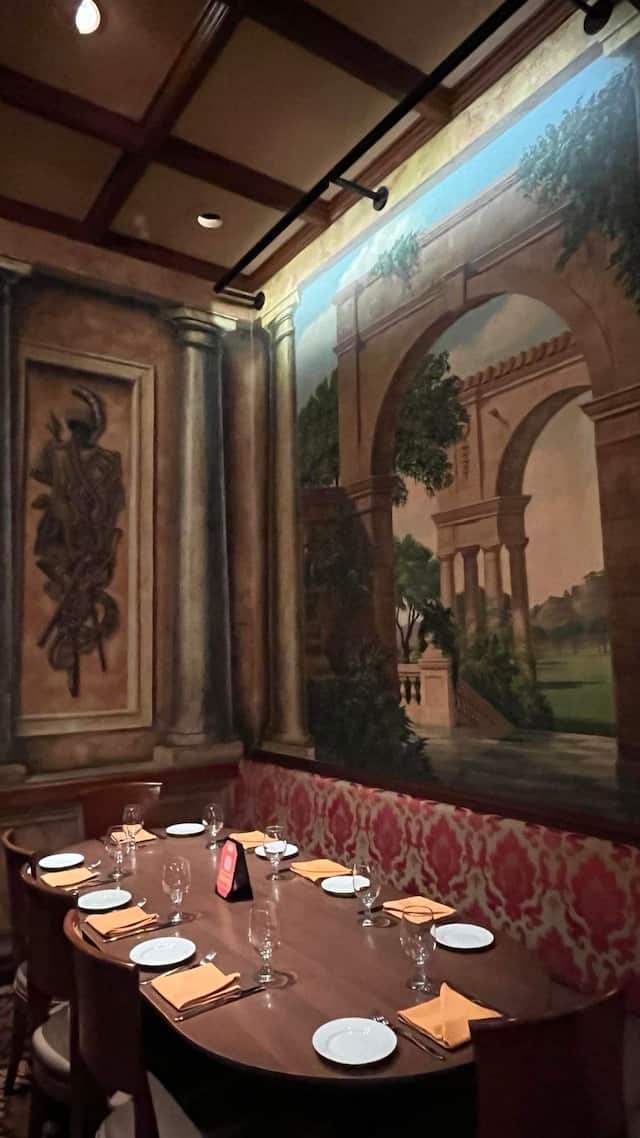 While Via Napoli offered a bustling cafe-style dining environment, the overall vibe of Tutto Italia is quite different. Tutto Italia offers both an outside patio and also a spacious dining room. The walls tell about the rich ancient Roman history, and there is breathtaking Venetian glass throughout the dining room.
Depending on your traveling party, the more quiet environment of Tutto Italia may be a bit more appealing. The true test for any dining location is, of course, the overall quality of the food.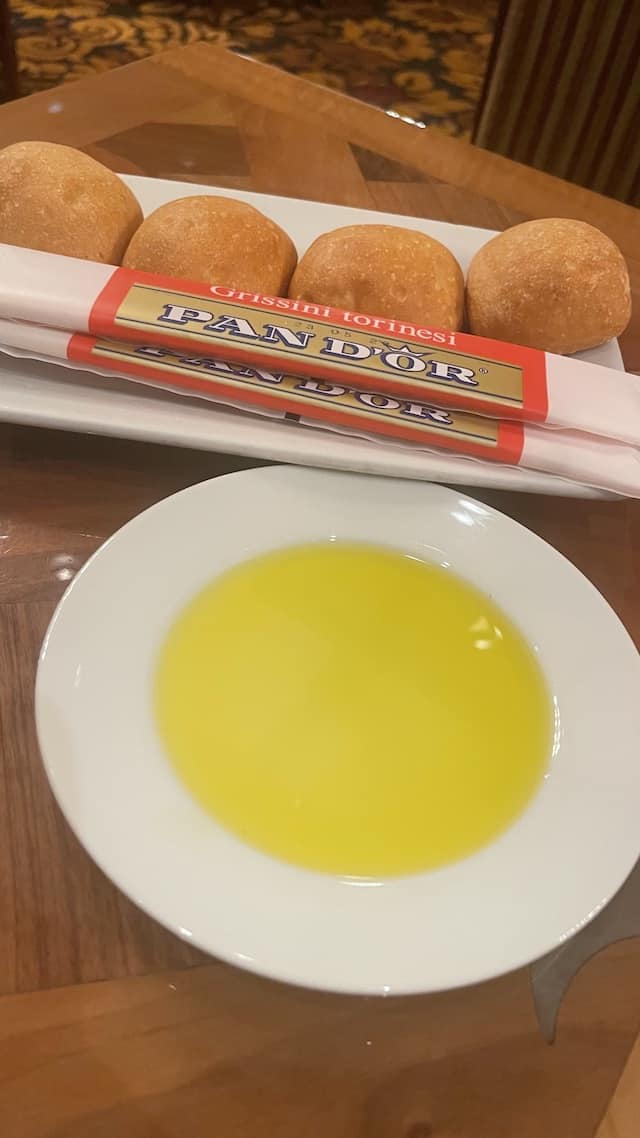 The menu is created by award-winning chef and California restaurateur Joachim Splichal and offers many great options for your entire traveling party.
Our meal started with bread service. The nice part of this is that it was free, but other than that it was simply adequate.
Heading into the main courses, we were not disappointed. KtP writer Susan enjoyed the Lasagne alla Bolognese. This is a traditional preparation from Emilia-Romagna with beef and pork ragù, béchamel, and parmesan.
Susan shares that this dish was "one of the best lasagnas I've had." That is a bold claim coming from Foodie Susan, but it is one that she is happy to make for this dish.
She shares that there were multiple delectable layers of meat, cheese, and noodles cooked to perfection.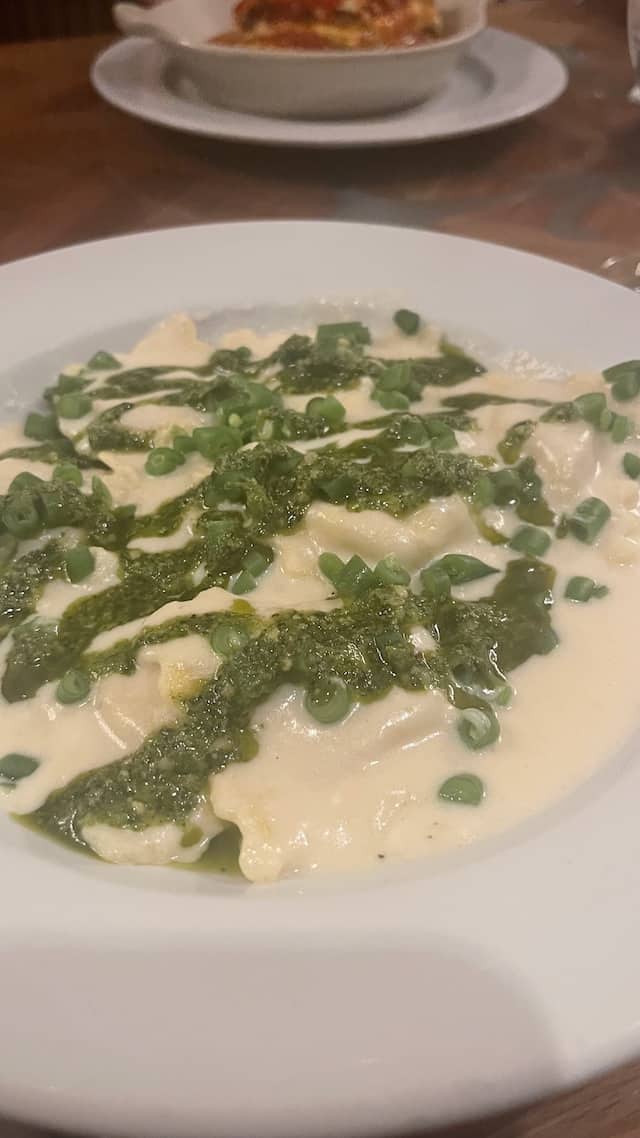 I (Donna) enjoyed the Ravioli. This is filled with grilled chicken, ricotta, and mozzarella cheese, and served with a delicious pesto sauce. This ravioli was absolute perfection and the pesto was like an explosion of flavor.
At times pesto can be a bit overpowering, but this had the perfect balance of basil influence while also enjoying other rich flavors of this dish.
Maggie enjoyed the Spaghetti entree which is served in pomodora sauce with beef and pork meatballs. This dish was delicious according to Maggie. She shares, "The sauce was really light and flavorful and the meatballs tasted amazing."
The spaghetti noodles did appear freshly authentic and offered a great entree in both size and flavor.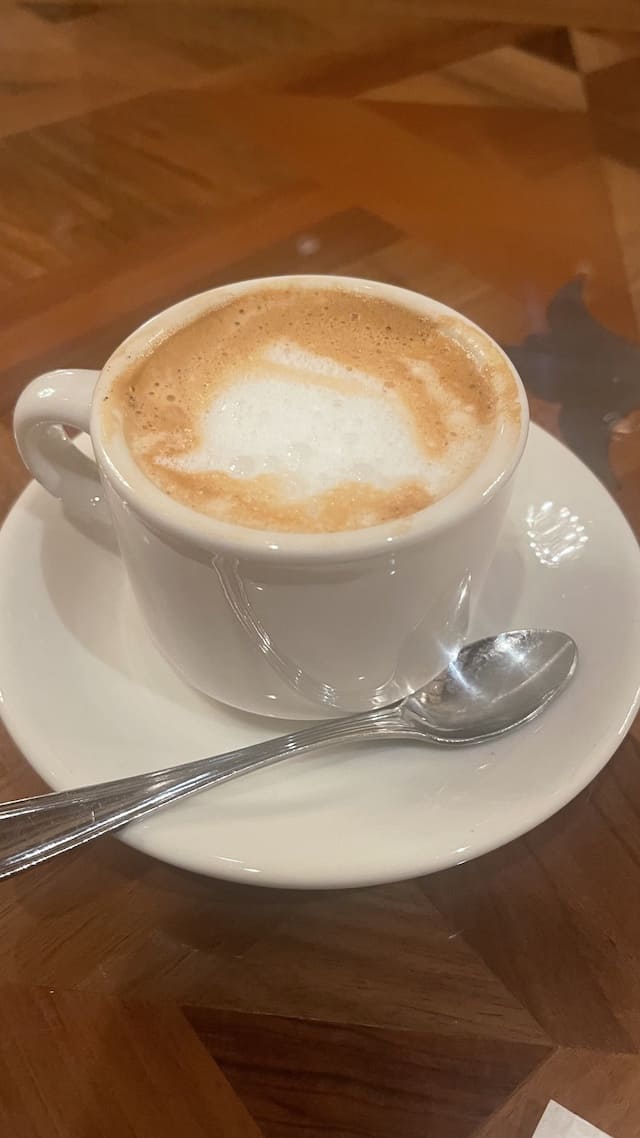 At the end of the meal, I (Donna) finished the meal with a cappuccino. This was the perfect ending for the dining experience with a bold coffee coupled with a rich frothy foam.
Tutto Gusto Wine Cellar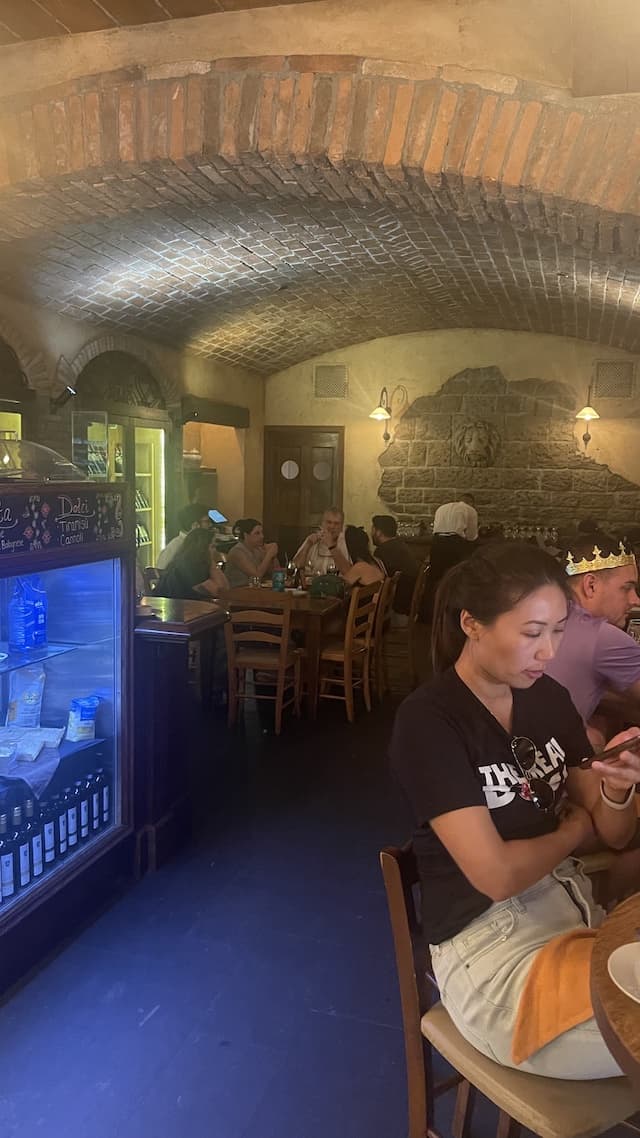 Guests can also enjoy the Tutto Gusto Wine Cellar. This is accessible both with an exterior entrance and also through the lobby of Tutto Italia. Advanced dining reservations are not needed at this location and you can enjoy almost all of the same great dining selections as offered at Tutto Italia.
Experience the flavors of Italy at this cozy wine bar. Recalling an authentic Italian wine cellar, Tutto Gusto offers over 200 bottles of Italian wines—plus beer and a small-plates menu of meats, cheeses, panini, pasta and desserts.
It is important to note that the space is a bit more crowded in the Tutto Gusto Wine Cellar.
Guests can also enjoy the Tutto Gusto Wine Cellar. This is accessible both with an exterior entrance and also through the lobby of Tutto Italia.
Which is the Better Dining Location?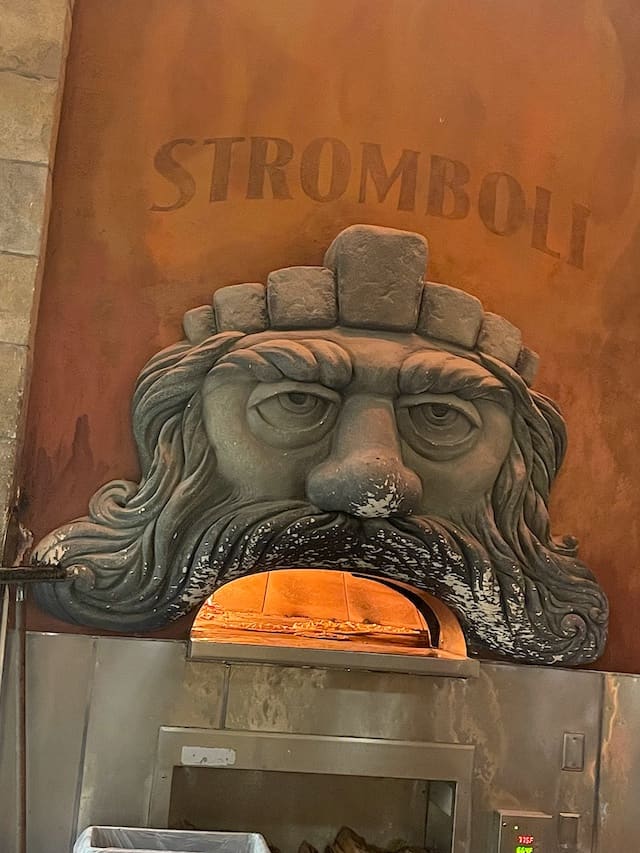 So after enjoying both Via Napoli and also Tutto Italia, which dining location would I return to? This is simply my (Donna) opinion, but I will definitely return to Via Napoli again and again.
Please do not get me wrong, Tutto Italia offers a refined Italian elegance with both atmosphere and cuisine. However, Via Napooli offered the bustling and friendly environment that I fell in love with while in Italy.
The price point was great for a large family and the dishes transported me back to my favorite memories of Italy. If you are hoping to enjoy a quiet date night you may be more interested in dining at Tutto Italia, but for me, Via Napoli is the winner.
Based on pricing and overall atmosphere, Via Napoli wins out.
Have you enjoyed these dining locations while at the EPCOT Italy pavilion? Which is your favorite dining location? Share your thoughts with us and share this review with your fellow Disney foodie pals.