It's been a very active weather week in Disney World. Can we get some sunshine this weekend or will it be more of the same? Get the details on what to expect and when things finally begin to dry out.
Active Weather Week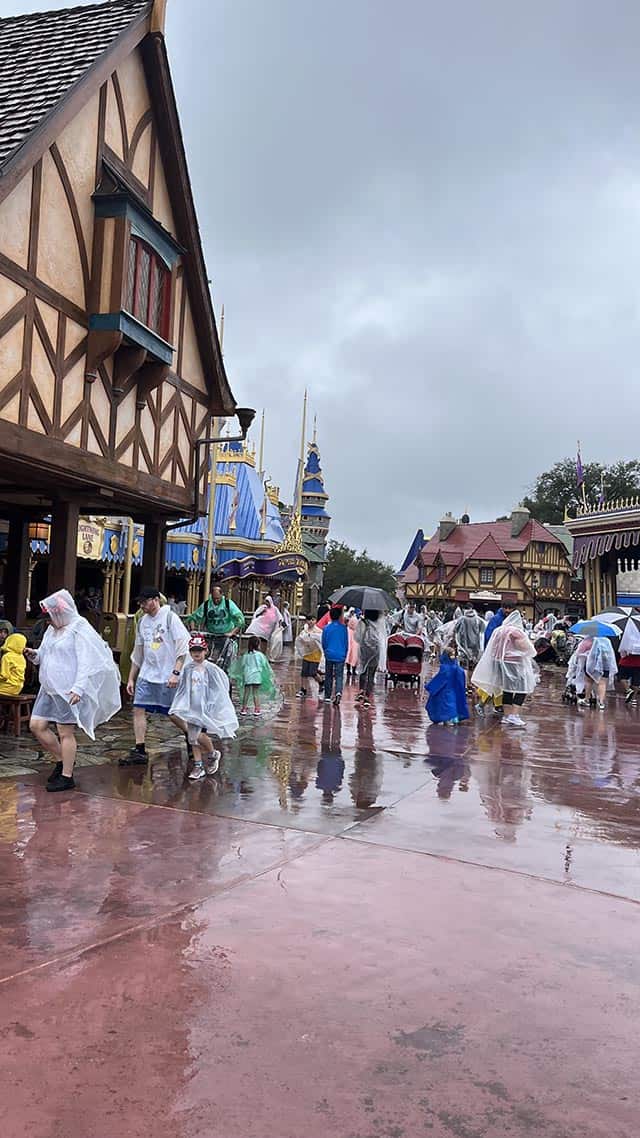 It's been a very active weather week in Disney World. It started with severe weather warnings that brought hail to parts of the resort and continued with more severe threats in the middle of the week.
It seems like a broken record, but more showers and thunderstorms are in the forecast for this weekend. In addition, we do continue to have the ingredients in place that some of the storms could reach severe levels.
In our last update we saw the nearly stationary frontal boundary responsible for the storms. On the surface map below you can see a storm system over the Southeast U.S. The flow ahead of that storm will lead to widespread showers and thunderstorms developing Friday & Saturday (April 28 and 29).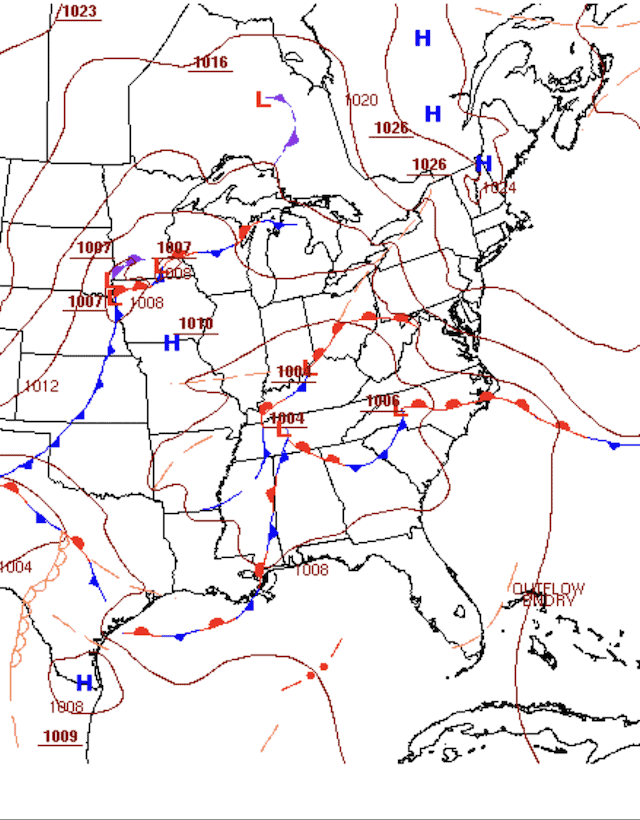 The highest chances for storms will be in the afternoon and evening hours. Highs Friday will be 85 and Saturday will be a steamy 88. By Sunday, a strong cold front will approach and bring the chance of another round of showers and thunderstorms for Florida.
In addition, be advised that Sunday could be quite windy ahead of the front. We could see gusts over 30mph, and it would not surprise me to the The National Weather Service issue a wind advisory for parts of Central Florida. The map below shows the expectations for Sunday and you can see the front approaching Florida.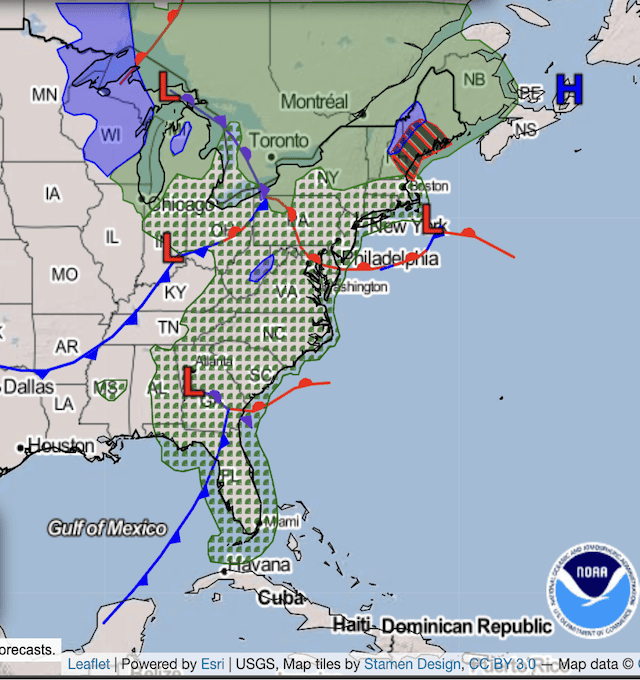 While the front will bring more unsettled weather, there is a silver lining. Finally, we should dry out for Monday, Tuesday, and Wednesday after a weekend that could feature times of heavy rainfall.
Highs Monday will be in the low 80's while we can expect mid 80's for Tuesday and Wednesday.
Severe Chances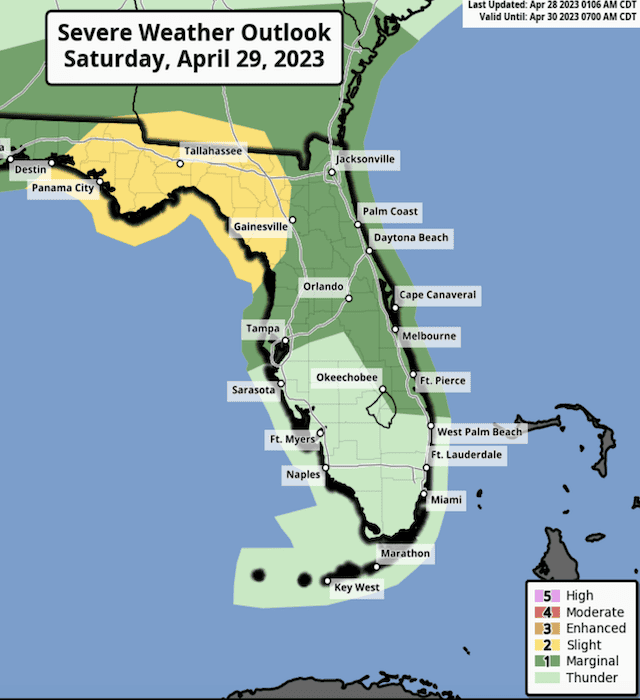 It looks like we will have some severe weather chances as we head to the weekend. First off, the Orlando area will be included in the Marginal Risk for storms that develop of Friday. I think the days with the best chances of storms reaching severe criteria are Saturday and Sunday.
The map above is for Saturday's threat. I would not be surprised to see that yellow Slight Risk expand a little further to the south and east towards Central Florida.
On the map below, here are the expectations for Sunday as the cold front moves through Florida. Right now the Storms Prediction Center has Orlando in the Marginal Risk, but I would not be surprised to see that upgraded to Slight Risk as we get closer.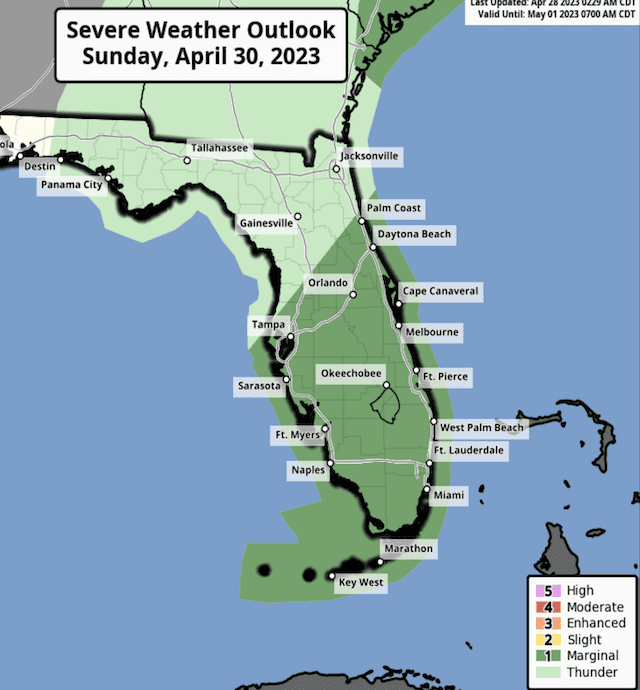 Even if some of the storms do not meet the severe criteria, remember that any thunderstorm can produce gusty winds, frequent lightning, and heavy downpours. Follow any warnings and cast member directions to take shelter.
Looking Ahead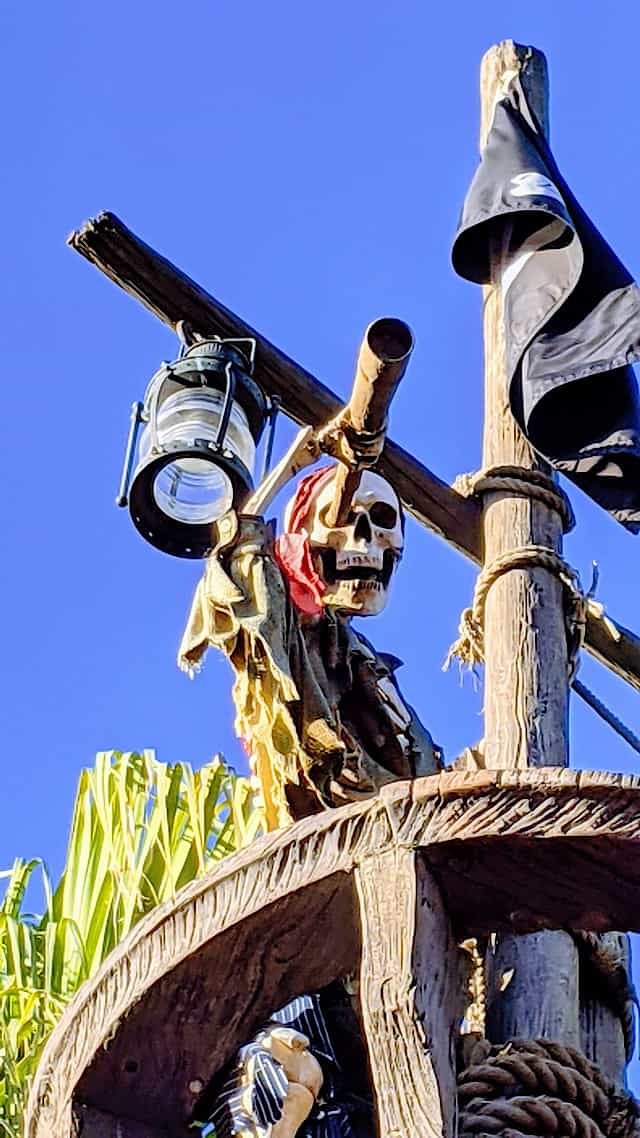 As mentioned above, we should see a drying out trend beginning Monday. That looks like it will continue through Friday as of now. High pressure will be in control and temperatures will generally be in the mid to upper 80's.
Do you have plans to be in Disney World this weekend? Are you going to change any plans because of the weather? Let us know what conditions you experience in the comments below and be safe out there!