Need to relax and unwind during your vacation? Consider a spa day at the Four Seasons, and no, you do not need a hotel reservation there!
Relax and Unwind at Disney World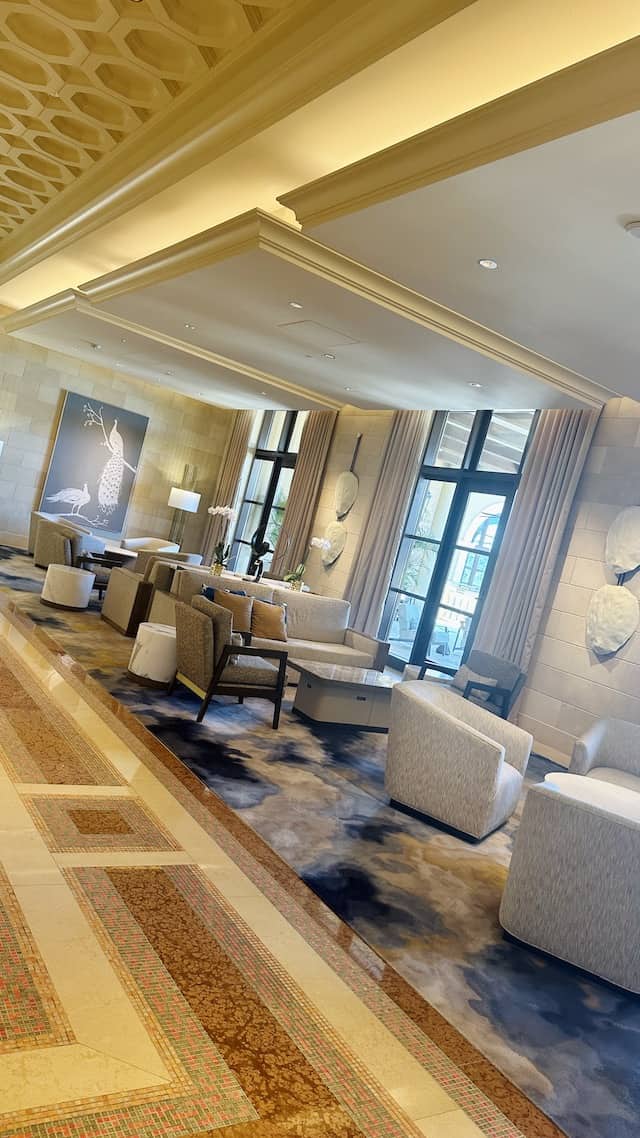 I (Monica) think I speak for most people when I say Disney World is not easy on your body. Many people are go, go, go from sun up to sun down without taking many breaks. If you are not used to walking miles every day at home, doing so at Disney World can be taxing on your legs and feet.
Then, there's the stress of a Disney vacation. Managing 17 different things at 7:00 am, making sure you are on time for your dining reservations, and keeping everyone is happy can be taxing on your mind.
One of the best stress relievers for your body and mind is a relaxing massage. I highly recommend carving out a few hours if you can to stop by one of Disney World's spas. You will leave more relaxed and ready to take on the rest of your vacation.
The Four Seasons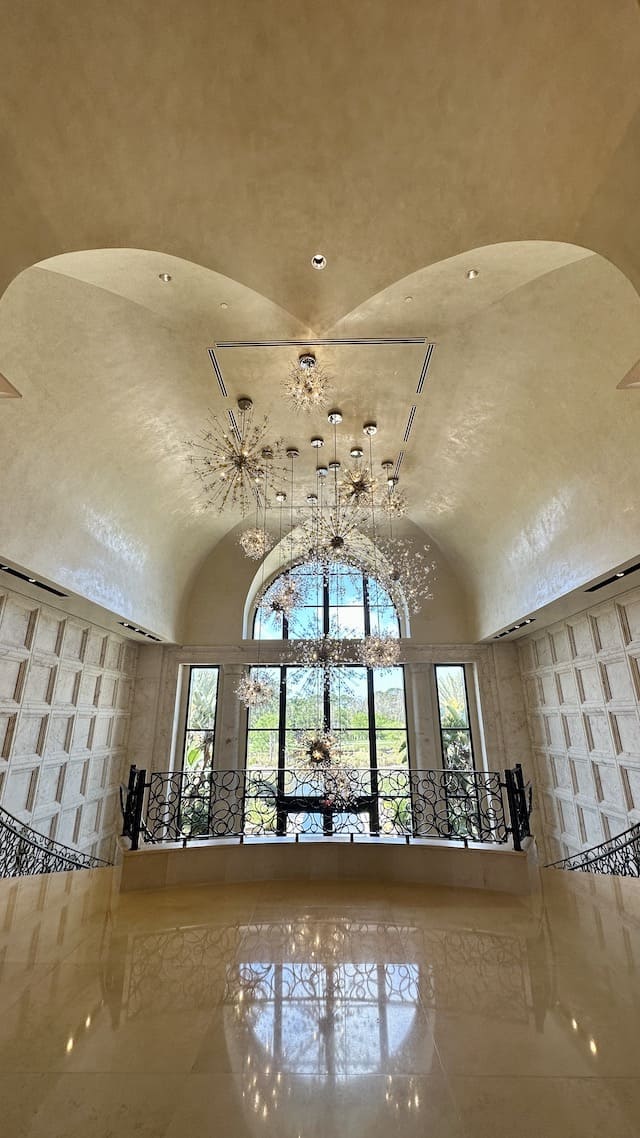 Four Seasons Resort in Orlando is AAA Five Diamond Resort. This lakeside haven is dotted with gardens, pools and towering pillars of palms and cypress. It is nestled within the Golden Oak luxury community. Like any other Four Seasons resort, staying here will cost a pretty penny.
There is so much to do at this resort, from a character breakfast and golf to a luxurious spa day. There is even a complimentary kids club and giant 5-acre waterpark! Want to enjoy the fireworks? You can dine at the Michelin-starred rooftop steakhouse, Capa.
Four Seasons also has a full service spa on property which can be used for anyone – not just guests staying at the resort. Hours are daily from 9:00 am to 8:00 pm.
Services Offered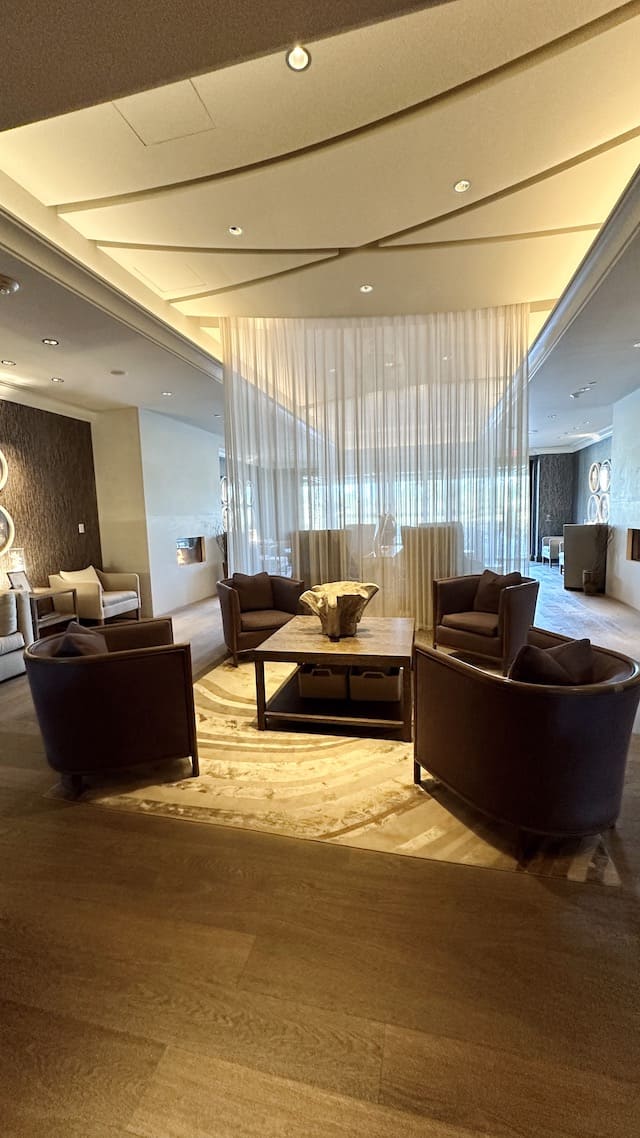 Four Seasons spa offers many services so you can find exactly what you are looking for to relax and rejuvenate. Choose from a variety of facials, touch massages, IV vitamin therapies, cryotherapy, manicures and pedicures, hair care, makeup sessions, and even services for children. One service that I find very interesting is the Somadome.
While cocooned privately in a Somadome, you will select an intention for your meditation session and listen peacefully through a guided or non-guided 20-minute personalized meditation. Somadome utilizes the healing properties of binaural beats, energy medicine with magnets and crystal therapy and colour therapy to achieve the many benefits of meditation.
For many services you can also request add-ons like exfoliation and sinus relief. I found that for the massage services Four Seasons offered competitive pricing to the massage I had at Mandra Spa at the Dolphin Hotel. Many other services, on the other hand, are on the pricier side.
You can take a look at everything offered and book online through the Four Seasons Orlando website.
Amenities of the Spa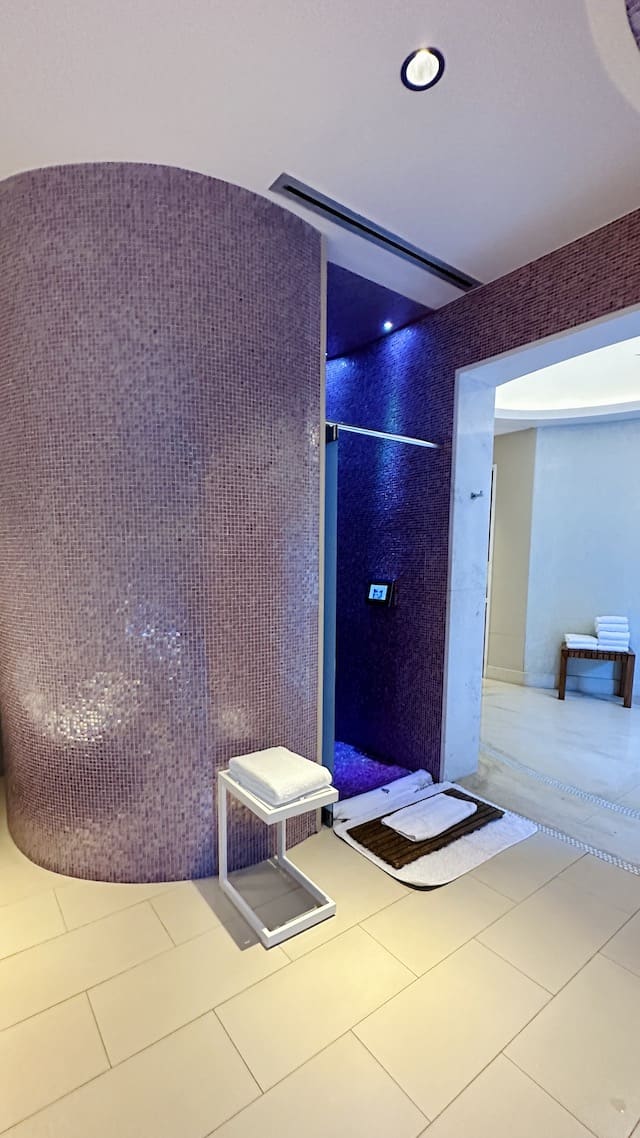 In addition to spa services, there are plenty of relaxation experiences to participate in. You will find a solarium, steam room, outdoor hot tub, and experience shower that you can utilize before/after your service(s). I enjoyed the solarium (with complimentary snacks and drinks) while I waited for my massage therapist.
Afterward, I spent a good amount of time taking advantage of the steam room, hot tub, and experience shower.
Our high-tech experience showers are embellished with glass mosaic tiles and equipped with a rainfall shower head, nine surrounding water jets and a touch-screen monitor, while a light show and sound effects transport your mind to different places entirely.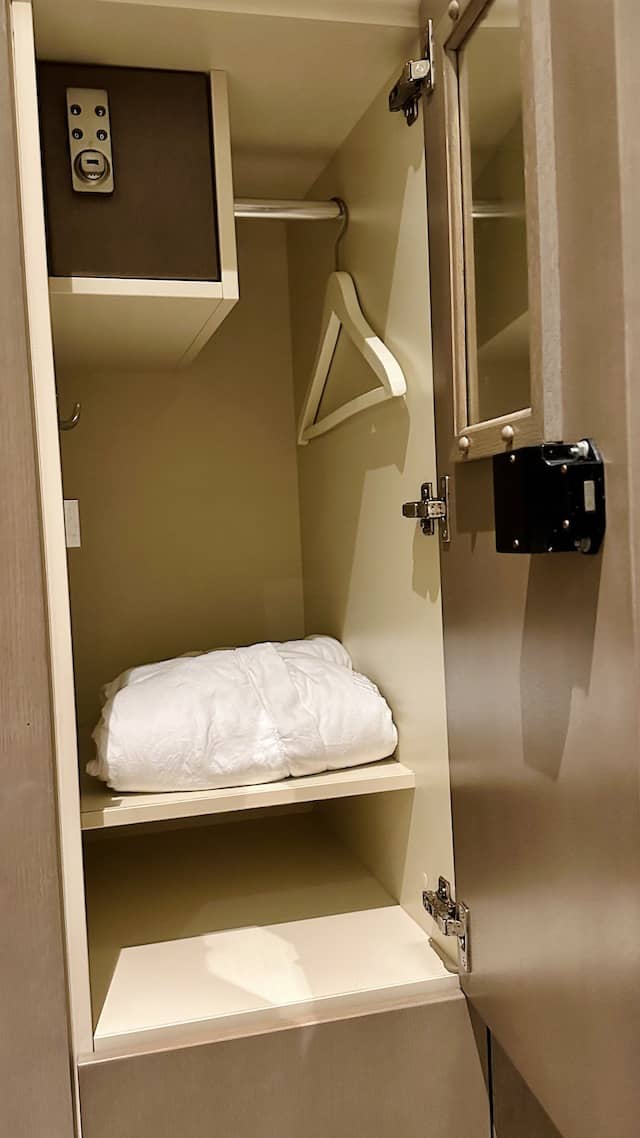 You will find everything you need to get ready for your services as well as freshen up when you are finished. There are locker rooms with a robe and slippers in each locker. A separate room holds several stand up showers with complimentary soap, shampoo, and conditioner.
In a separate area there is plenty of space to get ready. The spa provides hair dryers, combs, q-tips, and lotions so you do not have to worry about bringing any of that with you!
Staff members do a wonderful job keeping your champagne glass filled and the space tidy and clean. Compared to the experiences I have had at the Dolphin Hotel and Saratoga Springs in the past, Four Seasons service was much higher quality. The massage was one of the best I have ever had, and the amenities extended the experience well past the massage.
Take advantage!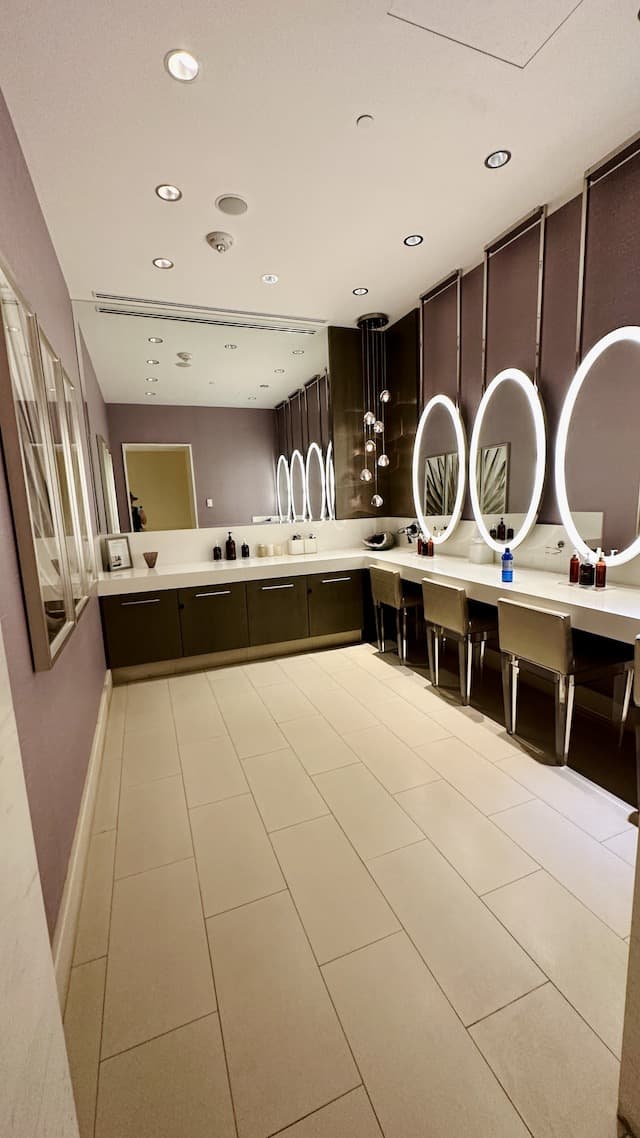 Because you may be making a special trip here, you should really consider spending several hours at the spa and around the resort. I have outlined the amenities above which include a hot tub, shower experience, and a steam room. You do not want to go there for your service(s) and then leave without relaxing! You can spend as much or little time as you want. After my massage I spent another hour utilizing the experiences. Then, I spent another hour showering and getting ready.
I really enjoyed the hot tub and sitting outdoors in the lounge chair. It was very peaceful looking out over the water. The shower experience was also enjoyable, but do note that is a "shared" experience so you may be in there with others. However, when I was there I only saw a few other people. It felt like a very private experience for the most part.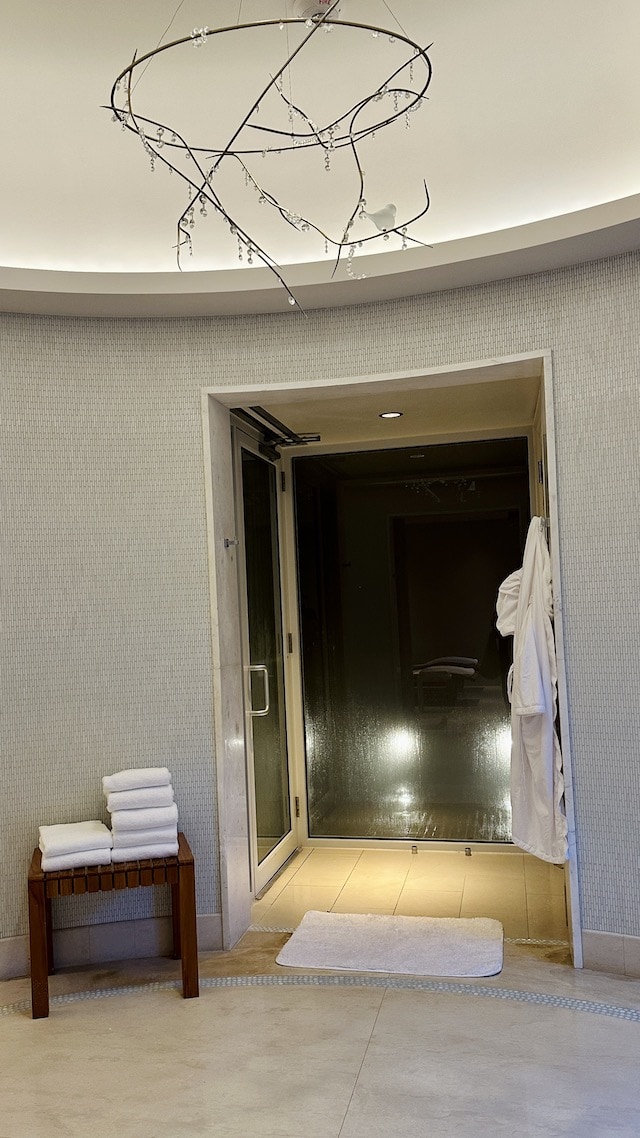 In the lobby of the spa you will find make up, skin care, clothing, accessories, and health and wellness products. You may wish to treat yourself after getting pampered! There are also a few other boutique-type stores at Four Seasons.
It is such a beautiful resort and hotel that you will not want to leave! I highly recommend carving out a full morning or afternoon to take in all the spa and resort have to offer. Unfortunately, you cannot use the incredible 5-acre pool with just a spa reservation.
Would you ever consider a spa day at the Four Seasons spa? Let us know in the comments below and share this post with someone else who may love to!