Don't miss all the details of the evolution of Mickey Mouse over nearly a century. Take a look and see which is your favorite.
Mickey Mouse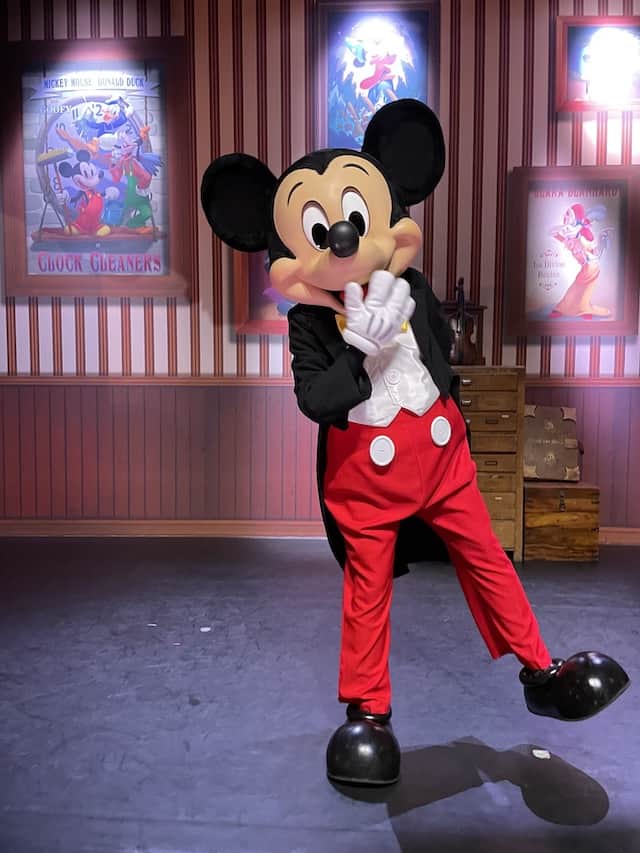 The story surrounding the origin of Mickey Mouse is well-known. Walt, feeling defeated from losing creative control over Oswald the Lucky Rabbit, was on a train ride home when he began thinking about a new star.
With the help of his creative partner Ub Iwerks and apprentice Les Clark, he created an icon whom we would all come to know and love.
Mickey's appearance and personality have noticeably shifted during these past 90 years, reflecting the cultural values of the time as well as new trends in animation.
1920s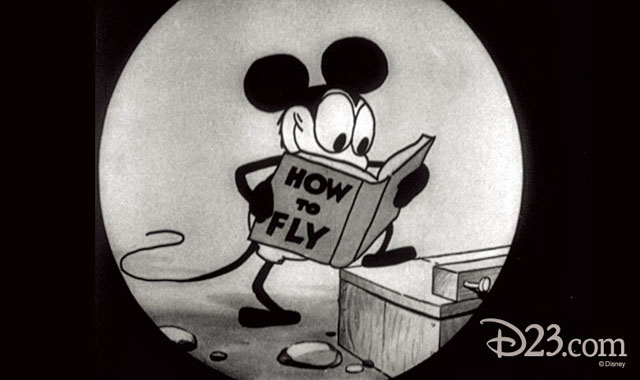 Plane Crazy (1928)
This high-flying animated adventure was Mickey Mouse's first film created. However, it was not theatrically released until after Steamboat Willie.
In Plane Crazy there is no sight of his iconic white gloves or his oversized shoes. He didn't even have a consistent number of fingers during this time, as the number alternated between four and five. It wasn't until later on that they eventually settled on three fingers and a thumb.
Steamboat Willie (1928)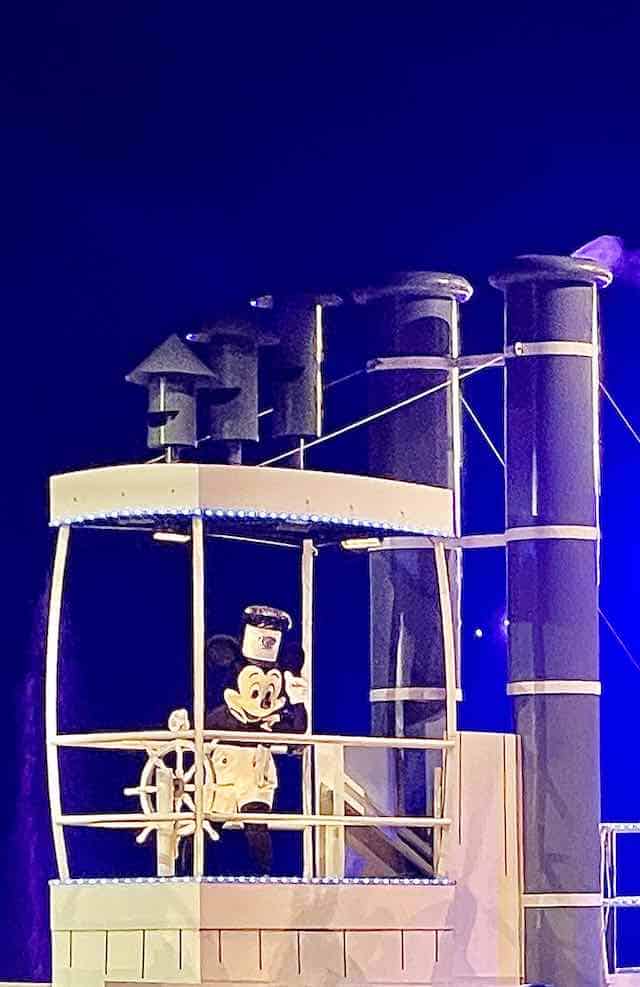 Steamboat Willie was the first Mickey Mouse cartoon to be publicly released. It shows Mickey flirtatiously pursuing Minnie Mouse. Then, he plays with animals as if they are instruments, and discovers his curiosity and love of music.
Finally, Mickey gets some footwear and one of his most iconic outfits. Steamboat Willie is beloved by Disney fans everywhere and a symbol of Walt Disney Animation Studios.
When the Cat's Away (1929)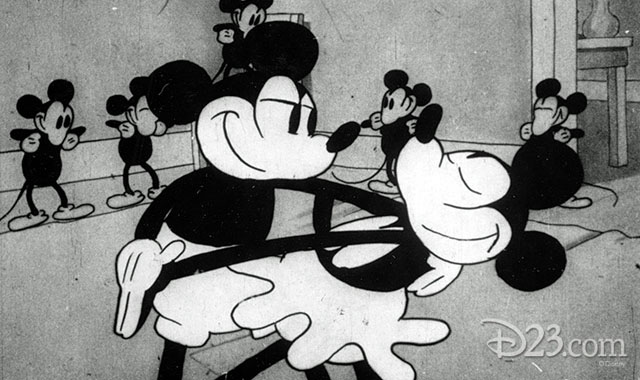 Have you ever wondered what Mickey's life would be like if he was the size of a mouse? Only one animated short ever explores Mickey's life as an actual, mouse-sized mouse. When The Cat's Away imagines Mickey and Minnie as part of a group of rowdy rodents living in the house of a cat.
This short also features the premiere of Mickey and Minnie's now iconic white gloves.
The Jazz Fool (1929)
Often when we think of classic cartoons, there's a specific design that comes to mind. Most people think of black and white, rubbery limbs, and eyes with a slice cut out of them like a piece of pie. This style of eye, fondly nicked named "pie eyes," first appeared on Mickey in this short.
The Karnival Kid (1929)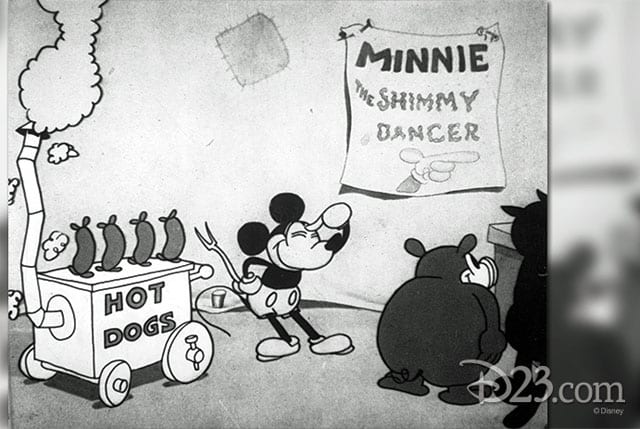 The Karnival Kid has Mickey cast as a vendor, selling hot dogs to his sweetie Minnie Mouse. In this short, Mickey speaks his first words.
1930s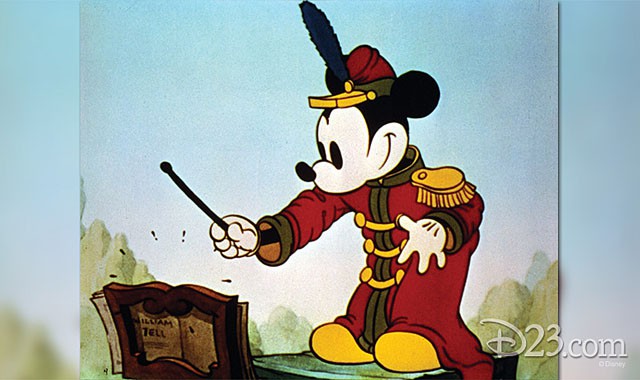 The Band Concert (1935) – Not only does Mickey debut a fantastic costume in The Band Concert, but he does it all in bold, bright colors! The Band Concert establishes Mickey's red and yellow clothing color scheme for good in his first full-color animated experience to be released in theaters.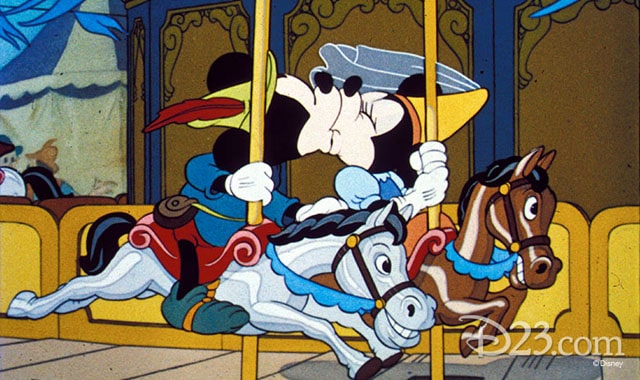 Brave Little Tailor (1938) – In this fairy tale, Mickey is cast as the tailor who accidentally becomes the "Royal High Killer of the Giant" and wins the love of Princess Minnie. Mickey's peasant outfit instantly became an iconic costume remembered for years to come.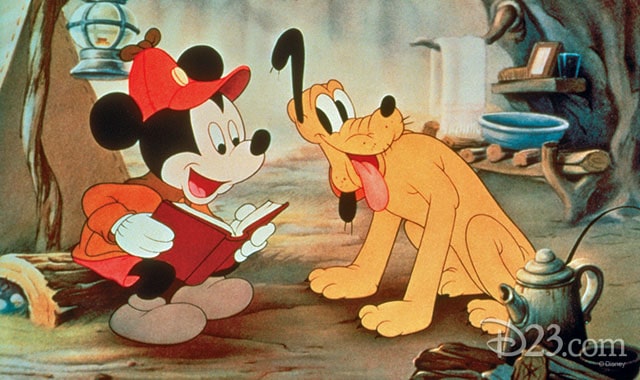 The Pointer (1939) – In this short, Mickey tries to train Pluto to become a hunting dog and establishes the most classic version of Mickey Mouse. His now flesh-toned face and eyes with pupils have become standard for Mickey Mouse's modern design.
The Sorcerer's Apprentice (1940)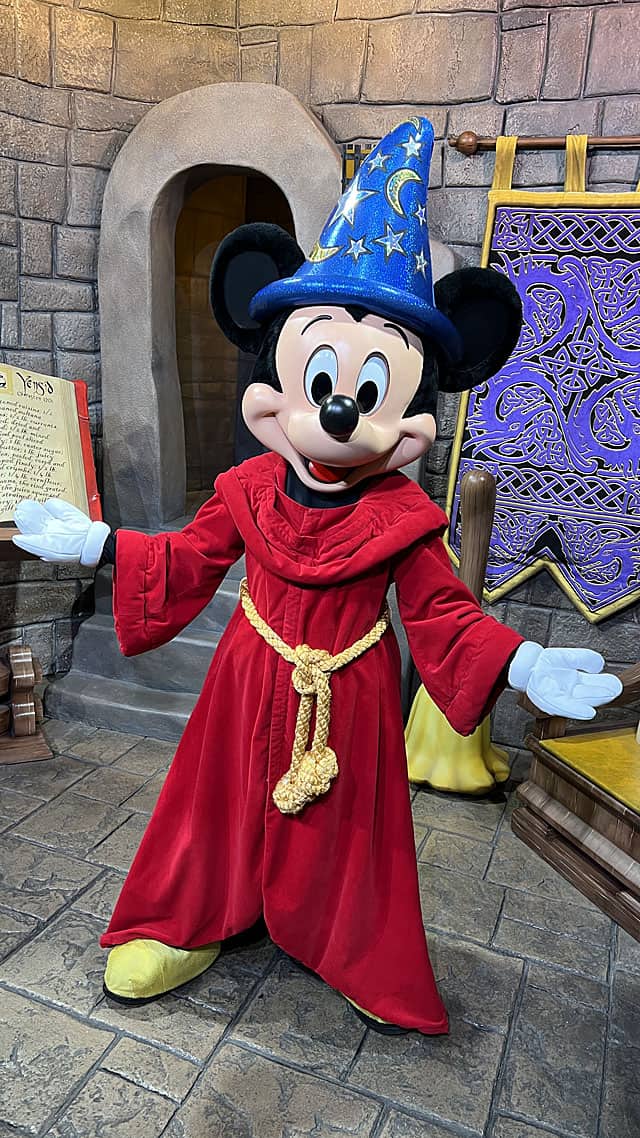 Included as part of the epic feature film Fantasia, The Sorcerer's Apprentice also features one of Mickey's most classic outfits: His red robe and Yen Sid's blue-and-white-starred hat. This is a huge Disney symbol from the Disney theme parks show Fantasmic! to the Walt Disney Animation Studios in Burbank.
Pluto's Party (1952)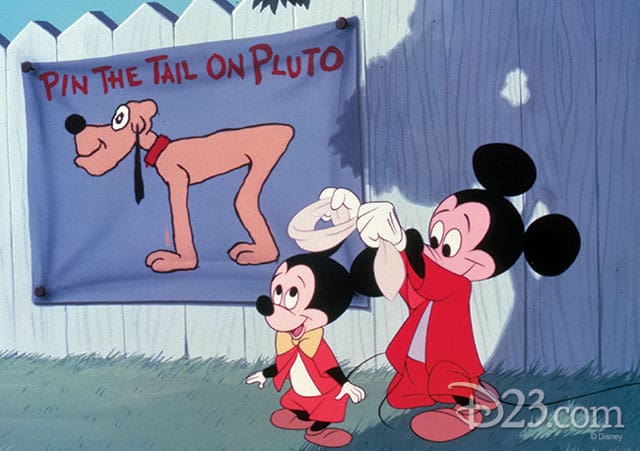 Mickey becomes more stylized in this short about a party for a certain playful pup. Mickey's face becomes more pear-shaped, and he gains more expression with the addition of eyebrows to his design. This look also is used for the Mickey Mouse Club logo.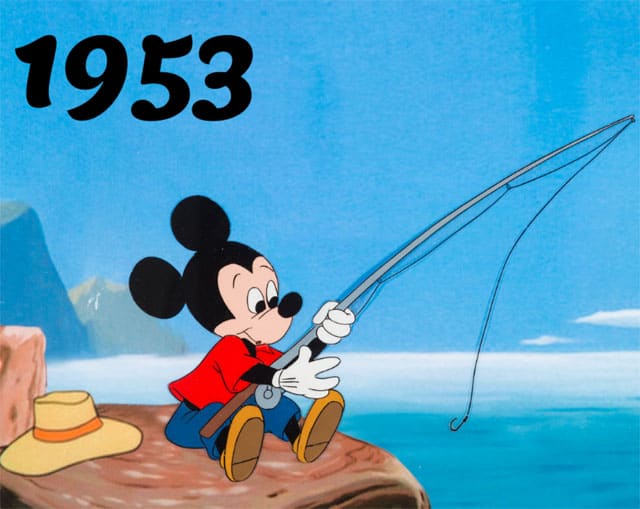 Also, in this "modern" styled cartoon, Mickey is given eyebrows and spends a day at the beach with Pluto. It is the last of 56 shorts that appear in the theaters.
This is the last of 56 shorts that appear in the theaters.
1983 – Christmas Carol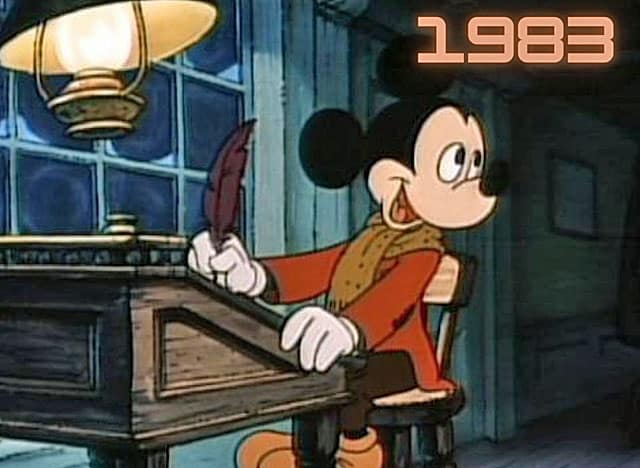 Christmas Carol is Mickey's first theatrical short since 1953, and he lost his eyebrows. In addition, this popular short debuted Wayne Allwine, the voice of Mickey for 26 years until his death in 2009. 
Mickey's Christmas Carol short was the first theatrical short since 1953!
1990s/2000s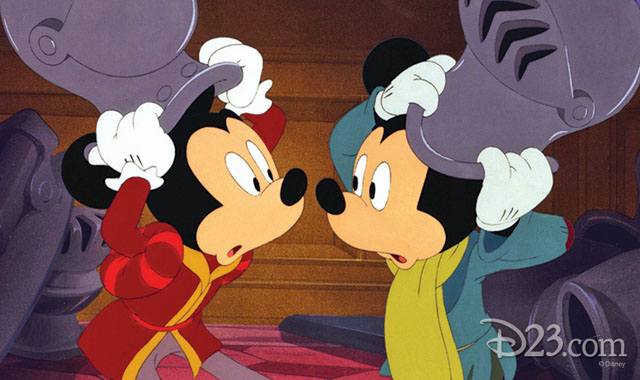 Mickey Mouse Works (2000) – This TV show from the early 2000s established the modern look of Mickey Mouse. This design was the standard for Mickey Mouse cartoons of the 2000s, such as The Prince and the Pauper (1990, pictured above), House of Mouse (2001), and The Three Musketeers (2004).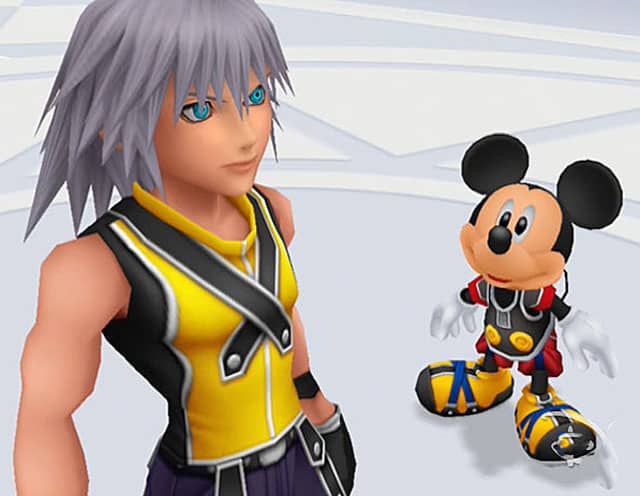 Kingdom Hearts, 2002 and Epic Mickey, 2010 – All of Mickey's prior redesigns were made for hand-drawn animation on the movie and television screens, but Mickey also had several redesigns for a new medium: video games.
Two of his most famous appearances are his role as King Mickey from the series Kingdom Hearts and as the protagonist and namesake of Epic Mickey. Both video games are notable for casting Mickey as an epic hero while exploring different parts of popular Disney stories.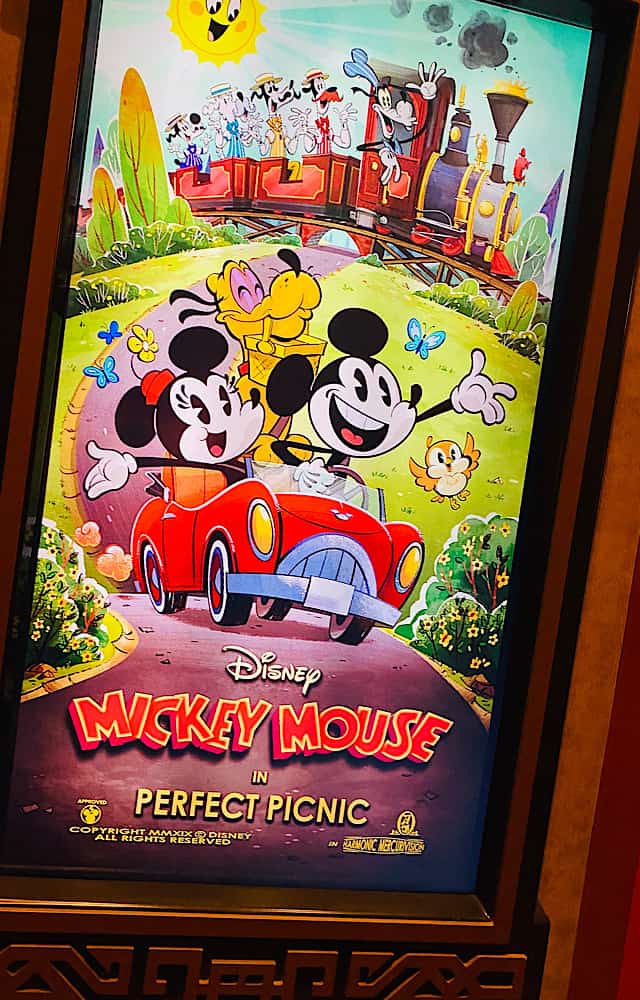 Mickey Mouse, 2013 – Next, the recent animated adaptations of Mickey and friends' cartoon capers features a stylized design going back to Mickey's days of rubber limbs and pie-eyes but with an emphasis on the potential for silliness and mischief.
Recent Celebrations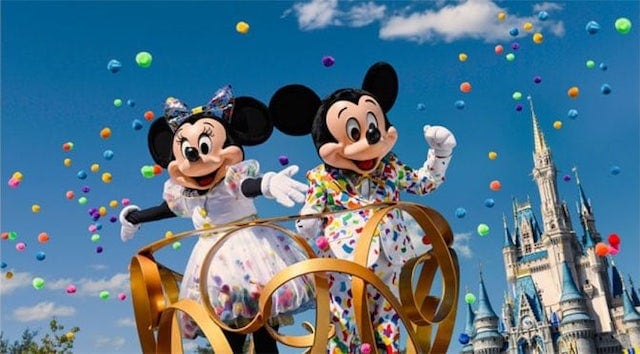 90th Birthday (2018) – For what seemed like forever, Mickey Mouse sported his colorful confetti celebration outfit. His birthday celebration lasted over a year and fans worldwide were able to enjoy it.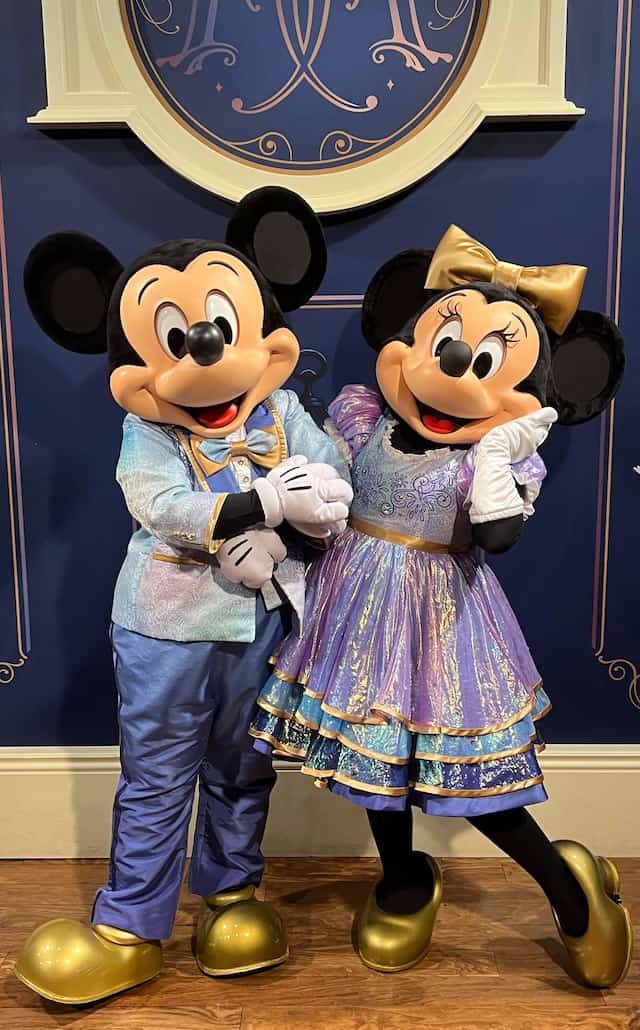 Disney World 50th Anniversary (2021) – In October 2021, Disney World began celebrating it's 50th Anniversary Celebration. One of the best things about this was the EARidescent outfits.
They have a touch of whimsy with the sparkling pastel colors interwoven with gold accents. And Minnie's matching outfit is simply the best!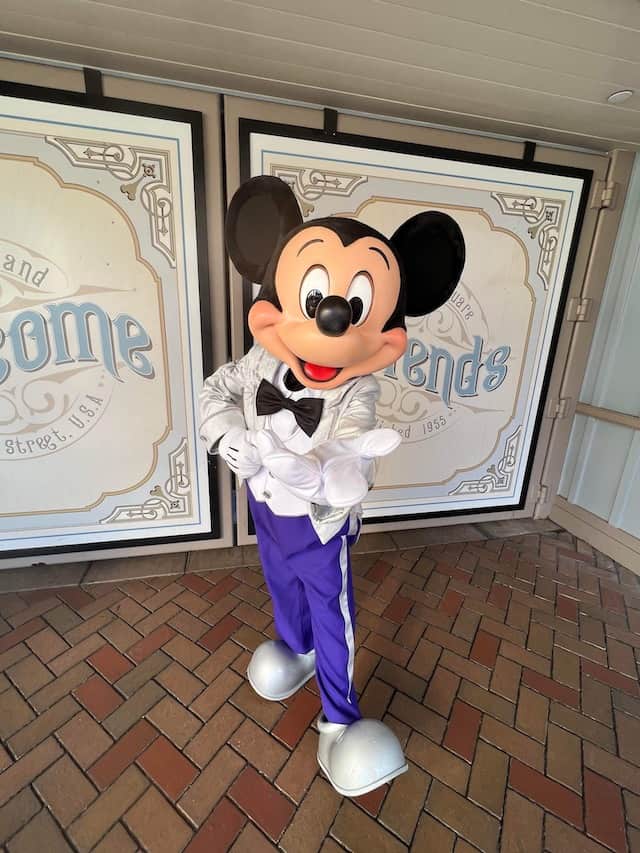 Walt Disney Company 100th Anniversary (2023) – In January 2023, Disney kicked off the 100th Anniversary Celebration of the Walt Disney Company. Most of the festivities for this event take place at Disneyland. But other parks will receive some of the fun, too!
Take a look at Mickey's latest outfit, shown above. In honor of the 100th anniversary, Mickey is sporting platinum colored shoes and jacket. The addition of the purple goes perfectly creating a whimsical ensemble.
Today, we recognize Mickey Mouse in his iconic red shorts, yellow shoes, and white gloves. As Walt once said, "it was all started by a mouse."
Which Mickey Mouse style is your favorite? Please let us know in the comments and share this post with a Mickey Mouse loving friend.

Credit: D23.com