During my recent park visit, I felt hungry in the late afternoon. I attempted to obtain a Mobile walk-up reservation for the first time. Learn how it can be done and the meal that I enjoyed.
Carnation Cafe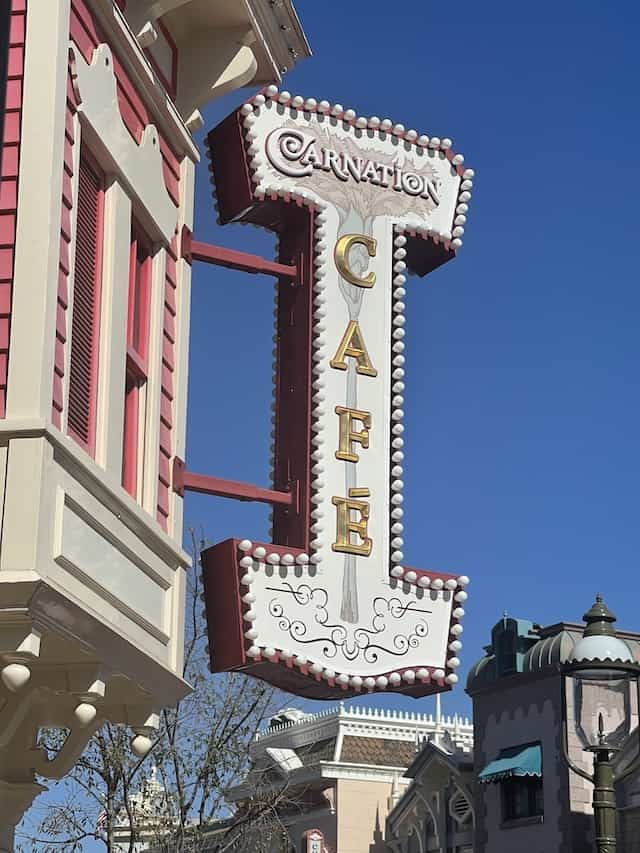 Carnation Cafe is a full service classic American style restaurant known for its modern versions of classic dishes, such as Mickey waffles and Walt's favorite chili. The restaurant is located on Main Street, U.S.A at the Disneyland Park in Anaheim.
When Disneyland Park first opened on July 17, 1955, the Carnation Cafe was originally the Carnation Cafe Ice Cream Parlor hosted by the Carnation Company. In January 1997, The Carnation Ice Cream Parlor closed its doors permanently after Nestle Company bought it out. However, Disney was allowed to keep the Carnation name.
The Carnation Cafe restaurant opened in 1997. Guests could now enjoy a traditional breakfast, lunch, and dinner menu instead of only desserts.
26 years later, the Carnation Cafe continues to be a fan favorite dining experience for guests at Disneyland Park. It's not surprising because the food is delicious! To read another great review of the restaurant, check out Donna's article here.
Wedge Salad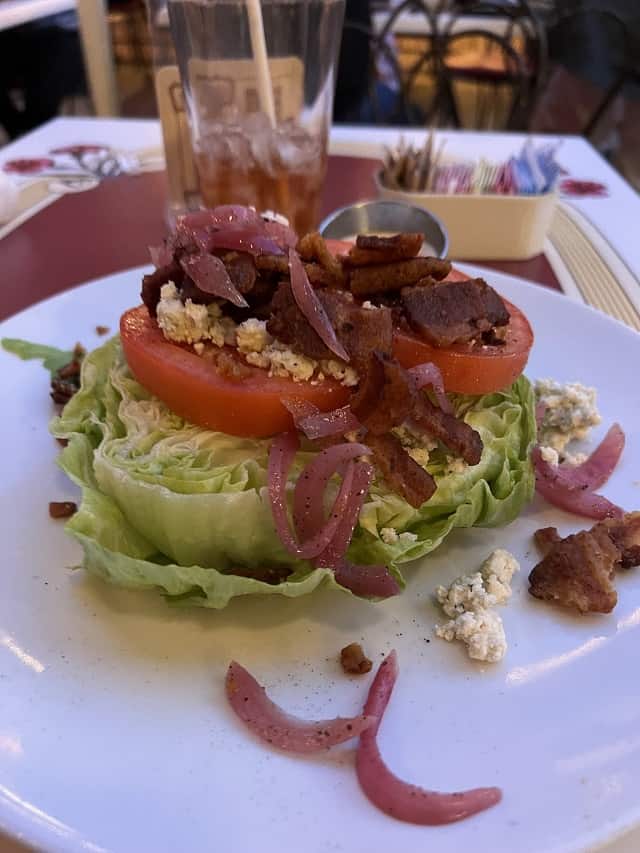 I was quite hungry when I sat down at the restaurant, and I can not help it, but my love for wedge salads are immense. The salad is described as, "Iceberg Lettuce, Vine-ripened Tomato, Applewood-smoked Bacon, Blue Cheese Crumbles and Pickled Onions topped with Blue Cheese Dressing."
When it arrived, I could not believe the size of the dish not to mention the mountain of ingredients on top of the bed of lettuce. I do not like my salad dressing to be pre-poured into my salads, so I asked for it to be placed on the side. Needless to say, the wedge salad tasted delicious and I happily look forward until we meet again.
Roasted Turkey Club Sandwich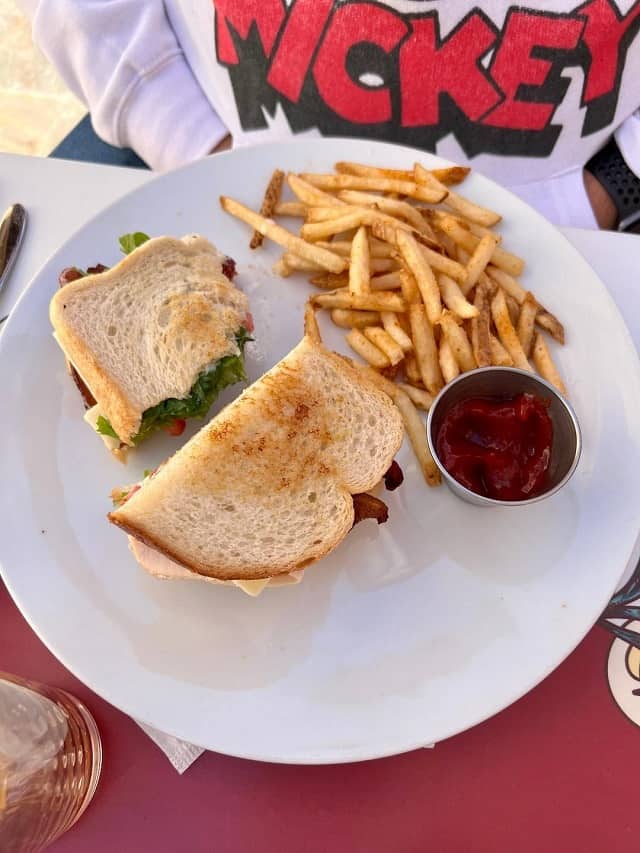 My friend, who I had visited the park with that day, made the decision to try the Roasted Turkey Club Sandwich.
It includes, Freshly-sliced Turkey, Applewood-smoked Bacon, Vine-ripened Tomatoes, Monterey Jack, Lettuce, Avocado Mayonnaise and Lemon Aïoli on Toasted Sourdough, served with your choice of fresh Fruit or Seasoned French Fries. Luckily, I was able to take a picture before it was all consumed!
Apple Pie à la Mode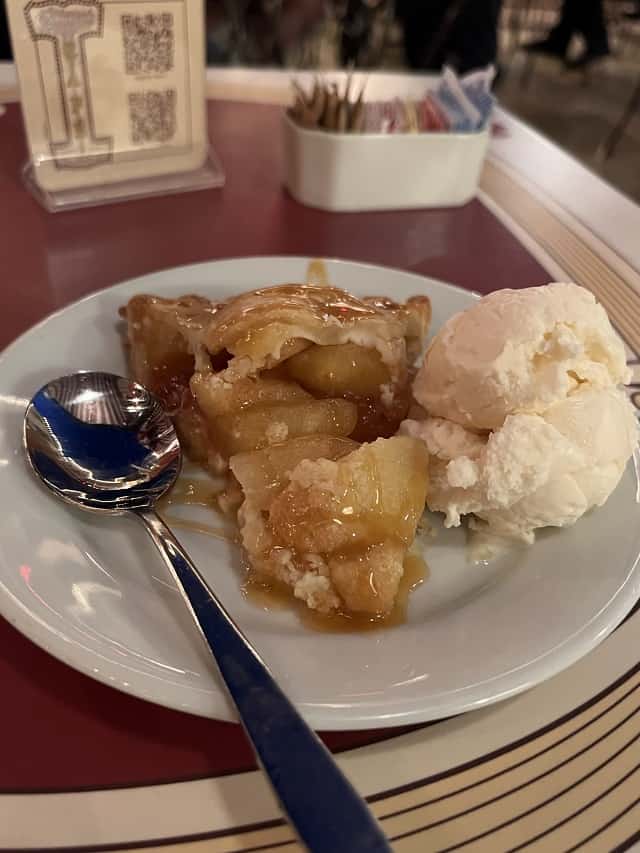 When I think of comfort food, a good slice of apple pie with a hearty scoop of vanilla ice cream drizzled with caramel sauce hits the spot after a good meal. This desert was worth $9.00 in every way!
The pie tasted homemade, as if I had baked it myself in my kitchen on a cold winter day. To enjoy this delicious treat while people watching as guests walked down Main Street, U.S.A. was quite delightful. Both charming and nostalgic.
Mobile Walk-Up List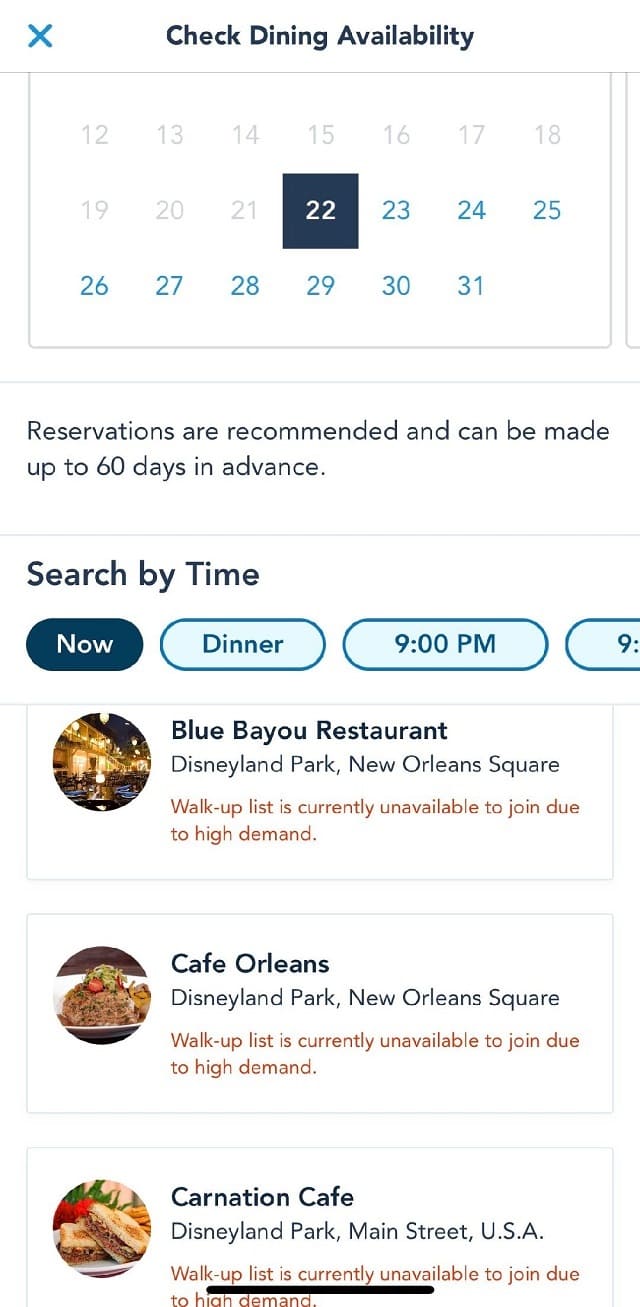 Want to sit down for a delicious meal but don't have a dining reservation? Not to worry, as guests may be able to add their party to the walk-up list at select table service restaurants at the Disneyland Resort.
I had no prior dining reservation for the Carnation Cafe prior to arriving to Disneyland that particular day. I had driven straight from work to the park and the only food I had consumed that day was a handful of almonds, a granola bar and a soda. Therefore, as Pooh would proudly boast, I too, had a "rumbly in my tummy."
The advantage of being able to join the wait-list directly through the app makes it so convenient and saves time. It provides a view of the current availability with wait times at select table service restaurants throughout the Disneyland Resort.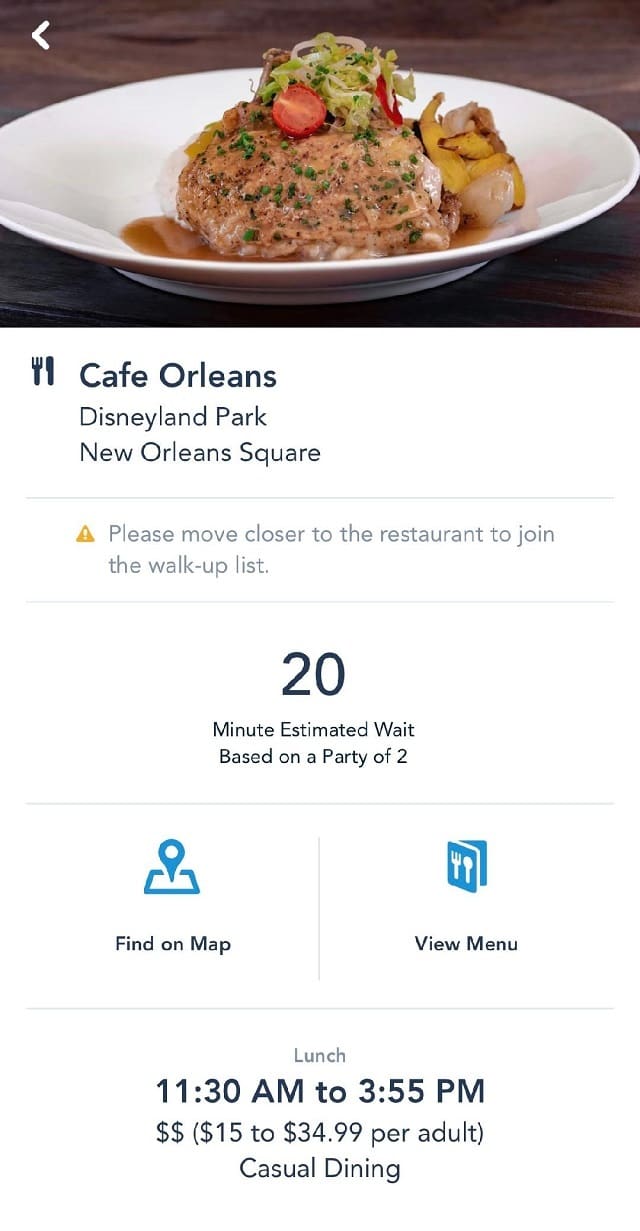 When opening the Disneyland app, guests will click on the + sign at the bottom of the screen. Next select "Check Dining Availability." From here, guests will confirm the size of their party. The next page will be the calendar for the month. Select the date of visit and at the bottom under "Search by Time," click "Now."
It will then indicate which Walk-Up List Restaurants are available. An estimated wait time will show if there is availability. Once the table is ready, guests will receive a notification to proceed to the restaurant. All members of the party must be present upon arrival because the entire party will be seated together.
Still Not Finding a A Reservation?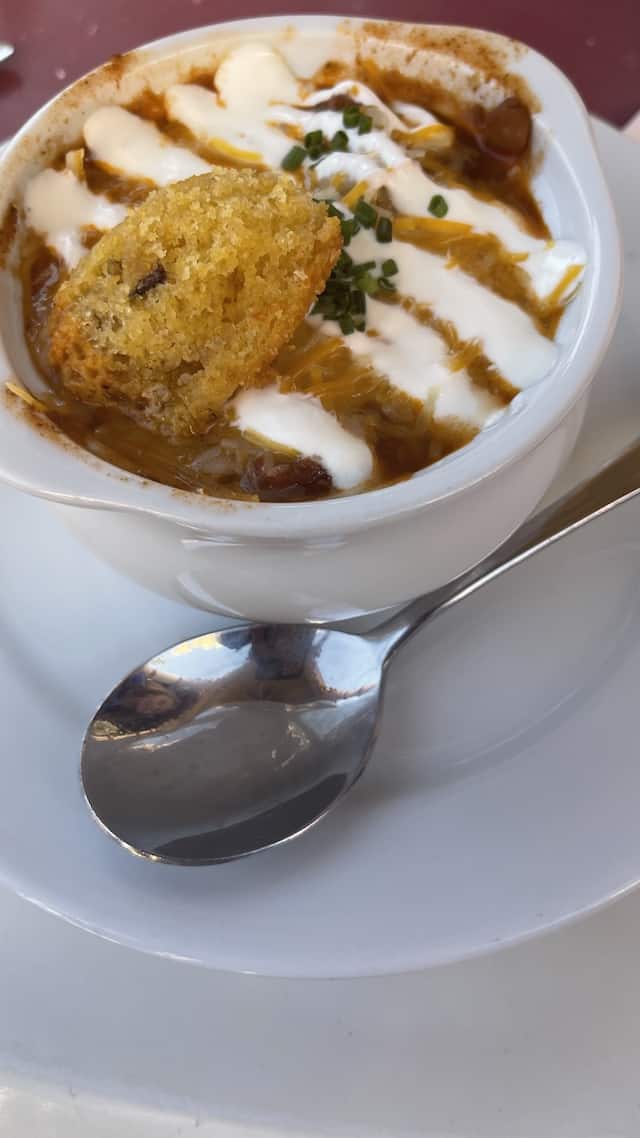 Still not able to find walk-up availability at the time of your search? The walk-up availability may change throughout the day. It is best to try again later or to check to see if there are dining reservations available for a later time in the day.
Originally, when I first began searching for which restaurants were available to join, I could not find one. While standing in queue for an attraction I continued to check. Finally, when I was in line for Pirates of the Caribbean, the Walk-up list for Carnation Cafe opened and the wait time was 45 minutes.
I very much enjoyed my meal at the Carnation Cafe. I eagerly await for my next visit to this charming cafe situated on Main Street, USA. Have you visited before? Please make sure to share this article with a foodie in your life!