Disney is home to decades and decades of time honored traditions. These traditions are very special for those who get to participate in and witness. The one I am highlighting today is not to be missed!
Disney honors our Armed Forces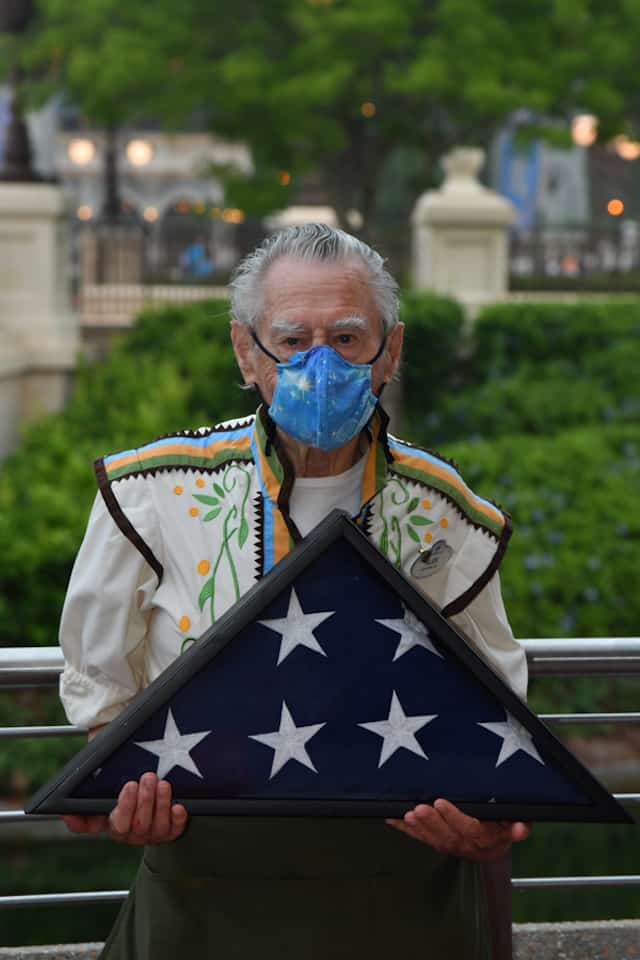 Along with several community initiatives benefitting various groups, Disney also greatly supports our Armed Forces. Walt Disney himself was very patriotic and even contributed to the war effort during World War I. Many attractions like Great Moments with Mr. Lincoln and even Liberty Square in the Magic Kingdom are all products of Walt's love for America.
In an effort to continue honoring our military and the service members that sacrifice for us all, Disney World and Disneyland support various organizations and hold special ceremonies in the parks each day. They also provide steep discounts on theme park tickets, hotels, and even Memory Maker for Guests who served or are serving.
As a retired military family, I (Monica) am very thankful to see these wonderful displays of patriotism and support. We appreciate all The Walt Disney Company does to support service members and veterans.
Flag Ceremonies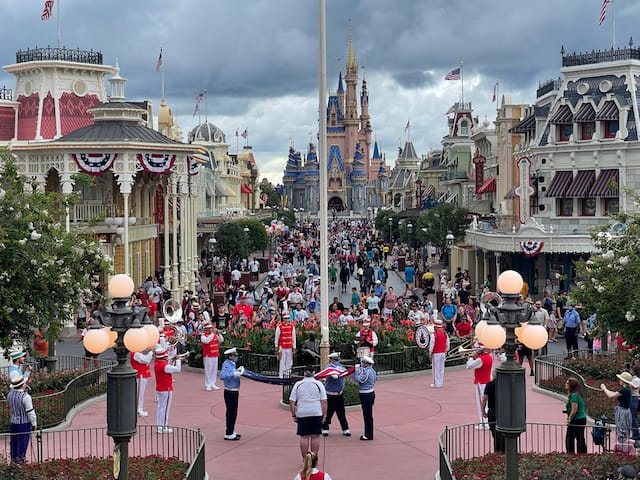 One of the special ways Disney honors America is by raising and lowering the flag in Town Square each and every day. Even during the historic park closure in 2020 and 2021 (for Disneyland), Disney ensured that Old Glory continued to fly. However, it took quite a while for the ceremonies to return to Disneyland and Disney World.
Daily flag ceremonies resumed in July 2021 at Disney World and April 2021 at Disneyland. The purpose of these ceremonies is to honor our flag and show gratitude to those who protect it. At Disney World, one veteran is chosen to join the Security Team in lowering the flag and walking in a procession down Main Street. At Disneyland, anyone who is a veteran or currently serving is invited to circle around the flag as it is lowered.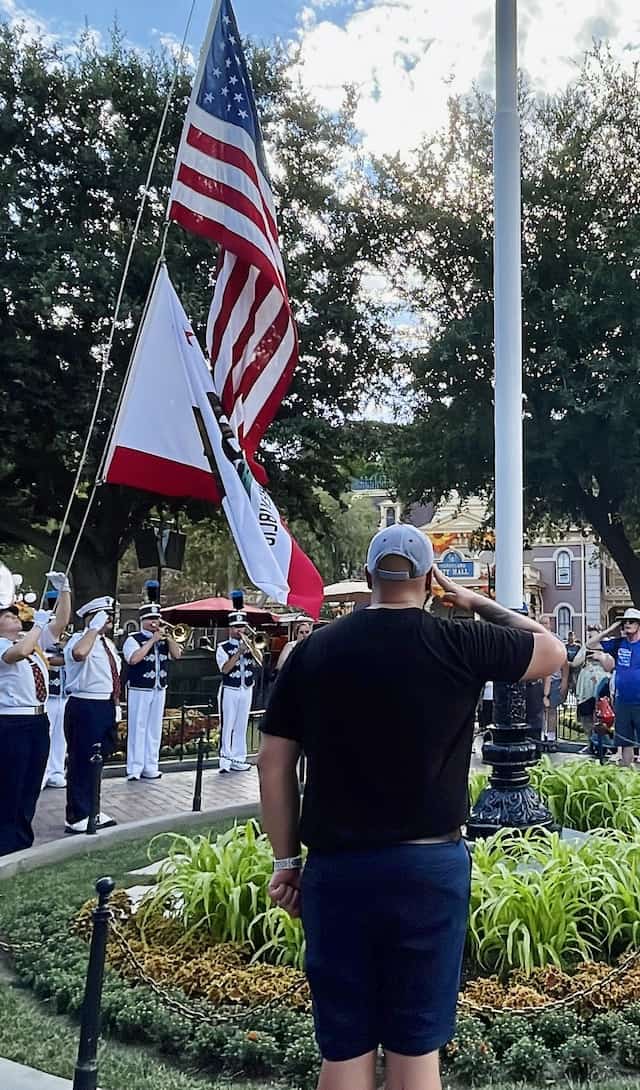 Part of the ceremonies also involve the singing of "God Bless America" and the "Star Spangled Banner." Both the Dapper Dans Main Street Philharmonic Marching Band lead the ceremonies.
I have witnessed the flag retreat ceremony at Disney World, but my husband was actually able to participate in the one at Disneyland. Here is what that looked like and why I encourage you to participate and/or watch!
Flag Retreat Ceremony at Disneyland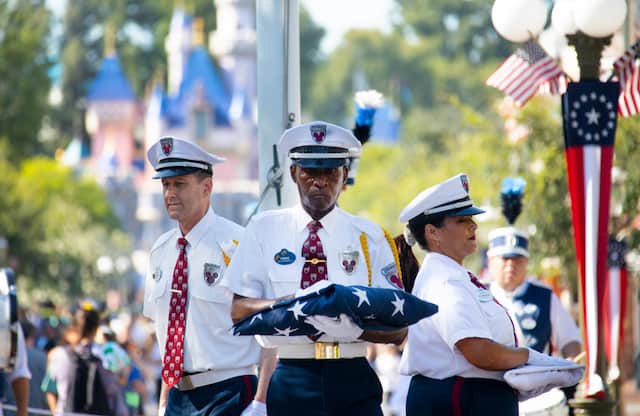 Disneyland hosts the flag retreat ceremony every day at 4:30 pm. It takes place in the center of Town Square around the flag pole. If you are planning to participate or want to watch, I recommend getting there about 15 minutes early. There are only a few benches set up in a circle around the pole. Otherwise, you may be standing.
Introduction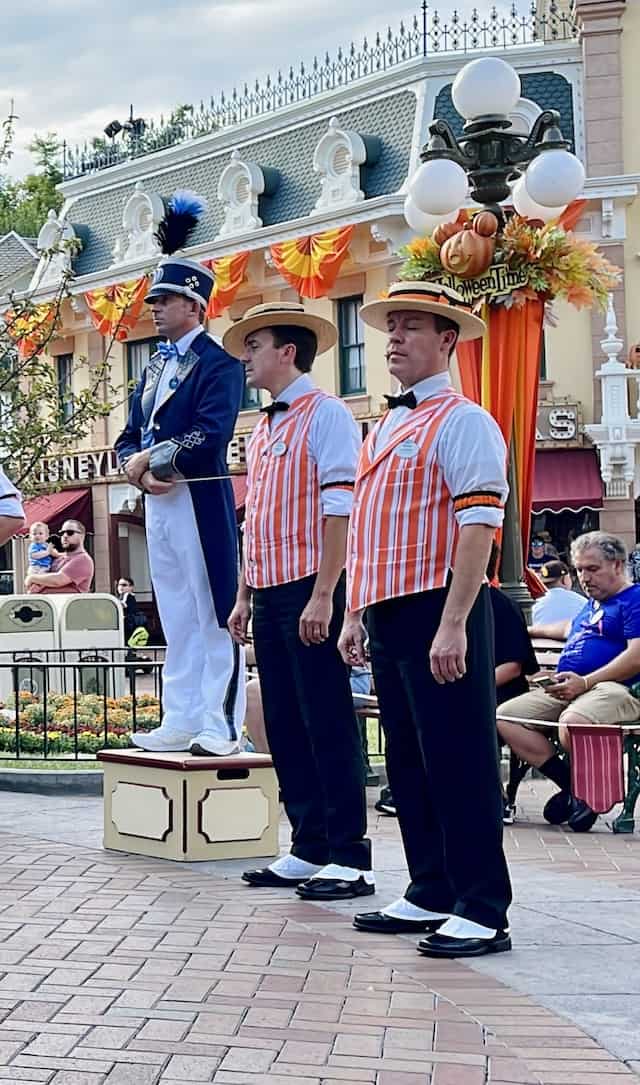 A loud speaker will announce the start of the ceremony and introduce the Philharmonic Band. The band starts by playing "Yankee Doodle" as the Dapper Dans take their place. The band and Dapper Dans perform "You're a Grand Old Flag" as the crowd gathers to watch. The retreat then segues into a beautiful rendition of "America the Beautiful".
Invitation to Join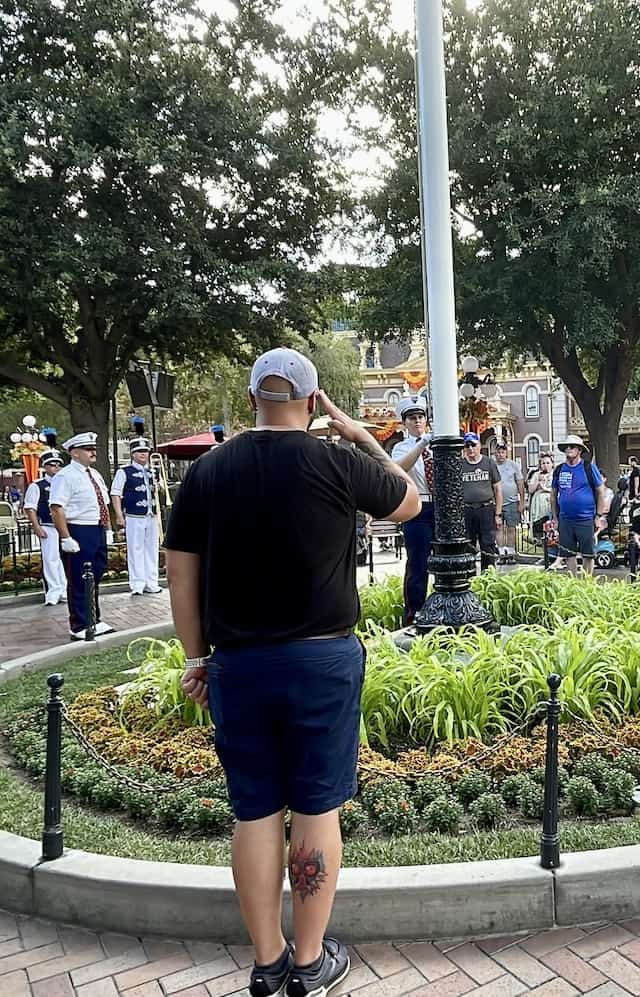 Once they are done singing, the overhead speaker invites current and past service members to gather around the flag pole. Each brand is invited up one by one as the band performs each branch's song. Here is the order in which they are invited:
Army
Navy
Marine Corps
Coast Guard
Air Force
Between each song, you can hear various patriotic quotes like John F. Kennedy's famous quote, "ask not what your country can do for you, but what you can do for your country" and part of Martin Luther King Jr's "I have a dream" speech.
Lowering the flag
After everyone joins around the flag pole, Disney lowers both the American flag and California flag and folds them up. The Color Guard presents the flags, and the overhead speaker invites everyone to sing a love song to America, "God Bless America."
Check out portions of the ceremony in the video below. It is a truly moving ceremony to be part of.
Overall Thoughts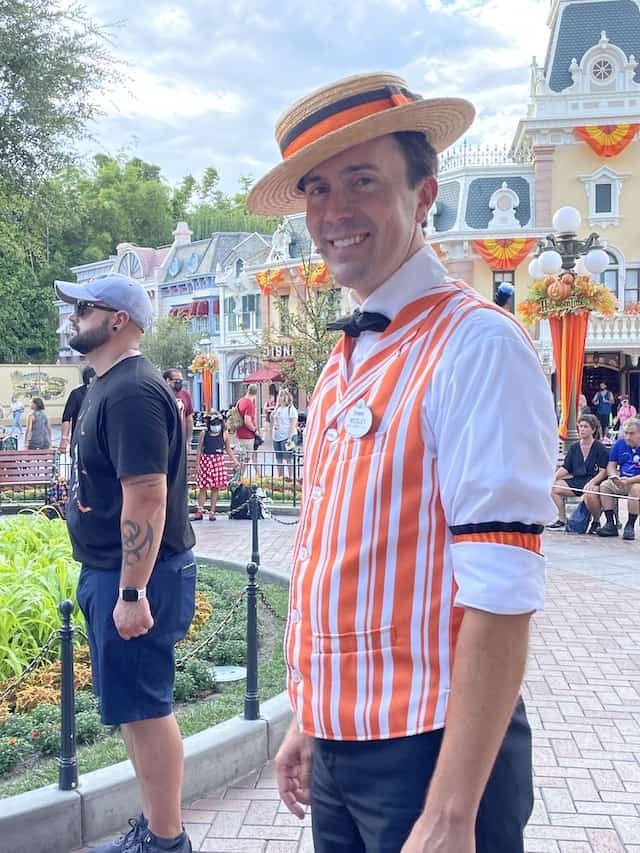 The flag retreat ceremony is a beautiful display of patriotism and pageantry. In 20 minutes, Disney reminds us of our nation's unique story and honors the people who defend it. Watching the Philharmonic Band and Dapper Dans perform these songs will bring tears to your eyes. The two acts are such classic and iconic pieces of Disney history, and it is only fitting that they be part of paying tribute to our Armed Forces.
If you are a service member or veteran, I highly encourage you to participate in the flag retreat ceremonies. It was a highlight for my entire family watching our veteran participate in the retrieval of the flag. I found a renewed sense of patriotism in those few moments, and I'm sure you will too.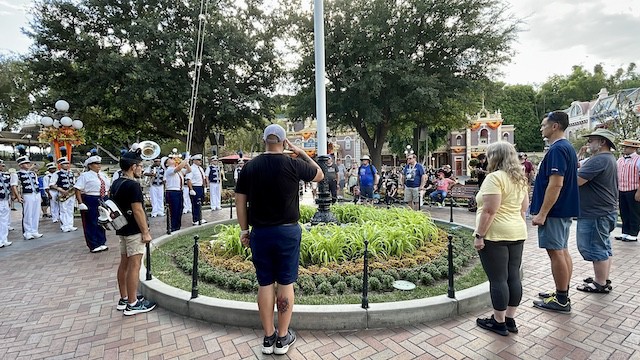 And, even if you have never served in our Armed Forces, you probably know someone who has! Simply watching the entire ceremony and hearing the beautiful music will remind you why our country is so great. I would also love to encourage you to spend a few moments watching in between attractions or as you head back into the park after a break at your hotel.
Are you a service member or veteran? Have you ever participated or watched a flag retreat ceremony at Disney World or Disneyland? Share your experience with us in the comments below and on Facebook.